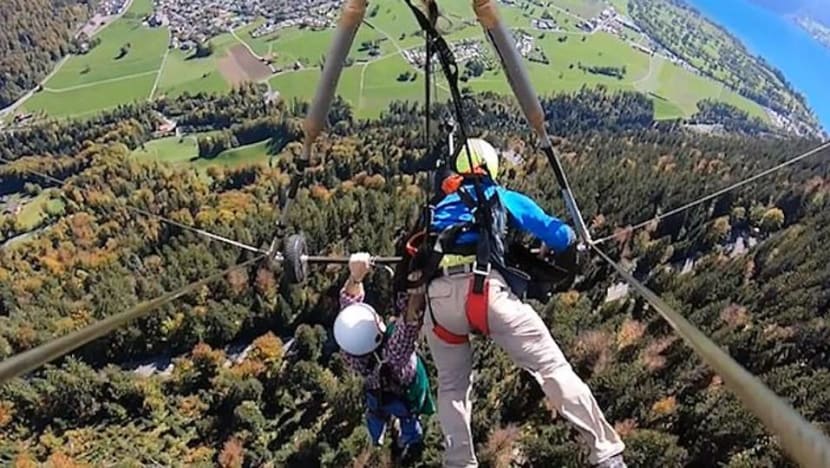 SWITZERLAND: American Chris Gursky's first hang gliding experience nearly turned deadly as he clung to the glider with his bare hands for more than two minutes after taking off from a mountain edge more than 1.2km high.
The Oct 13 incident was Mr Gursky's first experience with hang gliding during a holiday in Interlaken, Switzerland.
Footage from a video uploaded to YouTube showed Mr Gursky's safety harness had not been attached before taking off from a cliff. The pilot had hooked himself up but forgot to check if Mr Gursky was secured.
The pilot realised the error a few seconds after takeoff and tried to manoeuvre into a fast landing, while Mr Gursky clung on.
"The pilot grabbed my hand, but like in the movies, it was a slow-motion slipping of the grip until my right hand slipped off and I grabbed another strap on his left side for a bit but this slipped off also," Mr Gursky said in a Facebook post.
"I ended up holding on bar with the left hand and the lower part of his leg with the right when we were nearing the ground. I looked down to see my feet hit first, which ripped me off at about 45 mph (72kmh) as it was a hot landing and I was under the landing gear."
After two minutes and 14 seconds, Mr Gursky got close enough to the ground to let go, while the pilot managed to land safely.
Mr Gursky's right wrist suffered a distal radius fracture, which required surgery, and he also tore his left bicep tendon after holding on to the glider for an extended period of time.
"While the pilot made a critical error in our pre-flight set up by not attaching me to the glider, he did all he could to get me down to the ground as quickly as possible while grabbing onto my harness and flying with one hand," said Mr Gursky.
"I will go hang gliding again as I did not enjoy my first flight."