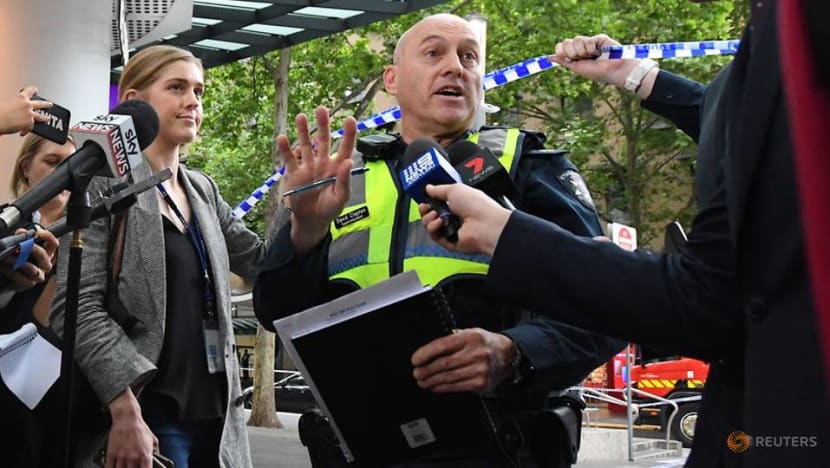 MELBOURNE: A Somali-born man set fire to a pickup truck laden with gas cylinders in the centre of the Australian city of Melbourne on Friday (Nov 9) and stabbed three people, killing one, before he was shot by police in a rampage they called an act of terrorism.
The utility truck carrying barbecue gas cylinders burned on busy Bourke Street just before the evening rush hour as the driver, who police said was 31, stabbed bystanders and attacked police.
The cylinders did not explode and the fire was put out in 10 minutes, by which point the attack was over.
He stabbed three people before being confronted by armed officers who eventually shot him in the chest. One victim died at the scene and the attacker died later in hospital, Victoria Police Commissioner Graham Ashton told reporters.
All of the victims were men, Ashton said. He declined to release their names because police were still in the process of contacting families.
Police later said the two wounded men were aged 26 and 58.
Counter-terrorism police and intelligence officers are still piecing together how the incident occurred, but said the attacker was known to intelligence services.
"We don't believe there is an ongoing threat at this stage, but certainly we are treating it as a terrorism incident," Ashton said. He declined to identify the attacker, but said he was Somali with "family associations that are well known to us".
Asked about what the attacker had been planning, Ashton referred to the gas cylinders in the car and said: "You could make certain assumptions from that."
Security arrangements at Remembrance Day memorials and other public events scheduled over the weekend will be reassessed and it was likely police numbers there boosted, said Ashton.
On Friday evening, the Islamic State group claimed the incident via its propaganda agency Amaq, saying: "The perpetrator of the operation... in Melbourne... was an Islamic State fighter and carried out the operation... to target nationals of the coalition" fighting IS. 
TEN MINUTES OF CHAOS
Witness footage showed police struggling for at least a minute to corral the towering man - who was wearing a dark tunic - as he lunged, slashed and stabbed wildly at two officers, while a car burned in the background.
At least two members of the public bravely stepped in to help police. One man was armed with a cafe chair while another - swiftly dubbed an "Aussie hero" on social media - repeatedly tried to ram the suspect with an empty metal shopping cart.
But the attacks continued unabated before one officer opted for lethal force, shooting the suspect in the chest.
David Clayton, police superintendent of Victoria state, told reporters that police had arrived at Bourke Street, a busy shopping thoroughfare, in response to a car fire. As flames engulfed the vehicle, the man attacked them and they shot him in the struggle, he said.
Warning sirens sounded after the attack and police sealed off the downtown area, usually busy with shoppers and diners on a Friday evening.
The bomb squad was deployed to assess the area and television footage showed police combing the street for evidence.
Witness Chris Newport, 60, described how he first heard a loud noise and saw a truck on fire, rolling across the tram tracks before a second, louder bang.
"He was holding a knife and running around the place," he said of the attacker.
"Someone had a shopping trolley and was trying to stop him. Two police turned up really quickly, but there was only a couple of them. He started to go at them and there was a loud bang - they shot him," he told AFP.
The police officers are being treated for cuts and scrapes and are not thought to be in a serious condition.
A witness, Markel Villasin, told Australian Broadcasting Corporation radio: "Bystanders were yelling out 'just shoot him, just shoot him'."
Victorian Premier Daniel Andrews said the attack was "an evil, terrifying thing that's happened in our city".
Prime Minister Scott Morrison said in a statement released on Twitter: "Australia will never be intimidated by these appalling attacks."
DOUBLE BLOW FOR CITY
The unnamed assailant was said to reside in Melbourne's northwestern suburbs, but had come to Australia from Somalia in or around the 1990s, when the country was ravaged by a civil war.
The police chief refused to give more details due to the ongoing investigation, but the authorities will face inevitable questions about how someone known to the intelligence services nonetheless managed to carry out an attack.
The counter-terrorism command has taken a lead role in the investigation and police have set up a three-block-wide exclusion zone.
Forensic investigators combed through the scene late Friday, where the dead victim's body lay covered in a white plastic sheet.
Melbourne is Australia's second largest city, a cosmopolitan metropolis of almost five million people famed for its cafes, bars, restaurants and high standard of living.
Friday's attack is a double blow for the city as it coincides with an ongoing murder trial of 28-year-old James Gargasoulas, accused of ploughing his car into crowds in the same area in 2017, killing six people and wounding about 30.
Source: Reuters/afp/ic/hs