US midterm results positive for climate, but efforts need to start from cities, says ex-New York mayor Bloomberg
The world is getting more dangerous from a climate perspective, and record-breaking climate disasters will only get worse if the world does not work towards net-zero goals, Mr Bloomberg said.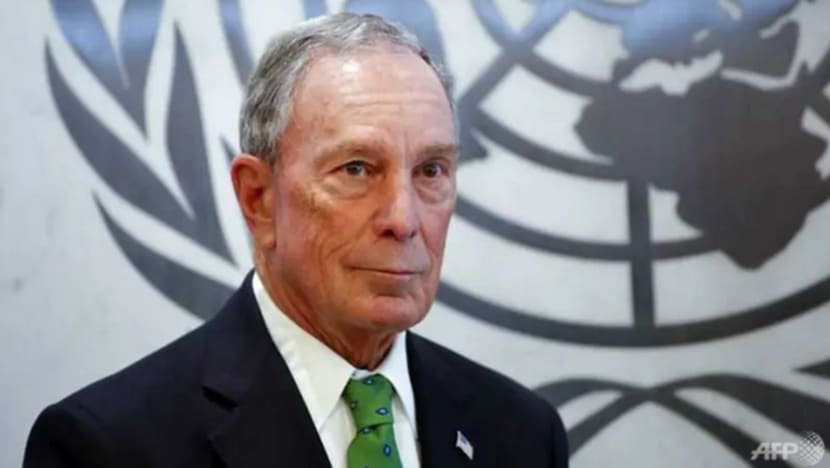 SINGAPORE: The results of the recent United States midterm elections which saw the Democrats retain control of the Senate, were positive for climate action, said philanthropist and former New York mayor Michael Bloomberg on Wednesday (Nov 16).
Speaking to CNA at the Bloomberg New Economy Forum in Singapore, Mr Bloomberg also said that confronting the climate crisis needs to start with individuals consuming less in urban areas, adding that there has not been enough urgency in dealing with global warming.
"Climate change starts in the cities, because that's where we use energy," said Mr Bloomberg.
"There's certainly not enough sense of urgency in dealing with the problem that the world is warming. And every year, it gets worse," he added.
 
He said that every individual has the capacity and responsibility to reduce consumption, including acts as simple as switching off the air conditioner, which leads to less energy generated and less pollution.
Mr Bloomberg also urged those in the private sector to run their companies more efficiently, and called on governments to manage their power plants more conservatively.
US MIDTERM RESULTS POSITIVE ON CLIMATE
In last week's US midterm elections, candidates who pledged climate actions won key races, a result which Mr Bloomberg described as "better than could have been".
The outcome showed that the US will have more focus on doing what is right for the climate, added Mr Bloomberg, who stood in the Democratic primaries in the 2020 US presidential election.
The Democrats' narrow win to keep the Senate will also help to protect President Joe Biden's climate goals.
However, he cautioned that "we are by no means where we need to be", and that politicians are unwilling to outright push aggressive, but much-needed, climate change agendas.
"Neither party is willing to stand up and say to the public, 'You have to sacrifice for your good, your family's good, and for everybody's good'," he said.
"Politically that doesn't get you a lot of votes, no matter what party or country you are in."
CLIMATE CHANGE MAKING WORLD MORE DANGEROUS
The world is getting more dangerous from a climate perspective, Mr Bloomberg said, citing examples of prolonged extreme droughts and massive forest fires that cannot be extinguished, such as those in California.
Such record-breaking climate disasters will only get worse if the world does not work towards net-zero emissions of greenhouse gases, added Mr Bloomberg, who is also the United Nations special envoy on climate ambition and solutions.
The billionaire businessman has contributed US$32.5 million towards UN climate initiatives, his office said in 2021, among his efforts to accelerate global climate action.
His charity organisation Bloomberg Philanthropies has helped to shutter about 70 per cent of all coal-fired power plants in the US, and is in the process of closing about half of those in Europe, he said.
At the ongoing COP27 climate conference in Egypt, Mr Bloomberg reiterated his commitment to phasing out coal and announced the expansion of his charity's efforts to deploy clean energy solutions to developing countries across Africa, Asia, and Latin America.
While moving beyond coal is a step in the right direction, he said other forms of pollution are still contributing to climate change and that more needs to be done.
"I think we, in all fairness, have started to slow (global warming) down," he said.
"(But) we're certainly not going anywhere near as fast as we have to. We certainly are not in a situation where we can take our foot off the pedal or step back."
CLIMATE CRISIS AFFECTS ALL
The US has seen the same extreme weather problems as other nations, Mr Bloomberg said, citing major rivers in both his country and China that are drying up so rapidly and drastically that commerce has been affected.
Melting ice caps will flood low-altitude countries and wipe out coastal communities, while warming oceans will increase the likelihood of storms, floods, and other climate disasters, he said. 
"Nobody owns these problems. You can give them a slightly different degree or a slightly different mixture. But we're all in this world together," he said.
"If you create more pollution, everybody suffers. If you reduce your pollution, everybody benefits."
However, Mr Bloomberg noted that creating the problem and suffering from the effects of the problem can occur in different places, such as small countries that emit little greenhouse gases but are more vulnerable to the effects of climate change.
"If you want to stop pollution, you have to go where the pollution is coming from, and that comes from the big industrial countries," he said.