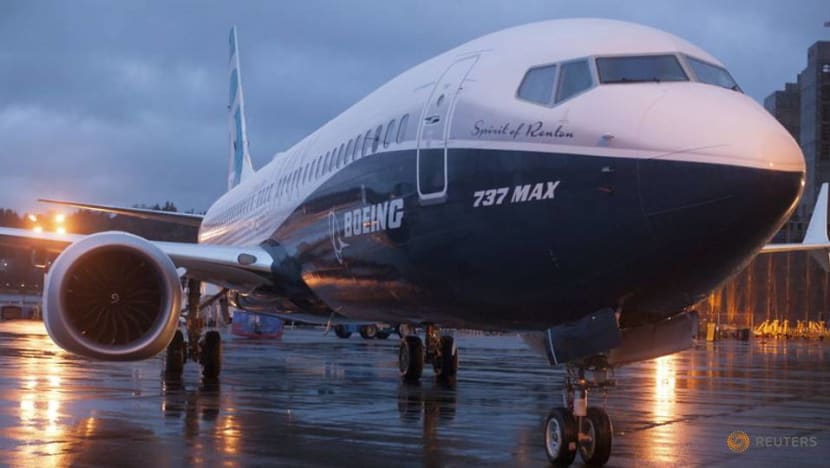 PARIS: A number of countries have grounded Boeing's 737 MAX 8 medium-haul workhorse jet in response to an Ethiopian Airlines crash on Sunday (Mar 10) that killed all 157 people on board.
The Nairobi-bound plane was the same type as the Indonesian Lion Air jet that crashed in October, killing 189 passengers and crew - with some detecting similarities between the two accidents.
There are about 350 of the 737 MAX 8 planes currently in service around the world and an increasing number of countries and airlines have opted to ground the planes, pending an investigation into the crash and possible guidance from Boeing itself.
Here's a list of the countries and airlines that have grounded the Boeing 737 MAX 8 planes.
SINGAPORE
Singapore's aviation regulator said on Tuesday it is temporarily suspending the operation of all variants of the Boeing 737 MAX aircraft into and out of Singapore. The suspension took effect from 2pm on Tuesday.
SilkAir, the regional arm of Singapore Airlines, operates six Boeing 737 MAX 8 aircraft and will be affected by the temporary suspension. The airline had said on Monday that its 737 MAX 8 planes are operating as scheduled, as it is closely monitoring developments following the Ethiopian Airlines crash. 
UNITED STATES
President Donald Trump announced on Wednesday that the US was grounding the Boeing 737 MAX jets, amid intense pressure about the safety concerns.
"We're going to be issuing an emergency order of prohibition to ground all flights of the 737 MAX 8 and the 737 MAX 9 planes," Trump said.
"The safety of the American people and all peoples is our paramount concern."
At least four American pilots have reported trouble with the aircraft. All said it suddenly pitched downward not long after takeoff.
CHINA
Beijing on Monday ordered domestic airlines to suspend commercial operation of the Boeing 737 MAX 8, citing the Ethiopian Airlines accident and last year's crash of the same model in Indonesia.
Noting "similarities" between the two accidents, China's Civil Aviation Administration said operation of the model would only resume after "confirming the relevant measures to effectively ensure flight safety".
China is a hugely important market for the US aircraft company, accounting for about one-fifth of worldwide deliveries of Boeing 737 MAX models.

Hong Kong has also banned the jet from its airspace.
MALAYSIA
The Civil Aviation Authority of Malaysia (CAAM) said that none of the Malaysian carriers operate the Boeing 737 MAX 8. 

The CAAM is suspending operations of the Boeing 737 MAX 8 aircraft flying to or from Malaysia and transiting in Malaysia until further notice.

INDONESIA
Indonesia, where a Boeing plane of the same model crashed in October, said it was grounding its 11 jets of the 737 MAX 8 type.
Inspections of the aircraft would start on Tuesday and the planes would remain grounded until they were cleared by safety regulators, director general of air transport Polana Pramesti told reporters.
Ten of Indonesia's Max 8 jets are operated by Lion Air while the other is flown by national carrier Garuda.

Lion Air said it was postponing taking delivery of four new Boeing 737 MAX 8 jets. The jets had been on order for delivery this year, but the company is now re-evaluating the situation.

CANADA
On Wednesday, Canada's Transport Minister Marc Garneau told a news conference that Ottawa would stop 737 MAX 8 and 9 jets from leaving, arriving in or flying over Canada.

AirCanada operates 24 Boeing 737 MAX jets while its rival WestJet Airlines operates 13 of the jets.
INDIA
India's civil aviation ministry said Tuesday it has grounded the country's Boeing 737 MAX fleet. 
"These planes will be grounded till appropriate modifications and safety measures are undertaken to ensure their safe operations," the ministry wrote on Twitter.
JAPAN

Japan's Transport Ministry announced on Thursday that it has ordered overseas carriers not to fly Boeing 737 aircraft to any airports in the country.

"The ban won't be lifted until we can confirm its safety," an official told AFP.
There are no Japanese airline companies that possess the aircraft, although All-Nippon Airways plans to buy 30 units.
SOUTH KOREA
South Korea's transport ministry said that the two Boeing 737 MAX 8 planes operated by the country's budget airline Eastar Jet would be grounded pending an inspection.
MONGOLIA
The Mongolian Civil Aviation Authority said on Facebook it had ordered the state carrier MIAT Mongolian Airlines to ground the sole Boeing 737 MAX 8 aircraft in its fleet.
ALL EUROPEAN UNION COUNTRIES
The EU's European Aviation Safety Agency said on Tuesday it was closing European airspace to Boeing 737 MAX aircraft.
"EASA has decided to suspend all flight operations of the two affected models," the agency said.
This covers the following countries:
Austria, Belgium, Bulgaria, Croatia, Cyprus, Czechia, Denmark, Estonia, Finland, France, Germany, Greece, Hungary, Ireland, Italy, Latvia, Lithuania, Luxembourg, Malta, Netherlands, Poland, Portugal, Romania, Slovakia, Slovenia, Spain, Sweden, and the United Kingdom.

RUSSIA
Russia's aviation authority on Thursday suspended flights by Boeing 737 MAX planes in the country's airspace.
Russia's S7 Airlines said earlier this week it would ground its Boeing 737 MAX 8 planes starting from Wednesday. It said its fleet included two Boeing 737 MAX jets, the only such planes owned by Russian carriers.
AUSTRALIA
Australia's civil aviation safety authority suspended Boeing Co 737 MAX aircraft from flying to or from Australia.
"This is a temporary suspension while we wait for more information to review the safety risks of continued operations of the Boeing 737 MAX to and from Australia," Australia's Civil Aviation Safety Authority (CASA) CEO Shane Carmody said in a statement.
Fiji Airlines is the only 737 MAX operator affected by the Australian ban, according to CASA. SilkAir has already been covered by the Civil Aviation Authority of Singapore's temporary suspension.
NEW ZEALAND
New Zealand's Civil Aviation Authority (CAA) said it was imposing a temporary suspension banning Boeing 737 MAX aircraft from its airspace after consultation with other regulators. 

"The CAA's assessment has taken into consideration the level of uncertainty regarding the cause of the recent Ethiopian Airlines accident plus its review of the aircraft design," the CAA said in a statement.
The regulator said only one airline, Fiji Airways, flew the 737 MAX to New Zealand.
Flag carrier Air New Zealand does not have any of the aircraft in its fleet.
ICELAND
Icelandair operates three Boeing 737 MAX 8. Its operations chief Jens Thordarson told Frettabladid newspaper it would be "premature" to link the crashes in Ethiopia and Indonesia together.
For now, "nothing pushes us towards the slightest action", he said.
This could change depending on the outcome of an ongoing probe but "for now, there is no reason to fear these machines".
However, later on Tuesday, the airline said it would "temporarily suspend" operations of the three planes, though it continued to express confidence in the safety of the aircraft. 
NORWAY
Low-cost airline Norwegian Air Shuttle said on Tuesday it would suspend flights of its Boeing 737 MAX aircraft until further notice.
Norwegian, which operates 18 such planes, will keep them grounded pending advice from aviation authorities, operations chief Tomas Hesthammer told AFP.
"In response to the temporary suspension of Being 737 MAX operations by multiple aviation authorities we have taken the decision to not operate flights using this aircraft type, until advised otherwise by the relevant aviation authorities," he said.
Norwegian also operates more than 110 Boeing 737-800 aircraft in its fleet which are not affected by the temporary suspension, the company said.
ARGENTINA
Aerolineas Argentinas said late Monday it had ordered the suspension as it awaited the result of investigations into the crash of the Ethiopian Airlines plane.
"For Aerolineas Argentinas, safety is the most important value," the company said in a statement on the grounding of its five 737 Max 8 planes, out of a total fleet of 82.

TURKEY
National carrier Turkish Airlines said Tuesday it was suspending flights using its fleet of 12 Boeing 737 MAX aircraft.

"Until the uncertainty surrounding the safety of the 737 MAX is clarified, we are withdrawing these planes from commercial flights from Mar 13," airline CEO Bilal Eksi said on Twitter.

THREE GULF COUNTRIES
Three Gulf countries banned the Boeing 737 MAX - the United Arab Emirates, Kuwait and Oman.
The UAE's General Civil Aviation Authority said the move was a "precautionary measure aimed at protecting public safety," state news agency WAM reported.

Kuwait banned the Boeing 737 MAX because "it seems that this type of airplane is facing a technical problem," said Imad Jalaoui, deputy head of the country's aviation safety department.
"We are waiting for information from the manufacturing company that confirms the safety of the plane," he told AFP.

Oman announced earlier Tuesday it would temporarily suspend operations of the 737 MAX aircraft, in a Twitter post by Muscat's Public Authority for Civil Aviation.
The sultanate's national carrier, Oman Air, has five Boeing MAX aircraft in its fleet, according to the airline's website.
EGYPT
Egypt said on Wednesday it would bar all Boeing 737 MAX aircraft from its airspace. The aviation ministry said it was banning the aircraft from "taking off and landing" in order to ensure "the safety of passengers".
SERBIA
Serbia's aviation authorities barred Boeing 737 MAX planes from the country's airspace, a spokesperson told AFP on Wednesday.

Serbia has also banned the aircraft "for take-off and landing at all airports" in the country, a spokesman for the Civil Aviation Directorate said of the measure, which went into effect Tuesday.
He explained that "Serbia is aligning itself with the directives of the European Union Aviation Safety Agency", which decided on Tuesday to close European airspace to Boeing 737 MAX.
ETHIOPIAN AIRLINES
Ethiopian Airlines said on Monday it had grounded its Boeing 737 MAX 8 fleet.
"Following the tragic accident of ET 302 ... Ethiopian Airlines has decided to ground all B-737-8 MAX fleet ... until further notice," the state-owned carrier said.
"Although we don't yet know the cause of the accident, we have to decide to ground the particular fleet as an extra safety precaution," said the airline, Africa's largest.
COMAIR
South African airline Comair said it had "decided to remove its 737 MAX from its flight schedule".
Cayman Airways:
Cayman Airways said it would suspend flights for its two 737 MAX 8 planes "until more information is received", CEO Fabian Whorms said.

GOL
Brazilian airline Gol announced in a statement on Monday it was temporarily suspending commercial operations for its seven Boeing 737 MAX 8 aircraft.
Gol said the model's flight record had so far shown 2,933 journeys since its introduction in June 2018 "with total security and efficiency".

It also stated its "confidence in its operations and in Boeing" and was doing everything possible to allow it to resume the grounded flights as soon as possible.
AEROMEXICO
Mexican airline Aeromexico said it had suspended the operation of its six Boeing 737 MAX 8 planes until it had clear information about the investigation into Sunday's crash of the Ethiopian Airlines jet.
"Flights operated with these planes will be covered by the rest of the fleet," Aeromexico said in a statement.

FLYDUBAI
Middle Eastern carrier flydubai said on Thursday that the Boeing 737 MAX, while suspended, remained integral to its future strategy.

The state-owned airline is one of the biggest customers for the aircraft and its current fleet contains 13 MAX 8s.

"We recognize this is a unique and complex situation underpinned by safety and regulation. There are a number of procedural factors that our experienced teams are working through," an airline spokeswoman said.​​​​​​​

This story has been updated to reflect more recent developments. 
Source: AGENCIES/na/ic/hs