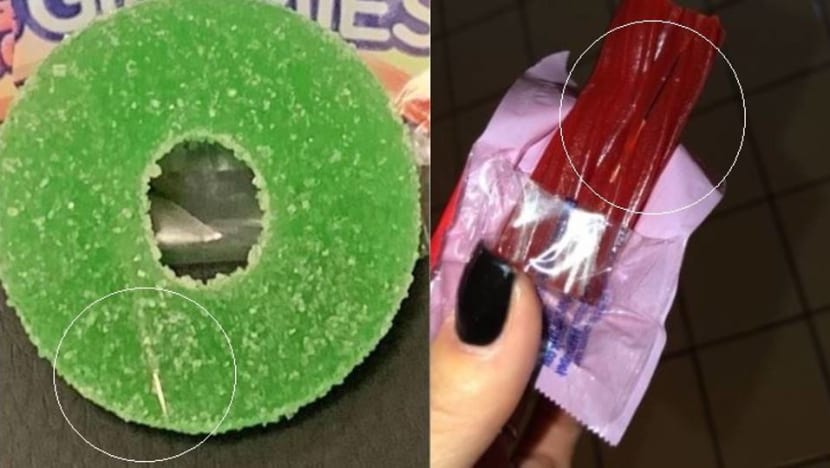 SINGAPORE: Authorities in the United States warned the public on Thursday (Nov 1) to check their Halloween candy before eating them, amid reports of needles found in popular sweets like Lifesavers and Twizzler Twists. 
Cases have been reported in three different states.
In Albuquerque, New Mexico, the top of a 12-year-old girl's mouth was impaled by a needle after she bit into a 3 Musketeers chocolate bar.

According to the Albuquerque Police Department, the girl had received the candy while trick-or-treating in the Nakomis Dr Ne neighbourhood with her family. 

Her mother told authorities she noticed someone distributing candy from a car at a nearby park, but was unable to describe the vehicle. She noted, however, that the car was not the only one around from which sweets were given out. 

"If you trick-or-treated in the area, please be extra cautious," said Albuquerque police in a Facebook post. "We are still asking all parents to check candy in case it came from a vehicle."
Separately, the Wilson County Sheriff in Tennessee tweeted a photo of the circular Lifesavers gummy with a needle sticking out of it, saying the contamination was discovered by a mother who saw that the product's wrapper had been altered. 

"Please check your candy to ensure that it is properly sealed and has not been altered," the tweet read. 

In Massachusetts, the Marshfield Police Department also tweeted a photo, this time of the chewy, red Twizzler Twist candy, which had several short needles embedded in it. 
The authorities advised the public to throw away all Twizzlers and inspect other types of candy.

It appears the popular KitKat was not spared, with several social media users posting photos of needles embedded in the bars of chocolate wafer. 
"Marysville, if you took any little ones trick-or-treating my sister found a needle in a KitKat! Please check their candy," said Twitter user Kaylee Grant.