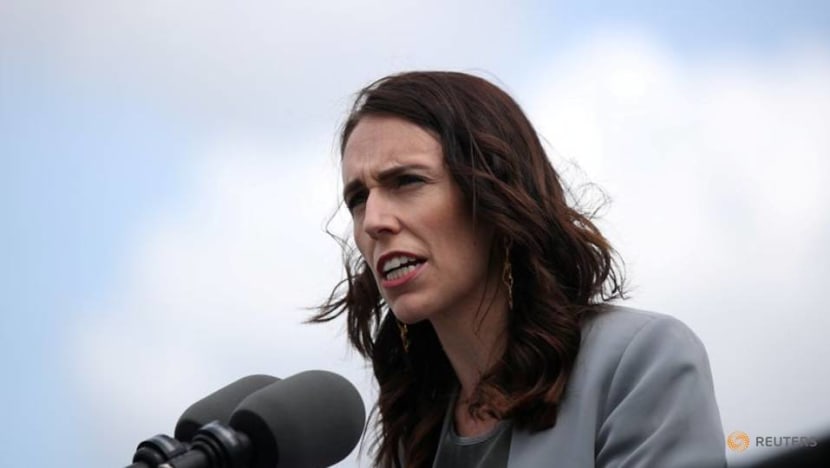 WELLINGTON: New Zealand's Prime Minister Jacinda Ardern on Monday (Aug 17) postponed a general election by four weeks to Oct 17 but ruled out delaying it any further, as the country tackles a new outbreak of the coronavirus.
"Ultimately, the 17th of October ... provides sufficient time for parties to plan around the range of circumstances we will be campaigning under," Ardern said in a news conference.
The election had been scheduled to be held on Sep 19.
Pressure had been mounting on Ardern to postpone the vote amid the resurgence of COVID-19 infections in its biggest city Auckland, after the country had been free of coronavirus cases for 102 days.
The centre-left leader, who is riding high in opinion polls, also acknowledged concerns from rivals that curbs on campaigning would unfairly weigh the election in favour of her government.

After spending the weekend consulting party leaders and the Electoral Commission, she chose Oct 17, the earliest delayed date available to her.

Ardern said the change meant all parties would be campaigning under the same conditions and she would not move the election's timing again regardless of the situation.

"I have absolutely no intention at all to change from this point," she said.

"This decision gives all parties time over the next nine weeks to campaign and the Electoral Commission enough time to ensure an election can go ahead."

All parties temporarily suspended campaigning in the wake of last week's outbreak, the source of which remains unknown.
New Zealand law requires the election to be held before Nov 21. 
"COMMON SENSE"
Ardern's opponents accuse her of using the pandemic to shore up support as she appears on television nearly every day to reassure New Zealanders, while other party leaders struggle to get attention.
Her rivals are hoping Ardern loses some of her appeal once economic hardships caused by the lockdown begin to bite.
The South Pacific nation is following the same strategy that helped contain coronavirus during a seven-week lockdown earlier this year - isolating positive cases, contact tracing and extensive testing.

The earlier success has helped lift Ardern's personal popularity rating to a record 60 per cent, along with her leadership during last year's Christchurch mosque attacks and the White Island volcano eruption.
Ardern's Labour Party is on track to win office in its own right, without the minor party coalition partners - the Greens and New Zealand First (NZF) - it needed during its first term.

The main opposition National Party last week demanded the election be postponed until late November, or preferably next year, saying Sep 19 was untenable.

Ardern's coalition partner NZF backed the delay on Monday after earlier saying the September option had been "fatally compromised" by the outbreak.

"Common sense has prevailed," said NZF leader and Deputy Prime Minister Winston Peters, whose populist party faces an election wipeout on current polling.

Labour's other coalition partner, the Greens, said the four-week delay should give health authorities time to contain the Auckland cluster.
Co-leader James Shaw accused some parties of displaying "naked political self-interest" in demanding a delay, saying they hoped the pandemic's economic impact would dent the government's popularity in the meantime.

"We have been incredibly disappointed to see the National and other small parties continue to use the weekend to bang on about what would suit them best politically," he said.

The virus is a strain not previously seen in New Zealand and national health director-general Ashley Bloomfield said tests to check if it was imported via freight sent to an Auckland cool room facility were still being processed.
But he assured the public there was no risk in purchasing frozen goods from the supermarket.
"There's no evidence of transmission by food or food packaging to date," he said, adding that some form of human-to-human infection was still considered the most likely source of the outbreak.
BORDER FAILURE? 
New Zealand has fared far better than most countries during the pandemic but an abrupt resurgence of COVID-19 last week in Auckland prompted Ardern to extend a lockdown for the city's 1.7 million residents until Aug 26, while social distancing rules are in place in other towns and cities.
The origin of the new outbreak is still unknown. Authorities said previously that it could have been through an Americold cold-storage facility where one of the infected individuals worked.
Tests of surfaces in the facility are under way to identify the genome sequence. Australian authorities are also investigating if there is any link to an Americold facility in the Australian city of Melbourne, where COVID-19 cases have surged in recent weeks.
Results are expected later this week.
Another possible source is the quarantine system for New Zealanders returning from overseas.
"Right now the focus must be on finding out exactly what failed so catastrophically at the border so we can be sure it won't happen again," National Party leader Judith Collins said on Twitter.
New Zealanders celebrated when authorities eliminated community transmission of the coronavirus at the start of the pandemic with a hard lockdown that forced almost everyone to stay at home.
The government extended a wage subsidy scheme and mortgage deferral programme to support businesses and jobs affected by the lockdown. 
Download our app or subscribe to our Telegram channel for the latest updates on the coronavirus outbreak: https://cna.asia/telegram