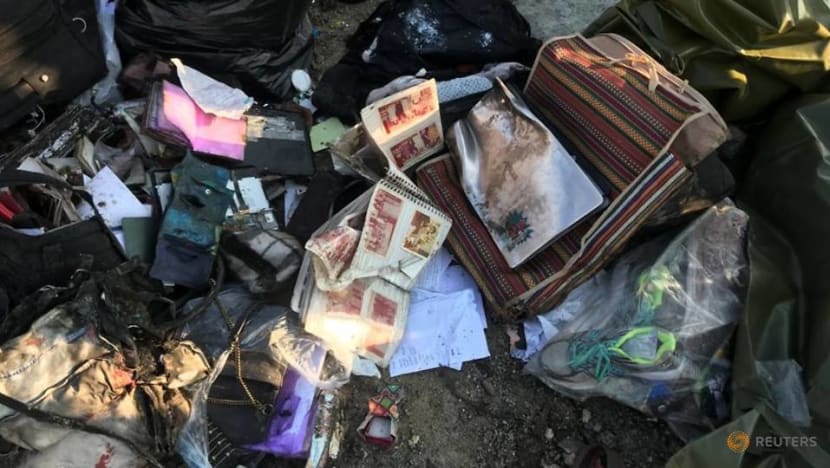 NEW YORK/DUBAI: France said on Friday (Jan 10) it was ready to join the investigation into the crash of a Ukrainian airliner in Iran that killed all 176 people abroad, after Canada and others said the plane had been brought down by an Iranian missile, probably by mistake.

The plane, a US-made Boeing 737, went down minutes after takeoff from Tehran's Imam Khomeini International Airport, after Iran launched ballistic missiles at American military targets in Iraq in retaliation for the Jan 3 US drone strike in Baghdad that killed top Iranian general Qasem Soleimani.

Canadian Prime Minister Justin Trudeau, citing intelligence from Canada and other sources, blamed an Iranian missile for bringing down the plane that had 63 Canadians on board, although he said it "may well have been unintentional."
"The evidence indicates that the plane was shot down by an Iranian surface-to-air missile," he said.
A US official, citing satellite data, said Washington had concluded with a high degree of certainty that anti-aircraft missiles brought down the plane in error.

Ukrainian President Volodymyr Zelenskiy said a missile strike could not be ruled out but it had not been confirmed.

France said it was ready to join Canada and other nations contributing to the investigation. "It is important that as much clarity as possible is made and as quickly as possible," French Foreign Minister Jean-Yves Le Drian said.

The US National Transportation Safety Board (NTSB) said it had designated an accredited representative to join the probe and was determining the level of participation.
"The NTSB continues to monitor the situation surrounding the crash and evaluate its level of participation in the investigation", which will be led by Iran, its statement said.
"As with any investigation in which the NTSB is involved, the agency will not speculate about the cause of the crash."
Canada, which had dozens of passengers on board, has also assigned an expert, while a team from Ukraine held discussions in Tehran on Thursday, Farhad Parvaresh, Iran's representative at the International Civil Aviation Organization, part of the United Nations, said in a telephone interview.
Iran is ready to provide consular facilities and visas for accredited investigators, he added.

Sweden and Afghanistan, which had some passengers on board, have also been notified.

Boeing said it would support the NTSB. The company is still reeling from two deadly crashes of 737 MAX planes, including the one in Ethiopia, that led to the plane's grounding in March 2019.
The 737-800 that crashed was built in 2016 and is the prior generation of the 737 before the MAX.
Iran denied the Ukrainian airliner had been hit by a missile, saying such reports were "psychological warfare against Iran".
"All those countries whose citizens were aboard the plane can send representatives and we urge Boeing to send its representative to join the process of investigating the black box," government spokesman Ali Rabiei said in a statement.