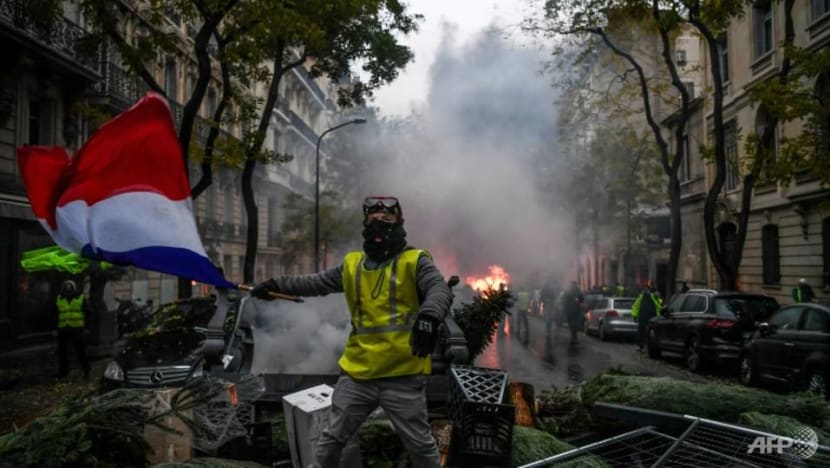 ARLES, France: A motorist died overnight after colliding with traffic that had built up due to a "yellow vest" anti-government protest in southern France, a local prosecutor said on Sunday (Dec 2).
The accident happened in Arles after "a van collided into a heavy truck at full force before being hit by another vehicle", Tarascon prosecutor Patrick Desjardins told AFP, adding that the accident was "directly related" to a roadblock by protesters that had caused a 10km-long traffic jam.
STATE OF EMERGENCY
The news comes as President Emmanuel Macron and and key ministers get ready to meet later on Sunday to consider declaring an emergency to prevent a recurrence of the riots.
The government is open to dialogue but will not change course, spokesman Benjamin Griveaux said.
A popular revolt over fuel tax hikes and high living costs erupted suddenly on Nov 17 and has spread quickly via social media. Protesters have blocked roads across France and impeded access to shopping malls, factories and some fuel depots.
On his return from the G20 summit in Argentina, Macron paid an immediate visit to the Arc de Triomphe, the 19th-century arch that towers over the Tomb of the Unknown Soldier, and avenues nearby where cars had been torched and luxury shops pillaged.
"I will never accept violence," Macron told a news conference in Buenos Aires before flying home.
"No cause justifies that authorities are attacked, that businesses are plundered, that passers-by or journalists are threatened or that the Arc du Triomphe is defiled," he said.
TV footage showed the interior of the Arc ransacked, a statue of Marianne, symbol of the French republic, smashed, and graffiti scrawled on the exterior ranging from anti-capitalist slogans to social demands and calls for Macron's resignation.
Under heavy security, the French leader spoke with police and firefighters on one of the avenues near the Champs Elysees boulevard, with some bystanders cheering but more jeering him, including yellow-jacketed protesters chanting, "Macron, resign!"
Meanwhile, workmen in the upper-crust district of central Paris set about cleaning the defaced Arc, removing charred hulks of cars and replacing the shattered windows of banks, restaurants and luxury boutiques.
"We have to think about measures that can be taken so that these incidents don't happen again," Griveaux told Europe 1 radio.
The protests began as a backlash against Macron's fuel tax hikes, but have mined a vein of deep dissatisfaction felt towards his liberal economic reforms, which many voters feel favour the wealthy and big business.
Macron says higher diesel taxes are needed to fight climate change by spurring motorists to drive cleaner cars.
Authorities were caught off guard by Saturday's escalation in violence overshadowing the spontaneous protest movement, dubbed the "yellow vests" because many participants are wearing the fluorescent safety jackets kept in all cars in France.
MACRON CHAIRING EMERGENCY CABINET MEETING
In Paris, police said they had arrested more than 400 people while 133 were injured, including 23 members of the security forces. Police fired stun grenades, tear gas and water cannon at protesters at the top of the Champs-Elysees, at the Tuilleries Garden near the Louvre museum, and other sites.
Disturbances also rocked several cities and towns and across France - from Charleville Mezieres in the northeast to Nantes in the west and Marseille in the south.
Twenty cars, including three police vehicles, were also torched near Narbonne in the southwest, the official said.
In a separate incident, a motorway pay booth was set on fire by arsonists in southern France near the city of Narbonne, a judicial source told AFP Sunday. Five people were taken into custody, a prosecutor said.
The main north-south motorway in eastern France, the A6, was also blocked by protesters near the city of Lyon on Sunday morning, its operator said.
The capital was calm, however, but as groups of workers moved around cleaning up the mess from the previous day, the scale of the destruction became clear.
Around famous areas including the Champs-Elysees, the Louvre museum, the Opera and Place Vendome, smashed shop windows, broken glass and the occasional burned-out car were testament to the violence.
Dozens of cars were torched by the gangs of rioters, some of whom wore gas masks and ski goggles to lessen the effects of tear gas which was fired continually by police.
One person was in a critical condition after protesters pulled down one of the huge iron gates of the Tuileries garden facing the Louvre museum, crushing several people.
Nearly 190 fires were put out and six buildings were set alight, the Interior Ministry said.
Macron's crisis session with his prime minister and interior minister will assess how to begin dialogue with the "gilets jaunes" (yellow vests), who lack real structure or leadership.
When asked about imposing a state of emergency, Griveaux said it would be among the options considered on Sunday.
"It is out of the question that each weekend becomes a meeting or ritual for violence."
Griveaux urged the yellow vest movement to disassociate itself from radical groups that had instigated the violence, organise itself and come to the negotiating table. However, he ruled out a change in government policy.
"We won't change course. It's the right direction. We are certain of that," he said.
Some 136,000 demonstrators, most of them peaceful, were counted across the country on Saturday, the Interior Ministry said Sunday in updated figures.
The number was well below the first day of protests on Nov 17, which attracted around 282,000 people, and also down on the revised figure of 166,000 who turned out last Saturday.
Interior Minister Christophe Castaner attributed the violence to "specialists in sowing conflict, specialists in destruction".
He did not rule out imposing a state of emergency declaring: "Nothing is taboo for me. I am prepared to examine everything."
Source: AFP/reuters/ic(aj)