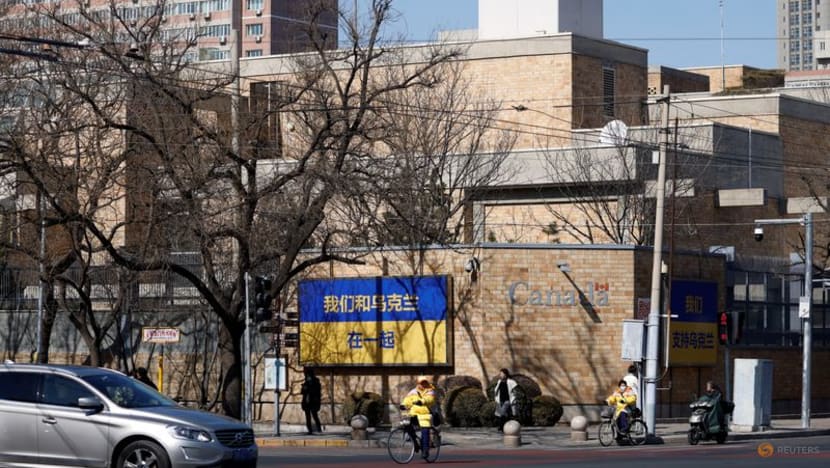 KYIV: Ukraine's foreign minister met China's special envoy to Kyiv on Wednesday (May 17), insisting that the war-torn country would not accept a peace plan that relied on giving up territory after Russia's invasion.
Their meeting came as Turkey's president announced a two-month extension of a UN-backed deal to allow Ukraine grain shipments via the Black Sea, which are crucial for ensuring supplies on global grain markets.
President Recep Tayyip Erdogan thanked his "precious friend" President Vladimir Putin of Russia, his Ukrainian counterpart Volodymyr Zelenskyy and UN Secretary General Antonio Guterres for their roles in extending the agreement.
In the Ukrainian capital, China's envoy Li Hui is seeking to promote Beijing-led negotiations to resolve the conflict.
China, a close ally of Moscow, has not publicly condemned Russia's invasion of Ukraine, whose foreign minister Dmytro Kuleba said that peace depended on "respect of the sovereignty and territorial integrity of Ukraine".
In his meeting with Li, Kuleba "emphasised that Ukraine does not accept any proposals that would involve the loss of its territories or the freezing of the conflict", his ministry said.
He also underscored the importance of China's mediating role, in particular with regards to nuclear safety and the resumption of grain exports through the Black Sea.
GRAIN DEAL EXTENSION
Erdogan made the grain deal announcement a day before it had been due to expire, scoring a diplomatic coup ahead of a May 28 runoff election in Turkey, when he is hoping to extend his two-decade rule.
He said Russia had agreed not to block ships from leaving two Ukrainian ports, expressing hope that the deal would be "beneficial for all the parties".
Kyiv said it was "grateful" to the United Nations and Turkey for their efforts in "strengthening food security".
UN chief Guterres said: "These agreements matter for global food security - Ukrainian and Russian products feed the world."
Russia has repeatedly threatened to pull out of the deal, which was meant to expire on May 18, claiming that obstacles remain to its own food exports.
It condemned what it called "disparities" in the deal's implementation that "should be corrected as quickly as possible".
Kyiv has meanwhile accused Russia of blocking ships by refusing to register them and conducting lengthy inspections.
"Almost 70 vessels are currently waiting in Turkish territorial waters, 90 percent of them are ready to deliver the products of our farmers to the world," said Ukraine's Infrastructure Minister Oleksandr Kubrakov.
"COMPROMISE ... WILL NOT WORK"
Li, the highest-ranking Chinese diplomat to visit Ukraine since Moscow invaded in February 2022, arrived in Kyiv on Tuesday, three weeks after Zelenskyy spoke by telephone with Chinese leader Xi Jinping.
He arrived for two days of talks with authorities as part of a European tour to promote Beijing's plan to settle the conflict.
A high-ranking Ukrainian official told AFP on condition of anonymity that a meeting between Zelenskyy and Li was "possible in the afternoon".
On Tuesday, Kyiv had warned that Ukraine did not need "mediation for the sake of mediation".
"Ending the war with a compromise at the expense of Ukraine will not work," a senior Ukrainian official, speaking on condition of anonymity, told AFP.
Beijing has said the aim of the tour is to "communicate with all parties on the political settlement of the Ukrainian crisis".
Xi, who visited Moscow in March and has aimed to position China as a neutral mediator, has been criticised for refusing to condemn the Kremlin's attack on its neighbour.
FIERCE BATTLES
On the ground in Ukraine, "fierce" battles are raging for the eastern town of Bakhmut, Ukraine's army said.
"The enemy continues to conduct offensive actions," the general staff said in its daily report.
In Kyiv, officials sought to allay fears that Russian forces destroyed a US-supplied Patriot air-defence system, saying the powerful weapon was in operation.
And in Iceland, a meeting of European leaders agreed to establish a "register of damages" to record the wartime destruction wrought by Russia in Ukraine.
Created by the 46-nation Council of Europe, it sets up an evidentiary record ahead of a possible prosecutions of Russian leaders, laying the groundwork for compensation.
Marija Pejcinovic Buric, secretary general of the Council of Europe, said that by early Wednesday 40 countries had signed onto the creation of the register, including the United States and all other G7 nations.
It was a "first, necessary, urgent step" for "justice that is centred on the victims" of the war, she said on arrival at the second day of the summit in Iceland.
In a sign of the conflict's toll on Russia's economy, the statistics agency Rosstat said Wednesday that the country's gross domestic product shrank by 1.9 percent in the first quarter of 2023.
The economy was weighed down by another wave of Western sanctions imposed over its attack on Ukraine, including a ban by the European Union on Russian petroleum products, on top of an oil price cap agreed with the G7 and Australia.