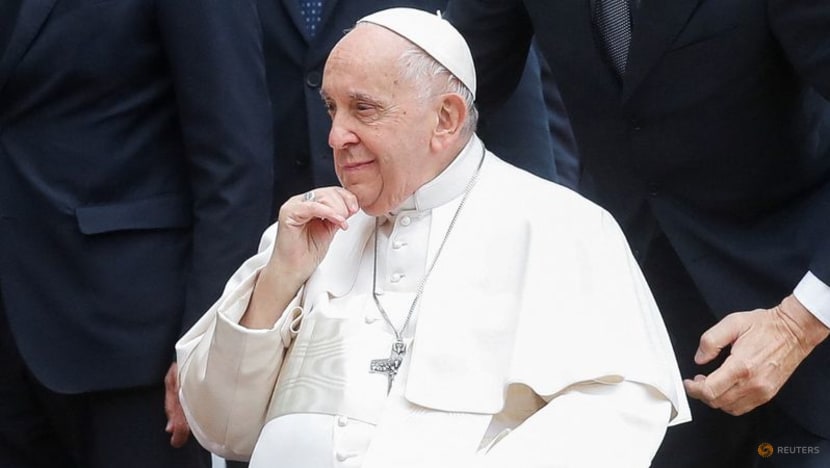 The Vatican is involved in a peace mission to try to end the conflict between Russia and Ukraine, Pope Francis said on Sunday (Apr 30), declining to give further details.
"I am willing to do everything that has to be done. There is a mission in course now but it is not yet public. When it is public, I will reveal it," the pope told reporters during a flight home after a three-day visit to Hungary.
"I think that peace is always made by opening channels. You can never achieve peace through closure ... This is not easy."
The pope added that he had spoken about the situation in Ukraine with Hungarian Prime Minister Viktor Orban and with Metropolitan (bishop) Hilarion, a representative of the Russian Orthodox Church in Budapest.
"In these meetings we did not just talk about Little Red Riding Hood. We spoke of all these things. Everyone is interested in the road to peace," he said.
Since Russia invaded Ukraine in February 2022, Pope Francis has pleaded for peace practically on a weekly basis, and has repeatedly expressed a wish to act as a broker between Kyiv and Moscow. His offer has so far failed to produce any breakthrough.
Ukraine Prime Minister Denys Shmyhal met the pope at the Vatican on Thursday and said he had discussed a "peace formula" put forward by Ukrainian President Volodymyr Zelenskyy. He said he had also invited the pontiff to visit Kyiv.
Pope Francis, 86, has said previously that he wants to visit Kyiv but also Moscow on a peace mission.
Tens of thousands have been killed, millions uprooted and whole cities have been flattened during the war in Ukraine.
Pope Francis, who appeared in relatively good condition during the trip, also spoke of his health following his hospitalisation in late March for what the Vatican said at the time was bronchitis.
He said he felt a strong pain at the end of his general audience on Wednesday, Mar 29 and tried to sleep.
"I did not lose consciousness but I had a high fever and at 3pm the doctor took me to the hospital right away," he said.
"It was a strong and acute pneumonia in the lower section of the lung. Thank God I can talk about it. The body responded well to the treatment, thank God," he said. He was released on Apr 1.
A part of one of his lungs was removed when he was a young man in Argentina more than half a century ago.
The pope said there were no changes to plans to go to Lisbon in August for an international youth gathering and then separately to Marseilles and Mongolia.