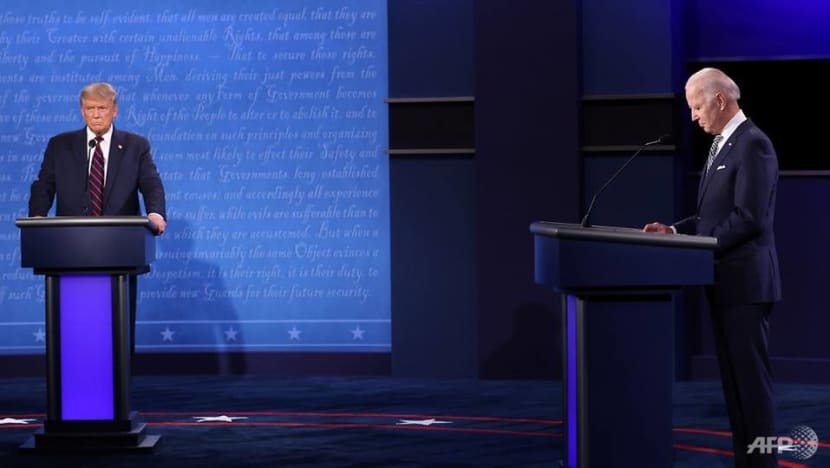 Republican President Donald Trump and Democrat Joe Biden faced off in the first of their three scheduled presidential election debates on Wednesday (Sep 30) morning Singapore time.
There was no handshake as the two men took the stage and while this was due to COVID-19 restrictions, the absence of the traditional greeting symbolised the bitterness engulfing the country.
From the opening exchanges over healthcare, where Trump accused Biden of being a "socialist", the tension was palpable, interrupting each other repeatedly, leading Biden to lash out at one point: "Will you shut up, man!"
Biden branded Trump a liar; Trump fired back hard at Biden, telling him: "There's nothing smart about you, Joe. Forty-seven years, you've done nothing."
Biden said: "The fact is that everything he is saying so far is simply a lie. I'm not here to call out his lies. Everybody knows he's a liar."
Organisers said there were about 80 people in the audience, including the candidates' family members, their guests, campaign staff, hosts, health and security officials and journalists.
Before they had even met on the stage in Cleveland for the first of three 90-minute live television showdowns, Biden made public his tax returns to capitalise on reports that the billionaire Trump avoided paying almost any federal income taxes for years.
And Trump, facing the threat of being made a one-term president, pushed a conspiracy theory suggesting his challenger needs performance-enhancing drugs and might wear an earpiece to get answers during the debate.
Biden, with an impressive lead both in national and swing state polls, was looking to zoom in on public dissatisfaction with Trump's handling of the coronavirus pandemic, which has killed more than 200,000 Americans.
Source: CNA/agencies/rw/jt