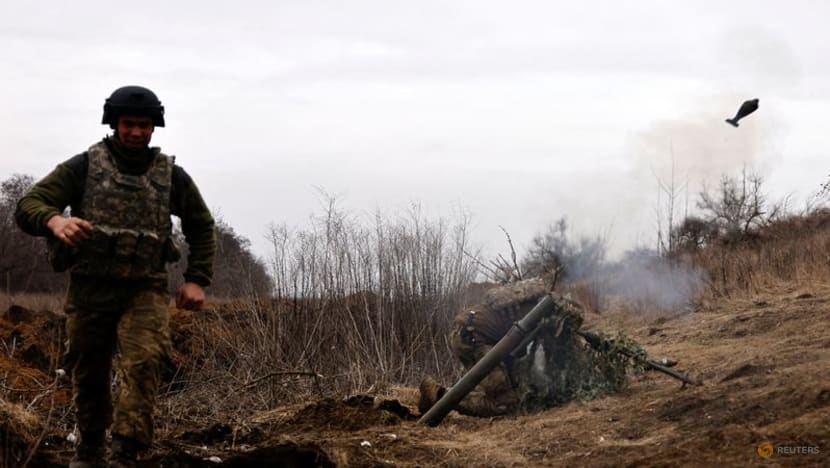 KYIV: Russian forces are still edging forward in the bombed-out eastern Ukrainian city of Bakhmut, a Moscow-installed official said on Tuesday (Mar 28), but British intelligence said a Russian tank division had taken heavy losses in the nearby town of Avdiivka.
The battle for Bakhmut, a mining city in the Donetsk region, has been the focus of Moscow's war in Ukraine for months, with both sides describing the fighting there as a "meat grinder".
Denis Pushilin, the Russian-installed leader of the part of Donetsk region under Moscow's control, said most Ukrainian forces had pulled back from the AZOM metals factory on the western side of the Bakhmutka river in the city.
"The important thing here was to clear out the industrial zone at the plant itself. You can practically say that has now been done, with the guys just finishing off (Ukrainian) fighters there who are only left in solitary groups," Pushilin told Russian state TV.
His claims ran counter to Ukrainian and Western assertions that the situation in Bakhmut is stabilising and that Russia's winter offensive is faltering.
In its evening briefing note on Tuesday, Ukraine's military command said Russia continued to conduct assaults in Bakhmut but Ukrainian forces were standing firm and repelling attacks.
Ukraine's eastern command spokesman Serhiy Cherevaty separately said the situation around Bakhmut remained "dynamic".
Ukrainian military commanders have said their own counteroffensive - backed by newly-delivered Western hardware, including German Leopard 2 tanks - is not far off, but have stressed the importance of holding Bakhmut in the meantime.
Russian forces have also been shelling Avdiivka, 90km south of Bakhmut. Many civilians have now been evacuated.
In its daily update on the war in Ukraine on Tuesday, Britain's defence ministry said Russian forces had made only "marginal progress" in an attempt to encircle Avdiivka in recent days and had lost many armoured vehicles and tanks.
Russia's 10th Tank Regiment, taking part in the Avdiivka operation, was dogged by problems of ill discipline and poor morale, and had "likely lost a large proportion of its tanks", the ministry said.
In another sign of the pressure Moscow is facing, Russia said on Tuesday it had for the first time shot down a US-supplied GLSDB guided smart bomb fired by Ukrainian forces.
The Ground-launched Small Diameter Bomb, long sought by Kyiv to hit Russian command centres and supply lines, could double Ukraine's battlefield firing range.
Separately, Ukrainian forces reported repelling 62 Russian assaults along the eastern front over the past 24 hours.
Reuters could not verify the battlefield reports.
Russian-installed officials in Donetsk city said Ukrainian forces killed two civilians late on Monday when they shelled an apartment building there. Reuters reporters saw rescuers combing through the rubble of the building, the lower part of which had collapsed, and one victim's legs protruding from the debris.
There was no immediate comment from Ukrainian authorities.
TACTICAL NUCLEAR WEAPONS
Russian President Vladimir Putin's invasion, now into its 14th month, has been bogged down for months in eastern Ukraine.
In warnings to the West against arming Ukraine, Putin and other Russian officials increasingly play up the risks of nuclear weapons being used in the war. On Saturday, Putin said he had struck a deal to station tactical nuclear weapons in neighbouring Belarus, an ally of Moscow.
Belarus confirmed this on Tuesday, saying the decision was a response to Western pressure including what it said was a military build-up by NATO member states near its borders. Minsk's foreign ministry said the nuclear plans did not contravene international non-proliferation agreements.
Ukraine and its Western allies have denounced the plan, which anti-nuclear campaigners warn will lower the threshold for using tactical short-range battlefield nuclear weapons.
Polish Prime Minister Mateusz Morawiecki said Belarus would face further European sanctions as a result.
The war has devastated Ukrainian cities and towns, caused the deaths of tens of thousands of people and forced millions more to flee their homes.
US officials said Washington supports the establishment of a special tribunal on the crime of "aggression" against Ukraine, laying out for the first time how the United States would back Ukraine's push for accountability over Russia's invasion.
Moscow says what it calls a special military operation in Ukraine was necessary to protect Russian-speakers in eastern Ukraine from persecution, and to prevent an aggressive West using Ukraine to threaten Russia.
Kyiv and Western countries say these are baseless pretexts for an imperial-style land grab in Ukraine, which was once part of the Soviet Union until its break-up in 1991.
NUCLEAR PLANT PROTECTION
Rafael Grossi, director-general of the International Atomic Energy Agency (IAEA), told Reuters in an interview in Dnipro that efforts were still alive to broker a deal to protect the Zaporizhzhia nuclear plant from the fighting were still alive, and that he was adjusting the proposals to seek a breakthrough.
Russian troops have occupied the nuclear power plant, Europe's largest, since the early weeks of the invasion of Ukraine and have shown no inclination to relinquish control.
Russia and Ukraine routinely accuse each other of shelling the plant. Grossi had previously called for a safety zone around it and is due to visit it again this week.
"I am confident that it might be possible to establish some form of protection, perhaps not emphasising so much the idea of a zone, but on the protection itself: what people should do, or shouldn't do to protect (the plant) instead of having a territorial concept," Grossi said after talks with Zelenskiy.
Listen: Is China the new peacemaker?