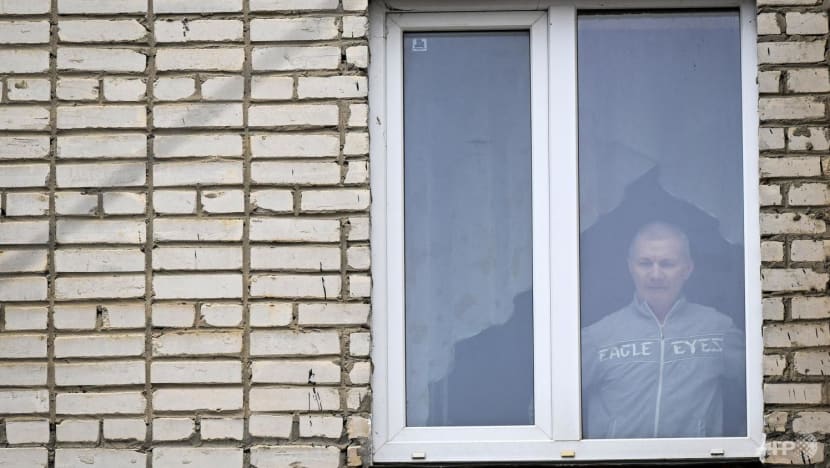 A Russian who was investigated by police after his daughter drew an anti-war picture at school was sentenced on Tuesday (Mar 28) to two years in a penal colony on charges of discrediting the armed forces, the OVD-Info rights group said.
But a court spokesperson said the man, Alexei Moskalyov, had escaped house arrest overnight. His whereabouts were not known.
"The accused, Mr Moskalyov, was not present for the sentencing because last night he ran away from house arrest," the spokesperson said in a video from the courtroom published by the independent news outlet SOTA.
Moskalyov has been separated from his daughter Masha since he was placed under house arrest at the start of this month and she was moved to a children's home in their hometown of Yefremov, south of Moscow.
The case has provoked an outcry among Russian human rights activists and sparked an online campaign to reunite father and daughter.
Moskalyov was convicted over comments he himself had posted online about the war in Ukraine. But the investigation started after Masha, 12, drew a picture last April showing Russian missiles raining down on a Ukrainian mother and child, prompting the head of school to call the police.
Police began examining Moskalyov's social media activity and he was initially fined 35,000 roubles (US$460) for comments critical of the Russian army.
In December, investigators opened another case against him on suspicion of discrediting the armed forces, this time based on a social media post in June.
The banned Russian human rights group Memorial said it considered Moskalyov to be a political prisoner.
A lawyer for the family visited Masha on Tuesday in a children's home and came away with drawings she had made for him. He was also allowed to photograph a letter she had written him that read "Dad, you are my hero", according to a video posted by the independent news outlet SOTAvision.
Shortly after invading Ukraine last year, Russia passed laws against discrediting the armed forces or knowingly spreading false information about them, with a maximum sentence of 15 years in jail.