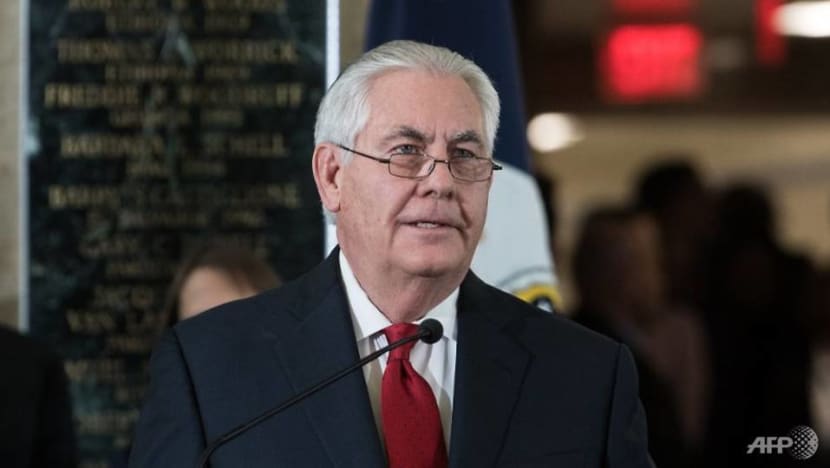 WASHINGTON: Former US secretary of state Rex Tillerson said Donald Trump was "undisciplined" and repeatedly wanted to break the law - leading the US president to respond on Friday (Dec 7) that his onetime cabinet member was "dumb as a rock."
Tillerson, who was fired in March, made no attempt to deny his poor relationship with Trump during a rare interview Thursday night as part of a charity dinner in his native Texas.
"I think part of it was obviously we are starkly different in our styles. We did not have a common value system," Tillerson told veteran journalist Bob Schieffer of CBS News, which broadcast an excerpt of the interview.
"I'd have to say to him, 'Well, Mr President, I understand what you want to do, but you can't do it that way - it violates the law, it violates a treaty.'"
"He got really frustrated," he said. "I think he grew tired of me being the guy every day that told him you can't do that and let's talk about what we can do."
Trump voiced anger hours later in a harsh tweet, saying that Tillerson "didn't have the mental capacity needed" to be the top US diplomat.
"He was dumb as a rock and I couldn't get rid of him fast enough. He was lazy as hell. Now it is a whole new ballgame, great spirit at State!" Trump wrote from Air Force One as he returned from a conference in Kansas City about crime.
Trump praised Tillerson's successor, the brusque former congressman and CIA chief Mike Pompeo, for "doing a great job."
He becomes the latest cabinet member on which Trump has turned his knives. He repeatedly denounced attorney general Jeff Session, who was ousted last month, as "very weak" for not blocking a probe into whether the Trump presidential campaign colluded with Russia.
RELATIONSHIP SOURED EARLY
Tillerson, a former chief executive of oil giant ExxonMobil, had no government experience and had never met Trump when his nomination was promoted by Republican Party insiders, who hoped for a stable figure who could nonetheless appeal to the tycoon-turned-president with his outsider status and business background.
But Tillerson immediately struggled to fit in, focusing on internal State Department streamlining rather than broader foreign policy goals and avoiding the press as his rapport frayed with Trump.
"It was challenging for me coming from the disciplined, highly process-oriented ExxonMobil Corp to go to work for a man who is pretty undisciplined, doesn't like to read, doesn't read briefing reports, doesn't like to get into the details of a lot of things," Tillerson said at the event in Houston.
Trump is proudly anti-intellectual, saying that he succeeds by following his instincts and knows better than experts.
Asked about his reading habits in an interview shortly after taking office, Trump said he was "looking at a book" but was distracted by phone calls every time he tried to get started.
When he selected him, Trump offered a vastly different assessment of Tillerson than on Friday, saying his "tenacity, broad experience and deep understanding of geopolitics" made him an "excellent choice."
But it quickly became clear that the two had little chemistry. Just as Tillerson was visiting Asia last year and speaking of lines of communication with North Korea, Trump tweeted that he was "wasting his time."
Pompeo has faced no such backlash from Trump and has travelled four times to Pyongyang.
Trump also used Twitter to announce Tillerson's firing and, in a final indignity, the White House made it known that the nation's top diplomat was on the toilet when he learned the news.