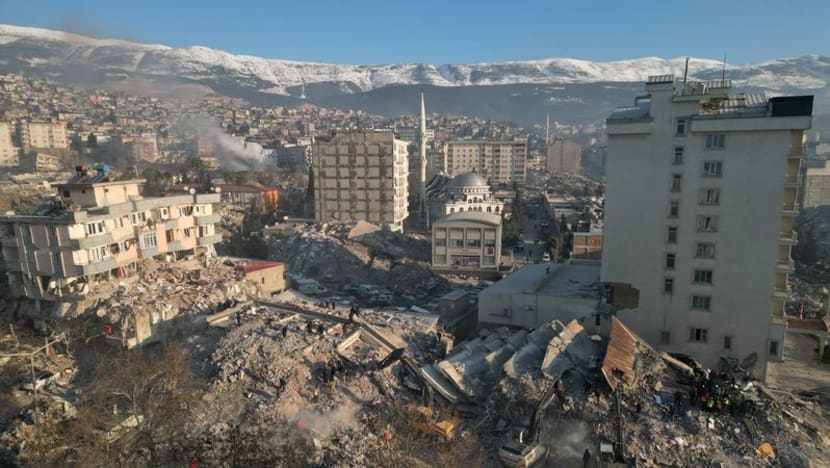 ANTAKYA/JANDARIS: Cold, hunger and despair gripped hundreds of thousands of people left homeless after the earthquakes that struck Türkiye and Syria three days ago as the death toll passed 20,000 on Thursday (Feb 9).
The rescue of a two-year-old boy after 79 hours trapped in the rubble of a collapsed building in Hatay, Türkiye, and several other people raised spirits among weary search crews. But hopes were fading that many more would be found alive in the ruins of towns and cities.
The death toll across both countries has now surpassed the more than 17,000 killed in 1999 when a similarly powerful quake hit northwest Türkiye.
A Turkish official said the disaster posed "very serious difficulties" for the holding of an election scheduled for May 14 in which President Tayyip Erdogan has been expected to face the toughest challenge in his two decades in power.
With anger simmering over delays in the delivery of aid and getting the rescue effort underway, the disaster is likely to play into the vote if it goes ahead.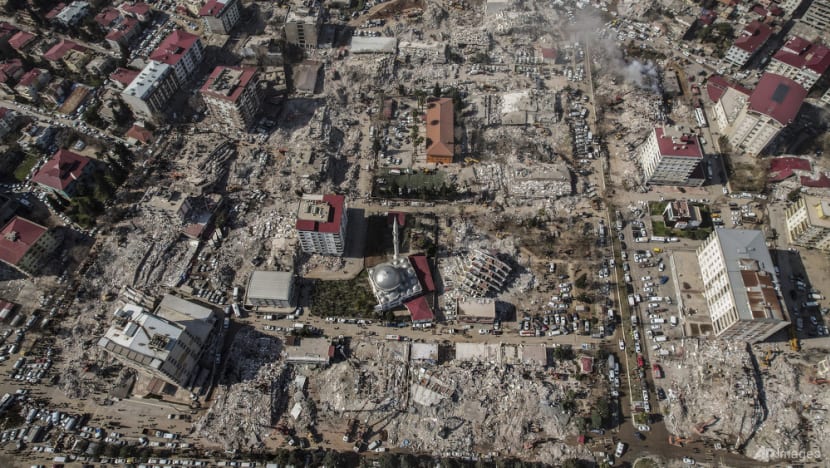 The first United Nations convoy carrying aid to stricken Syrians crossed over the border from Türkiye.
In Syria's Idlib province, Munira Mohammad, a mother-of-four who had fled Aleppo after the quake, said: "It is all children here, and we need heating and supplies, last night we couldn't sleep because it was so cold. It is very bad."
Hundreds of thousands of people across both countries have been left homeless in the middle of winter. Many have camped out in makeshift shelters in supermarket car parks, mosques, roadsides or amid the ruins, often desperate for food, water and heat.
About 40 per cent of buildings in the Turkish city of Kahramanmaras, the epicentre of the tremor, are damaged, according to a preliminary report by Türkiye's Bogazici University.
ROADSIDE CAMPFIRES
At a gas station near the Turkish town of Kemalpasa, people picked through cardboard boxes of donated clothes. In the port city of Iskenderun, Reuters journalists saw people huddled round campfires on roadsides and in wrecked garages and warehouses.
Authorities say about 6,500 buildings in Türkiye collapsed and countless more were damaged.
The death toll in Türkiye rose to 17,406, Health Minister Fahrettin Koca said. In Syria, already devastated by nearly 12 years of civil war, more than 3,300 people have died, according to the government and a rescue service in the rebel-held northwest.
In the devastated Syrian town of Jandaris, Ibrahim Khalil Menkaween walked in the rubble-strewn streets clutching a white body bag. He said he had lost seven members of his family including his wife and two of his brothers.
"I'm holding this bag for when they bring out my brother, and my brother's young son, and both of their wives, so we can pack them in bags," he said. "The situation is very bad. And there is no aid."
Turkish officials say about 13.5 million people were affected in an area spanning roughly 450km from Adana in the west to Diyarbakir in the east. In Syria, people were killed as far south as Hama, 250km from the epicentre.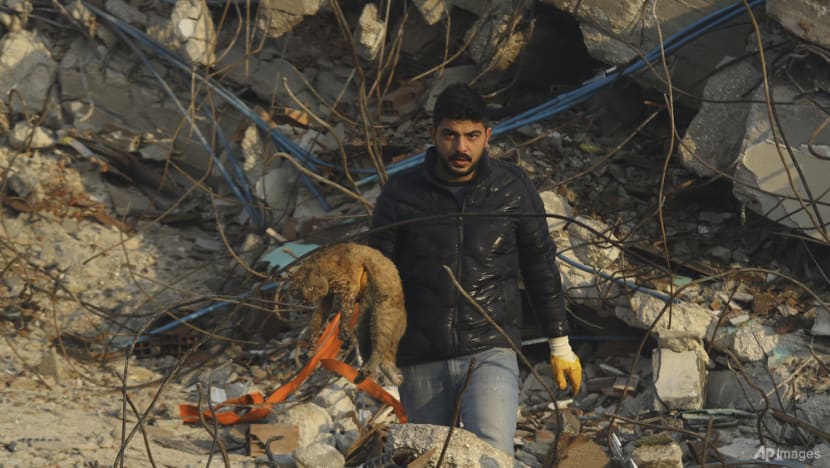 Rescue crews looked for survivors at the site of a collapsed building in the dark in the city of Adiyaman with temperatures below freezing, Turkish broadcasters showed.
Teams frequently called for silence, asking all vehicles and generators to be turned off and reporters to keep quiet as they listened for sounds of anyone alive under the concrete blocks.
There were still some signs of hope.
A two-year-old boy was picked out of the rubble by a Romanian and Polish rescue team in Hatay 79 hours after the quake, video released by Türkiye's Humanitarian Relief Foundation (IHH) on Thursday showed.
The boy, wearing a blue, white and black striped sweater, cried as he was gently lifted from the hole where he had been trapped. He was carried away on a blanket. No other details were immediately available.
Another video from IHH showed a helmeted and dust-streaked rescuer weeping with emotion after successfully freeing a little girl from the rubble of a collapsed building in Kahramanmaras.
Many in Türkiye have complained of a lack of equipment, expertise and support to rescue those trapped - sometimes even as they could hear cries for help.
After facing criticism over the initial response, Erdogan said on a visit to the area on Wednesday operations were now working normally and promised no one would be left homeless.
Nevertheless, the disaster will pose an additional challenge to the long-ruling president in the election.
Greece sent thousands of tents, beds and blankets on Thursday to help those left homeless by the quake, in an act of solidarity with a neighbour that is a NATO ally but also a historic foe.
Israeli satellite intelligence was helping map the disaster zones in Türkiye with mapping capabilities predominantly used for special operations, the Israeli military said.
SYRIA OVERWHELMED
In Syria, relief efforts are complicated by a conflict that has partitioned the country and wrecked its infrastructure.
The UN aid convoy entered Syria at the Bab Al Hawa crossing - a lifeline for accessing opposition-controlled areas where about 4 million people, many displaced by the war, were already relying on humanitarian aid.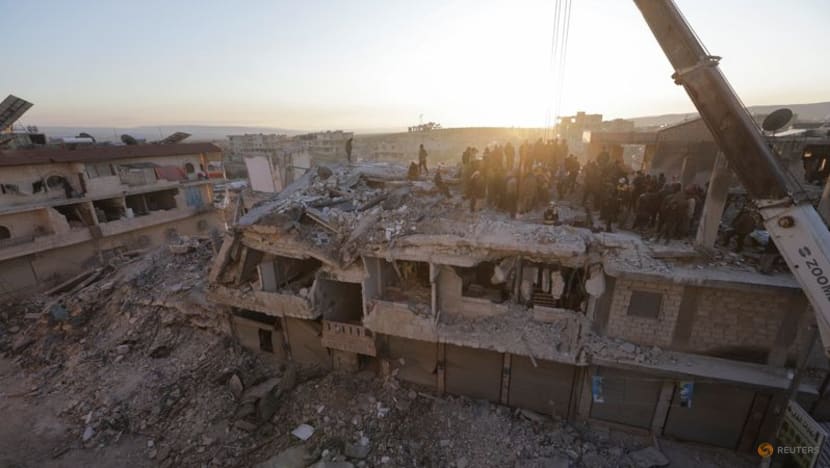 UN Secretary-General Antonio Guterres pushed for more humanitarian access to northwestern Syria, saying he would be "very happy" if the United Nations could use more than one border crossing to deliver help.
"The international community is prepared to help earthquake victims but the main obstacle is the Syrian regime," political observer Amin Saikal told CNA's Asia First on Friday.
Syrian ambassador to the UN Bassam Sabbagh has said that all foreign aid should be channeled through Damascus, which will put off donors who distrust President Bashar al-Assad's government.
"Western countries like the United States do not trust that aid going through the Assad regime will reach those Syrians who have been victimised, particularly in the opposition-held areas," said Adjunct Professor Saikal of the University of Western Australia's School of Social Sciences.
The Syrian government views the delivery of aid to the rebel-held northwest from Türkiye as a violation of its sovereignty and territorial integrity.
Aside from the dispute over the control of aid, adverse weather, quake-damaged roads and infrastructure, as well as the ongoing civil war are hampering aid organisations making the precarious border crossing from Türkiye into Syria.
Syrian civil defence said at least 2,030 people were killed in opposition-held northwest Syria, and the government has reported 1,347 deaths.
Syria's ambassador to the United Nations on Wednesday admitted the government lacked capability and equipment, but blamed the war and Western sanctions.
Assad has chaired emergency meetings on the earthquake but has not addressed the nation in a speech or news conference.
Hear a first-hand account of the Turkiye quake: