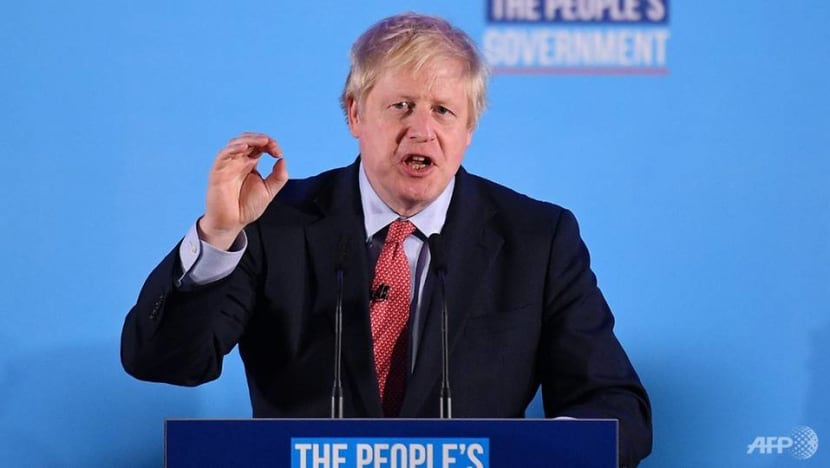 LONDON: British Prime Minister Boris Johnson's Conservatives have won a huge outright majority in parliament on Friday (Dec 13) that will allow him to take Britain out of the European Union in a matter of weeks.
The Conservatives won 365 of the 650 seats in the House of Commons, gaining 47 seats to trump Labour's total of 203 seats. 
That represents the biggest majority the Tories have held since Margaret Thatcher's win in 1987. 

It was a disastrous night for Jeremy Corbyn's Labour Party, which lost 59 seats, marking the worst result for the party since 1935. 
The Scottish National Party (SNP) gained 13 seats to finish as Britain's third biggest party, with 48 seats.
It was a bad night for two former coalition partners - the Liberal Democrats and the Democratic Unionist Party (DUP).
The Lib Dems lost one seat, finishing with 11. Leader Jo Swinson lost her East Dunbartonshire seat to the SNP by 149 votes.

The Conservative's most recent coalition party DUP lost two seats - including their deputy leader Nigel Dodds - to finish with just eight seats.
Sinn Fein returned with seven seats, and Plaid Cymru retained its four seats. The Greens won one seat.
There will be newcomers in the Commons. The Social Democratic and Labour Party won two seats, while the Alliance Party took home one. 
Nigel Farage's Brexit Party failed to win a seat.
Condemning more than three years of political wrangling over Brexit, Johnson vowed in his victory speech on Friday to "put an end to all that nonsense" and "get Brexit done on time by Jan 31, no ifs, no buts".

LABOUR LOSSES
Labour's Dennis Skinner, who would have been the longest-serving lawmaker in parliament, lost the seat he had held since 1970, as another brick in the "Red Wall" of traditional Labour support fell to Johnson's Conservatives and their pledge to deliver Brexit.

Skinner, 87, was defeated by Conservative Mark Fletcher, who overturned his 5,288 majority to win Bolsover with 21,791 votes against Skinner's 16,492.
Results showed Johnson's strategy had successfully breached seats across the Brexit-supporting areas of the Midlands and northern England where he cast his political foes as the out-of-touch enemies of Brexit.

The Conservatives took Sedgefield, once held by former Prime Minister Tony Blair, Labour's most successful leader.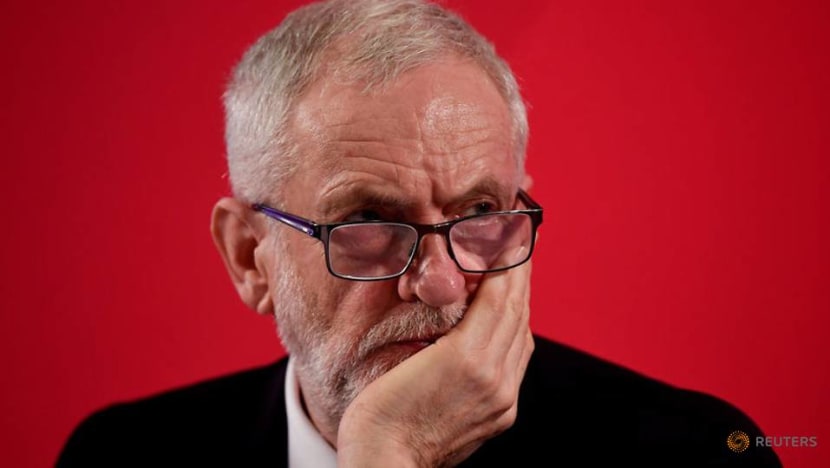 "This is obviously a very disappointing night for the Labour Party with the result that we've got," Corbyn said after being re-elected in his own north London electoral seat. He said he would not lead the party in any future elections.
Weary Labour candidates taking in the scale of their defeat said his leadership had played a major role in the defeat.

Ruth Smeeth, who said she also expected to lose her seat in Stoke-on-Trent, laid the blame firmly at Corbyn's door.
"He should have gone many, many, many months ago," she said.
Labour now faces a civil war between the socialists who control it and more moderate factions which will demand power.

"GET BREXIT DONE"
Johnson called the first Christmas election since 1923 to break what he said was the paralysis of Britain's political system after more than three years of crisis over how, when or even if to leave the European Union.
Johnson fought the election under the slogan of Get Brexit Done, promising to end the deadlock and spend more on health, education and the police.
It was a gamble that paid off handsomely. 

He was helped early in the election by Farage's Brexit Party, which stood down hundreds of candidates in a bid to prevent the pro-Brexit vote from being split. 
Results showed the Brexit Party had poached a significant number of voters from Labour.
While Brexit framed the election, the slow-motion exit from the EU has variously fatigued, enthused and enraged voters while eroding loyalties to the two major parties.
"We must understand now what an earthquake we have created," Johnson later told party staff, according to the Press Association news agency.
He earlier declared when he was re-elected as an MP that voters had given him "a powerful new mandate to get Brexit done".
Johnson now has up to five years to govern until he is obliged to call another election.


Source: AGENCIES/zl(hs/mj)