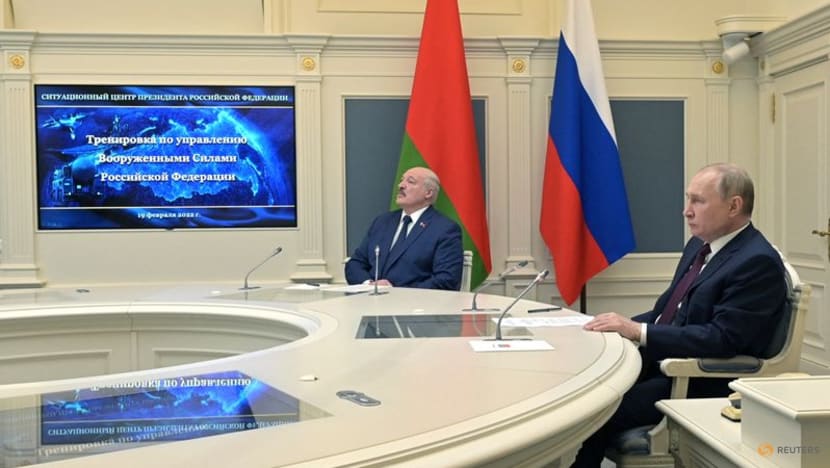 KYIV: The North Atlantic Treaty Organization (NATO) castigated Vladimir Putin over his nuclear rhetoric a day after the Russian president said he planned to station tactical nuclear weapons in Belarus, escalating a stand-off with the West.
The plan is one of Russia's clearest nuclear signals since the start of its invasion of Ukraine 13 months ago, and Ukraine called for a meeting of the United Nations Security Council in response.
"Russia's nuclear rhetoric is dangerous and irresponsible," NATO spokeswoman Oana Lungescu said on Sunday.
"NATO is vigilant and we are closely monitoring the situation. We have not seen any changes in Russia's nuclear posture that would lead us to adjust our own."
In his comments on Saturday, Putin likened the move to the United States stationing its weapons in Europe, while insisting that Russia would not violate its nuclear non-proliferation promises.
While Washington, the world's other nuclear superpower, played down concerns about Putin's announcement, NATO said that the Russian president's non-proliferation pledge and his description of US weapons deployment overseas were way off the mark.
"Russia's reference to NATO's nuclear sharing is totally misleading. NATO allies act with full respect of their international commitments," Lungescu said in a statement. "Russia has consistently broken its arms control commitments."
A top security adviser to Ukrainian President Volodymyr Zelenskyy, Oleksiy Danilov, said that Russia's plan would destabilise Belarus, which he said had been taken hostage by Moscow.
Lithuania said on Sunday that it would call for new sanctions against Moscow and Minsk in response to Russia's plan.
Lithuania will ask for the additional sanctions to be included in a package of penalties being discussed in Brussels, the foreign ministry's spokesperson said.
Experts said Russia's move was significant since it had until now been proud that unlike the United States, it did not deploy nuclear weapons outside its borders. It may be the first time since the mid-1990s that it has done so.
Mykhailo Podolyak, another senior Zelenskyy adviser, on Sunday scoffed at Putin's plan on Twitter.
"He admits that he is afraid of losing & all he can do is scare with tactics," Podolyak tweeted.
Tactical nuclear weapons refer to those used for specific gains on a battlefield rather than those with the capacity to wipe out cities. It is unclear how many such weapons Russia has, given it is an area still shrouded in Cold War secrecy.
UKRAINE URGES UN MEETING
Ukraine's foreign ministry called for an extraordinary meeting of the UN Security Council after Putin's announcement, and it asked the international community to "take decisive measures" to prevent Russia's use of nuclear weapons.
"Russia once again confirms its chronic inability to be a responsible steward of nuclear weapons as a means of deterrence and prevention of war, not as a tool of threats and intimidation."
The European Union joined the chorus of condemnation on Sunday, with its foreign policy chief Josep Borrell urging Belarus not to host the weapons and threatening further sanctions.
Analysts at the Washington-based Institute for the Study of War said the risk of escalation to nuclear war "remains extremely low".
In Washington, Representative Michael McCaul, the Republican chairman of the US House of Representatives foreign affairs committee, said he regarded Russia's plan as disturbing and designed to intimidate the West.
"I think this is sabre-rattling on the part of Putin basically to try to frighten," McCaul told the Fox News Sunday programme. "These tactical nukes are disturbing."
PUTIN DECRIES A WESTERN "AXIS"
Putin said Belarusian President Alexander Lukashenko had long requested the deployment. There was no immediate reaction from Lukashenko.
While the Belarusian army has not formally fought in Ukraine, Minsk and Moscow have close military ties. Minsk allowed Moscow to use Belarusian territory to send troops into Ukraine last year.
Putin on Sunday also denied Moscow was creating a military alliance with Beijing and instead asserted that Western powers are building a new "axis" similar to the partnership between Germany and Japan during World War II.
He has often portrayed the Ukraine war as Moscow fighting a Ukraine in the grip of supposed Nazis, abetted by Western powers menacing Russia.
Ukraine - which was part of the Soviet Union and itself suffered devastation at the hands of Hitler's forces - rejects those parallels as spurious pretexts for a war of conquest.
On the battlefield, Russian forces hit military targets in the regions of Kharkiv, Donetsk, Zaporizhzhia and Kherson, causing significant Ukrainian casualties, Russia's defence ministry said on Sunday.
Russia's TASS news agency cited a law enforcement source and the emergency services as saying on Sunday that a Ukraine-operated drone had caused an explosion in the centre of the Russian town of Kireyevsk in the Tula region, hurting three people and damaging three residential buildings.
Russia has said in the past that Ukrainian drones have flown into its territory and caused damage to civilian infrastructure, an assertion Kyiv denies.
Ukrainian presidential chief of staff Andriy Yermak said that Russian forces had destroyed two apartment buildings in a missile strike on the eastern city of Avdiivka in the Donetsk region. He said there were no casualties.
Ukraine's General Staff said on Sunday that Ukrainian forces had repelled 85 Russian attacks over the past 24 hours across the eastern front, including the Bakhmut area, the scene of brutal fighting in the last few months.
Reuters could not immediately verify the battlefield reports.