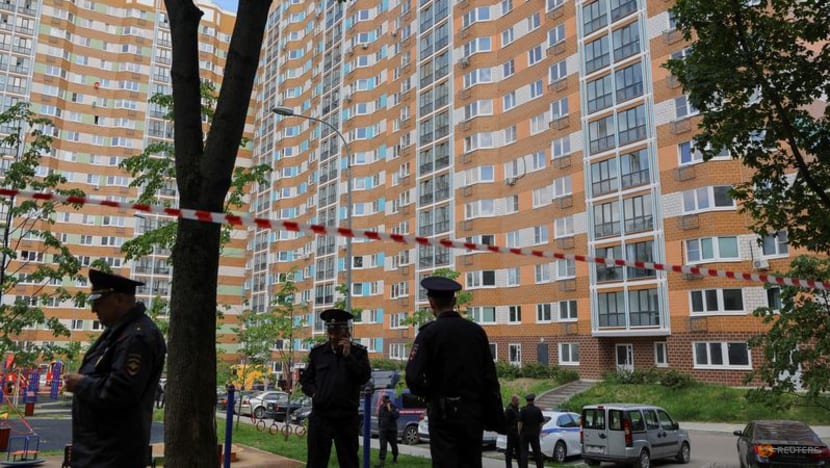 MOSCOW: Ukrainian drones struck wealthy districts of Moscow on Tuesday (May 30), Russia said in what one politician called the most dangerous attack on the capital since World War Two, while Kyiv was also hit from the air for the third time in 24 hours.
Since Russia sent tens of thousands of troops into its neighbour in February 2022, the war has largely been fought inside Ukraine.
Aerial strikes on targets far from the front have intensified amid a ragged stalemate on the ground with Russian forces entrenched along an extended line in Ukraine's east and south.
One of the strategic southern places Russian forces have controlled since nearly the beginning of the invasion is the Zaporizhzhia nuclear power plant, and on Tuesday the United Nations nuclear watchdog chief asked Ukraine and Russia to respect five principles to safeguard the station.
International Atomic Energy Agency (IAEA) chief Rafael Grossi has been trying for months to secure an agreement to reduce the risk of a catastrophic nuclear accident from military activity like shelling at Zaporizhzhia, Europe's biggest nuclear power plant.
In a briefing to the UN Security Council, Grossi said the five principles included that there should be no attack on or from the plant and that it not be used as a base for heavy weapons such as multiple rocket launchers, artillery systems and munitions, and tanks.
In Moscow, the defence ministry said eight drones sent by Ukraine and targeting civilians were shot down or diverted with electronic jammers, though Baza, a Telegram channel with links to the security services, said more than 25 were involved.
Mykhailo Podolyak, a Ukrainian presidential aide, denied Kyiv was directly involved but said "we are pleased to watch events" and forecast more such strikes.
INJURIES AND EVACUATIONS IN MOSCOW
Two people were injured while some apartment blocks were briefly evacuated, according to Moscow's mayor. Residents said they heard loud bangs followed by the smell of petrol. Some filmed a drone being shot down and a plume of smoke.
Tuesday's early-morning drone volley targeted some of Moscow's most prestigious districts including where Putin and the elite have residences. He was later in the Kremlin and received a briefing on the attack, a spokesman said.
Afterwards, Putin said Ukraine's biggest ever drone strike on Moscow was an attempt to frighten and provoke Russia, and that air defences around the capital would be strengthened.
Ukraine, Putin said, had chosen the path of trying "to intimidate Russia, Russian citizens and attacks on residential buildings".
Civilian targets in Kyiv and other Ukrainian cities have since the earliest days of the war been struck repeatedly by Russian drones and missiles.
But Tuesday marked only the second time Moscow had come under direct fire. There was an apparent drone strike on the Kremlin earlier this month that Moscow also blamed on Ukraine and said was meant to kill Putin.
The White House said it was still gathering information on the reports of drones striking in Moscow.
"We do not support attacks inside of Russia. That's it. Period," White House press secretary Karine Jean-Pierre said at a briefing. Washington is a major supplier of weaponry to Ukraine on the condition it uses it to defend itself and to retake Ukrainian territory occupied by Russian forces.
Russian lawmaker Maxim Ivanov called it the most serious assault on Moscow since Nazi Germany's invasion in World War Two, saying no Russian could now avoid "the new reality".
Russian state television gave the attacks calm coverage, and many Muscovites carried on with their lives with the fatalism for which they are famous. Most shrugged their shoulders and many voiced sadness that the conflict seemed to be spreading.

Olga, who said she lived near to the site of one of the drone collisions on Profsoyuznaya Street, called the strikes "logical, to be expected ... what else were we waiting for?"
KYIV CITY HIT 17 TIMES BY AIR STRIKES IN MAY
The war has killed tens of thousands of people in Ukraine, uprooted millions, reduced cities to ruins and disrupted the global economy.

Kyiv said four people died around Ukraine in Russia's latest attacks on Tuesday, with 34 wounded including two children.

Ukrainian air defence shot down 29 of 31 Iranian-made Shahed drones in Kyiv, the armed forces general staff said.

A 33-year-old woman died on her balcony when debris from a destroyed Russian projectile hit a Kyiv highrise, officials said. Two upper floors were destroyed with people possibly still under rubble and flames engulfing the top.

Russia has assaulted Kyiv 17 times in May with drones or missiles, mostly at night.

Kyiv is promising a counter-offensive backed with recently acquired Western weapons to try to drive out Russian forces. Moscow calls the conflict its "special military operation" to "denazify" Ukraine and protect Russian speakers.

The pro-Western Ukraine government has said Russia is making an imperialist land grab.