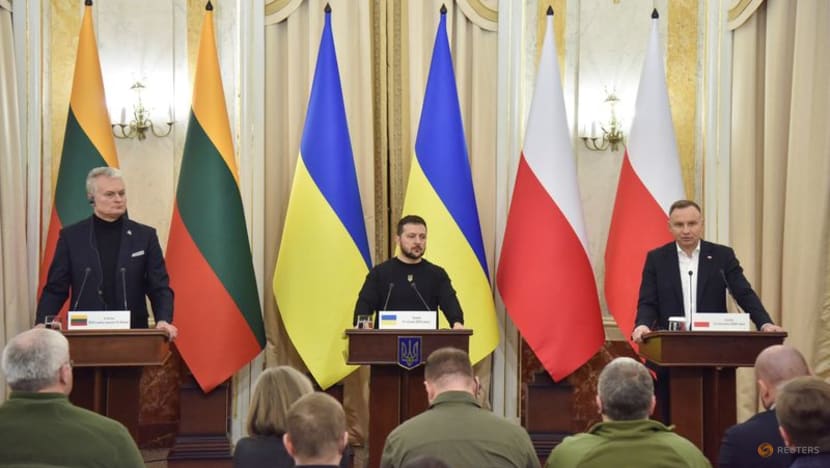 LVIV, Ukraine: President Volodymyr Zelenskyy urged NATO on Wednesday (Jan 11) to do more than just promise Ukraine its door is open at a July summit, saying Kyiv needs "powerful steps" as it tries to join the military alliance.
Kyiv requested fast-track NATO membership last September, seven months after Russia invaded Ukraine. NATO says it has an s open-door policy to Ukraine but has not said whether it will accelerate moves towards Kyiv's possible accession.
Such a move would be likely to touch a nerve in Moscow which casts NATO as a hostile military bloc bent on encroaching on Russia's sphere of influence.
"For today, just support for Ukraine from colleagues in NATO and support in the form of rhetoric about open doors is not enough for Ukraine. Namely, not enough to motivate our state ... our soldiers," Zelenskyy said in the western city of Lviv after talks with the presidents of Lithuania and Poland.
"We need steps forward. The decision will be in Vilnius, we are looking forward to powerful steps, we are counting on something more than just open doors," he told a news conference alongside the two leaders, whose countries are both in NATO.
He gave no further details, but the North Atlantic Treaty Organisation is scheduled to hold a summit in the Lithuanian capital in July.
NATO leaders promised Ukraine in 2008 that it could one day join the alliance, but full NATO membership appears distant. All the alliance's 30 members would have to give their consent and some are wary of how Russia would react.
Polish President Andrzej Duda said Warsaw planned to send Leopard tanks to Ukraine, and Lithuanian President Gitanas Nauseda said Vilnius would also "continue providing defence assistance to Ukraine".
Ukrainian Foreign Minister Dmytro Kuleba said on Twitter he had discussed preparations for the July summit with NATO Secretary General Jens Stoltenberg on Wednesday and underlined the importance of providing Ukraine with Western-type tanks.