International support crucial as Ukraine continues counteroffensive in drawn-out war: Observers
Continued support for Kyiv could exhaust Russia and allow Ukraine to retake its territories, but a dragged-out war could cause waning interest and increased debate in the mounting cost of aid among Ukraine's allies, analysts said.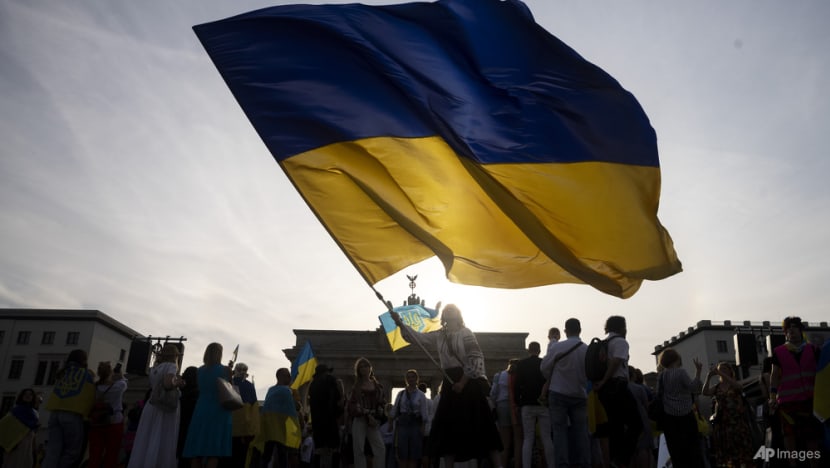 As Ukraine pushes on with a gruelling counteroffensive to recapture territory more than 18 months after Russia's invasion, observers say international support is crucial to sustaining Kyiv's resistance and momentum.
Since a June campaign to retake territory from Russian forces in the eastern and southern parts of the country, Kyiv has reported slow but precious progress on major fronts in Zaporizhzhia, Donetsk and near Bakhmut.
Analyst George Barros noted that Ukraine, with the support of military aid from its allies, has managed to gain some tactical superiority over the Russians' artillery prowess, which has long been the backbone of Moscow's conventional military strength.
"It just goes to show that as long as (the international community) sustains Ukraine in the long run, the Russians will not have the necessary bandwidth to be able to maintain this," said Mr Barros, an expert focusing on the Russia and Ukraine portfolio at think tank Institute for the Study of War.
Conversely, Moscow is likely hoping that a drawn-out conflict could cause war fatigue and wear away the West's determination to help Kyiv push back the aggression.  
"The Russians are trying to sustain their defence in order to buy the time necessary to offset Ukraine's current momentum, and play the long game so that they can try to erode the Western coalition support for Ukraine," Mr Barros told CNA's World Tonight on Tuesday (Sep 19).
UKRAINE'S COUNTEROFFENSIVE
Kyiv aims to push Russian forces out of the eastern Donbas region, and advance south to the Sea of Azov, cutting off supply lines from Crimea.
However, Ukraine's troops have encountered unexpectedly effective Russian defences – a maze of mines, anti-tank ditches, concrete barriers, and other obstacles.
Despite the setbacks, Kyiv on Monday said its forces had breached Russia's first defensive line, giving hope to the stalled operation.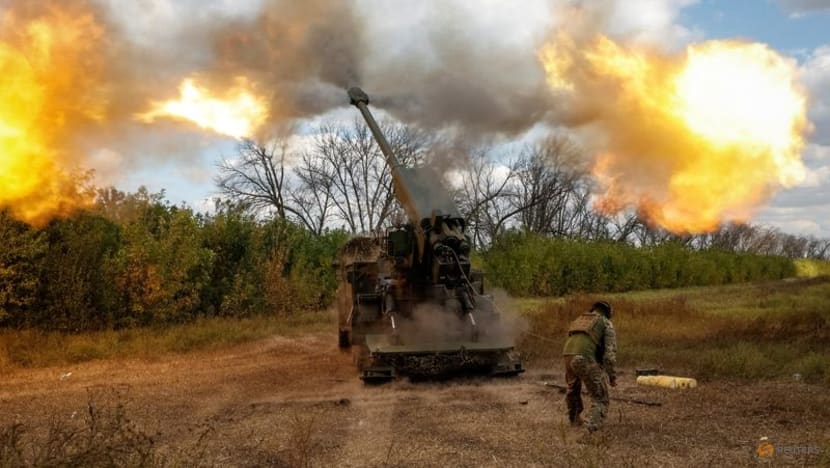 Professor of International Politics Scott Lucas said Ukraine's counteroffensive has made "significant progress" so far not only on the frontlines, but also in degrading Russian capabilities by hitting bridges and oil and ammunition depots with drones.
"What we're seeing is steady advance by the Ukrainians. It's not rapid and not taking huge amounts of territory. Ukrainian officials have said the counteroffensive will take time. This was always going to be a long process. This isn't a sprint," said Prof Lucas from the Clinton Institute at University College Dublin.
Mr Barros added that momentum is crucial, calling on more international aid as winter approaches. He noted that a pause in Kyiv's counteroffensive at the end of last year allowed the Russians time to heavily fortify the areas that they had occupied, making further push by Ukraine difficult. 
BARRIERS TO ENDING THE WAR
Both analysts agreed that the conflict looks to be a prolonged, drawn-out war, with few real prospects of negotiations.
"Vladimir Putin is the barrier to negotiations," said Prof Lucas, referring to the Russian president.
"Putin has gambled and lost throughout this conflict. He failed to take Kyiv, he failed to get rid of Ukrainian President Volodymyr Zelenskyy and his government, he failed to break Ukraine with the energy war and the food war. But he's too entrenched to give it up."
He was referring to Russia's intense bombing of Ukraine's energy infrastructure during winter last year, and blocking the nation's grain exports through the Black Sea.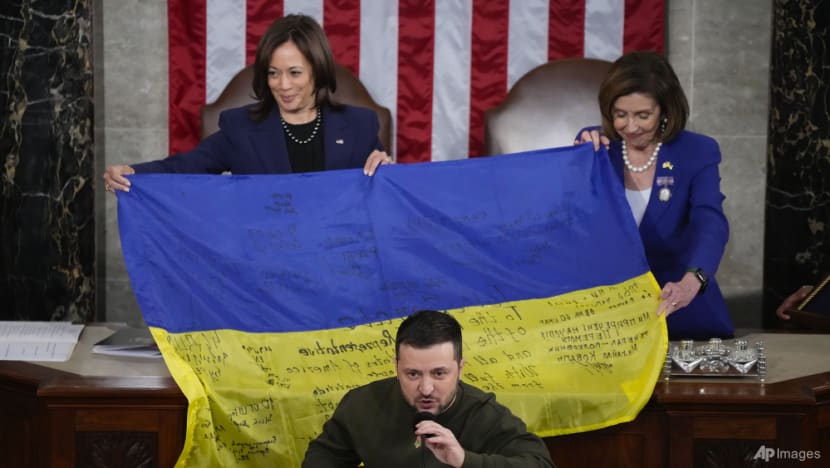 Kyiv has reiterated multiple times that it will liberate all its territories occupied by Russian forces regardless of how long it takes.
With negotiations seemingly off the table, Prof Lucas said the continued support for Kyiv from its allies and the international community on the political, military and economic fronts could exhaust Russia and allow Ukraine to wrest back its lands.
If Ukraine has the resources to continue to stand firm and push back, "Russia will gradually be eroded until Putin is either pushed out of power, or simply becomes a shell of a leader," he said.
He added Russia has already seen cracks within its system, citing the Wagner Group rebellion in June.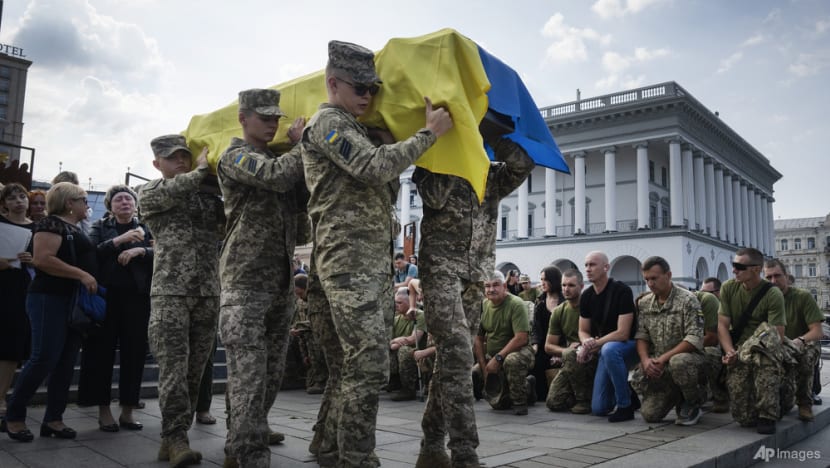 MOSCOW COULD BE COUNTING ON TRUMP
However, the Kremlin is likely looking at a dragged-out war that could lead to waning interest and increased debate in the mounting cost of aid among Ukraine's allies, particularly who sits in the White House, observers said. 
Prof Lucas said Moscow believes that if current Republican frontrunner Donald Trump wins the US presidential election next November, he could turn the tide for Russia.
"(The Russians) hope that if Trump gets back into the White House, he will put off American aid to Ukraine and it will break the international coalition. If you watch Russian media night after night, their biggest hope is not talking about battlefield success, they are talking about getting Trump back into the White House," he said.
Former US president Trump has so far avoided being overly critical of Putin, and has complained about the cost of military aid provided for Ukraine. He has said that if he is re-elected, he would resolve the conflict quickly, but has refused to provide more details on how he would do so.
Observers said it is possible that US backing for Ukraine could end if Trump is re-elected.
However, the European Union and the North Atlantic Treaty Organization (NATO) are likely to continue to support Ukraine regardless of the US, said Prof Lucas, adding that Russia's invasion has "revitalised the alliance". 
"There's (now) a sense of purpose injected into NATO … not only in terms of military support, but the economic support given in the sense of what needs to be done for a more integrated Europe. Most European countries, and the Canadians, will remain steadfast in supporting Ukraine," he said.
SHOULD UKRAINE GIVE UP LAND FOR PEACE?
Mr Barros that it is not a viable solution to expect Ukraine to give up some of its territory in peace negotiations. He pointed to Russia's annexation of Crimea in 2014, saying Moscow then used the region as a staging ground to launch its full-scale invasion of Ukraine in February last year.
He said permitting Russia to keep any territory would allow Moscow to recuperate and reorganise another invasion at a later date, essentially history repeating itself.
"Putin's maximalist demands have not changed. He or one of his successors, who will still likely seek to fundamentally destroy Ukraine and bring it into the Russian fold, will continue the military campaign at a future date of Russia's time and place of choosing," he said.
"The best chance for any sort of long term robust lasting peace on NATO's eastern flank is the Ukrainians removing the ability for Russia to use Ukrainian territory as a springboard to capture all of Ukraine."