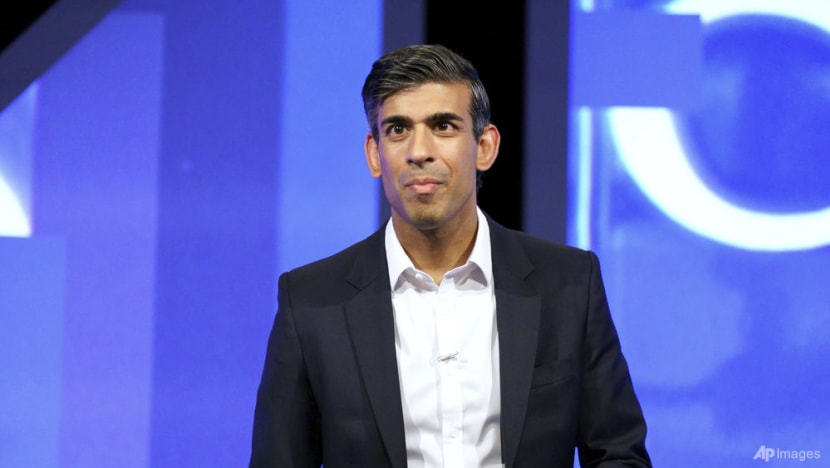 LONDON: Britain's former finance minister Rishi Sunak again topped the latest vote by Conservative MPs to choose a new prime minister, as another candidate was eliminated to leave three contenders in the race.
Sunak garnered 118 votes, followed by former defence minister Penny Mordaunt on 92 and Foreign Secretary Liz Truss on 86, with longshot candidate Kemi Badenoch trailing on 59 and therefore eliminated from the contest.
The vote means that Britain will get either its first British Asian prime minister or the third female leader in the country's history.
Sunak, whose resignation helped to topple outgoing leader Boris Johnson, fell two votes short of the number needed to guarantee a place among the final two, who will battle it out over the summer before party members choose the winner.
He is all but guaranteed to make the final cut in Wednesday's (Jul 20) last round of voting by MPs.
But the race to join him further tightened, with Truss making up five votes on Mordaunt - the one-time bookmaker's favourite.
Truss is now only six behind, and will hope that the right wing of the party swings behind her following the departure of Badenoch, a favourite of the grassroots members.
A YouGov poll published before the vote showed that Badenoch would beat the remaining candidates with the all-important members, and that Sunak would lose to them by wide margins.
Mordaunt had headed the same poll previously.
She now trails Truss after a damaging few days in which her former boss, one-time UK Brexit pointman David Frost, slammed her work ethic and questions were raised over her stance on trans rights.
Sunak, Truss and Mordaunt presented policy offerings to try to add momentum to their campaigns, trying to move the focus away from pledges on tax cuts, at a time when Britain's flagging economy has left people with the tightest squeeze on their finances for decades.
Sunak said he would implement harsher sentences for criminals who fail to attend court and would crackdown on grooming gangs if he became prime minister.
"It will be my top priority in government to keep the British public safe - and I will do whatever it takes to make that happen," he said in a statement.
Truss, who has been a vocal supporter of Ukraine after Russia's invasion, repeated her commitment to increase defence spending up to 3 per cent of gross domestic product by 2030.
"We live in an increasingly dangerous world where the threat level is higher than a decade ago, and we need a stronger deterrent to face down those threats and ensure Britain leads on the global stage," she said.
"My number one priority is keeping this country safe and people can trust me to do that."
Mordaunt also committed to Johnson's so-called levelling up agenda, or tackling regional inequalities in Britain.
"My economic plan will boost competition and growth up and down the country, creating the jobs of the future and enabling the country to live well," she said in a statement.
One lawmaker who will not be able to vote is Johnson critic Tobias Ellwood, who lost the so-called whip - essentially being kicked out of the parliamentary party - for "his failure to vote in support of the government in the confidence vote last night", a spokesperson for the whips, or party enforcers, office said.
He had previously backed Mordaunt.