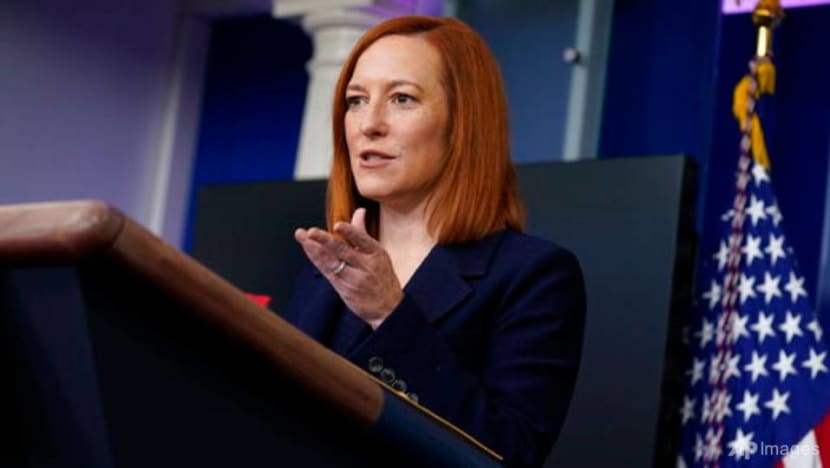 WASHINGTON: The United States on Monday (Feb 1) urged Myanmar's military to release detained officials, including de facto leader Aung San Suu Kyi, and warned of a response from Washington over the apparent coup.
Suu Kyi and the country's president were taken into custody after weeks of rising tensions between the military and the civilian government over allegations of fraud in November's elections.
"The United States opposes any attempt to alter the outcome of recent elections or impede Myanmar's democratic transition, and will take action against those responsible if these steps are not reversed," White House spokeswoman Jen Psaki said in a statement.
We "urge the military and all other parties to adhere to democratic norms and the rule of law, and to release those detained today", she added.
The White House also said President Joe Biden had been briefed on the arrests, while the US embassy in Yangon issued an alert warning US citizens there of the "potential for civil and political unrest".
Newly appointed US Secretary of State Antony Blinken also called on Myanmar's military "to release all government officials and civil society leaders and respect the will of the people of Burma as expressed in democratic elections on Nov 8".
"The United States stands with the people of Burma in their aspirations for democracy, freedom, peace, and development. The military must reverse these actions immediately," Blinken said in a statement.
Before the coup, Washington, alongside several other Western nations, had urged the military to "adhere to democractic norms" in a Jan 29 statement that came as the commander-in-chief threatened to revoke the country's constitution.
The military last week signaled it could seize power to settle its claims of irregularities in the polls, which Suu Kyi's National League for Democracy (NLD) party won easily.