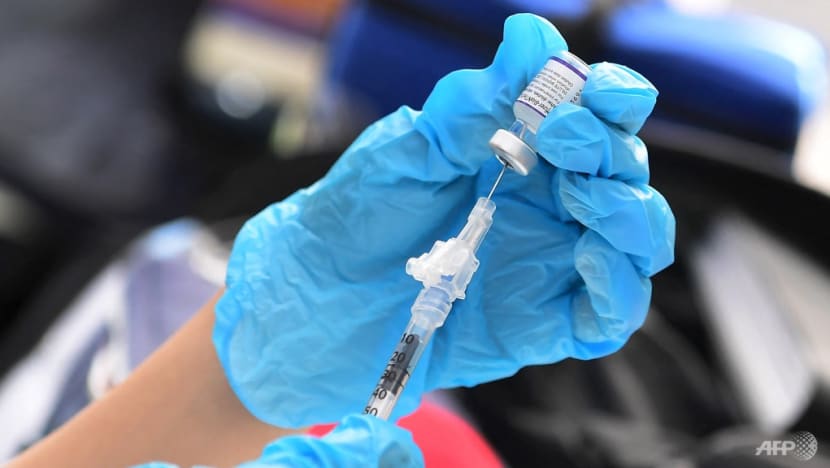 The US Food and Drug Administration (FDA) on Monday (Sep 11) approved updated COVID-19 vaccines that more closely target currently circulating variants, as infections are once more on the rise.
The approvals relate to vaccines produced by Pfizer-BioNTech and Moderna that correspond to an Omicron sublineage. The FDA concluded that the benefits of receiving the shots outweighs the risk for those aged six months and up.
"Vaccination remains critical to public health and continued protection against serious consequences of COVID-19, including hospitalisation and death," senior FDA official Peter Marks said.
Both companies released statements saying they expect their vaccines to be widely available in pharmacies and clinics within the coming days.
A third shot, made by Novavax, is still under review by the FDA. 
A panel convened by the Centers for Disease Control and Prevention will meet on Tuesday to offer clinical recommendations about who should receive the updated vaccines.
However, President Joe Biden's administration has consistently pushed for annual COVID-19 boosters for most Americans and it is expected the CDC will offer similar guidance.
That policy would be at odds with much of Europe, where boosters are generally recommended for the elderly or those at higher risk because of underlying medical conditions.
This is the case in the United Kingdom, France and Germany, for example.
Moderna and Pfizers' updated vaccines target variant XBB.1.5, which has already largely faded from circulation in the United States. But it holds up well against newer strains such as EG.5 and BA.2.86, said the FDA.
The US government ended the COVID-19 public health emergency declaration in May and handed over the responsibility for vaccinations to the private sector. The demand for the vaccine has since dropped sharply.
COVID-19 vaccines will still be free for most Americans with health insurance coverage and via government-subsidised programmes.
The US government has said it is working on a programme to provide the vaccines for free to people without insurance.