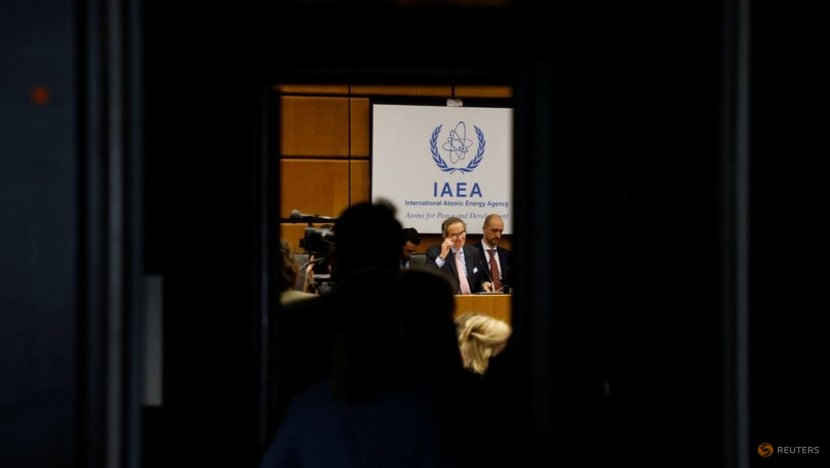 VIENNA: The US and Europe's top powers on Wednesday (Mar 8) expressed alarm at Iran having produced a tiny amount of uranium enriched to 84 per cent purity, very close to weapons grade, and said Iran must explain how it happened.
The UN nuclear watchdog found uranium particles enriched to up to 83.7 per cent at Fordow, a site dug into a mountain and the second place where it is continuously enriching uranium to up to 60 per cent. Weapons grade is around 90 per cent.
The so-called spike is large but it remains unclear whether it was accidental. It happened in two interconnected cascades, or clusters, of centrifuges that the watchdog recently found Iran had made substantial changes to without notifying it beforehand as it should have.
"With respect to the detected particles of uranium enriched to 83.7 per cent, all Board members should be gravely concerned by this alarming development," a US statement to a quarterly meeting of the International Atomic Energy Agency's 35-nation Board of Governors said.
"Iran must provide full and immediate cooperation with the IAEA to clarify what happened and facilitate all appropriate verification and monitoring measures deemed necessary by the Agency so that any future occurrence is promptly detected. Iran must ensure that such an incident never occurs again."
It added that "the fact that these new developments occurred in a heavily fortified facility that was originally built covertly only deepens our concerns".
The United States and Europe's top three powers - Britain, France and Germany, known as the E3 - have refrained from pushing for a resolution condemning Iran at this board meeting but they made clear they could act at a future session.
The last quarterly board meeting in November passed a resolution ordering Iran to urgently cooperate with a years-long IAEA investigation into uranium particles found at three undeclared sites.
Iran assured IAEA chief Rafael Grossi last weekend that it was prepared to provide further information to that long-stalled investigation. Iran and the IAEA issued a joint statement on Saturday outlining that pledge that went into few details.
"The E3 are especially alarmed by the recent sampling at Fordow," the European powers said in a statement made to the board on Tuesday evening and published on Wednesday.
"This unprecedented enrichment at up to 83.7 per cent U-235 is an extremely grave escalation," they said, adding that it "brings Iran dangerously close to actual weapons-related activities".