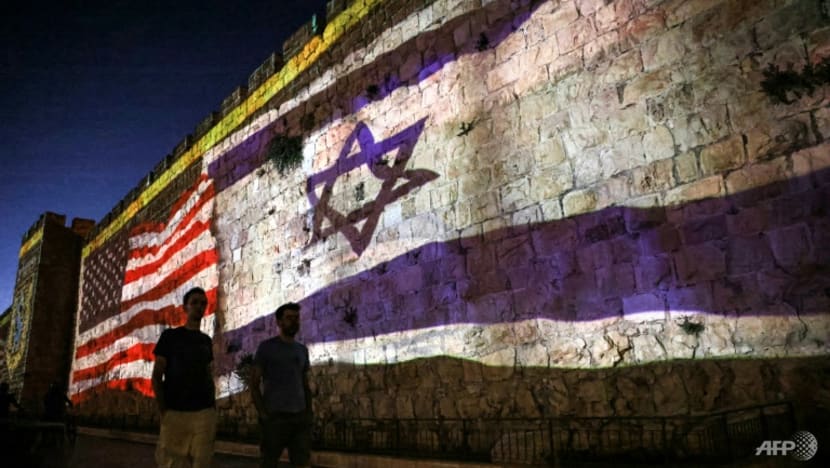 JERUSALEM: US President Joe Biden and Israeli Prime Minister Yair Lapid on Thursday (Jul 14) will sign a joint agreement pledging to prevent Iran from acquiring a nuclear weapon on the second day of Biden's Middle East trip.
A senior Biden administration official, describing the joint declaration for reporters in a conference call, said the agreement will expand on the long-standing security relationship between the United States and Israel.
"This declaration is pretty significant, and it includes a commitment to never allow Iran to acquire a nuclear weapon and to address Iran's destabilising activities, particularly threats to Israel," the official said.
Biden, on his first Middle East trip since taking office in early 2021, touched down in Tel Aviv on Wednesday and has talks with Israeli leaders in Jerusalem on Thursday. He will appear at a joint news conference with Lapid.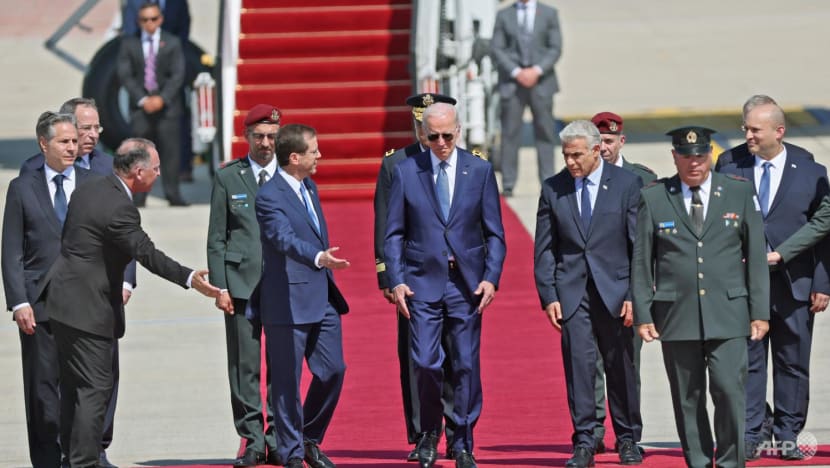 Biden will meet Palestinian leaders in the occupied West Bank on Friday and hold talks with leaders of Saudi Arabia and other Gulf allies in Jeddah on Saturday.
Biden faces an uphill battle persuading Iran to rejoin the Iran nuclear agreement that his predecessor, Donald Trump, abandoned in 2018.
Biden is likely to face questions from Israel and from Gulf states such as Saudi Arabia and the United Arab Emirates about the wisdom of reviving the Iran nuclear deal and what the United States will do to counter Iran's regional actions, regardless of whether the deal is resurrected.
Biden said pulling out of the landmark accord was a "gigantic mistake".
Iran is "closer to a nuclear weapon now than they were before," the president said in an interview aired Wednesday by Israel's Channel 12.
Asked whether the US would use force to prevent Iran from acquiring nuclear weapons, Biden said: "If that was the last resort, yes."
Some Israeli as well as Gulf Arab officials believe the deal's sanctions relief would provide Iran far more money to support proxy forces in Lebanon, Syria, Yemen and Iraq. They are also skeptical about whether the Biden administration will do much to counter Iran's regional activities.
Iran denies that its nuclear programme is aimed at acquiring nuclear weapons.
The US official, asked if the declaration is about buying some time with Israel as Washington pursues negotiations with Iran, said: "If Iran wants to sign the deal that has been negotiated in Vienna, we have made very clear we're prepared to do that. And, at the same time, if they're not, we will continue to increase our sanctions pressure, we will continue to increase Iran's diplomatic isolation."
The official said the joint agreement will pledge ongoing US military aid for Israel and will emphasise support for the Abraham Accords, the agreements between Israel and a handful of Arab states that the Trump administration helped broker.
SAUDI OIL TALKS
In addition to meeting with Israeli President Isaac Herzog, Biden will hold brief talks with Israeli opposition leader Benjamin Netanyahu.
The former premier is readying for another election campaign, with Israelis set to go to the polls for the fifth time in less than four years on Nov 1.
Biden is marking his 10th visit to Israel and is well-acquainted with Netanyahu.
Russia's invasion of Ukraine will remain a top priority for the Biden administration during his regional tour, with volatile oil prices due to be the focus of talks with Saudi officials.
The president will seek to persuade Riyadh to pump more oil in order to drive down prices, which have fuelled US inflation to the highest levels in decades.
Israel has broadly stayed on the sidelines of the Ukraine war, cautious of Russia's military presence in neighbouring Syria.
Israeli officials have condemned the conflict in broad terms but the government has refused to send weapons to the Ukrainian army.
With Israel in political limbo ahead of elections, Biden is not expected to push Lapid for significant policy changes regarding the Palestinians.
The president on Wednesday renewed Washington's long-standing call for a two-state solution, but has not reversed Trump's controversial decision to recognise Jerusalem as Israel's capital.
Biden is due to meet Palestinian president Mahmud Abbas on Friday in Bethlehem, in the occupied West Bank, and pledge US financial support.