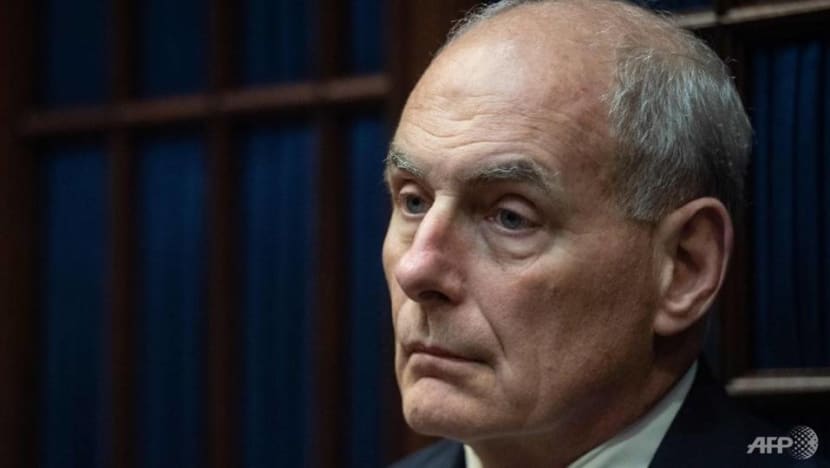 WASHINGTON: Retired Marine Corps general John Kelly was brought in as US President Donald Trump's chief of staff to bring order to what was seen as a White House in disarray.
Sixteen months later, Kelly is gone amid reports that his relationship with the volatile Trump had deteriorated to such an extent they were no longer on speaking terms.
On Saturday Trump told reporters that Kelly, 68, would be leaving at the end of the year and "I appreciate his service very much."
Four months earlier, the chief of staff had said he expected to remain in the White House through Trump's 2020 reelection campaign.
Although Kelly is credited with bringing some discipline to the Oval Office, his tenure was hardly smooth.
Kelly was serving as secretary of the Department of Homeland Security when he was brought in on Jul 31, 2017 to replace Reince Priebus as White House chief of staff.
Kelly took over a White House plagued by political intrigue and allegations of election collusion with Russia.
Priebus, a former chairman of the Republican Party, was ousted just days after Trump ignored his wishes and named Wall Street financier Anthony Scaramucci to be White House communications director.
Kelly was also not enamoured with Scaramucci and "The Mooch," as he is known, was shown the door after an ill-advised profane interview with The New Yorker.
Next to go was Steve Bannon, the White House chief strategist who helped get Trump elected but clashed repeatedly with other top aides to the president.
At the same time as he was cleaning house, Kelly also imposed himself as a strict gatekeeper to the Oval Office, reportedly insisting that even Trump's daughter Ivanka and son-in-law Jared Kushner, both of whom have senior White House roles, go through him.
But Kelly's authority as the White House gatekeeper did not last long as tensions rose with a president who bristles at being controlled.
Rumors of Kelly's imminent departure surfaced repeatedly over the past few months and CNN reported on Friday that he and Trump "have stopped speaking in recent days."
Kelly's first brush with controversy came in October of last year when he described a congresswoman from Florida as an "empty barrel."
'TOO LAZY'
Several of Kelly's statements on immigration also raised eyebrows.
In January, he claimed to a group of Democratic members of Congress that Trump's views on building the US-Mexico border wall had "evolved" but the president came out the very next day and said this was not true.
In an interview, Kelly said some young immigrants were "too lazy" to sign up for a program that would shield them from deportation.
Kelly also came in for criticism over his handling of the case of Rob Porter, who worked at Trump's right hand despite accusations of abuse by his two former wives, which ultimately forced Porter's resignation.
Announcing Kelly's appointment, Trump praised the veteran of more than 40 years in the Marine Corps as a "Great American and a Great Leader."
Kelly capped his military career as head of the US Southern Command, an assignment that immersed him in border security issues and counter-drug operations in the Caribbean and Central and South America.
That experience prepared him to take charge of Homeland Security, a sprawling bureaucracy responsible for border protection and internal threats.
At Homeland Security, Kelly was pivotal in the effort to carry out Trump's election promises to build a wall on the Mexican border, deport undocumented immigrants and tighten visa screening for potential extremists.
The blunt-talking Kelly is close to Defense Secretary Jim Mattis, also a retired Marine Corps general. Kelly served as Mattis's top aide in the 2003 assault on Baghdad that crushed Saddam Hussein's army.
LOST OWN SON IN AFGHANISTAN
He is further shaped by the experience of having his own son, also a Marine, die in battle. Lieutenant Robert Michael Kelly was killed in Afghanistan in 2010.
A native of Boston, Kelly enlisted in the Marines when he was 20, spent two years in an infantry company, and then left to go to university.
After graduating he rejoined the Corps and rose steadily through the ranks.
In the late 1990s, he was the Marine Corps commandant's liaison to the House of Representatives, the first of two such stints that exposed him to the political give-and-take between the military and legislators.