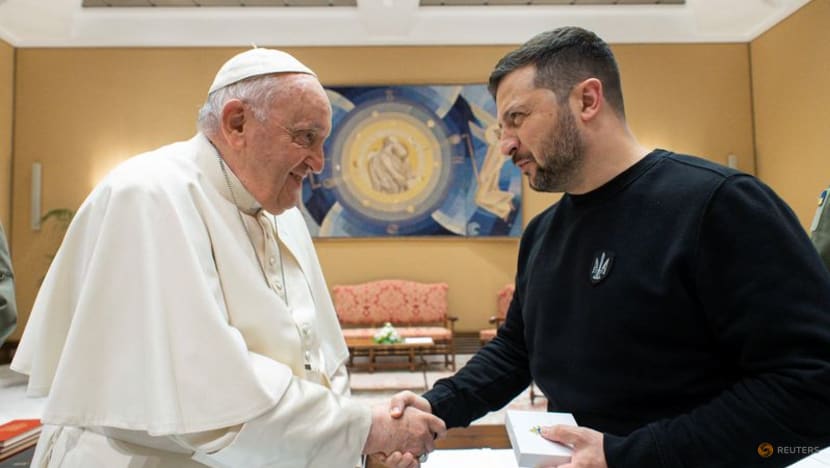 VATICAN CITY: Ukrainian President Volodymyr Zelenskyy asked Pope Francis on Saturday (May 13) to back Kyiv's peace plan, and the pope indicated the Vatican would help in the repatriation of Ukrainian children taken by Russians.
"It is a great honour," Zelenskyy told Francis, putting his hand to his heart and bowing his head as he greeted the 86-year-old pope, who stood with a cane.
Earlier on Saturday, Zelenskyy met Italian Prime Minister Giorgia Meloni, who promised full military and financial backing for Ukraine and reiterated support for its EU membership bid.
Zelenskyy, who was visiting Rome for the first time since the war began, spoke with the pope for 40 minutes and presented him with a bulletproof vest that had been used by a Ukrainian soldier and later painted with an image of the Madonna.
A Vatican statement said that in their private talks, Zelenskyy and the pope discussed "humanitarian gestures", which a Vatican source said was a reference to the Vatican's willingness to help with the repatriation of Ukrainian children.
Kyiv estimates nearly 19,500 children have been taken to Russia or Russian-occupied Crimea since February 2022, in what it condemns as illegal deportations.
"We must make every effort to return them home," Zelenskyy said in a Tweet afterwards, saying he had discussed it with the pope.
Zelenskyy also said he asked the pope to "join" Kyiv's 10-point peace plan.
It calls for restoring Ukraine's territorial integrity, the withdrawal of Russian troops and cessation of hostilities, and the restoration of Ukraine's state borders. Zelenskyy has repeatedly said the plan is not open to negotiation.
At the start of the war, the pope tried to take a balanced approach in hopes of being a mediator but later began forcefully condemning Russia's actions, comparing them to some of the worst crimes against Ukraine during the Soviet era.
"I asked (the pope) to condemn Russian crimes in Ukraine. Because there can be no equality between the victim and the aggressor," Zelenskyy said in his Tweet.
Returning from a trip to Hungary on Apr 30, Francis made an intriguing but puzzling comment about the Vatican being involved in a mission to try to end the war.
"There is a mission in course now but it is not yet public. When it is public, I will reveal it," he told reporters during his flight home.
But the Vatican statement made no mention of any such mission and later in an Italian television interview Zelenskyy appeared to rule out a mediation outside of Kyiv's own peace plan.
"Putin only kills. We don't need a mediation with him," he said.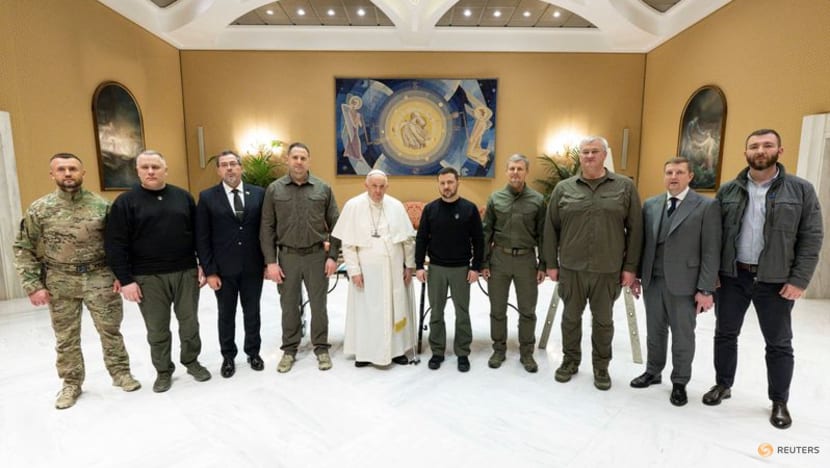 PLEAS FOR PEACE
Francis has pleaded for peace practically on a weekly basis, and has repeatedly expressed a wish to act as a broker between Kyiv and Moscow by visiting both capitals. His offer has so far failed to produce any breakthrough.
Earlier, both Meloni and President Sergio Mattarella reiterated Italy's full support for Ukraine in terms of military, financial, humanitarian and reconstruction aid in the short and long term.
At a news conference, Meloni condemned Russia's "brutal and unjust aggression", pledged Italy's support for Ukraine for "as long as is necessary" and urged Russia to immediately withdraw.
"You can't achieve peace through a surrender," she said. "It would be a very grave precedent for all nations of the world."
She emphasised Italy's support for Ukraine's membership of the European Union and the "intensification" of a partnership with NATO.
As he headed to the presidential palace, Zelenskyy's motorcade passed by small groups of people holding Ukrainian flags. One person held up a sign condemning Russia.
Zelenskyy flew to Rome on an Italian government plane that was escorted over Italian airspace by fighter jets.
He is due to visit Berlin on Sunday, German government sources told Reuters on Saturday.