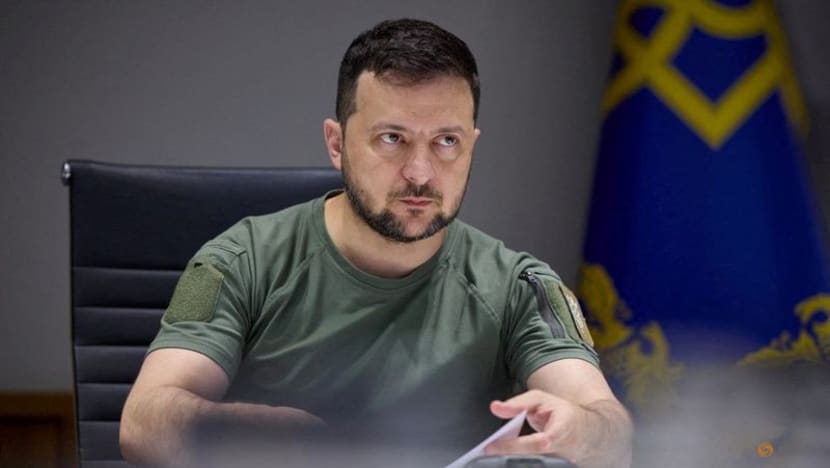 Ukraine has around US$10 billion worth of grain available for sale in the wake of a deal signed with Russia to unblock supplies and will also have a chance to sell the current harvest, President Volodymyr Zelenskyy said on Friday (Jul 22).
"This is another demonstration that Ukraine can withstand the war," he said in a late-night address.
Russia and Ukraine signed a landmark deal on Friday to reopen Ukrainian Black Sea ports for grain exports, raising hopes that an international food crisis aggravated by the Russian invasion can be eased.
"Approximately 20 million tons of last year's grain harvest will be exported. There will also be a chance to sell this year's harvest ... at the moment we have about US$10 billion worth of grains available," said Zelenskyy.
The deal, brokered by the United Nations and Turkey, was a chance to prevent a global food catastrophe that could cause chaos in many countries, he said.
"There may be some provocations on the part of Russia, attempts to discredit Ukrainian and international efforts," said Zelenskyy. "But we trust the United Nations."
The United States said it will hold Russia accountable for implementing the deal and called out China for stockpiling grain that could be used for global humanitarian needs.
US Ambassador to the United Nations Linda Thomas-Greenfield said Washington hopes the deal "will help mitigate the crisis Russia has caused," adding that "we will be watching closely to ensure that Russia actually follows through."
The United States also wants to see China help combat the global food crisis, James O'Brien, head of the US State Department's Office of Sanctions Coordination, told reporters.
"We would like to see it act like the great power that it is and provide more grain to the poor people around the world," he said. "China has been a very active buyer of grain and it is stockpiling grain ... at a time when hundreds of millions of people are entering the catastrophic phase of food insecurity."