Meat lovers, feast on Yamaguchi aged wagyu beef at this local steakhouse
Bedrock Bar & Grill is bringing back its signature World Meat Series, and this year, diners will be transported to Yamaguchi, Japan.
Beef connoisseurs, you're in for a treat this Year of the Ox (yeah, we went there). From now to Mar 31, homegrown steakhouse Bedrock Bar & Grill is bringing back its signature World Meat Series, a unique dining experience featuring premium meats from all over the world.
This time, diners will be transported to Japan's Yamaguchi prefecture, home to the Jukuho Farm and its famed Yamaguchi aged wagyu beef. 
While aged wagyu usually refers to beef that has been hung or placed on a rack to dry for several weeks, Jukuho Farm uses the term to refer to its approach to cattle rearing. The farm specialises in producing beef from cows that are re-fattened after they have calved. This process changes the quality of the meat, imparting a unique umami flavour.
At the steakhouse, executive chef Isaac Tan has three dishes that showcase the rich, distinctive flavour of this beef. The Bone Marrow Tartare (S$36++) showcases a hand-chopped ribeye cap atop roasted bone marrow. The dish is garnished with mountain caviar, known as Tonburi.
In the Applewood Smoked Wagyu Tataki (S$42++), aged ribeye cap is served with tangy pickled radish and pumpkin strips, grated hard-boiled egg for a touch of richness, and a sprinkle of puffed rice on the beef.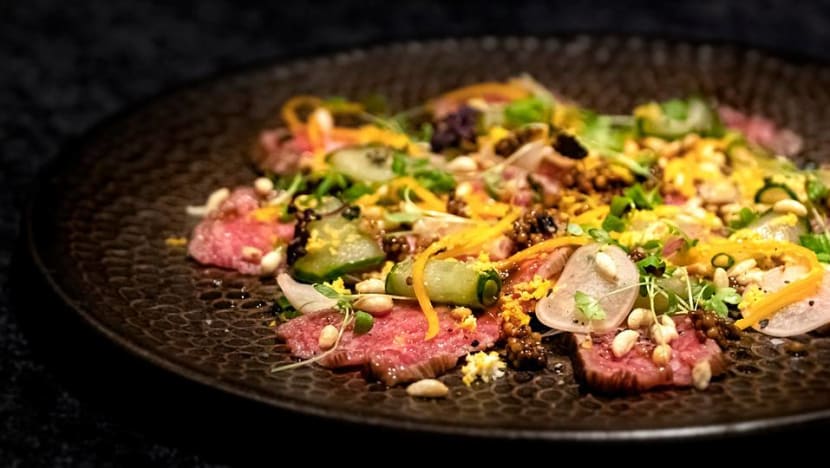 There's also the hearty Woodfire Grilled Fullblood Aged Wagyu Striploin (S$148++), grilled over Bedrock's signature applewood fire grill and served with housemade sansho pepper sauce, accompanied by beef fat and Yukon Gold potatoes.
The World Meat Series at Bedrock Bar & Grill is in its fifth year and has featured premium beef from Ireland as well as Te Mana Lamb – also known as the wagyu of lamb – from New Zealand. Bedrock's World Meat Series changes its menu every quarter.