The Big Read: As households face soaring electricity prices, being eco-friendly can be wallet-friendly too
In his May Day Rally speech, Prime Minister Lee Hsien Loong spoke about the impact of soaring energy prices on Singapore and its people
The increase in electricity prices is due to a confluence of factors, such as the Russia-Ukraine war, Singapore's lack of alternatives for electricity and rising demand for electricity as the world recovers from the COVID-19 pandemic
With electricity costs expected to continue rising for at least a year, Singapore's move towards greener energy sources has become more important than ever, some experts said 
Solar panel sellers said they have seen an increase in enquiries as households look to generate their own electricity instead
Given the limitations on tapping solar energy especially among HDB dwellers, what are other ways for households to not only do their part for the environment but also go easy on their wallets? 
SINGAPORE: Whenever the sun is blazing, Mr Arun Murthy gets excited, as a mobile application on his phone would show that his house is generating more electricity than it is using.
In mid-March, he installed 100 solar panels on the roof of his landed property in Bukit Timah.
Since then, the family's monthly electricity bill has dropped from about S$1,200 to about S$370. Apart from meeting some of the house's energy needs, the solar panels also generate excess electricity during the day that is sold back to Singapore's power grid system operated by SP Group. 
"Every month, we get a cheque from SP Group for selling our excess electricity, which we can use to offset our electricity bill from a private retailer … We have reduced our dependency on the grid by about 70 per cent," said the 54-year-old chief executive officer of cybersecurity firm Invisiron. 
As the family does not have a battery system to store excess electricity generated, the solar panels only fuel the house's electricity needs when the sun is out in the day. On rainy days and at night, the home then relies on the national energy grid. 
While installing the solar panels has meant lower electricity bills for the family, Mr Murthy said that the "primary reason" for doing so was to do his part for the environment.
Installing the S$54,000 solar panels on his roof also means less reliance on natural gas — regarded as the cleanest form of fossil fuel and is used to generate 95 per cent of Singapore's electricity supply, but whose prices have skyrocketed recently amid a global energy crunch.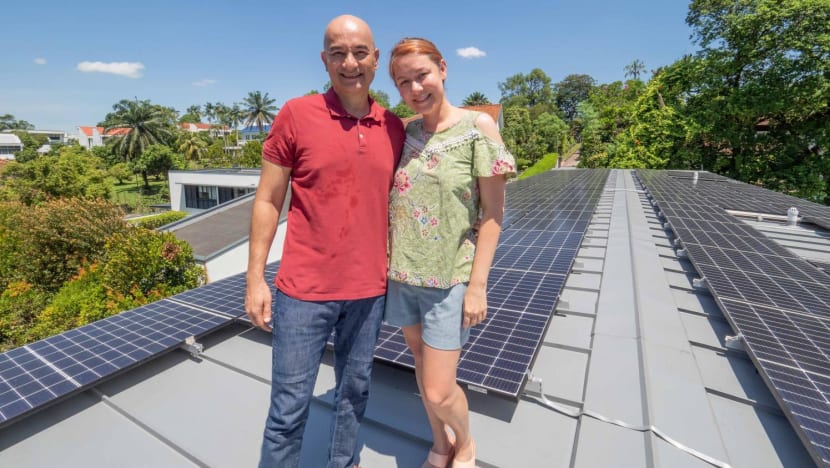 Singapore's electricity tariffs for Apr 1 to Jun 30 increased from the preceding quarter by around 9.8 per cent to 27 cents per kWh, excluding Goods and Services Tax. 
Earlier this month, in his May Day Rally speech, Prime Minister Lee Hsien Loong spoke about the soaring energy prices, which will set the country back by about S$8 billion a year, as he warned that Singapore must be prepared for more economic challenges ahead.
The increase in electricity prices is due to a confluence of factors, such as the Russia-Ukraine war, Singapore's lack of alternatives for electricity and rising demand for electricity as the world recovers from the COVID-19 pandemic, experts told TODAY.
And with electricity costs expected to continue rising for at least a year, Singapore's move towards greener energy sources has become more important than ever, some of the experts added.
Indeed, by reducing electricity consumption or turning to renewable energy, households now can not only do their part to save the Earth — but also go easy on their wallets.  
FACTORS DRIVING THE SURGE IN ELECTRICITY PRICES 
One reason for the rising electricity tariffs for the past two years is that 95 per cent of electricity in Singapore is generated by natural gas, a byproduct of crude oil, said Associate Professor Chang Young Ho, head of the business and management minor at the Singapore University of Social Sciences (SUSS). 
Because it is a byproduct, the price of natural gas is indexed to the price of crude oil. Hence, recent spikes in oil prices have caused energy prices to similarly jump.
He also noted that while the cost breakdown of generating electricity is not publicly available, industry experts have estimated that 60 to 70 per cent of the total cost is related to fuel costs. 
"The recovery from COVID-19 has increased demand for oil, such as for use by industries, commercial and transport, so the price of oil increased," said Assoc Prof Chang.
"The Ukraine-Russia war affected production and supply of oil (so) it also increased oil prices … As long as the war continues, the price is expected to increase," he added. 
Dr David Broadstock, a senior research fellow and the head of the Energy Economics Division at the National University of Singapore's (NUS) Energy Studies Institute, said the decision by Europe and other countries to stop purchasing natural gas from Russia has forced them to search for new gas suppliers.
"At the same time, there are limits to how much gas supply chains can scale up without major new infrastructure development, which would also take some years to provide.
"This is a perfect recipe for natural price increases for natural gas, as those countries which are willing and able to pay higher prices may choose to do so to ensure a secure energy supply," said Dr Broadstock.
He also noted that China's demand for natural gas has been consistently growing as it searches for a cleaner fuel option as compared to coal. This is especially so during the winter season, which has created long-term pressure on markets.
While all these have resulted in the rise of oil and energy prices, Dr Broadstock said that key energy commodity prices have, to some extent, stabilised. 
He added that the Energy Market Authority (EMA) implemented mechanisms following local power market disruptions in 2021, to help Singapore reach stable prices faster.
This would take about a year, other experts including Assoc Prof Chang estimated. 
On Apr 4, Second Minister for Trade and Industry Tan See Leng spoke in Parliament about these mechanisms, which include a standby liquefied natural gas facility and requirements imposed on power generation companies to "bolster existing stockpiles and provide additional layers of fuel security to cope with the short-term shocks to global gas supply".
They were introduced after "upstream production issues in Indonesia's West Natuna gas field and gas pressure issues from South Sumatra in the fourth quarter of 2021 caused disruptions to our piped natural gas supplies," said Dr Tan, who is also Manpower Minister.
"As a result, some companies had to purchase more liquefied natural gas at elevated global gas prices to make up for the drop in piped natural gas supplies."
EMA has also modified market rules, allowing the agency to direct power generation companies to use gas from its standby facility, allowing the authority to manage the cost impact on consumers. 
"These measures have ensured that we have sufficient fuel and electricity supply and stabilised the uniform Singapore energy price," said Dr Tan.
However, experts said that the prices and impact on supply reinforce the need for Singapore to diversify its energy sources and improve its local production — which currently makes up just 5 per cent of the country's energy supply.
Dr Chua Yeow Hwee from the Nanyang Technological University's (NTU) economics division said: "The increase in electricity costs during the past few months is a good opportunity for the Government to accelerate the adoption of green energy."
Dr Broadstock added: "The more power that can be produced locally, the more secure and predictable energy costs will become.
"However, there are limits to just how much solar energy can be deployed in Singapore. While more investment into solar will be very welcome, Singapore will inevitably need to explore additional energy resources."
Dr Broadstock referred to recommendations made by a committee commissioned by EMA on Mar 22, which include importing renewable energy from verified resources — such as wind, large-scale solar and hydropower — which are abundant in other countries. 
VIABILITY OF SOLAR ENERGY FOR HOUSEHOLDS  
Some households looking to cut their electricity bills without changing too much of their lifestyles can turn to generating their own electricity via solar power, which is the main renewable energy option here. 
Professor Subodh Mhaisalkar, executive director of NTU's Energy Research Institute, noted that solar panel technology has advanced over the years, reaching efficiencies of between 20 and 22 per cent. This efficiency refers to the amount of electricity generated from solar energy that falls on the panel. 
"Efficiencies used to be around 15 per cent a decade ago, and we have seen a 30 per cent improvement … it definitely makes sense from both sustainability and cost perspectives," said Prof Mhaisalkar.
He noted that a barrier to getting these panels installed is the upfront cost, but solar leasing and favorable financing options have made installation a compelling value proposition.
Under solar leasing, a company pays for and installs a solar system from which home owners can buy electricity from. 
Solar panel installation companies told TODAY that they have seen increased interest in their services this year, with more homes looking to do their part for the environment while saving money.
Mr Satish Prasath, founder and director of PMCE (Global), said his company used to receive about one enquiry a day for its residential services when it first started in December 2017, but that has increased to three queries daily this year. 
The company has since outfitted 300 residential homes with solar panels. On average, households spend between S$18,000 and S$22,000, and the average home installs 30 panels. This would equate to about S$300 to S$400 saved a month, Mr Prasath estimated.
"We've installed panels in about 50 homes (so far) this year … people are concerned about the impact of the Ukraine-Russia war so they are looking for long-term solutions," he said. His company put up panels in about 95 homes for the whole of last year. 
The panels have a warranty of 25 to 30 years, so home owners stand to profit from installing them, he added.
Mr Benedict Goh, chief investment officer of UTICA, said another draw of solar panels today is the increased efficiency and return on investment. 
"When we started selling goods related to solar panels in 2004, costs were much higher and the return on investment was around 10 to 15 years … people purchased to show off new technology, or because they wanted to go green," he said.
"But now, it's more efficient and costs (for the solar panels) have dropped by half of what they were in early 2010."
Mr Goh said his company has done "hundreds" of installations, and enquiries for landed properties have increased by 30 per cent in the past two to three years. 
"The energy generated is often more than the household consumption, so when they sell to the grid, some of our customers even get negative utility bills each month because they're owed money," he said, adding it can save customers between 40 and 80 per cent of their monthly consumption bills.
Mr Christophe Inglin, co-founder and managing director of Energetix, added that residents stand to get a return on investment within four to six years, although that time frame is likely to be shorter as electricity prices increase. 
Energetix focuses on installing solar panels for commercial projects, with residential installations making up less than 5 per cent of its volume of sales. However, the company has also seen a spike in enquiries from home owners.
While it typically received around two queries a month two years ago, the company now gets around six a week — mostly through referrals.
Mr Inglin declined to share the average number of panels installed, but estimates a terrace house generates 10 to 15 kilowatt peak (kWp) a day, 15 to 25 kWp for semi-detached homes and 20 to 60 kWp for bungalows.
However, while solar energy may provide future cost savings, it has its own limitations.
For one, households still need to rely on electricity from natural gas as solar panels generate electricity only during the day. Dr Broadstock noted that many households' demand for electricity increases at night — when people are back from work.
And while they can combine solar power with chargeable batteries, Dr Broadstock said battery technologies can be unsafe, which makes their use in residential and high-density urban environments like Singapore "challenging".
The installation of solar panels is also subject to a building's structural limitations, be it for a landed property or an HDB flat.
According to the Building Construction Authority's (BCA) handbook for solar photovoltaic systems, there are constraints whereby standard development control guidelines apply — for example, if solar panels are to be installed on the rooftop of an attic, attic guidelines would apply.
Apart from possibly requiring an electrical installation licence, BCA said in its handbook that existing buildings may require a professional structural engineer to carry out an inspection of the roof structure and calculate the structural loading.
"If the roof is unable to withstand the loading of the solar photovoltaic system, structural plans will need to be submitted to BCA for approval before a building permit can be issued for commencement of installation works," the authority said.
It also noted that the solar panels are exposed to the threat of lightning strikes and hence, require proper lightning protection.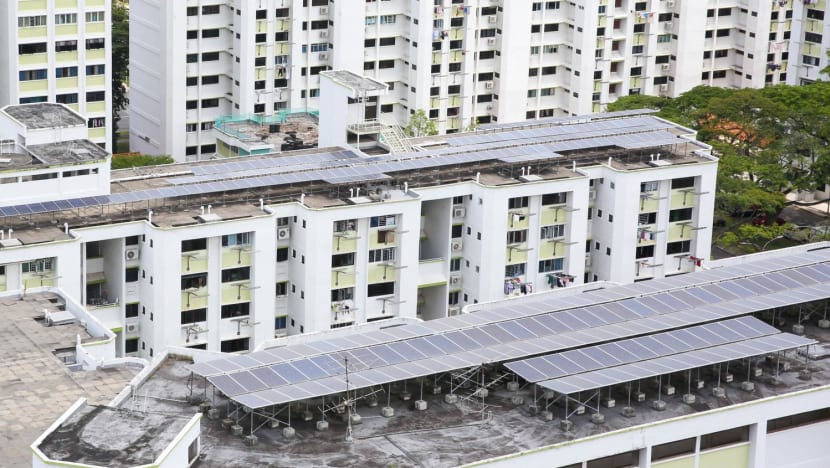 For landed properties, the existing roof's material and the angle it is at can make it expensive, unsafe and inefficient to install solar panels.
Mr Prasath said: "About 30 to 40 per cent of homes that enquire are unable to install the panels.
"Some roofs have tiles that are glued directly to it, so it can become unsafe for us to clear up some tiles and place our brackets for solar panels on top. It may compromise the roof's integrity."
He added that roofs which are at a 45-degree angle or have protruding windows would not be suitable for solar panels.
For condominiums, home owners seeking to install solar panels will need to get approval from their management committees — commonly known as Management Corporation Strata Title, or MCSTs — and the authorities, and the green light is given on a case-by-case basis depending on various factors. 
Both Mr Prasath and Mr Goh said that their companies have received enquiries from condominium home owners interested in installing solar panels, but faced difficulties in getting the necessary approvals.
Condominium home owners interviewed said that even if they manage to get the green light from their MCSTs to install solar panels, they are unsure if authorities require additional approvals. 
Approvals aside, cost savings for condominium owners are also limited because they are ineligible to sell excess electricity to the national grid.
Their apartments also need to be on the top floors with roof access belonging to them, and where there is enough sunlight to generate electricity.
Mr Prasath added that another obstacle is that condominiums often use submeters, which allows condominium home owners to track their individual consumption. 
"Solar panel systems require testing and commissioning by SP Group before they can be connected to the grid, which (SP Group) only does for buildings connected to master meters such as (landed homes) and private-owned industrial buildings," he said.
SP Group did not reply to TODAY's queries. 
For HDB flat home owners, their options are further limited as solar panels not only take up space, but also require direct sunlight to generate a significant amount of electricity for home usage.
In 2020, an HDB resident made the news when he put up solar panels — reportedly weighing 10kg to 20kg — on top of a clothes-drying rack and an air-conditioner.
HDB told the media then that said such installations outside flats are not allowed as they may affect the structural integrity of the building, and can pose a risk to the public. It also reiterated that installations outside of a flat are prohibited unless approved by the town council. 
Dr Chua from NTU's division of economics noted that households on high floors can still tap solar energy in a limited fashion, such as hanging small solar panels at their windows and using them to power their mobile phones or laptops.
Smaller solar power generators are also readily available in the market. Such generators can cost anywhere from several hundred dollars to a few thousand dollars. 
Mr Goh from UTICA, which sells such products, said they are commonly bought by hikers and campers looking to tap solar energy while outdoors. Some residents have also bought these generators to place in their balconies to power their mobility devices and other gadgets at home.
As part of a government initiative to harness solar energy, HDB has to date installed solar panels on about 2,700 blocks and plans to reach 8,400 blocks in the next "two to three years". In total, this will produce enough electricity to power 95,000 four-room flats.
On how these panels will benefit residents, the Ministry of National Development (MND) said in a written parliamentary reply on Jan 10 that the energy generated is "first used to power common services in HDB estates, such as lifts and lights", and any excess solar energy will be channelled to the national grid.
"Town councils managing these HDB blocks will enter into a service agreement with the solar vendor to pay for the solar energy consumed, at a preferential rate not higher than the retail electricity tariff rate," MND added. "This may help the town councils in mitigating the rising cost of energy."
HOW TO SAVE ON ELECTRICITY BILLS 
For now, there remain significant limitations as to how individual households can turn to renewable energy as an alternative power source. 
Nevertheless, consumers can still take matters into their own hands, in terms of reducing their electricity consumption. 
For example, Ms Valerie Khoo, a 27-year-old wealth management consultant, said she does not use a fan or air-conditioner on cooler days but instead, leaves her windows open at night while she sleeps.
"With the (electricity) price increase, we've been a bit more conscious and my mom nags at us more about not using the air conditioner unless it's really too hot," she said. 
Her family of four spends about S$120 a month on electricity for their five-room flat. Apart from ensuring they turn off the lights when not in use, they also chose a two-tick refrigerator — the highest energy rating available for her nearly 650 litre fridge when it was bought in 2018. 
Apart from her parents and younger brother, Ms Khoo lives with the family's two dogs. The food for her dogs takes up half the space in the freezer, she said.   
The ticks system by the National Environment Agency (NEA) rates the energy efficiency of household appliances, with five ticks being the most efficient, and one tick being the least efficient. This is displayed on the energy label, which also shows consumers the annual energy cost of the appliance.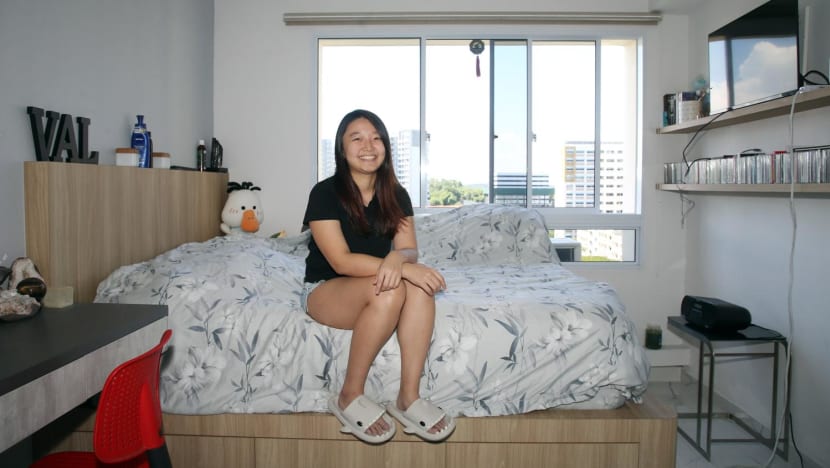 Ms Khoo said that while the family is keen to save electricity, the cost of big-ticket items has to justify the long-term savings, and be within their means, before they decide to buy a pricier appliance with a higher energy saving rating.
Like some other consumers whom TODAY spoke to, Ms Khoo said her electricity-saving habits have been shaped over the years, motivated by a desire to not just reduce her electricity bill but also to reduce her carbon footprint. 
Responding to TODAY's queries, NEA noted that small habits can help reduce electricity costs — for example, simply using a fan instead of an air-conditioner can save households around S$384 a year based on electricity tariffs of 26 cents per kWh. 
"Based on an earlier household energy consumption survey conducted by NEA, cost-savings is the key motivating factor that households consider when deciding on the purchase of more energy-efficient appliances," the agency said.
"By using energy-efficient appliances and adopting good energy consumption habits, households will enjoy lower utility bills whilst contributing towards climate action."
To help inform consumers' purchasing decisions, NEA said they can use its online Life Cycle Cost Calculator to check yearly energy costs and compare these with upfront costs for electrical appliances. 
NEA also said its "enforcement checks" at retail outlets have shown that there are appliances with higher ticks that are not more expensive than those with lower ticks.
"With rising electricity prices, the higher cost of a more energy-efficient appliance can be quickly recouped and the owner saves even more over the appliance's lifespan," it said.
Under the government's Climate Friendly Households Programme, one-, two- and three-room HDB households can register for S$225 worth of e-vouchers to offset the purchase price of resource-efficient appliances.
For example, households may get a S$150 e-voucher for the purchase of an energy-efficient refrigerator, or a S$25 e-voucher for LED lights.
Nevertheless, consumers can do more beyond opting for appliances that are more energy-efficient, experts said. 
Mr Tan Tsiat Siong, lecturer at SUSS' School of Business, said households should not just replace damaged appliances with more energy-efficient ones but do so with their older appliances as well. 
Amid higher electricity prices, energy-efficient appliances can bring about long-term savings, Mr Tan reiterated.  
He added that the simple actions of turning off switches when not in use, not leaving chargers on when devices are fully charged, and unplugging cords when not in use, can help reduce electricity consumption.
Likewise, Prof Mhaisalkar from NTU's Energy Research Institute said home owners can minimise energy losses through simple steps such as by ensuring their windows are sealed well when using an air conditioner or relying on natural ventilation instead. 
Dr Broadstock from NUS' Energy Studies Institute suggested setting the timer on appliances such as water heaters to help eliminate unnecessary energy consumption.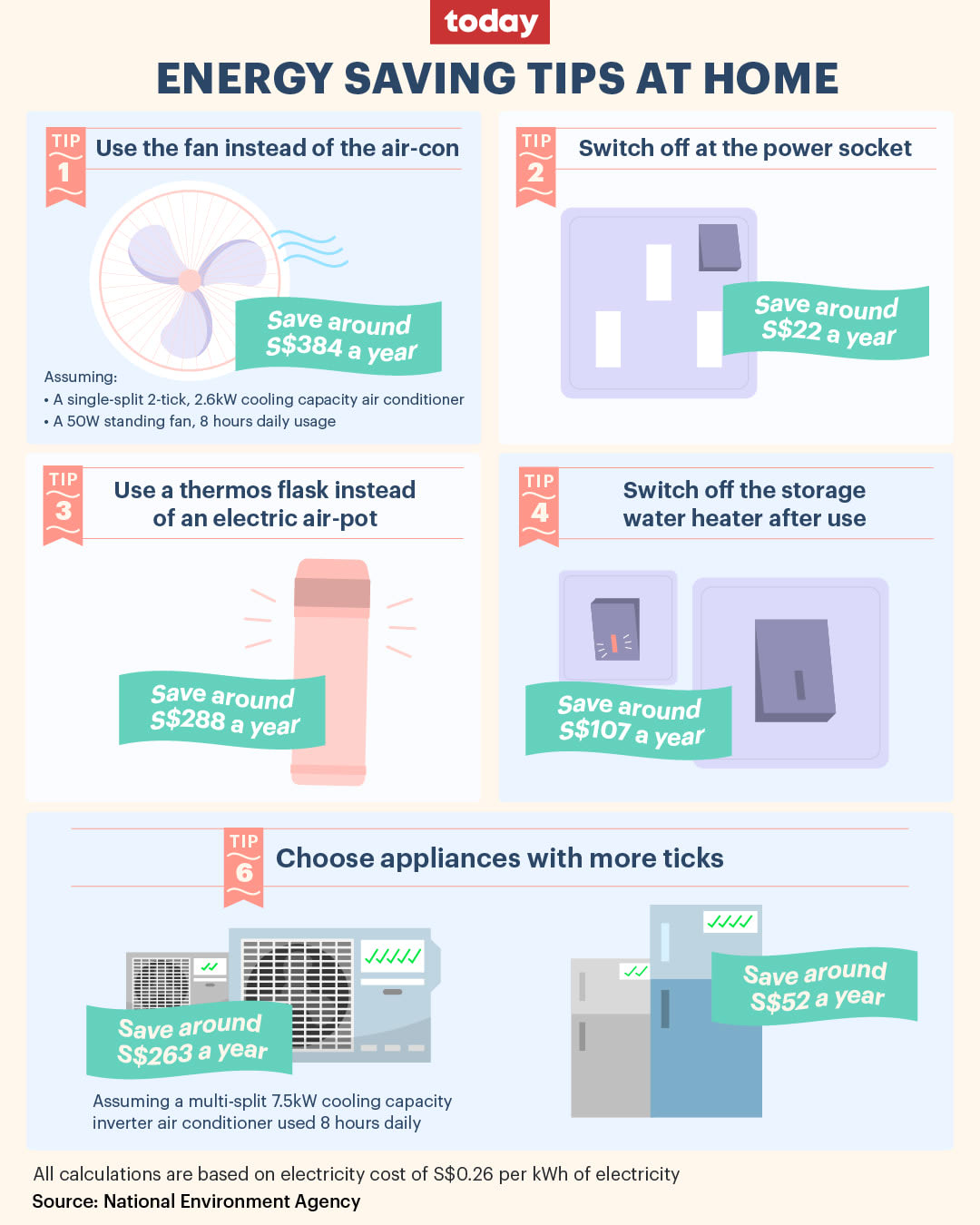 Households should also watch out for appliances with standby modes, which he dubs as "electricity vampires". 
"These constantly 'suck' a little energy from the socket even when on standby, hence the name 'vampire'. Turning these off when they are not being used will help to reduce some power consumption," he said.
He added that when it comes to saving electricity, a "reasonable guiding principle" is to look for options to reduce energy consumption without reducing quality of life and even gaining "co-benefits" in ideal situations. 
"For example ... take an extra 15 minutes to walk around your community after dinner, reducing the energy used at home while getting health co-benefits," said Dr Broadstock.
This story was originally published in TODAY.