The Big Read: Live streaming, gamification spur rise of 'retailtainment' amid e-commerce's pandemic boom
Live stream commerce has taken off in Singapore over the last two years as retailers found ways to overcome challenges brought about by the pandemic
However, an expert said this does not mean that live streaming will disrupt online marketplaces
Online marketplaces are still growing amid the wider e-commerce boom
Some retailers are also using augmented reality to make their online stores more interactive, in a bid to simulate offline shopping
However, retailers say digitalisation is tough and they have had to overcome many challenges along the way
 
SINGAPORE: Ms Nur Rahmah Jaafar was among the rare breed of millennials who do not like shopping online, preferring instead the experience of being able to touch and feel the items while browsing in a physical store.
But all that changed when the COVID-19 pandemic hit.
The 29-year-old school counsellor now regularly shops online for clothes for herself and her son.
But instead of turning to the usual suspects — online marketplaces such as Lazada, Shopee or Qoo10 — she buys the clothes through live stream sessions on Instagram (IG).
"I am the kind who likes to go out and experience myself. The thing that comes close to an interaction is an IG live. You have the model modelling (the clothes) for you. It's as close as you can get to real life," said Ms Nur Rahmah, who shops about once or twice a month through these live stream sessions.
Beyond the interaction, the gamification of live streams, such as through quizzes or contests, is also another factor that entices Ms Nur Rahmah to keep joining these sessions.
"You get addicted to it … Some IG live (stream sessions) can be very competitive. You have to bid for the product and fastest fingers first. There is that thrill that comes with it," she said.
The addictive element in live stream shopping is also a major draw for Ms Lynnette Goh, 30, who believes that this method of selling thrives on the FOMO (the fear of missing out) mentality.
"When I watch a live stream, I always get very hungry to buy the item. It's very fun to watch, it fuels your need for it. But sometimes I buy already then regret, because it's fuelled by emotional decisions," said the content manager.
As online shopping continues its upward trajectory — fuelled further by an unprecedented health crisis that has confined people indoors — "retailtainment" such as live stream, which offers a mix of retail and entertainment, has become yet another important tool for sellers to peddle their wares in cyberspace.
After all, merely opening an online store or establishing a presence on a marketplace is no longer enough these days for retailers eager to have a slice of the burgeoning e-commerce pie. The trick to staying ahead of competitors now involves harnessing the latest technology such as augmented reality and using an omni-channel approach to enhance the shopping experience.
Live stream selling itself is not exactly new, and was already a big thing in China even before the pandemic began creating havoc around the world early last year. It first became mainstream in 2016 when tech giant Alibaba's e-commerce site Taobao launched its live function.
The industry is now an integral part of China's wider e-commerce landscape, having grown by more than 280 per cent between 2017 and 2020, according to a McKinsey report. The growth was further spurred by the pandemic and is estimated to be valued at US$171 billion in 2020.
Last year, one of China's top live streamer Huang Wei, made international headlines after she sold a rocket launch service during a session for US$5.6 million.
In Singapore, Ms Lerine Yeo, or more popularly known as the "S-hook lady", gained internet fame for her unique selling methods on Facebook live back in 2018.
But live stream commerce really took off in Singapore over the last two years, as pandemic-related measures — from a two-month partial lockdown to on-off restrictions on dining and various limits on sizes of social gatherings — meant that many retailers could no longer rely on foot traffic alone.
Celebrities Pornsak Prajakwit and Michelle Chia, along with celebrity hairstylist Addy Lee, started a live streaming company, Mdada, in September last year. To date, they have worked with established brands such as Monsoon and Mary Chia by selling their hair products and beauty packages through their live streams.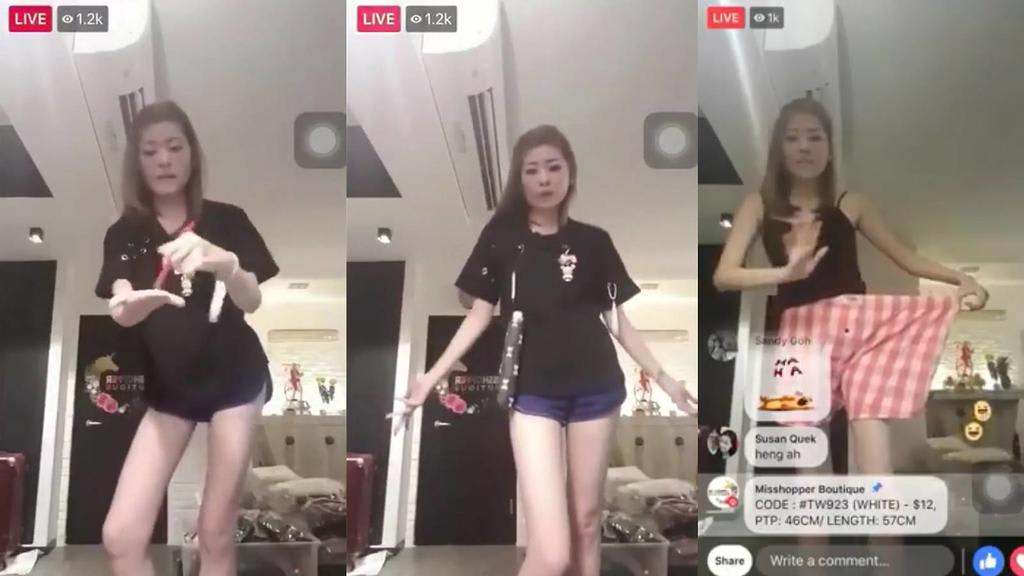 Media intelligence firm Meltwater noted in a report released last December that conversations around live streams and gamification of the online shopping experience in Singapore had increased by 1,890 per cent on forums and social media since March 2020.
According to another report by artificial intelligence solutions firm iKala last month, sales from live stream commerce in Singapore jumped 29 per cent in the first half of this year, compared with the same period a year ago. The revenue for each order leapt 89 per cent.
Several brick-and-mortar retailers said that they have turned to live streams, on top of opening an online store, as a means of overcoming pandemic-induced challenges.
Then, there are pure online retailers such as Ms Catherine Lam, who initially sold her crystal jewellery on Etsy — an e-commerce platform specialising in handmade items — which saw little growth in sales. But that changed when the founder of The Alchemy Philosophy started live streaming on Instagram in May.
It's not just the less well-known brand names which are jumping on the live stream bandwagon.
Getai singers Wang Lei and Liu Ling Ling,  as well as actor Shane Pow, are other well-known personalities who are leveraging their popularity and fame by joining the burgeoning live stream commerce industry.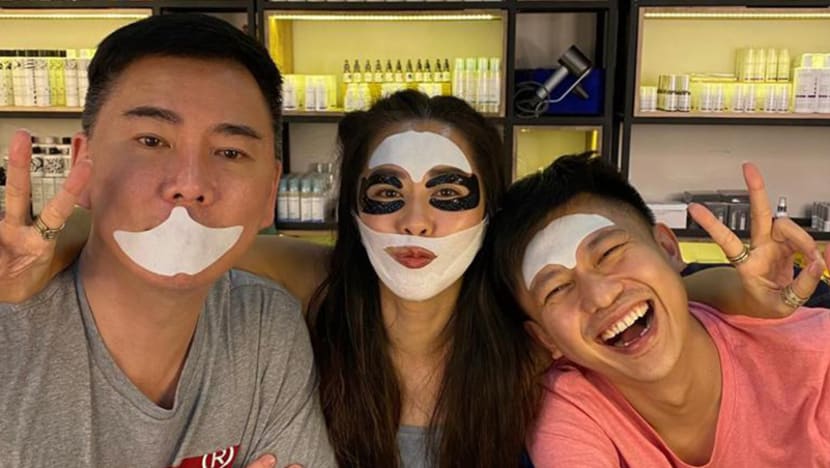 'RETAILTAINMENT' TO THE FORE
Incorporating entertainment into live stream selling is probably easier for people like Pornsak and his team, given that many of them are in show business — an advantage that Pornsak himself recognises.
After 14 months in operation, Mdada would likely be raking in at least S$4 million worth of revenue in just two months — October and November, Pornsak said.
While Mdada partnered with local retailers when it first started out, selling everything from food to slimming packages, the company has now started venturing overseas by making use of the vaccinated travel lanes that allow for quarantine-free travels to selected countries.
They worked with a skin beauty brand in Germany and a bag retailer in Italy to sell their products on location to live stream viewers in Singapore.
This partnership also includes Mdada having a team of people to process the payments and work with logistics partners to deliver the items to consumers. His company would get at least a 20 per cent cut of the sales, said Pornsak.
Mdada seeks to make their live streams entertaining through time-limited tactics, one-off coupons and free gifts. "We try to create this sense of urgency … It's very immersive. This means that you get to keep viewers on your platform longer," Pornsak said.
While Ms Lam does not have a whole team of staff helping her with her live streams, she has also found success through this mode of selling.
She used to see sales of not more than S$100 per week while selling her crystal jewellery on Etsy or through direct queries on Instagram.
The figure has jumped to between S$2,000 and S$3,000 a week after she started selling them on Instagram live.
In addition, Ms Lam said selling her crystals on Instagram live is actually less work for her, as listing her crystals on a typical marketplace platform would require her to take many photos and videos, and label each piece.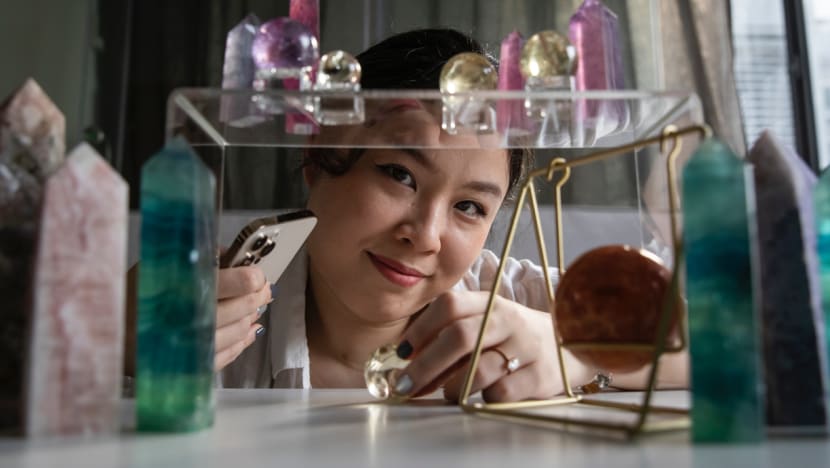 Amid the explosive growth of live stream commerce, the number of retailers coming onboard has correspondingly jumped in the past 1.5 years.
For Ms Priscilla Ng — who had a first-mover advantage in this space, given that she already started selling bags on Facebook live in 2019 — the influx of sellers has prompted her to rethink her strategy to stand out amid the competition.
"Overnight, suddenly everybody wanted to sell handbags. People are just buying from Taobao and opening a live session to sell bags. I don't want to be caught selling the same bags … Covid forced us to really think of how to keep the customer, " said Ms Ng, who co-founded a Closet Full of Bags with her sister.
To differentiate their offerings, the Ng sisters took a diploma course on bags, and started designing their own bags instead of just reselling stock from an overseas supplier to local consumers.
They would also have special launches of mystery bags during their live streaming sessions to entice viewers to come and watch. Ms Ng would also sometimes play games with her audience or open bids for certain bags.
"(When that happens), you can see the comments flooding and the viewership goes up," she said. Her strategy seems to have paid off, with current viewership numbers hovering at between 800 and 900, compared to 100 in the first few months when she first started two years ago.
This gamification of her live stream sessions is a far cry from her initial live streams, when Ms Ng was too shy to even show her own face on camera. All the audience could see then was the bag and hear her voice describing its features.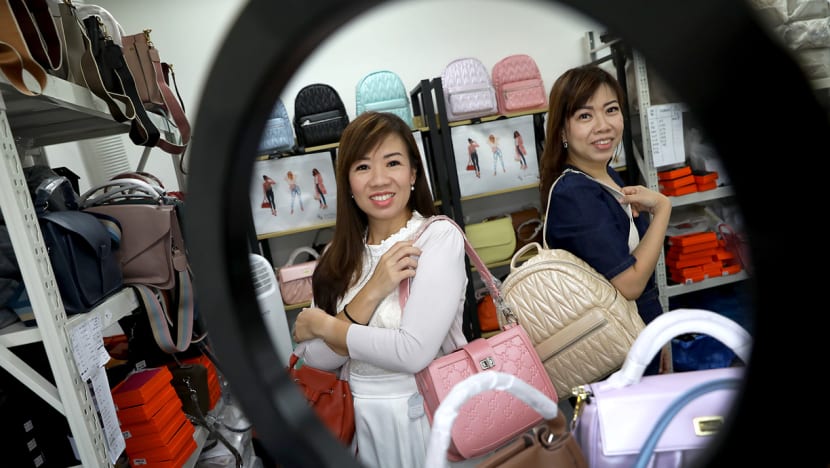 For some brick-and-mortar retailers, embarking on live streaming is a way to replicate elements of physical shopping that have been lost with e-commerce.
While health and skincare company Theo10 used to rely on roadshows to market and sell their products, that opportunity had been obliterated by COVID-19.
These days, besides putting its products on online marketplaces, the company has also started selling on Facebook live since December last year, so that customers can "at least hear (about) and see" the company's offerings even though they "can't smell or touch" them, said its chief operating officer Tng Bing Rong.
Live streaming has, in fact, addressed one long-standing issue with traditional e-commerce: That customers are not able to have a good look at the product or have any personal interaction.
"All these things can be resolved in live streaming. There is a real person explaining to you, answering your questions in real time. It brings experience to online shopping," said Mr Ivan Zhou, the Asia-Pacific general manager for retail marketing technology firm Techsun.
However, Professor Kapil Tuli, director of the Retail Centre of Excellence at the Singapore Management University, said it still remains to be seen whether such a form of online selling is sustainable in Singapore, as its current boom could be more due to its novelty factor.
It may be successful in China because of its huge population, but Singapore is just a small market of 5.5 million people, he added.
"For a live streamer to sustain and compete in Singapore, I think it's very difficult … It will probably have its own niche, maybe for fresh seafood, for certain items which have regular consumption," Prof Tuli said.
HOW ONLINE MARKETPLACES ARE REACTING
The growing popularity and profitability of live stream selling has led some online marketplaces — which themselves were hailed as disruptors to the retail landscape not too long ago — to start their own live stream channels.
Zalora launched a live stream feature on its mobile application in June, while Qoo19 started its first live stream in April.
In response to TODAY's queries, a Qoo10 spokesperson said that it is not able to offer figures on viewership change given that the live stream feature has been running for only a few months, but added that viewership change has grown steadily to between 5,000 and 10,000 for some of its event shows.
Shopee had launched its live stream feature earlier in June 2019. According to its chief commercial officer Zhou Junjie, viewership figured grew 2.5 times this year compared to last year across Southeast Asia and Taiwan.
At the recent 11.11 sales campaign, a total of 300,000 hours of live streams were watched on Shopee's platform across the campaign period. 
Based on China's experience with live streaming, where it first kicked off among smaller retailers before major brands joined in, Singapore would likely see the same trajectory, said Techsun's Mr Ivan Zhou.
Large retailers generally are less nimble given their corporate structure, but he believes that it will be a matter of time before they "join in the party".
With live stream commerce expected to grow further, has this mode of selling disrupted these large online retailers, just like they themselves had been game changers a few years ago?
Prof Tuli did not think so.
Given that online marketplaces are in the business of engaging customers, it only makes sense for them to respond to the surge of live streaming by starting their own.
"It will be a nice part of the overall online spectrum. There is live streaming, there is social commerce, there is e-commerce, there is mobile commerce. It's a very rich, diverse landscape," said Prof Tuli.
Qoo10's spokesperson said that live stream is not a substitute for traditional online shopping but rather, a channel that adds on to consumers' shopping experience.
"Customers who may be on the fence about a product, service or brand now have an avenue where they are able to watch it in action and be tested for a second opinion. This is very helpful for high-ticket purchases that have a longer buying decision journey," said the spokesperson.
The surge in live stream shopping, so far, has not significantly affected traditional e-commerce as it continues to grow from strength to strength in Singapore, partly powered by the pandemic.
Mr Taranjeet Singh, managing director of advertising firm Criteo in Southeast Asia and India, said that retail sales in Singapore from the recent 11.11 online sales campaign, also known as Singles Day, jumped 22 per cent this year, compared with a year ago.
And it's not just Singles Day, which is held on Nov 11 each year. Mr Singh said there have been consistent sales spikes in Southeast Asia whenever online marketplaces launch their sales campaigns, such as 9.9 and 10.10, which fall on Sep 9 and Oct 10 respectively.
"As retailers continue to attract consumers with affordable deals across the year, we'll likely see a consistent rise in sales and traffic performance across all double-day sales," he said.
Qoo10, Lazada and Shopee were not able to provide detailed sales figures for Singles Day.
But Lazada Singapore chief executive officer Loh Wee Lee said that digital products saw the strongest year-on-year growth followed by pet supplies on its platform. Sales of travel luggage doubled while gardening products tripled.
Shopee's Mr Zhou said that over two billion items were sold across Southeast Asia over two to three weeks of the 11.11 sales campaign. He added that on Singles Day itself, visits to the platform jumped 5.5 times in the first two hours compared to an average day and 11 million items were sold in the first five minutes.
The logistics sector is benefiting from the developments and strong growth in e-commerce, with firms continuously handling larger and larger parcel volumes.
Mr Andrew Sim, chief executive officer of J&T Express, said that his logistics firm has seen double-digit growth in parcel volume in the past two years.
An UrbanFox spokesperson said its gross merchandise value had tripled from S$8 million in 2019 and is on track to cross S$30 million this year. It is also expected to double the number of last-mile deliveries handled this year, from more than 900,000 in 2019.
As for Ninja Van, Mr Ray Chou, the country head of the firm's Singapore division, said that the firm's parcel volume for 2021 is set to triple from last year.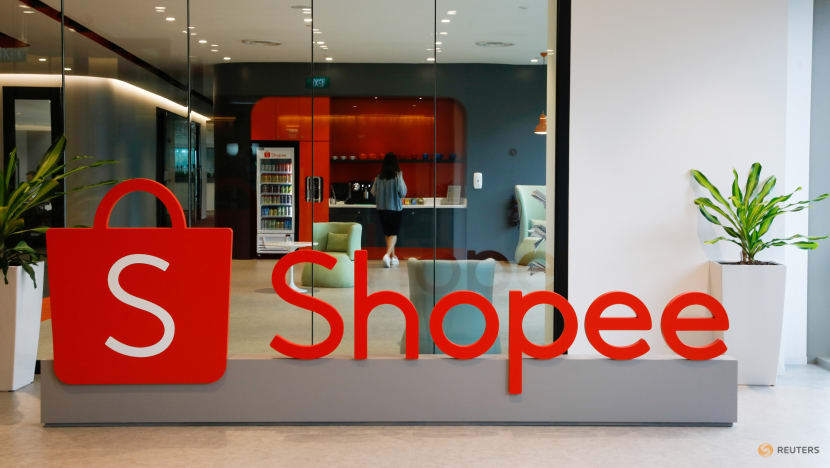 How do staggering 11.11 sales figures sit with a growing consciousness about waste and sustainability? We ask a marketing professor and Lazada's Chief Business Officer on Heart of the Matter:
THE OMNICHANNEL MANTRA
Whether it's getting themselves on online marketplaces, embarking on live streaming or incorporating "click and collect" services at their physical stores, some retailers have opted to put themselves on as many channels as possible.
And they recognise the need to integrate their various systems so that customers could have a seamless shopping experience.
Such an approach — known as omni-channel retail— first emerged when the brick-and-mortar retail landscape was in an earlier phase of disruption.
Just going online is not enough these days, said Mr Daren Ng, the Asia-Pacific general manager of Sensormatic Solutions, a retail solutions company. 
"The key to retailer innovation is in resonating with their customers – meeting customers where they are at, when the customer needs it, and in the preferred manner the customer wishes to pay and shop," he said.
Just like Theo10, brick-and-mortar watch retailer Cocomi had also gotten itself onto online marketplaces after the pandemic hit early last year. It already had its own online store before that. 
Its managing director Ivy Teo said that this was part of its digitalisation plans that were accelerated because of COVID-19.
The company then started live stream commerce earlier this year and has invested in technological solutions that have allowed its live stream sessions to be simultaneously cast on Facebook and its online portal since two months ago. It also has an Instagram shop account.
And these strategies seem to have borne fruit, with Cocomi's revenue tripling thus far in 2021, compared to the same period last year, said Ms Teo.
She added that e-commerce sales make up half of the firm's total sales, up from a mere 10 per cent previously.
While digitalising and adopting an omni-channel approach is key, Prof Tuli said that retailers should not be looking to hop onto every channel available and maximising its use as a strategy.
What's more important is to know who their target audience is and how they are shopping.
"If the customer is on Telegram (messaging app), why are you on Instagram? Do you even know where your customers are?" he said.
Rather than casting their net wide, a targeted approach is more important, especially for smaller retailers which do not have the resources to make use of every digital channel and solution out there in the market, he added. 
RETAIL INNOVATION
Beyond just opening an online store or live streaming, retailers are also innovating in other ways.
Skincare brand Kiehl's just launched its first 3D virtual store last month, whereby its physical store is being simulated using augmented reality.
Online users can also upload their photos onto the virtual store, and a diagnostic tool using artificial intelligence (AI) will analyse the user's skin concerns and how it can be improved.
Ms Rameet Kaur, the general manager of L'Oreal Luxe in Singapore, which owns the Kiehl's brand, said that the aim is to translate the interaction available in a physical store to the virtual world.
After its one-month launch, Ms Kaur said their data shows that customers who interacted with the virtual store had a 85 per cent lower bounce rate, compared with others who entered the website but did not play around with the new feature.
The rate refers to the percentage of website visitors who enter and leave rather than continue to view other pages.
Web visitors who use the AI-powered tool that analyses one's skin were spending five times more time on the website than those who did not, she added.
Ms Kaur said Kiehl's would be looking to further enhance the interactivity visitors can have with the online store.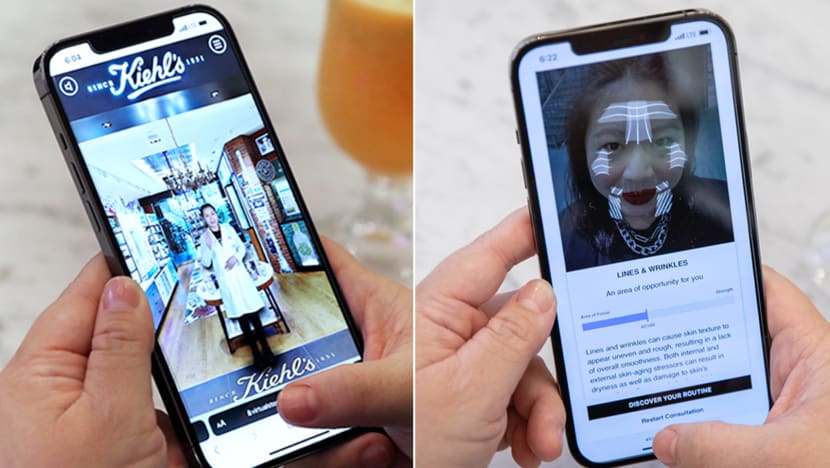 Incorporating that interactive element in its online store is also what BHG is looking to strive for, said Mr Jheeva Subramanian, chief financial officer of the departmental store.
BHG launched its no-frills online shop in July last year as part of its long-term digitalisation plans, said Mr Subramaniam. It will be looking to launch a revamped website in the next few months.
BHG is also looking into incorporating a tool that allows customers to interact and ask questions while shopping on its website, as one of the problems of shopping online is the inability to ask questions, he said.
Beyond just a simple chatbot, Mr Subramaniam said one possibility is embedding a tool that allows web visitors to have a FaceTime chat with a beauty adviser who is on the shop floor.
"It's bridging the offline and online," he said.
DIGITALISATION NOT THE PANACEA
The move towards digitalisation in the retail scene has long been encouraged by the Government as part of Singapore's push to become a Smart Nation.
The urgency has heightened with the pandemic, and going online is deemed crucial in overcoming the challenges arising from pandemic-related restrictions that have taken some shine off the physical shopping experience.
To this end, the Government has rolled out several schemes and initiatives to help retailers in their online journey.
But while many do see the need to pivot online, some retailers said the going has been tough for them, with some either seeing mixed or little results.
When Ms Edna Ng, general manager of watch retailer All Watches, finally got the go-ahead from her brand partners to digitalise and sell their products online, she thought she could "happily do that".
But Ms Ng was in for a shock when she realised that the competition online is much more intense, including against overseas sellers that have a price advantage.
She also learned that a lot of resources were required to invest in the right manpower, payment systems, inventory management and marketing campaigns. 
"It's not as straightforward as we thought. Yes, we know we have to do e-commerce. But it's difficult. Until today, it hasn't really taken off for us," she said.
After partnering with online marketplaces as well as having their own online shop, e-commerce sales still only make up at most 5 per cent of her total sales.
Ms Ng also attempted to sell via live stream but that did not translate to additional sales.
She believes that the nature of selling luxury watches, where customers feel the need to try them on, could be one reason why her online sales have not taken off. She also can't keep selling the watches at a discount, which is what online marketplaces tend to do, as she is bound by the contractual terms with her brand partners.
Ms Lisa Chong, founder of maternity apparel Stillen Maternity, also expressed similar sentiments.
In a bid to generate more revenue after demand tanked early last year, she decided to participate in a few government programmes that help small and medium-sized retailers to get on online marketplaces.
While she was given grants to work with solutions providers to learn how to make her presence known amid the deluge of retailers that jumped online, work with third-party logistics and do cross-border sales, it still took her a good six months to see some traction.
"It is a lot to grapple with. You need to look at new products, new knowledge, you need to do market research. We are just a very, very small set-up. It's not necessarily easy for us."
Her online move yielded some results: The month-on-month sales this year had been good, she said. However, that is after factoring in the government grants.
Without financial support, the improvement in sales has not been enough to offset the costs that come with hiring solutions providers, she said.
"Without government help, we are barely profiting," she said.
While Mr Tng considers Theo10 to have pivoted to online retail successfully, with the bulk of its sales taking place online, it did not come easy.
From deciding which is the right platform to go on, learning how to design and market their product listings in a manner that stands out from the competition, to dealing with problems arising from delivery, it was challenge after challenge that Mr Tng and his team had to overcome.
A spokesperson from the Singapore Retail Association said many new adopters were not quite ready for the digital pivot even though they saw the need to and it has been a costly ride for many retailers, even until today. 
Despite the challenges, retailers know that clinging to the status quo is not an option.
But the steep learning curve and high costs to truly come up with an online arm that segue seamlessly into the offline part of the business have caught some retailers off-guard.
Prof Tuli said it is important to not think of digitalisation in binary terms.
"We tend to assume that it's either you digitalise or you don't. That's not the case … It is a continuum… It doesn't mean you start becoming like Amazon," he said.
Even the complexity of live stream commerce can vary among different retailers, said Prof Tuli. A retailer can choose a more bare-bones approach where the medium is used just to talk about the product and viewers are then asked to head to the online or physical store to buy it.
This would be at a much lower cost than compared with live streams that integrate payment solutions which allow customers to buy on the spot.
How much retailers should digitalise really depends on their products and business model. It would not make sense for a mom-and-pop shop under a public housing block with only two staff to open an e-commerce platform, said Mr Ivan Zhou from Techsun.
However, they can take baby steps. For example, starting a click-and-collect service, or setting up a WhatsApp group with other dwellers in the housing estate and engaging with them by informing them of promotions, he said.
Digitalisation, while critical, should not be seen as a silver bullet that will solve all the problems for retailers, said Prof Tuli. 
Ultimately, having unique products and good customer service is still key, noted Prof Tuli.
And as retailers here continue to innovate through the digital channel of their choice, more interesting products may be transacted in the virtual space in the near future.
Already, Pornsak said that a law firm has approached Mdada to sell legacy planning through its live stream sessions.
While this is not even close to the rocket launch service sold during a live streaming session in China last year, it may be a harbinger of things to come here.
For more news like this, visit todayonline.com.