The Big Read: Retail workers not allowed to sit? Customers can be the ones to change longstanding practice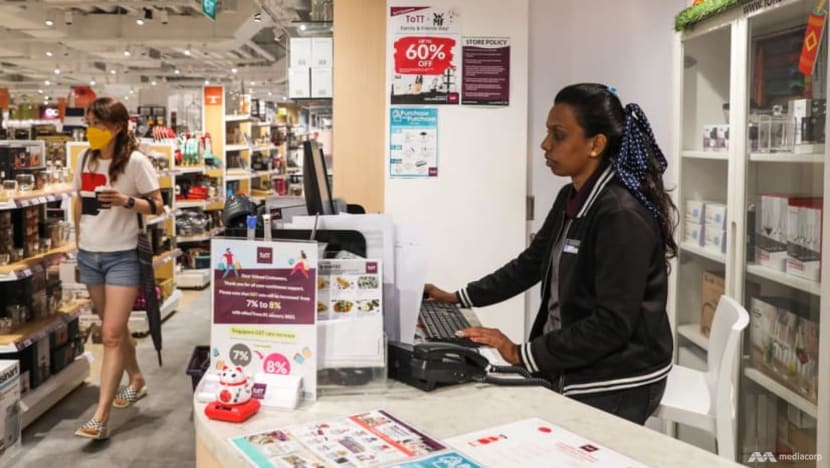 To sit or not to sit when retail staff are on duty became a talking point recently, after media reports of some of them saying they were not allowed to sit during working hours
Policy or not, it appears that it is standard industry practice for retail staff to be up on their feet especially when customers are around, according to those in the retail line
A straw poll of about 50 shoppers conducted by TODAY earlier this week found that many prefer to see staff up on their feet when entering a store. But they are generally okay with staff sitting down when there are no customers in the shop
This raises the question whether retailers should do more to provide rest areas or even just chairs for their workers
Amid the outrage expressed by some at the "no sitting" industry practice, perhaps shoppers can take the first step by managing their expectations and showing greater empathy and appreciation for retail workers
SINGAPORE: Shopper Linda Chua expects retail staff to be on their feet when customers like herself enter a shop.
"(Retail staff) should come forward and ask whether the person needs any assistance. This is called service," the 56-year-old, an insurance agent, told TODAY. 
Similarly, Mr Abdul Ghani, a 58-year-old retiree, said that retail staff should stand when there are people in the store as this "shows respect" to the customer. 
It's expectations like this that have led retail bosses to encourage their staff to get up on their feet when customers are around.
Mr Kelvyn Chee, managing director of apparel retailer Decks, said customers do not feel like entering the store if retail staff are seated as they feel like nobody is welcoming them. 
Agreeing, Ms Grace Tan, the director of household kitchenware retailer ToTT Store, said: "It is natural that when you see someone sitting, you feel that they are not providing you with the attention that you want." 
She said that her company has no official policy on whether staff are allowed to sit when customers are in the store. However, there are stools behind the cashier counters where they can sit and work on the computers if there are no customers present, she added. 
To sit or not to sit when retail staff are on duty became a talking point recently, following media reports of some employees at health and beauty chain store Watsons saying they were not allowed to sit during working hours. 
In response to media queries, Watsons said that it does not impose a "no sitting" policy and allows its employees to take breaks when required in rest areas.
Other companies TODAY approached — such as FairPrice and DFI Retail Group, the parent company of Guardian pharmacy chain — also said that they have no such policy. 
Policy or not, it appears that it is standard industry practice for retail staff to be up on their feet especially when customers are around, according to those in the retail line whom TODAY spoke to.  
And much of it stems from customers' expectations. 
Indeed, a straw poll of about 50 shoppers conducted by TODAY last week found that many prefer to see staff up on their feet when entering a store: 
About 54 per cent of the respondents said it was unacceptable for retail workers to be seated when there are customers in the shop
75 per cent said it was unacceptable for retail workers to pass time on their mobile devices or chit-chat among themselves when there are customers in the shop
However, the shoppers' sentiments are different when there are no customers in the shop, with almost all the respondents saying it is acceptable for retail workers to be seated in such a scenario. About 67 per cent also feel that it is okay for retail workers to be on their phones or chit-chatting with co-workers when no customers are around.  
The TODAY straw poll also found that about 67 per cent of the respondents were satisfied with the overall level of service at retail shops in Singapore, while views were split on whether they expect retail workers to proactively approach them and offer assistance upon entering a shop. 
Speaking to TODAY, some retail workers observed that customers in general have become more demanding over time — and this is now coming at a time when the retail sector, like many other industries, is facing a shortage of manpower.
The end result? A vicious circle of labour crunch, tough working conditions and an inability to attract more manpower. 
According to NTUC LearningHub's Industry Insights Report 2022 on Retail, more than two in five retail workers plan to leave the sector in 2023, based on a survey of 200 workers.
More than half cited low salaries (56 per cent) and dealing with unreasonable customers (52 per cent) as their reasons, while a further 46 per cent said they wanted to leave due to long working hours (46 per cent).
"RETAIL STAFF SHOULD HAVE A PLACE TO REST"
The findings of the straw poll offer a glimpse into shoppers' expectations of retail staff, but it also raises the question whether retailers should do more to provide rest areas or even just chairs for their workers — for them to take a break when there are no customers around, instead of having to be on their feet all the time. 
Customers and retail staff whom TODAY spoke to believe the rest areas should be provided, although they recognised that some companies might be unable to do so due to various constraints.
Acknowledging that it is tiring for retail workers to be on their feet for hours, Ms Chua, the shopper, felt that there must be a place for staff to rest. At the very least, the workers should be allowed to rest in the store room, she added. 
A 34-year-old retail assistant at a pet shop, who declined to be named, said that it is an "unspoken" rule for her to stand for the duration of her 10-hour shift at the store. 
Describing her hours as "gruelling", she would ask for her supervisor's permission to sit for a while when her legs get sore, but said that she usually can only do so for only up to 10 minutes before having to attend to a customer.  
Since there are no stools dedicated for sitting, she and her colleagues usually wipe the stools that they use to reach the high shelves and sit on them instead.
A cashier at a health and beauty care chain store, who declined to provide her name or age, said that she had requested a stool to sit behind the cashier counter. However, she said that her supervisor denied the request, saying that sitting within the view of customers would be perceived as poor service. 
The cashier, who works from 9am to 6pm, said that she experienced knee pain for two weeks in October last year as a result.
"I couldn't bend, I couldn't squat, I couldn't sit on the floor," she said.
She was given five days of medical leave and painkillers by the doctor. She said that she continues to experience soreness and self-medicates.
While she does not think earning close to S$1,000 a month is "worth the pain", she remains in the job as the work timings allow her to care for her children.
She added that it is "good" to have a dedicated rest area for staff, rather than use the storeroom which doubles up as office space. It would also be useful for older workers who need to rest, she said.
Other retail workers and customers who were interviewed also felt the same way. 
Staying in one environment for up to 12 hours can be "mentally exhausting" and a break room can give retail staff a short escape from stress due to demanding customers, said shopper Cabael Kyleen Friel Santos, a 20-year-old polytechnic student. 
MOST STORES HAVE NO BREAK ROOMS
Most retail stores at malls do not have a dedicated rest area for their staff, based on TODAY's checks at several shopping centres. Some have storerooms that have one or two stools, while others have stools behind the cashier counters where staff can eat or take a break. 
Among the four retailers TODAY spoke to, only one — fashion brand Love, Bonito — provides a dedicated rest area for retail staff in its stores.
TotTT's Ms Tan said that of its three stores, two of them, which are located at Suntec and i12 Katong, have cooking studios where retail staff can have their meals and rest if there are no ongoing cooking classes. 
However, staff have to eat or rest in the storeroom if there are classes on. The same holds for staff who work at the smaller store in IMM mall in Jurong East, if they do not wish to leave the outlet to eat, she said.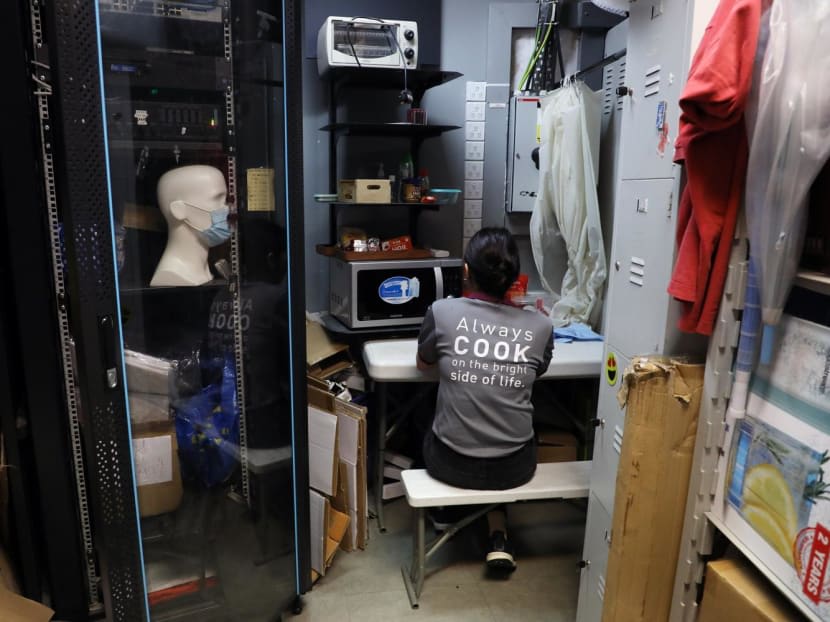 Mr Chee of Decks said that he provides his staff with a S$5 meal allowance to encourage them to quickly go out to buy food and eat within the store, or to have food delivered to the store. This is because the company does not want the store to be closed for up to an hour if the workers go for their lunch break. Staff who choose to eat outside the store are not entitled to the meal allowance, he said.
His employees usually eat in the storeroom or at the counter, said Mr Chee, adding that his stores are small.  
Over at furniture store Scanteak, there is no dedicated break room for staff in most of their stores, said the company's chief executive officer Jamie Lim.
As furniture stores do not have high footfall, staff can take their break at the counter, but must attend to customers once they enter the store. Staff are not encouraged to eat in open view of customers as it does not present a good image of the store, she added.
However, if this is inevitable due to space constraints, team members should acknowledge the customers if they enter the store while the staff are eating. Ms Lim said that customers are usually understanding in such situations.
Even though a dedicated break room would be much welcomed by retail staff, some bosses cited high rentals as one reason why they could not provide such a facility.
Scanteak's Ms Lim said it would be tough for retail companies to afford a dedicated sitting area, which could cost up to S$20 and S$30 per sq ft. A 100 sq ft break room, for example, would cost as high as S$2,000 to S$3,000 a month. 
Besides high rental, Ms Tan of ToTT said that there are other considerations. For example, a small store of less than 1,000 sq ft would likely not have enough room for a resting area.
Companies would also have to consider if they have enough staff to use the break room for at least eight hours a day to justify the extra cost, she added. 
Despite the cost, Love, Bonito provides a dedicated break area for staff at all of its six outlets in Singapore, where drinks and snacks are provided so that they can get some rest. The size of these break areas differs, but could easily sit about six staff at a time, said Ms Yilyn Tan, Love, Bonito's vice president of retail and country director.  
Although the floor space set aside for staff could be converted into additional fitting rooms, for example, she said that the company has intentionally set aside space for staff as it prioritises employee welfare.
"It's important to us that our teams get a space to decompress and recharge. An eight-hour-long shift is not easy and we want them to be able to … eat and catch up with each other," she said. 
Such efforts help to improve employee morale and translates to better customer service, she pointed out. 
RETAILERS SAY CUSTOMERS NEED TO MANAGE EXPECTATIONS, AMID LABOUR CRUNCH  
Aside from having to be up on their feet most of the time, retail workers said they also have to grapple with long hours and demanding customers. 
A 27-year-old retail employee at a gift shop in Northpoint City shopping centre, who wanted to be known only as Ms Tan, said that she has to work 10 hours during weekday shifts and 11 hours for weekend shifts. 
Describing her job as tiring, Ms Tan, who has been a retail worker for six years, said she has precious little time to eat and usually has to stop midway during meals to serve customers.
She has also had customers complain that she was irresponsible when she closed the shop to take a toilet break. 
While retail workers said that not all customers are rude, the demands of some are another challenge that they often face.
A 53-year-old employee at a sports retail store at Velocity Mall, who requested anonymity, described some customers as "unreasonable" in their expectations.
For example, he has encountered customers who insisted on goods exchange even after the label of the item had been removed. The company does not allow any exchange once the label is gone. 
The 34-year-old pet shop worker said that in her seven years in the retail line, she has observed customers becoming more demanding. 
While they used to be "more chill", they have higher service expectations now, she said. 
Some customers expect "privileged" treatment, such as asking retail staff to throw in freebies even though they are unable to do so. 
Retailers told TODAY that they have been hard hit by the labour crunch due to the COVID-19 pandemic and with a shortage of workers, it will be more difficult to meet customer expectations in future. 
The pandemic resulted in many foreign workers returning to their countries, and Singaporeans are not keen to join the industry, the retailers said. The crisis has also made more people hesitant to serve in customer-facing roles due to the health risks.
Ms Lim of Scanteak said that while her company used to get between four and six "suitable" applicants weekly, the figure is now down to one or two. 
Likewise, Mr Chee of Decks said that his staff count has dropped from 150 pre-pandemic to 100 currently.
To cope with the manpower crunch, his company has been closing poorer-performing outlets in the past year. He now has 25 stores, down from 35. 
Some retailers have turned to technology to alleviate the manpower crunch.
Scanteak, for instance, introduced a live chat function on its website during the "circuit breaker" period in 2020 to help address simpler questions by customers, such as changing delivery dates. This frees up retail staff in the stores to deal with more complex questions from customers, such as specific requests on orders.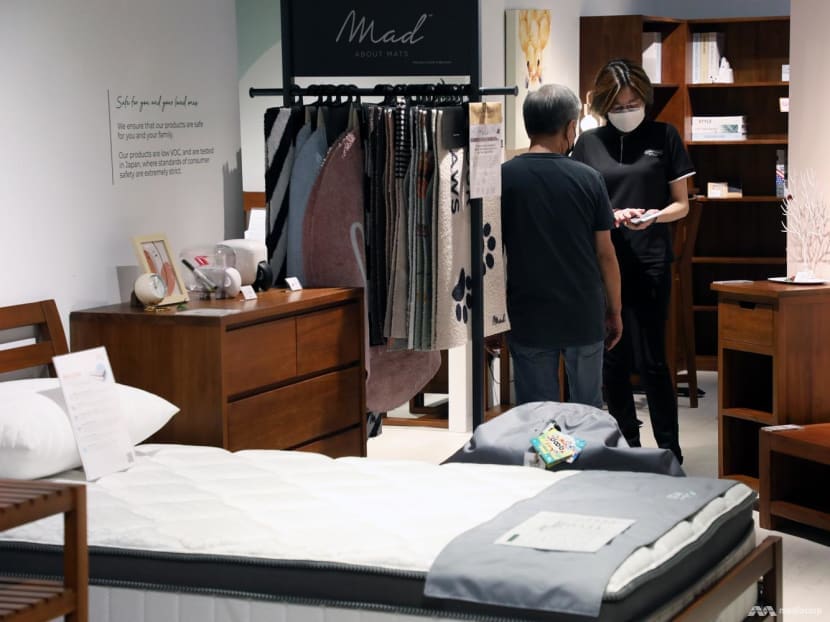 Despite the manpower blues, Love, Bonito said that it has managed to find sufficient staff since last year compared to the previous four years, partly due to a competitive salary package. This year, it has 320 employees, which it regards as a comfortable figure. In previous years, the headcount was 10 to 20 per cent lower than that.
Since last year, the company has also paid its retail staff more than their regular monthly salaries for working during the festive peak season. This year, staff will receive 10 and 20 per cent more than their monthly salaries for working during the festive period. This has helped to attract more temporary and part-time staff, said Ms Yilyn Tan. 
With people once again out shopping and dining as they try to put the pandemic behind them, along with an expected further uptick in tourist arrivals this year, some retailers said that customers would have to manage their expectations of the service provided by retail staff.
Since the manpower shortage in the sector is likely to continue, retail workers would have to multitask and take longer to respond to customers in the store when there are other shoppers present.  
With fewer workers manning stores, it will also become a more common sight to see smaller outlets being shut or chained up temporarily while staff go on their breaks, retailers said.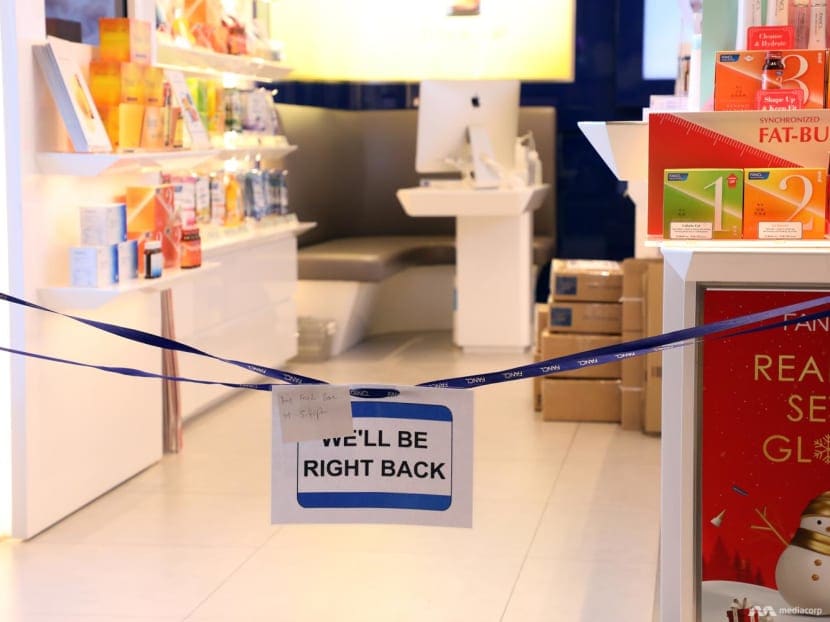 EXPERTS ON HOW RETAILERS CAN COPE 
Many practices in the retail industry stem from retailers' perception of what they think customers want to experience, said Ms Maggie Au, the course chair for diploma in marketing at Temasek Polytechnic. 
With most customers expecting retail staff to be attentive, efficient and well-informed in product knowledge, standing on the retail floor leaves "a positive and welcoming impression" on shoppers.
However, due to the labour crunch, staff may have to cover longer hours with shorter breaks.
Ms Au noted that besides allowing employees to sit during duty hours, companies can also provide vouchers for transport or meals, for example, to improve staff morale and retention.  
Assistant Professor Eunsoo Kim, a marketing expert from the Nanyang Technological University, said that amid the manpower constraints, retailers will need to understand which service components are more crucial than others, and focus on these. 
For example, customers at a pharmacy would want to have accurate information about the drug they are buying and know where it is located inside the pharmacy.
As such, pharmacies will have to focus on ensuring that such information is delivered to customers. It will be up to retail outlets to decide the most suitable mode of information delivery to customers — be it through retail staff or technology — after factoring in operational costs, she said.
While more companies are relying on technology, such as self-checkout systems, to alleviate the labour crunch, there will always be "a human touch" that technology cannot fully replace, she added.
With all being said and done, the retail industry, where "the customer is always right", is not for the faint-hearted. 
Amid the outrage expressed by some at the "no sitting" industry practice, following earlier media reports on the issue, perhaps society at large — and shoppers in particular — can take the first step by managing their expectations and showing greater empathy and appreciation for retail workers.
After all, they are the ones who keep the shopping paradise that is Singapore ticking. 
Additional reporting by Lou Si Yuan, Samuel Ng and Taufiq Zalizan.
This story was originally published in TODAY.