The Big Read: The COVID-19-induced foreigners' exodus — will they return to Singapore and what if they don't?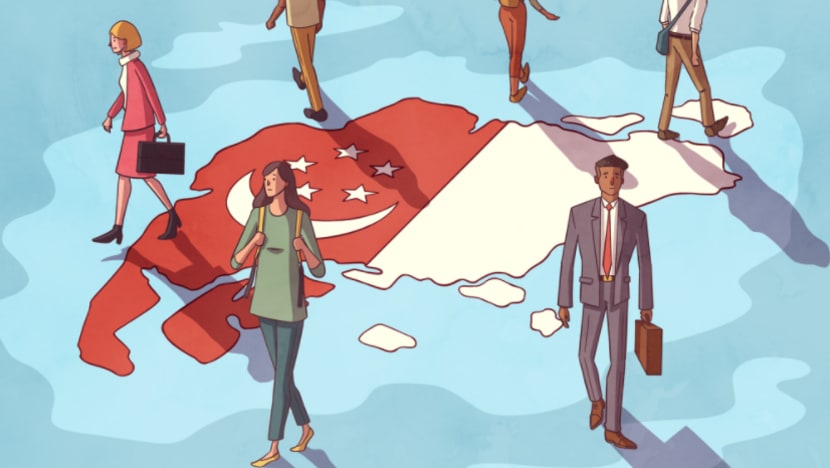 Foreign workers at all skill levels have been leaving Singapore in large numbers since the start of the pandemic
For expatriates, some have left because they do not see new job opportunities here, while others find the COVID-19 restrictions too strict for their liking 
For mid- and lower-skilled foreign workers, many have returned to visit their families and some have faced trouble getting approval to return 
While this spells trouble for firms typically reliant on foreign hires, it has meant more opportunities for Singaporean workers 
Experts say that while Singaporeans can plug some of the manpower gaps, Singapore will need a fair share of foreigners in its workforce to maintain its global hub status 
SINGAPORE: When COVID-19-induced travel restrictions temporarily eased early last year, Ms Shamalee, 42, decided to book a flight back to Sri Lanka in April last year to see her mother.
But her plans for a reunion came crashing down when the Delta variant began to spread like wildfire in South Asia, said Ms Shamalee, who had worked as analyst at an investment bank in Singapore since 2017.
"I tried everything possible to go home … (but) on Apr 30 there was an announcement that they were banning all returnees from Sri Lanka (who are not Singapore citizens or permanent residents) during the Delta variant outbreak," said Ms Shamalee, who did not wish to give her full name. 
The Singapore Government announced in April last year that all long-term pass holders and short-term visitors with recent travel history to Bangladesh, Nepal, Pakistan and Sri Lanka would not be allowed entry to, or to transit through, Singapore. The regulation also affected those who had previously obtained official approval to enter the country.
This meant that all pre-approved return flights were cancelled. Singapore citizens or permanent residents on the other hand could return to Singapore upon serving quarantine here. 
This left Ms Shamalee, an employment pass (EP) holder, distraught. Pre-pandemic, she would fly back to Sri Lanka once or twice a month to visit her mother, who is in her 70s. She had chosen to stay in Singapore partly because it's just a four-hour flight from Sri Lanka.
As the Delta outbreak in Singapore worsened and the travel policy remained unchanged, Ms Shamalee, who did not have any immediate family here, became increasingly anxious.
"If I flew to Sri Lanka, I couldn't come back to Singapore … it was crazy ... I waited and waited … After a while, it was just too much," she said.  
In the end, Ms Shamalee decided to leave her job here and relocate to London, where there were fewer travel restrictions. She left Singapore in October last year and now has a job at the European office of the same investment bank. 
Asked if she would return to Singapore, she said it would only be for leisure but not to live and work here.  
Her experience reflects the problems that many foreigners working in Singapore face as border controls turn once-hassle-free entry and exit into a nightmare. In September 2020, TODAY also reported on the vitriol and job uncertainties faced by expats here, causing them to contemplate leaving Singapore. 
For Ms Shamalee, the relatively tighter COVID-19 restrictions here also contributed to her decision to leave the island.  
While in Singapore, Ms Shamalee said that she was constantly afraid of being caught for not wearing a mask. In contrast, life in London seems to have returned to normal with mass events and optional mask-wearing. 
"I think there must be a balance ... As an individual, I have more freedom here (in London) … COVID-19 infections are going up in London, but most cases are mild and it is up to individuals to take precautions," she said, noting that Londoners do a lot of testing. 
Mr Jason Ong, 24, another former employment pass holder here, left Singapore for a different reason: He felt that career options here had become scarce due to the pandemic. 
The Filipino was working at a non-governmental organisation here after graduating from a local university in 2018. 
Last year, Mr Ong wanted to move to a different role as he felt that he was "stagnating" in his position. 
He had already been applying for new jobs in Singapore before the pandemic, submitting five to 10 applications and receiving about one to two offers a month. However, in 2020, as the pandemic raged, he received only two offers - including one from overseas - for the whole year. 
Mr Ong attributed the lack of job offers partly to the Singapore Government's move to preserve jobs for locals amid the economic downturn. 
"It was hard to find positions as a foreigner, a lot of the job listings were for Singaporeans and PRs only," he said.
The increasing minimum salary for EP holders did him no favours either. His previous firm had matched the minimum salary for EP holders when he joined in 2018, which was S$3,600 at that time. It had gradually increased his salary to S$4,500 as the minimum salary increased in 2020. 
Because of the minimum salary, Mr Ong felt that many companies did not find him an attractive candidate since they could hire Singaporeans who may accept a lower pay. 
He eventually took up the overseas job offer from a tech firm with an office in Dublin, Ireland. He left Singapore in August last year. 
While Ms Shamalee and Mr Ong had chosen to leave Singapore, another expatriate left because he had no choice. Malaysian David Chia, 28, said his application to renew his employment pass was rejected in August 2020, with no reason given to him. 
Mr Chia said that the rejection came as a shock to him, as he had studied at a university in Singapore, and had worked here since 2017. He has been with his current company, Facebook, since 2018. 
He added that the other foreign employees at Facebook had their EPs renewed in the same period. 
Ms Marie Tay, managing director of headhunting firm The Resolute Hunter, noted that companies and applicants are not privy to the approval process for EPs and the authorities may not always provide reasons for rejections.
Mr Chia had also submitted his PR application but it became moot due to his employment pass rejection. 
"I look Singaporean … I didn't feel like a foreigner, when they didn't renew my work visa it was quite a traumatic period," he said. 
After appealing unsuccessfully twice to retain his work visa, Mr Chia threw in the towel and sought opportunities overseas. Leaving Singapore at the end of 2020, he moved to Dublin for seven months to work in a similar role, as a program manager at the Facebook office there. He then moved to the firm's Washington DC office in the United States after his work visa there was approved. 
The entire ordeal had left him disillusioned about working in Singapore.
"If … they had told me they were trying to reduce the foreigner quota, I probably wouldn't have felt as terrible as I did, but what made me feel worse is that they didn't tell me (a reason)," he said.  
The Ministry of Manpower (MOM) had announced in August 2020 that it would be tightening work pass requirements due to the weakness in the job market and uncertain economic outlook at that time.
This would be done by tightening salary requirements for EP and S Pass holders, as well as ensuring that Singapore employers train and hire more local workers, among other measures. 
It is against this backdrop that stories of expats such as Ms Shamalee, Mr Ong and Mr Chia leaving Singapore - whether or not by their own volition - have become increasingly common. 
Indeed, the number of foreign PMETs (professionals, managers, executives and technicians) has fallen since the pandemic started. According to MOM figures, the number of EP holders here fell nearly 14 per cent from 193,700 in December 2019 to 166,900 in June 2021.
The numbers of mid-and lower-skilled foreign workers have also fallen significantly: The number of S Pass holders, those who earn at least S$2,500 a month, fell by more than 18 per cent from over 200,000 in December 2019 to 164,200 in June 2021. The number of work permit holders fell by 16 per cent, from 999,000 in December 2019 to 834,000 in June 2021.
'LOSING SHINE AS EXPAT HAVEN'
Amid an unprecedented pandemic which has turned the world upside down, Singapore has lost its shine as an expat haven, said some HR experts who work closely with firms who hire expatriates.
Ms Angela Kuek, director of employment agency The Meyer Consulting Group, said that this is due to the fact that many foreign PMETs previously saw Singapore as a hub to other tropical destinations in the region such as Thailand and Bali, where they can go for quick trips to unwind. 
"We are very small but when people come here to settle down, they expect to travel regionally," she said. "This is part of the 'foreigner lifestyle'… when you come to Singapore and you can't do anything, can't even go to Malaysia (when travel restrictions were in place), what are they going to do?" 
"They might as well go to (regions like) Europe, where they can still travel and there are fewer restrictions on movement." 
Ms Tay from The Resolute Hunter added that due to the Government's tightening of foreign manpower policies, there has also been additional anxieties for foreign PMETs. 
For instance, since May last year, spouses and family members of foreigners working in Singapore who hold dependents' passes (DP) will need to obtain a work pass in order to work here. 
Previously, DP holders who want to seek employment only have to get a Letter of Consent from the MOM. 
"As a result, this has created a lot of fear for the other half that is holding on to the EP, because if the person loses his or her job, then that means both of them have to leave," she said. 
"It adds on to the fear because of the push by the Government to hire more local workers." 
In 2020 at the height of the pandemic, the Government also rolled out the Jobs Growth Incentive (JGI) supports companies in expanding local hiring by providing salary support, while the Jobs Support Scheme (JSS) provides wage support for employers to retain their local employees. 
These initiatives have adversely impacted foreign professionals. "Some of them want to leave the job for better career prospects but they don't dare to leave as local companies need to take more effort to justify hiring (a foreigner)," said Ms Tay. 
Since October 2020, local firms have to advertise jobs on the MyCareersFuture.sg portal for at least 28 days, up from 14, before they can apply for a new EP or S Pass for a foreign candidate. 
"On top of that, the firm has to justify why they can't find a local and PR to hire for the role," she added. 
Are you making these common mistakes in your job hunt? CNA's Heart of the Matter dives into the dos, don'ts, tips and tricks for fresh graduates:
AGONISING WAIT FOR THOSE WHO WANT TO RETURN
While expats in general have more options when it comes to relocating for work, this may not be the case for mid- and lower-skilled foreign workers.
For the latter group, some left Singapore out of necessity, such as to settle family matters, and are keen to return. But for migrant workers from countries such as India and Bangladesh, this is not a simple task, as their firms have to apply for MOM's approval first, before their workers are able to return.
This has left some wondering whether they can continue working in Singapore. 
Indian construction worker Sathy Arputharaj came to Singapore in June 2019, six months before his wife gave birth to their daughter.
He had planned to return to India to see his newborn, but COVID-19 put paid to his plans.
When the situation still had not improved by July last year, Mr Arputharaj decided to resign from his job to return to his hometown in Tamil Nadu.  
"My father and mother are also very old and sick, and my wife cannot take care of the baby on her own," the 34-year-old said. "But now that I am here with my family, everybody is happy." 
However, he soon discovered that he could not return to Singapore and resume his work here, despite his employer applying "many times" for approval. The first few applications were rejected, and he felt that the emergence of the Omicron variant has also led to further delays. 
Mr Arputharaj, who has been waiting for the green light for the past five months, is now living off his savings in India. 
Bangladeshi construction worker Jakir Hossain is also worried about being stuck in his home country, having returned earlier this month to see his son again. He had not seen his family since he returned to Singapore in March 2020, shortly after his son was born and just before the dormitories went into lockdown. 
"I wanted to meet my family and take care of my baby when he is still small," the 34-year-old said. But now he is keen to return to Singapore to work. His employer had already applied for entry approval, but it has yet to be approved. Mr Jakir hopes that the approval will be granted soon.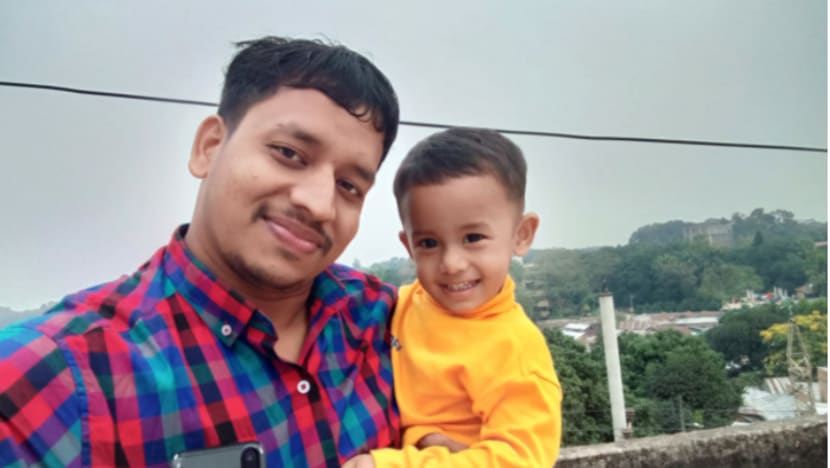 For Malaysian workers, many of whom come to Singapore on S Passes or work permits, their reason for leaving was largely similar - many missed their family members and were tired of waiting for border restrictions to ease.
This was the case for 54-year-old Julijam Jumaat, who was a work permit holder. He had been working as a maintenance worker at several malls around Jurong since 2017. 
Before the pandemic, he lived in Johor Bahru and would travel via the Tuas checkpoint to work in Singapore. Since border controls were imposed by Malaysia in March 2020, he had been unable to return to his family, with his firm sponsoring his accommodation here. 
However, the long time spent away from his four children -  three daughters in their 20s and a 10-year-old son - soon took a toll on him, and led him to submit his resignation in August last year. 
"My younger daughter is going to graduate, and my younger son misses me," he said. 
As a former civil servant in Malaysia, Mr Julijam receives a monthly pension of about RM 3,000 (S$966), but this pales in comparison to his salary in Singapore. 
Still, his family can get by on his savings and contributions from two of his older daughters, who are already working. 
"To me, it is family first," he said.
But now that the two countries have the vaccinated travel lane (VTL) scheme, Mr Julijam is open to returning to Singapore to work. 
"If any company in Singapore wants to employ me, I will still want to work."
For another group of workers, mainly from China, they have chosen to leave because they felt the COVID-19 situation in their home country is relatively safer than in Singapore. 
Chinese workers and their employers said many of these workers had returned at the behest of their families in China, which is pursuing a "COVID-zero" strategy with the aim of eradicating the virus. 
One Chinese cleaner at Albert Centre Market and Food Centre said that most of his Chinese colleagues had left since the pandemic. 
The 53-year-old, who wanted to be known only as Mr Meng, said that there are now only two Chinese cleaners at the hawker centre, down from five before the pandemic.
Although Mr Meng said he is not planning to leave Singapore, he lamented that his workload has increased. "We still work 12 hours a day like before the pandemic, but there are fewer breaks now as there are fewer people to cover our duties, I feel more tired and on the edge as I work," he said in Mandarin. 
EMPLOYERS GRAPPLE WITH THE BIG CRUNCH 
In the past two years, most employers of foreign workers have been facing manpower constraints in one form or another due to their workers' permanent departures. 
Employers at construction and engineering firms said that it is especially frustrating for them when their foreign workers are unable to return to Singapore after going home. 
Ms Lei Lei, general manager at mechanical and electrical systems firm Sunbeam M&E, said that at the start of the pandemic, many foreign workers left due to the stress and anxiety brought about by the long confinements following the dormitory outbreaks at that time. 
More than two years into the pandemic, the dormitory situation is less of an issue with the COVID-19 situation stabilising locally. However, some foreign workers are looking to return home to settle "family issues", such as marriage, visiting their newborn children or looking after sick parents. 
And for those who did, many are unable to return to Singapore until they receive the authorities' approval. 
Ms Lei had over 30 migrant workers in her firm before the pandemic, but the number is now down to about 20. As a result, her maintenance projects have been pushed back by about six months to a year. 
"It's very difficult for them to return, so in the end a lot of them have left the company for good," she said. 
"The Government tried to open up for a while, but then Omicron hit, and every door closed again," she said. "It's frustrating the whole industry." 
She said that unlike the service, and food and beverage industries which can still hire Singaporeans to fill up roles commonly held by foreigners, the construction industry finds it almost impossible to do so due to the low pay and negative perceptions of the jobs offered. 
"Even if we pay higher, no Singaporean wants to be a construction worker," said Ms Lei, who suggested that the Government consider a "special travel lane" just for migrant workers from common source countries such as India and Bangladesh. 
Meanwhile, for employers of Malaysian workers, they said that the opening of the VTL has helped ease their anxieties as there is now an assurance that they can re-enter Singapore should they return home. 
Mr Khairil Salim, general manager of car repair service Hussain & Sons Workshop, said that one of his three Malaysian workers left in November last year.
The employee had returned home to be with his family after not seeing them for nearly two years. 
But thanks to the VTL scheme, his remaining Malaysian employees have been happy to stay in the company and return home for festive occasions such as next week's Chinese New Year holidays. 
For firms which hire workers from China, many have seen over half of these employees leaving. 
At Straits Construction, Chinese workers made up about 20 per cent of the firm's headcount before the pandemic, said the firm's executive director and chief operating officer Kenneth Loo. They comprise only 10 per cent now. 
"The situation in China is actually (safer), so that's why a lot of them wanted to leave," said Mr Loo. "They get pressured from loved ones at home asking why they want to stay there."
He added that China itself is also facing a shortage of construction workers, and so wages there have increased. "The difference in wages here (compared to China) may not be sufficient for them to want to stay," he added.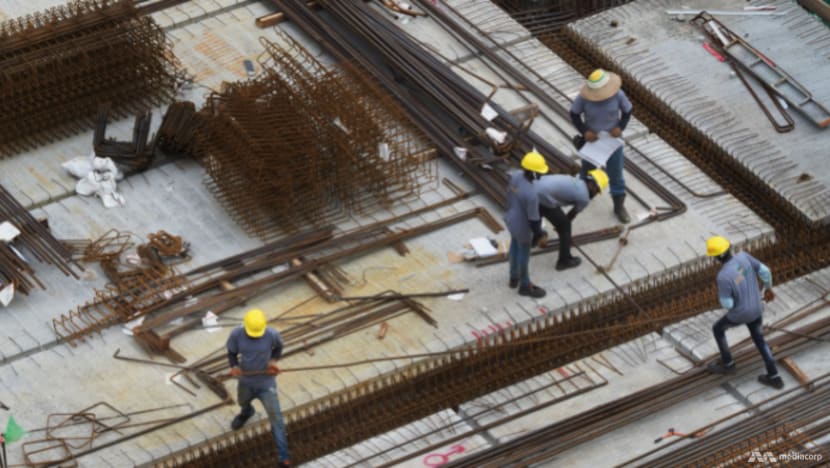 LOCAL TALENT POOL MAY BE INSUFFICIENT
While replacing the roles filled by foreign PMETs with Singaporeans may seem ideal, experts noted that there may not be sufficient talent within the local workforce to fill these roles.
OCBC chief economist Selena Ling said that Singapore has always been looking to train its local workforce to take up jobs "higher up the value chain" and COVID-19 has accelerated this process. 
"Given that we have a very limited workforce and an ageing population, it is inevitable that the policymakers continually try to push the Singaporean core up the value chain, to ensure that the local talent is good to attract the foreign talent," she said. 
Nevertheless, Ms Kuek from The Meyer Consulting Group said that for nascent industries such as IT and tech, the Singapore population is "too small" to drive meaningful growth in the sector. 
The Monetary Authority of Singapore (MAS) said last year that there was a shortage of Singaporeans filling up tech roles created in the financial sector, with just 35 per cent of the roles filled by Singaporeans. 
"We definitely don't have enough local talent to fill up these roles," Ms Kuek said. 
In 2020, then Trade and Industry Minister Chan Chun Sing said that due to this talent gap, Singapore will continue being open to top international talent, so that Singaporeans can continue to "learn from the best" and thus create more opportunities for themselves. 
As for the roles filled by mid- and lower-skilled foreign workers, the issue is not that Singaporeans are not skilled enough to fill these positions but that most are not willing to do so. 
Ms Ling said that industries which hire many migrant workers need a "change in image". 
For instance, there are several well-paying jobs within the construction industry, such as a tunnel boring machine mechanic, which can pay up to S$6,000. 
"People's image of construction and built environment jobs is that they have to go down to the worksite where it is hot and dirty, (and the job) doesn't pay well," Ms Ling said. "With technology, maybe the industry has to work harder in changing perceptions." 
WILL NORMAL SERVICE RESUME? 
While it is anyone's guess whether foreign manpower will ever return to pre-COVID levels or how long it could take, the signs are that supply is on the uptick.  
Indeed, MOM said on Friday (Jan 28) in its labour market advance report that there was a "considerable increase" of employment of non-residents in the construction sector over the fourth quarter last year. The actual figures will be provided in the full report in March. 
The increase was due to the resumption of entry approvals for fully vaccinated workers in the construction, marine shipyard and process sector to enter the country from early November, MOM said.
Minister of State for National Development Tan Kiat How said in a seminar earlier this week that manpower issues in the construction sector are being resolved and that the inflow of foreign workers has "steadily improved".
He added that compared to the period when travel restrictions and tightened entry approvals were in place last year, the present monthly inflow of foreign workers has "more than doubled". 
Signs of growth have also been observed in industries hiring foreign PMETs, said Ms Kuek. 
She noted that among the firms that her employment agency works with, some foreign PMETs have started to return, making up about five to 10 per cent of some firms' headcount. 
Meanwhile, given that Singaporeans had previously been fretting about having too many foreigners in their midst in recent years, will the fall in numbers present the island with an opportunity to wean itself off its heavy dependence on foreign labour? 
Ms Kuek said: "These two years have benefitted locals and PRs in getting employed, but we still need to continually open up and return to a sense of normalcy."
She added: "Singapore, being an international hub for Asia, we cannot lose that advantage, I think we should continue to go back to where we were before … it has to be on that path."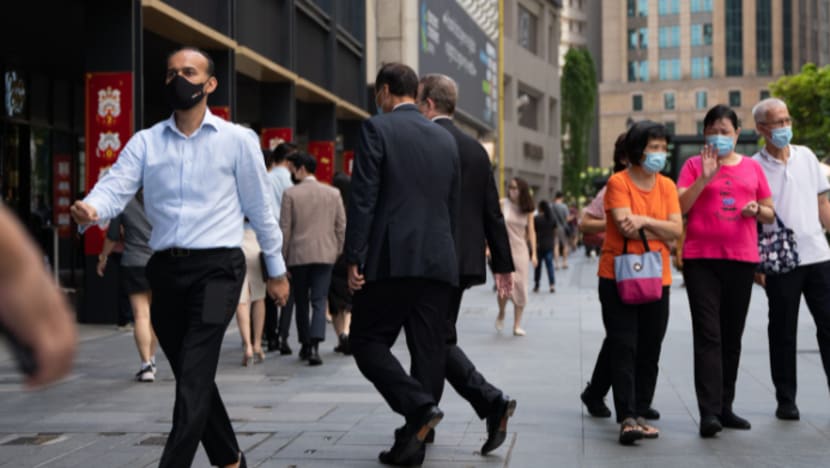 DBS senior economist Irvin Seah believes that the situation is temporary, and the higher reliance on a local workforce for now is "part and parcel of the COVID-19 situation here", rather than Singapore losing its appeal to foreign workers. 
"In the interim, there will be a manpower crunch in some sectors," he said. "Wages will rise, and in turn prompt companies to look to technology to reduce their reliance on manpower." 
He added that once borders reopen, a "reversal of the flows" — with more foreign manpower entering Singapore again — can be expected. 
He also stressed that with a healthy economic growth, the trade-off need not be between foreign and local job placements. 
"It's not a zero-sum game. If the economy continues to grow and remain vibrant, there's something for everyone — more opportunities for both local and global talents," he said.
This story was originally published in TODAY.