Commentary: Malaysia-Singapore VTL - what if it slams shut?
More COVID-variants may be lurking. Maintaining open borders is the only way to give peace of mind to many with ties across the Causeway, says ISEAS-Yusof Ishak Institute's Serina Rahman.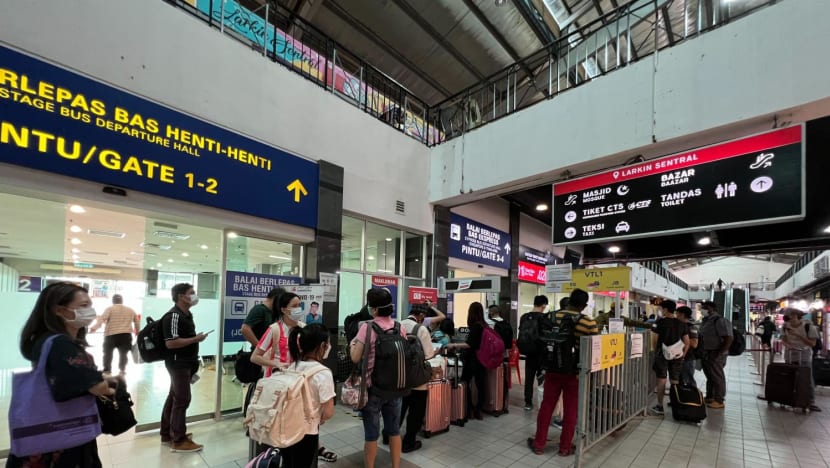 JOHOR BAHRU: Like an ominously dark cloud on the horizon, the recently identified COVID-19 variant Omicron threatens to derail global plans to reopen borders and reinvigorate national economies.
Despite early indications the Omicron variant is "almost certainly" not more severe than the Delta strain from top US scientist Anthony Fauci, this pandemic has had too many twists-and-turns for anything to be a certainty.
Just as Singapore and Malaysia nudged open the gates for families and friends to be reunited after more than a year of separation, some are worried the doors will slam shut yet again.
Both countries have already imposed a tighter COVID-19 testing regime for Vaccinated Travel Lane (VTL) travellers.
Jubilee has given way to fresh unease. In early November, the announcement of the air VTL to Kuala Lumpur elicited cheers of joy from Malaysians working in Singapore and their families who remained across the northern border.
Others were hoping for a VTL by land, which would allow Malaysians with families in Johor to return without quarantine.
While some initially looked for signs the land VTL would allow weekly or daily commuting across the Causeway and Second Link, the news that only citizens, permanent residents and long-term pass holders of the country they're entering can take the land VTL for now was not entirely unexpected.
USING THE VTL HAS BEEN CHALLENGING
The land VTL pressed on in end-November to great fanfare, with over 5,000 benefitting in the first five days. Another 2,771 used the air VTL. Still, these numbers represent only a small fraction of those hoping to cross these borders.
Travelling via the VTL hasn't been a bed of roses. Some found tickets to cross the border hard to come by, and once launched, seats were snapped up in minutes.
Fulfilling requirements to cross the border was more complicated than expected, with many struggling to deal with the uploading of vaccination certificates and contact-tracing apps.
Others were unsure about when, where and what types of COVID-19 tests had to be taken.
COPING WITH UNCERTAINTY: THE PRICE OF TAKING VTL
Even those choosing to press on with the VTL found themselves having to embrace one more factor: Uncertainty. When unforeseen costs can escalate quickly if rules change, money is a key issue.
The possibility of a sudden quarantine requirement when returning to Singapore weighed heavily on the minds of those with limited leave and cannot work from home.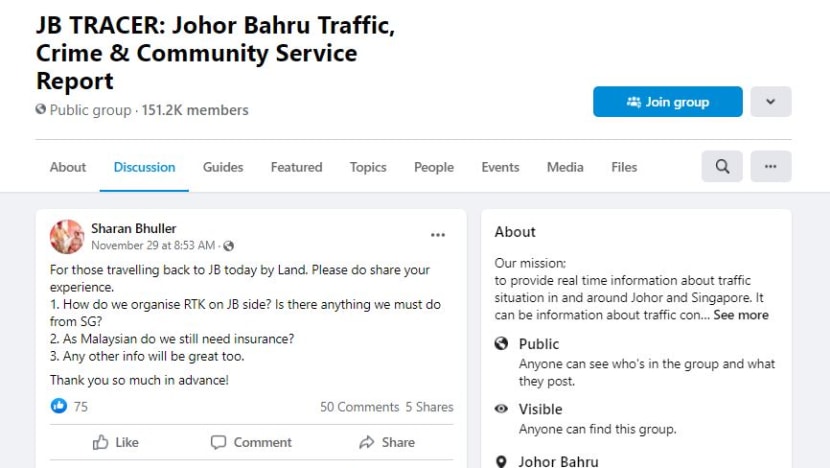 The daily quotas and poor information over limited alternative flights and bus services added to the worry some might not get the chance to travel or return even if they did cross over.
But this was a price travellers acknowledged they were willing to pay. Harry Ong, a factory technician in Singapore for more than 10 years, told me he would not have it any other way when he was finally reunited with loved ones after 18 months of separation.
While he was lucky enough to book a seat on the very first day of the VTL and secured last-minute leave to return, he is also mindful that additional COVID-19 testing could be required and quarantine reimposed when he leaves.
These are trade-offs he would bear when the alternative is losing his Singapore job. He hopes he can continue with this arrangement and is enjoying being back for now.
Others have been less fortunate. As tickets sold out and anxiety increased, social media posts began providing tips on how to bypass glitches in the booking systems.
SOCIAL MEDIA PLATFORMS FILL SOME GAPS
A number of social media platforms, such as the JB Tracer: Johor Bahru Traffic, Crime & Community Facebook group, have seen numerous discussions on requirements and travel experiences. They also served as a useful source of information, when SOPs changed with news of the Omicron variant.
Those who managed to buy tickets and were among the first to use the land VTL shared their experience and provided tips for trouble-free travel. Some posts outlined how to book tickets. There some hiccups in seat booking. The over-subscription rate was overwhelming. 
Many noted that while it took a long time to get across, with a lot of waiting in between, it was not too difficult in the end.
While some complained about buses being relatively empty, others pointed out that only 20 people per bus were allowed to travel as part of the SOP.
Others posted reliable sources of information or direct links to government website pages answering frequently asked questions.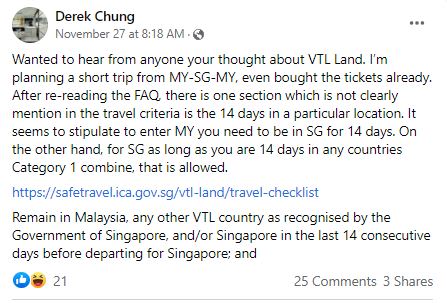 MALAYSIANS WILL FIND WAYS TO RETURN IF BORDERS CLOSE
Malaysians remain creative about finding alternatives in case the Singapore-Malaysia land VTL shuts. Some recommend using the air VTL to travel to Kuala Lumpur then to fly down to Johor.
Others point to plans to enter the country via Langkawi, where there is a travel bubble for tourists. They then hope to travel to Johor or other places after a seven-day stay on the island.
Malaysians who are Singaporean Permanent Residents can return to Malaysia without the VTL, including by land but this requires a seven-day quarantine, with an isolation-at-home option.
Kelvin Tan opted for this after being separated from his family for 13 months, choosing to bite the quarantine bullet and found it hassle-free when the requirements were clear.
While SOPs did change frequently, the latest information was always available and updated on the respective government websites, procedures were systematic, and staff on both sides extremely helpful, he said.
WHY KEEPING BORDERS OPEN IS AN IMPERATIVE
With the onset of Omicron and additional SOP requirements, some Malaysian netizens in Singapore have opted to wait or have cancelled VTL flight bookings because they were unsure about returning in time before their leave ends.
One Malaysian long-term pass holder who spoke to me on condition of anonymity said that if all goes wrong and he cannot get back because of Omicron-induced causes, he may just have to quit his job. He so desperately wanted to meet his family again after two years.
Stories of Malaysians working in Singapore show an increase in mental health issues that resulted from separation, loneliness, and missing home and family.
Families have broken down in tears upon reuniting at KLIA. The possibility that Omicron might deprive those who have not yet had a chance to return has created a sense of hopelessness for some.
Omicron has triggered global alarm and knee-jerk reactions. With countries worldwide stepping up travel and testing procedures and vaccine producers rushing to strengthen inoculations to meet the new threats, is shutting borders really still a necessary sledgehammer? Can't VTLs continue with options for more rigorous testing or strict quarantines?
Authorities and healthcare officials have worked tirelessly to develop and evolve robust SOPs meeting new pandemic uncertainties to ensure families can be reunited safely and as conveniently as possible. Such efforts must continue.
"Don't underestimate the differences between Singapore and JB … being away from my own home and family, being thrust into a foreign culture and this way of living can be very stressful," Mr Ong told me.
Dr Serina Rahman, Visiting Fellow at the ISEAS-Yusof Ishak Institute, writes from Johor.