Commentary: As Singapore and Malaysia peel open borders, Johor hopes daily travel across Causeway, Second Link resumes soon
This is despite many workers already "giving up" returning to Singapore for work, says ISEAS-Yusof Ishak Institute's Serina Rahman.
SINGAPORE: The peeling open of borders between Singapore and Malaysia offers a glimmer of hope for everyone stuck on either side of the Causeway, but not much more for Johor residents and businesses hoping for restrictions on land travel with Singapore to ease.
It has been a difficult 21 months since COVID-19 separated the two countries.
Malaysia and Singapore are deeply intertwined economically, historically and through extensive family ties.
Since Malaysia imposed a Movement Control Order (MCO) in March 2020, spouses, parents and relatives had to make stark choices.
Some, like 22-year-old Iman Nurhannah, dropped her business and management course at the Institute of Technical Education in Singapore to care for her grandparents living in Johor and found herself there since.
Others were forced to bid a final farewell to loved ones over the phone as COVID-19 struck families in the worst way. They hope to return to visit the final resting places of those lost to the pandemic once borders open.
The distance separating people may be short but feels excruciatingly lengthy.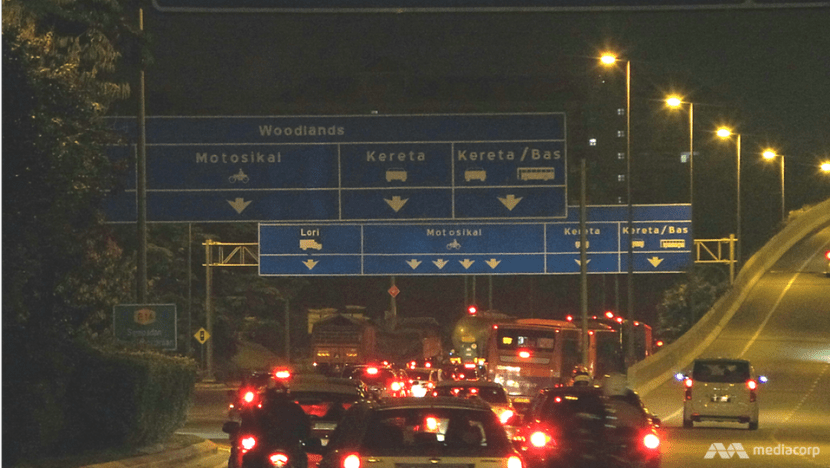 Some 20 families kept apart only by the Johor Strait even went to the extent of hiring a yacht in October 2020 to wave to loved ones in Woodlands Park.
Before COVID-19 vaccines became available, travel restrictions were understandably rigid. Only 250 Singapore residents crossed over for compassionate reasons with the Foreign Ministry's help, Singapore Foreign Minister Vivian Balakrishnan revealed in February.
The joint announcement by the prime ministers of Malaysia and Singapore that a Vaccinated Travel Lane (VTL) for air travel between the two countries will be launched in end-November therefore brought cheer to the hearts of many separated from family and friends over this long period. It offers one option for them to see each other again.
Coming during the school holidays, school-going Malaysians in Singapore can look forward to a long-awaited reunion with family.
JOHOR NEEDS SINGAPORE TO REOPEN
But the reality remains that the closure of Malaysia's southern borders has had severe economic repercussions.
Knowing Johor's economy is largely dependent upon international, especially Singapore investments, businesses and tourists, many Malaysian political leaders have called for the reopening of land borders to be one of Ismail Sabri Yaakob's top priorities as prime minister since August.
Without the usual inflow of Singapore and other visitors via the Causeway and Second Link bridges, many businesses in Johor Bahru suffered.
As tourism nationwide shut down, services in Johor including spas, salons, massage parlours, F&B outlets and car workshops took a beating. The iconic Puteri Pacific Hotel called it a day. Popular rest stop B Point, once packed with travelling Singapore residents, has been quiet.
Retail lost both local and international customers, leading to popular shopping malls near the customs and immigration complex such as City Square Mall, to completely shut down for many months.
With inter-district and inter-state travel lifted in October, domestic tourists returned. But operators, like Desaru Coast and more in the Johor tourism industry, say Singapore remains the key target market bringing "busloads" of visitors.
MAKING ENDS MEET WHILE BORDERS STAYED SHUT
Many of the hundreds of thousands of workers who used to commute between Johor and Singapore have since struggled to find alternative jobs.
Those "lucky" enough to continue working in Singapore with accommodation provided, like bioengineer Lim Kok Leong, have struggled with separation from loved ones. He hasn't seen his five-year-old daughter for more than a year.
As Singapore's economy slid into the red, some ended up without contract renewals and grappled with finding other work, yet unable to return to Malaysia. This resulted in some having to sleep rough in Singapore, but were quickly provided help by well-meaning Singaporeans and other Malaysians when their plight was revealed.
When easing travel rules continued to seem distant, those no longer able to depend on jobs in Singapore took on any temporary work they could find in Johor.
Many worked as food delivery riders. Others took to selling almost anything and everything they could from car boots when the MCO allowed for pop-up shops and small businesses to open.
In my conversations with such Johor residents, many revealed turning down permanent full-time jobs as they were waiting for the first opportunity to return to Singapore. Others shared how some employers were reluctant to take them on knowing this possibility.
For months, there was growing realisation on popular online social media platforms such as the Facebook group JB Tracer: Johor Bahru Traffic, Crime & Community Report, that for some, the days of daily commute across the land bridges for work, though fondly reminisced despite traffic jams, were over, and that it was no longer a life they wanted after having left it this long.
But the challenge remains that travellers can only travel out of Kuala Lumpur International Airport to head to Singapore under the VTL.
Many who have given up on returning to Singapore for work left Johor Bahru to return to their hometowns in other states when domestic borders opened.
Others were forced to do so because they could no longer meet rental and other payments they used to service on a Singapore dollar salary.
The mental toll has been huge. Nationally reported suicide rates in Malaysia climbed by 5 per cent in 2020, with Johor registering the highest state rates at one point as it felt the acute pinch of domestic restrictions and international border closures.
Listen to Malaysians coping with a new wave of COVID-19 share their very different experiences of living through the pandemic in Johor, Kuala Lumpur and Sabah:
RAYS OF HOPE
The VTL offers greater ease of travel and is to be welcomed when the relaxing of restrictions between Singapore and Malaysia over the past year have been a bit of a tango.
The Reciprocal Green Lane (RGL), suspended after infections surged, enabled business and official travellers short-term single entry and exit between the two nations for a while, but catered largely to elite travellers.
The Periodic Commuting Arrangement (PCA), designed specifically for companies to bring in workers into either country, was rigid.
Workers were required to stay in their country of employment for at least 90 days and the costs of quarantines and testing made it particularly onerous for blue-collared workers and their firms.
Since mid-2021, vaccination rates across Malaysia have been improving and it feels like the country is turning the corner.
With doses streaming in, Johor sped up adult vaccinations. Walk-in and mobile vaccination centres popped up. Ground engagement efforts reached many Johor Bahru residents, encouraging them to get the jab, and were expanded successfully to more regions.
Johor's vaccination rate as of Nov 9 stands at 77.2 per cent fully vaccinated, higher than the national rate of 75.4 per cent, with most vaccinated with the Pfizer vaccine, according to the Malaysian Ministry of Health website.
A record 96.8 per cent of the adult population are fully vaccinated in Johor, and teenagers are swiftly getting their jabs too.
The higher vaccination rates are enabling more rules to be lifted and giving Malaysians hope that the country can live normally with COVID-19.
The VTL between Singapore and Malaysia strengthens the light that seems to be shining at the end of this dark pandemic tunnel for those of us in Johor.
But it is even more heartening that both prime ministers signalled optimism that a similar VTL across the Causeway and Second Link is seeing progress – something most Johor residents and businesses are looking forward to most.
This is not a given seeing how the pandemic continues to throw curveballs at Malaysia, with steadily rising overall infectivity rates (R-nought) across the country, and at least three states above 1.0, new clusters in Melaka where a state election will soon happen, and rising ICU and death numbers in Sarawak whose population largely received the Sinovac vaccine.
Dr Serina Rahman, Visiting Fellow at the ISEAS-Yusof Ishak Institute, writes from Johor.