The Big Read: Faced with fatigue and rush to meet orders, food delivery riders grapple daily with road safety risks
The safety of food delivery riders has come under the spotlight recently, after it was revealed in Parliament earlier this month that five food delivery riders died on the job in the past 18 months.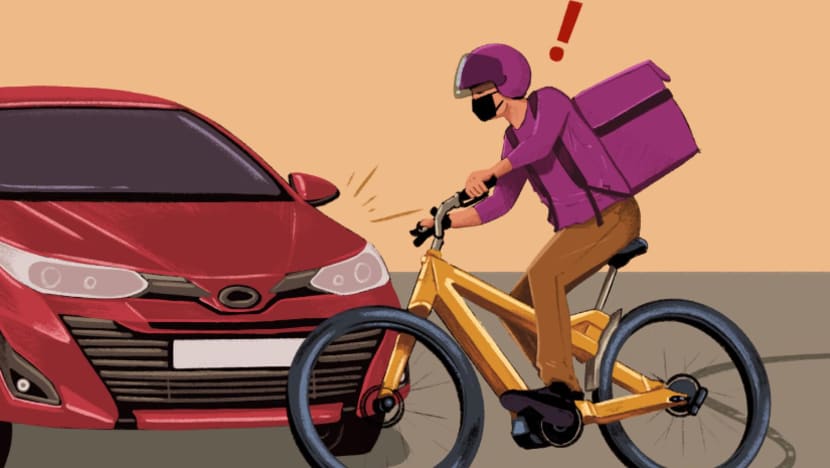 Senior Minister of State for Manpower Koh Poh Koon said in Parliament on Jul 5 that the authorities are working with platform firms to enhance the safety of delivery riders
Interviews with these gig workers found that they face a high risk of accidents while on the roads. Among the 12 riders whom TODAY spoke to, all except one said that they have either been involved in accidents or experienced close shaves on their deliveries
There are several risk factors including long hours and fatigue, as well as the rush to fulfil orders to meet targets or gain incentives
Experts suggested better cycling infrastructure which can help keep delivery riders off the roads, as well as enhancements to the algorithm used by these platform companies to promote safety among the riders
SINGAPORE: Mr Mohammed Kamarruhadi, 47, recalled the day his family rushed to the hospital in May last year after his 18-year-old son suffered serious injuries from a road accident while delivering a food order. 
As his son lay on the hospital bed, the family called up the food delivery company to inform them about the accident and find out what they were going to do about it. 
To their shock and anger, the operator on the other end of the line said that there was nothing they could do without the order number, as it was part of the company's standard operating procedure. 
"This person is fighting for his life, his phone is all damaged, then you are asking these kinds of questions ... My boy is now mentally different, and his life is not the same because of that S$5 order," Mr Kamarruhadi, who also works as a food delivery rider, told TODAY earlier this week.  
The accident resulted in his son, Mohammed Ali, having to undergo surgery to remove part of his skull to release pressure and blood clots in the brain due to the severe impact to the head. 
More than a year on, Ali, who had just graduated from the Institute of Technical Education when the accident occurred, is slowly on the mend and still goes for physiotherapy sessions. 
The safety of food delivery riders has come under the spotlight recently, after it was revealed in Parliament earlier this month that five food delivery riders died on the job in the past 18 months.
TODAY's interviews with these gig workers found that they face a high risk of accidents while on the roads. Among the 12 riders whom TODAY spoke to, all except one said that they have either been involved in accidents or experienced close shaves on their deliveries. 
Mr Muhammad Izzudin, 24, a delivery rider for GrabFood, noted how traffic is particularly heavy during peak hours in busy areas such as Orchard and Tiong Bahru. "Just last month, when I was working at night, (a driver) didn't look left and right at first, and so when I was going down the slope, the driver didn't see me, and I almost collided with the car," he said.
Another food delivery rider Alvin Tan, 35, said that close calls happen as much as thrice a week for him. "I can go near to the kerb but some of the cars, they don't care and just zoom past you and (they get) very near ... By right, you need to keep a 1.5m distance away from the bike, and some of the roads are narrow, but some of these drivers don't care." 
He added: "Some e-bike riders rather risk the chance of getting fined (by riding on walkways) instead of riding on the road because they feel unsafe on the road." 
In 2020, all motorised personal mobility devices (PMDs) were banned on footpaths. Personal mobility aids for those with difficulty walking, such as motorised wheelchairs, are exempted.
Food delivery riders using electric bicycles are only allowed on the roads.
Speaking in Parliament on Jul 5, Senior Minister of State for Manpower Koh Poh Koon said that the authorities are working with platform firms to enhance the safety of delivery riders. 
The major food delivery platform firms in Singapore are Deliveroo, foodpanda and GrabFood. 
Dr Koh, who also provided the statistics on fatal accidents, was responding to a question by MP Tan Wu Meng (PAP-Jurong) on how many food delivery platform workers had died from accidents since January last year.
Dr Koh said that the Advisory Committee on Platform Workers — set up by the Ministry of Manpower last year — is also looking into strengthening financial protection in cases of work injury for delivery persons, private-hire car drivers and taxi drivers. This would fall under the Work Injury Compensation Act and would require companies to report work injuries to ensure that platform workers are compensated. 
Some recent accidents involving food delivery riders
June 2022: A GrabFood delivery rider died after a traffic accident at Waterway Point shopping mall in Punggol. The 54-year-old was riding an e-bike when the accident happened. He was conscious when he was taken to the Changi General Hospital but later succumbed to his injuries. 
May 2022: A 54-year-old delivery rider died after a road accident with a motorcycle at Serangoon Road towards Upper Serangoon Road after Whampoa East. The rider, who was riding a personal mobility device, was unconscious when he was taken to the hospital, where he later died. 
April 2022: A 24-year-old food delivery rider died in an accident at Gambas Avenue. The father-to-be was riding a motorcycle when he met with the accident and was pronounced dead at the scene by a Singapore Civil Defence Force paramedic. A 36-year-old male van driver was arrested for careless driving causing death. 
March 2021: A 42-year-old food delivery rider was hit by a car at the intersection of Hougang Avenue 1 and Tampines Road. The rider died of his injuries hours after he was taken to Tan Tock Seng Hospital, leaving behind his wife and young daughter.
FACTORS THAT ENDANGER SAFETY 
On the safety risk factors, food delivery riders interviewed cited harsh weather conditions, fatigue from working long hours, the rush to fulfil orders, and for some, the size and speed of their bicycles or electric bicycles compared with other vehicles on the roads.
They told TODAY that they spend significant hours on the road, come rain or shine, and they often try to complete as many orders in a day as possible, so as to get the incentives offered by their firms. Apart from incentives, some food delivery firms also require riders to hit basic daily targets. 
One rider, who wanted to be known only as Mr Zhang, said he once suffered a serious accident while rushing to meet orders. 
The 39-year-old, who delivers food using a motorcycle, was trying to hit his daily target in December 2019. When a traffic light turned red, he suddenly switched lanes and jammed his brakes. 
While he stopped in time, he was hit from behind by a lorry and flung from his motorbike. He broke several bones in one of his hands and was on medical leave for three months. 
"I could have controlled the situation if I was going slower ... these were things that I could have done if I wasn't rushing," Mr Zhang said. 
He managed to get a daily remuneration of about US$70 (S$98) from his food delivery firm while he was on medical leave, and his own personal insurance covered his hospital expenses.
However, what happened immediately after his accident angered him. "While I was injured, the order was still on my phone and I couldn't cancel," said Mr Zhang, who declined to reveal the food delivery firm he was working with at that time. 
"I was still conscious, so I messaged the dispatch for them to cancel, I told them I got into an accident and was injured, what the dispatch actually asked me to do was to 'please take a picture (of your injury)'… I couldn't take it and just (swore at him)," he said.
Mr Zhang said that while he was not chasing incentives on the day he met with the accident, he observed that many riders who do so can risk compromising their safety in their rush to meet the orders. 
These incentives vary across the three major platform companies and can go up to several hundred dollars but may require delivery riders to work more than 10 hours a day to fulfil a certain number of orders, he said. 
Mr Zhang, who works about eight hours a day, added: "When you work longer hours, there will definitely be more mistakes. Riding a motorbike is already more tiring (than driving a car), and I know some people work much longer hours than I do."
Food delivery riders who use bicycles or e-bikes said that they feel less safe when on the roads.  
Under the Road Traffic Act, a person who rides a bicycle or e-bike has to do so "as near as practicable to the far left edge of the road". 
However, some riders felt that such a rule causes them to be less visible to other motorists or to ride in narrow spaces. 
Mr Raymond Tan, 38, a food delivery rider and pro-tem member of the National Delivery Champions Association (NDCA), said that he nearly met with an accident twice last year.  
NDCA was set up in 2020 by the National Trades Union Congress (NTUC) to represent delivery riders. The association has more than a thousand members to date.
Mr Tan said: "Some of the cars, they use sunshades or have tinted windows, so this prevents them from seeing us at all. Most of the time, they don't check their blind spots." 
Likewise, Mr Dylan Tan, 40, who delivers food on an e-bike, felt that riders like him are at greater risk because it is easier to lose balance on an e-bike compared to a motorcycle which has a more sturdy build. 
He added that some drivers may also fail to anticipate the movements of e-bikes given that they are more like bicycles rather than motorcycles.
"For motorbikes, cars would follow behind them but when (an e-bike) is in front, some motorists would expect the (rider) to move to the side of the road. This is why so many accidents happen at turning points as well," he said.  
Drains and uneven tarmac can also cause problems for e-bike riders at the side of the road, he said.
While they would feel safer if they were on motorcycles, many e-bike riders told TODAY that fuel cost and Certificate of Entitlement (COE) premiums put them off the thought of switching to motorcycles.  
Mr Alvin Tan, who is a delivery rider with GrabFood and Deliveroo, said that though he experiences near-misses regularly, he is sticking with his e-bike as it is less tiring compared to bicycles. He is also not keen to go through the time-consuming process of getting a motorcycle licence. 
Away from their mode of transportation, food delivery riders also spoke about long working hours and harsh weather conditions, which can impede their judgment on the road. 
One of them, 34-year-old Rafael Sriram, said: "While it depends on the individual, some riders start very early in the morning, and it can be the fatigue because we are tired." 
Mr Raymond Tan said he typically works 16 hours a day, six days a week. The hours and hot weather can sometimes make him feel sleepy. "Every day on the road and under the hot sun and rain, even a robot can die," he said. 
WHAT MOTORISTS SAY ABOUT DELIVERY RIDERS 
Motorists interviewed felt that food delivery riders also need to exercise care when on the roads. 
Mr Alan Chee, 59, said: "For example, take a big container ship, do you think a big container ship can see a sailing boat? If anything happens, the small sailing boat will sink, if it is hit by the big container boat."
Others including Mr Henry Ang said they have seen, at times, reckless behaviour on the roads by food delivery riders on e-bikes, which also endangers the lives of others.
Said Mr Ang, 56: "I know that they want business and are rushing, so sometimes I see them dash (across a junction) even when the traffic light is red ... Sometimes, on the slip road, they would just dash across without looking at traffic, which would cause me to jam brake."
WHAT FOOD DELIVERY FIRMS SAY
In response to TODAY's queries, the three major food delivery firms all said that the safety of riders is a priority and they do not penalise riders if they take longer than the estimated timeframe in delivering the food to customers. 
A foodpanda spokesperson said that if riders are caught flouting road regulations, they may be temporarily banned from taking orders while the company conducts an investigation. In more extreme cases, it would put in place "more severe measures", the spokesperson added. 
In terms of working hours, Deliveroo and foodpanda do not have a cap on how long riders can work each day, while GrabFood did not address this point in its reply.
Nevertheless, GrabFood said it notifies customers that their order might take a longer time to arrive when it is raining. 
A Deliveroo spokesperson said that its proprietary algorithm is designed to take into account factors such as riders' profiles, distance, weather and duration of orders to ensure orders reach customers in the shortest possible time.
Said the spokesperson: "Our fully flexible fee per delivery payment model means that our self-employed riders can choose when they ride and decide how often they ride with us, even having the option to cancel right up to the last minute if they wish."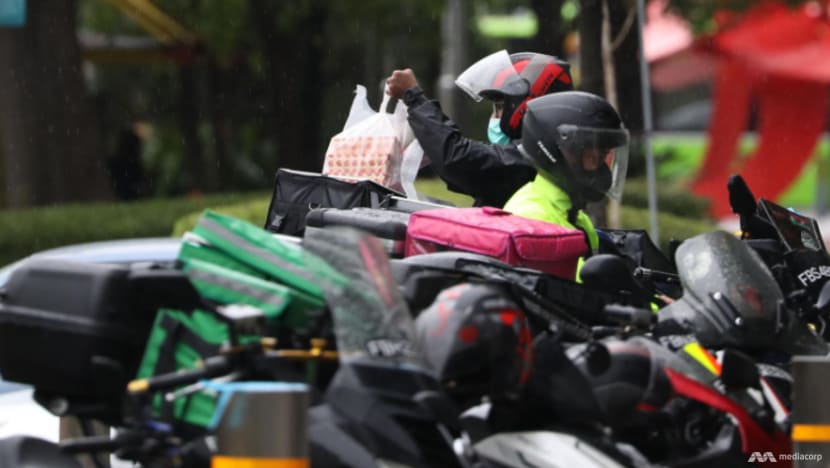 A Grab spokesperson said that it is aware that delivery riders "may sometimes face challenges completing a delivery and they can contact Grab for assistance in such situations".
The three food delivery firms have also introduced training programmes and initiatives to promote road safety. 
For example, Deliveroo Singapore held a "Rider Safety Month" in October last year, where riders were offered basic emergency preparedness and defensive riding courses. 
WHAT PROTECTION IS THERE 
All the three major food delivery platforms here offer some form of insurance coverage for all their riders. The workers can also buy additional insurance coverage plans from these platforms. 
For example, Deliveroo provides riders with income protection insurance, which means that riders will receive income if they are recovering from an accident. Riders who use bicycles and electric bicycles also have third-party liability coverage, which covers damage to someone else or their property in an accident.
Meanwhile, foodpanda provides third-party liability and personal accident insurance coverage for all riders while they are on the job, which is inclusive of medical expenses, accidental death and disablement, as well as hospitalisation. 
On their part, the major delivery platforms have been enhancing insurance coverage for their riders. 
For example, Grab rolled out free insurance for all its delivery riders, starting with personal accident insurance introduced in 2019. Last year, it introduced insurance for prolonged medical leave. 
Deliveroo launched accident and injury insurance for riders in May 2018, providing such coverage to its more than 9,000 riders free of charge.
Still, some delivery riders told TODAY that they are unclear about their insurance coverage. 
Mr Alvin Tan said: "It's very confusing and there are a lot of things to read through so I'm not really sure as well." 
Agreeing, Mr Dylan Tan noted that riders would have to trawl through a lot of information to find out what the insurance covers. He added that some riders also may not be covered due to illegal modifications — including installing a power on-off switch — made to their electric bicycles. These modifications would render the riders ineligible for insurance coverage. 
Nevertheless, for riders on prolonged medical leave following an accident, they can claim daily sums based on the tier of insurance policy which they bought with the delivery platform. 
Mr Sriram said that he hit his head in an accident in 2020 and suffered internal bleeding, which landed him in hospital for two days and on medical leave for almost three weeks. 
He said that he received S$100 a day as he bought a lower-tier plan. This sufficiently covered his daily expenses, he added. "If you're talking about bills and all that, then it doesn't help so much. But I also made a claim from the other party for the accident," he added.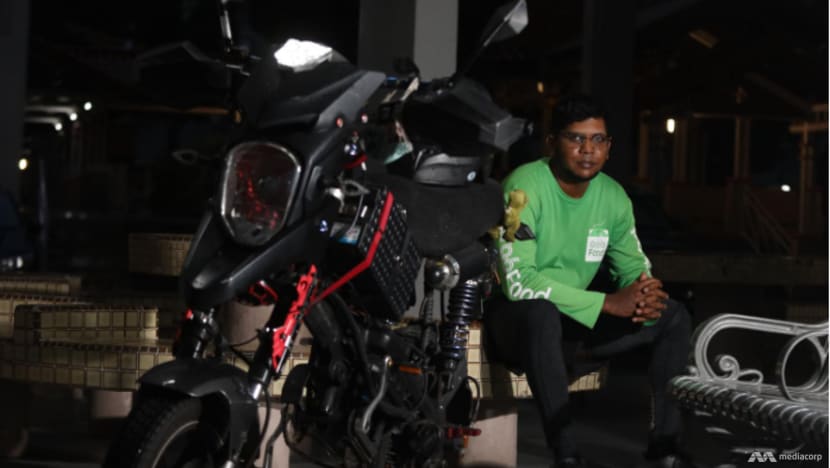 WHAT NEEDS TO BE DONE 
Responding to TODAY's queries, NDCA adviser Yeo Wan Ling stressed how vulnerable self-employed people are, in terms of legal protection and fair contract terms, among others. 
"Income fluctuations also make it challenging for gig workers to strike a balance between cash flow for business operations and setting aside funds for contingencies, housing, healthcare and retirement," she said.  
Ms Yeo, who is also an MP for Pasir Ris-Punggol GRC, noted that currently, these workers are unable to claim for work injuries under the Work Injury Compensation Act (WICA) even though they are susceptible to accidents on the road. 
"Medical coverage provided by platform operators is currently inadequate and uneven, leaving little to no income support for riders if they are on medical leave," she said.  
She added that the association is saddened by the fatal traffic accidents involving food delivery riders in the past 18 months, and it "strongly (believes) that more can be done to address the well-being and safety of our platform workers who need their livelihoods to support themselves and their families".  
Apart from safety concerns, the overall welfare of food delivery riders has also been a source of concern for the Government, with Prime Minister Lee Hsien Loong touching on the issue during his National Day Rally speech in August last year. 
He pointed out that these gig workers do not have employment contracts, and thus they lack basic job protection that most employees have, such as workplace injury compensation, union representation and employers' contribution to the Central Provident Fund (CPF). 
Speaking to TODAY, Associate Professor Walter Theseira from the Singapore University of Social Sciences said that national standards on insurance and sick leave should be made necessary for such workers, instead of platforms offering voluntary options. 
However, the flexible nature of food delivery riders' work might make such policies hard to mandate, said Dr Woo Jun Jie, a senior research fellow at the Institute of Policy Studies, National University of Singapore. 
"For instance, riders do not work fixed hours nor are they tied to any specific organisations," said Dr Woo.
NDCA president Goh Yong Wei reiterated that "adequate" coverage is necessary to allow riders peace of mind when on the road, knowing that they are financially protected should an accident happen.
Mr Goh, who is also a food delivery rider, said: "Most of the platforms offer basic insurance coverage with upgradable options, but I feel that it's generally not sufficient. I do buy my own personal accident and hospitalisation plans through my insurance agent to ensure I get proper coverage." 
Some experts have suggested that these food delivery platforms leverage technology — such as enhancing the algorithms they use — to enhance riders' safety. 
In a joint essay, Singapore Management University Professor of Information Systems Wang Hai and University of Hong Kong research fellow Sun Hao wrote about how to improve the algorithms used by platforms. Some of the recommendations could make deliveries less stressful for riders, which could in turn improve their safety. 
An example is for the algorithm estimating the delivery rider's time of arrival to include the rider's mode of transportation as well as information on the delivery location, such as whether the rider needs to use stairs to reach the unit. 
This would provide riders with a more reasonable timeframe for deliveries and give them adequate time to arrive. Other suggestions include placing compliance with safety laws as a top factor when evaluating food delivery riders and giving them more orders. 
Speaking to TODAY, Prof Wang Hai suggested that traffic police work with food delivery companies to keep track of traffic violations by their riders. They can also work together to share information on accident-prone areas, so that companies can use this data for their algorithm and allow riders more time when passing through such places.
Other features, such as a push notification to inform riders of accident-prone areas, can also serve as a safety reminder. 
Regarding the vulnerability of electric bicycles on the roads, experts said that it should be left up to the riders to choose their mode of transportation. 
Instead of raising the barrier to entry by getting riders to switch from e-bikes to motorcycles, Dr Woo suggested that riders undergo a mandatory road safety course or briefing. 
Assoc Prof Theseira pointed out that making it mandatory for food delivery riders to use motorcycles would "effectively shut out" more than half of the worker pool. 
Instead, he said that one way to address the problem would be to ensure that there are viable off-road paths and better cycling infrastructure. This would encourage more food delivery riders to use bicycles and stay off the roads. 
Riders who spoke to TODAY, such as NDCA pro-tem member Raymond Tan and Mr Alvin Tan, also suggested having more cycling paths.
Ms Yeo, the MP and NDCA adviser, said that the association is calling for strong legislative backing to better represent these workers, who "we feel are subjected to a high degree of control by platforms", to increase protection and improve their livelihoods. 
Indeed, for food delivery riders and their families, the balance of power seems to rest with the food delivery companies. 
Even though it has been more than a year since his son's accident, Mr Kamarruhadi has yet to receive any insurance payouts or compensation. 
The family got through the ordeal largely thanks to the public's generosity: After a Facebook post about the accident went viral, the family received almost S$70,000 in donations from the public, which helped to pay for the S$100,000 in medical expenses. This was not inclusive of the cranioplasty procedure to correct a defect in a bone of his skull, which cost around S$25,000. 
Mr Kamarruhadi said that when he contacted the food delivery platform, they told him that "they will try their best and push our case" with the third-party insurer. But to date, he has not heard back from the insurer.
His son is trying to gradually get back onto his feet but the future remains unclear.  
"He hasn't been able to go back to work since, but I tell him to go back to school. So, we are waiting to see if he can return to school since we don't know whether he has to enlist for NS (National Service)," said Mr Kamarruhadi.  
This story was originally published in TODAY.