The Big Read: Crowds are back at malls, but are happy days here again for brick-and-mortar retailers?
Since the COVID-19 pandemic, there has been a shift in consumer behaviour, said retail experts 
Shoppers are adopting a mix of physical and online shopping but expecting personalisation and differentiation from brands
This has given further impetus for "experiential retail" — providing customers with an immersive experience both in-store and online
Retailers that have adopted this strategy said it has worked for them, business-wise
Experts said that experiential shopping does not always require grandiose efforts — it could be just about providing a personal touch. Still, they added that it is not a panacea for brick-and-mortar retailers amid the e-commerce threat 
SINGAPORE: As the COVID-19 rules in Singapore were progressively eased this year, Ms Melody Ann Gibson decided to resume one of her favourite pastimes which she had to put on hold for more than two years: In-store shopping.
While it was still possible to shop even when the restrictions were in place, the 26-year-old interior designer found herself mostly staying home due to the hassle involved just to visit a store.
She would not only have to don a mask, but more than likely also have to wait in line due to the SafeEntry system, or a cap on the maximum occupancy, to enter a mall or a shop.
"I was also afraid of catching COVID-19 when the infection numbers were high, and passing it on to my family."
But now that life has resumed some sense of normalcy, as Singapore tries to live with the virus, Ms Gibson finds herself heading out to the malls a little earlier when she makes an appointment to meet her friends.
This gives her time to walk around and discover the latest fashion collections or ongoing sales.
"There's definitely this desire to just get myself out there," said Ms Gibson, who estimates that she goes window shopping about three to four times a week now.
"There are people who always say online shopping is better, but for me, I honestly enjoy shopping physically because I'm able to touch the clothes and try them on. To me, it's just like therapy."
Still, Ms Gibson said she was also looking for new things to do in Singapore. So it was serendipitous that she and a friend discovered a pleated bag-making workshop organised by Singaporean-Israeli fashion label Ginlee Studio.
Ms Gibson described the experience as enjoyable, as she not only learned about the process of making a bag, but got to leave with one that was customised according to her taste.
"One thing I don't like about shopping in Singapore is that … there are only a very limited number of different (brands) around. So if a person buys an item, you will definitely see 10 others on the street having the same thing," she said.
"What draws me to workshops is that I can customise things exactly to what I like, and I would know that no one else in Singapore would have it as well."
Programmes by retailers such as Ginlee's workshop are part of a strategy known as experiential retail that businesses are increasingly adopting.
The concept is basically the practice of giving a customer a full experience of a product — in some cases, both in-store and online.
LATEST BUZZWORDS: EDU-RETAIL, RETAIL-TAINMENT
The intention to allow customers like Ms Gibson to learn the fundamentals of pleating a bag and reconnect the user to their products was partly the reason why Ms Gin Lee, co-founder of the eponymously named label, launched the Make In Shop Experience programme in October 2020.
Singapore was then in Phase 2 of the "circuit breaker" period, which allowed most businesses to resume operations, with social gatherings in groups of up to five.
Ms Lee said, however, that even before the pandemic hit Singapore's shores, there was already talk within the industry in 2019 about the concept of experiential retail because "people were bored by transactional malls".
"In Singapore, we are surrounded by them," said the 44-year-old. "So at that point, there were a lot of questions about how to make retail more experiential."
Some ideas included having cafes within the store, however, Ms Lee and her partner, Mr Tamir Niv, decided to focus on the experience that their brand has strength in.
"Every mall needs a differentiator to give people a reason to visit," she said.
And with e-commerce continuing its upward trajectory, retail experts — and consumers alike — said it would be necessary for brick-and-mortar shops to offer something unique to entice customers to make purchases with them.
Mr Guillaume Sachet, a partner in KPMG Singapore's advisory practice, said the pandemic has changed the retail landscape in many ways and accelerated the growth of online shopping.
In order for physical stores to compete with their virtual counterparts, they will have to do something unique, said Professor Lawrence Loh of the National University of Singapore (NUS) Business School.
Otherwise, they will have to lower their prices, though there is only so much they can do so without hurting their bottom line due to higher overhead costs, he said.
The competition that physical stores face from e-commerce has been well-documented, with real estate agency JLL saying in its latest property market outlook report for Singapore that the proportion of online retail sales, excluding motor vehicles, rose from an average of 6.8 per cent in 2019, to an average of 15.9 per cent last year.
The figure, said JLL in its report published in August, remained at an average of 14.9 per cent between January and May this year, even as the lifting of COVID-19 measures encouraged more community activities.
A similar report from another real estate company, Knight Frank, observed that the rise in footfall at the malls corresponds with a moderation in the volume of online sales as many consumers reverted to physical shopping and dining.
Said Mr Sachet: "Now, post-pandemic, we have observed another shift in consumer behaviour where shoppers are adopting a mix of physical and online shopping but expecting personalisation and differentiation from brands.
"This has evolved into what we call 'experiential retail' — an immersive experience across channels, both in-store and online."
A report this year by financial technology firm Adyen on the retail sector found that nearly seven in 10 consumers expect shopping in physical stores to be about "pleasure and excitement".
Mr Sachet said this is because many consumers, particularly younger ones, now care far more about experiences than products. "The world is moving towards experiences and retailers need to take action," he said.
Prof Loh also observed the emergence of two trends when it comes to experiential retail: Businesses are either offering what he calls "edu-retail" for enhancing a shopper's product knowledge, or "retail-tainment" which is using retail marketing as entertainment, to generate a memorable experience for the consumer.
Ms Gauri Talathi-Lamb, the chief executive officer of du Boulay Contracts, a commercial refurbishment contractor under the MBH Group, suggested another factor behind the demand for experiential retail.
She said that in the past, people would go to a place of worship, or to some other community gathering spot, to have conversations with their neighbours.
"Since COVID, however, that has been disrupted quite a lot and the younger generations are missing that ability to connect with the community ... people are missing that community element."
As such, Ms Talathi-Lamb believes that the main goal of experiential retail is to provide people with a community element that they had been missing.
COMMUNITIES FIRST, BUSINESS LATER
Indeed, for most of the retailers TODAY spoke to, community-building seemed to be top of the agenda when it comes to experiential retail.
Over at Midview City along Sin Ming Lane, Living Shrimply co-founders Eugene Ng, 26, and Chean Shao Jie, 24, had the vision of an aquarium store that was more than a place to pick up supplies for the hobby when they turned their e-commerce business into a physical shop in February.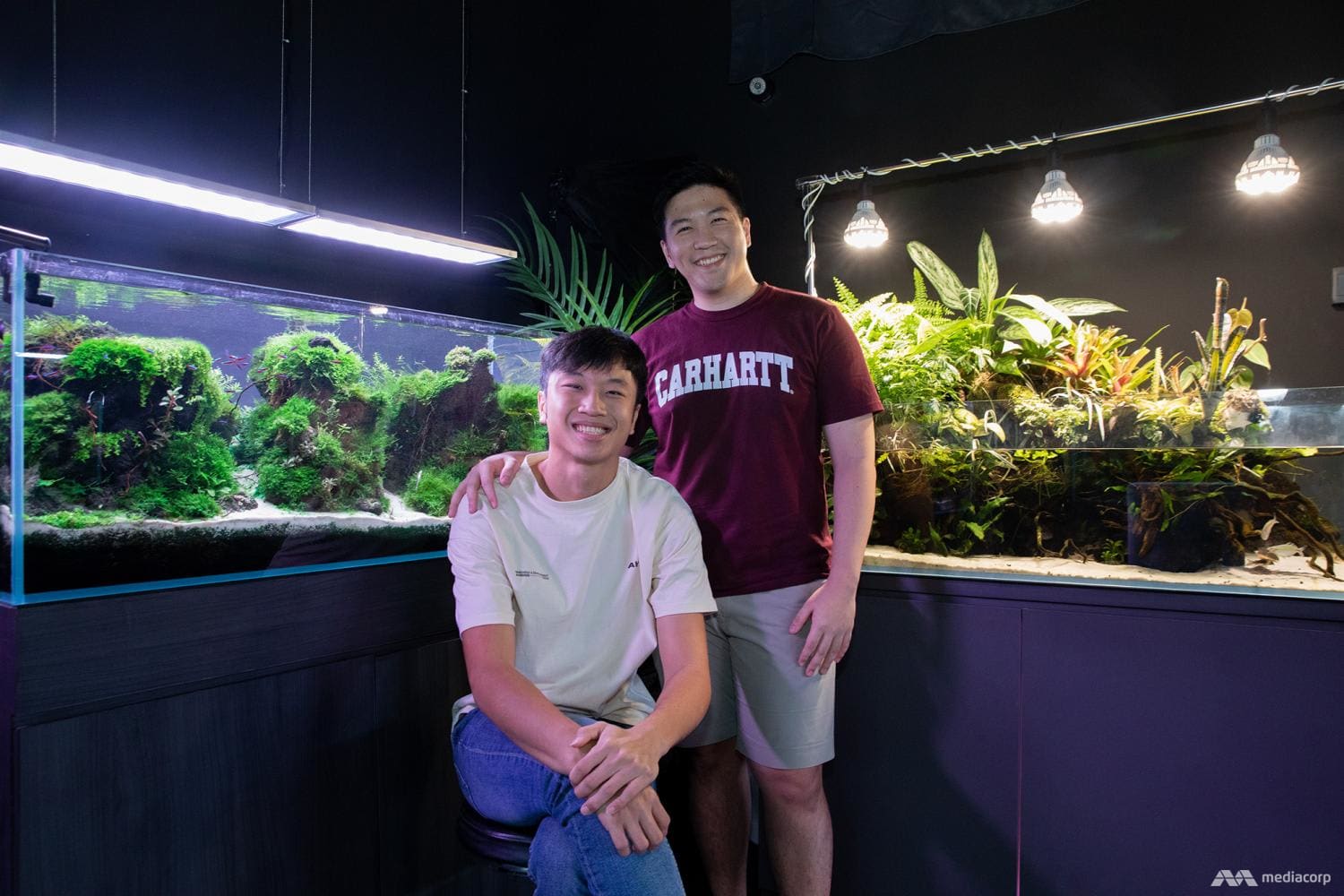 Mr Chean said that the aquascaping community is not large, and it is daunting for anyone trying to get into the craft of arranging aquatic plants, as well as rocks and other natural elements, in an aquarium tank due to the sheer amount of information available.
To make it easier for beginners, they wanted to create a space where they could share the relevant information with those who needed it.
But in order to convince hobbyists that they know what they are talking about, the men created what Mr Ng jokingly refers to as a "budget S.E.A Aquarium" — a reference to the tourist attraction at Resorts World Sentosa.
Immediately on the right after entering the store, visitors can step into a darkened gallery where beautifully landscaped slices of nature — from a tropical jungle-themed paludarium to aquatic tanks popping with vibrant hues of red and green — are highlighted on all four walls.
In the centre is a cushioned bench for visitors to sit and admire the works of art — much akin to a museum.
The owners said some visitors make a special trip down to the store just to see the tank displays, after learning about them on social media.
That said, no one is pressed into buying anything when they visit and the men are more than happy to just provide information about the hobby.
Taking a similar approach in Orchard Road is Zall Bookstore, which originated from China. It opened in February last year near where the iconic Borders bookstore used to be at the Wheelock Place shopping mall.
The Chinese-language bookshop occupies two levels — the first floor houses a cafe, as well an event space, while the second features an art gallery that is regularly refreshed.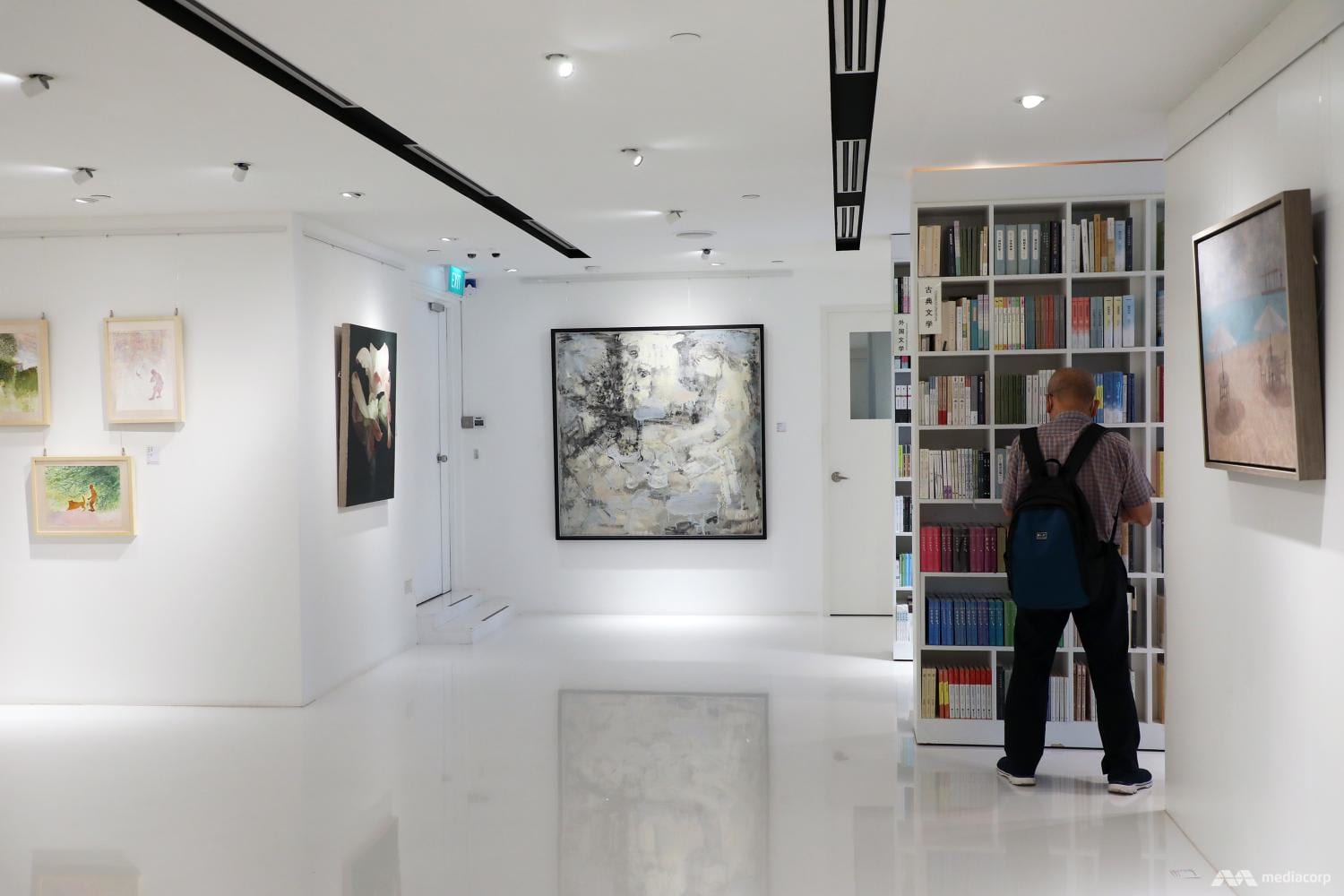 The black-and-white design of the store is inspired by calligraphy and the architecture of the Jiangnan water town in China, with a circular arch resembling a river bridge. Seating areas are also available on both levels.
Ms Laura Yan Ge, the general manager of the store, said these design choices were deliberate as they wanted to create an "atmosphere that slows you down".
"Orchard is so fast-paced with its fashion stores, restaurants, hotels and office buildings," said the 24-year-old. "At Zall, we allow you to sit in the store, and we invite you to open a book and read it … We don't expect you to have to buy it."
Her father, writer-poet Yan Zhi, founded the bookstore in 2013. Singapore is the firm's first foray into a foreign market outside of China's Wuhan city.
Ms Yan said the bookstore's aim is to encourage patrons to put down their electronic devices and rediscover the joy of reading a physical book.
"In this environment, you can have a nice cup of coffee and when you're tired from reading, you can walk upstairs to the art gallery and take a break. You can easily spend two or three hours here," she said. 
"And then, slowly, you might have this habit of reading again. And I think that's what is more important for us."
Aside from providing a conducive environment for reading, Zall also organises various events, such as photography workshops, which provide the bookstore with an opportunity to sell relevant books to participants.
Both Living Shrimply and Zall acknowledged that while their respective business strategies do not always immediately lead to sales, it helps to build a bond with their customers who return to buy something at a later date.
"It's better for us to focus on relationship-building than hard selling. No one wants to be forced to buy something. It drives them away," said Mr Chean.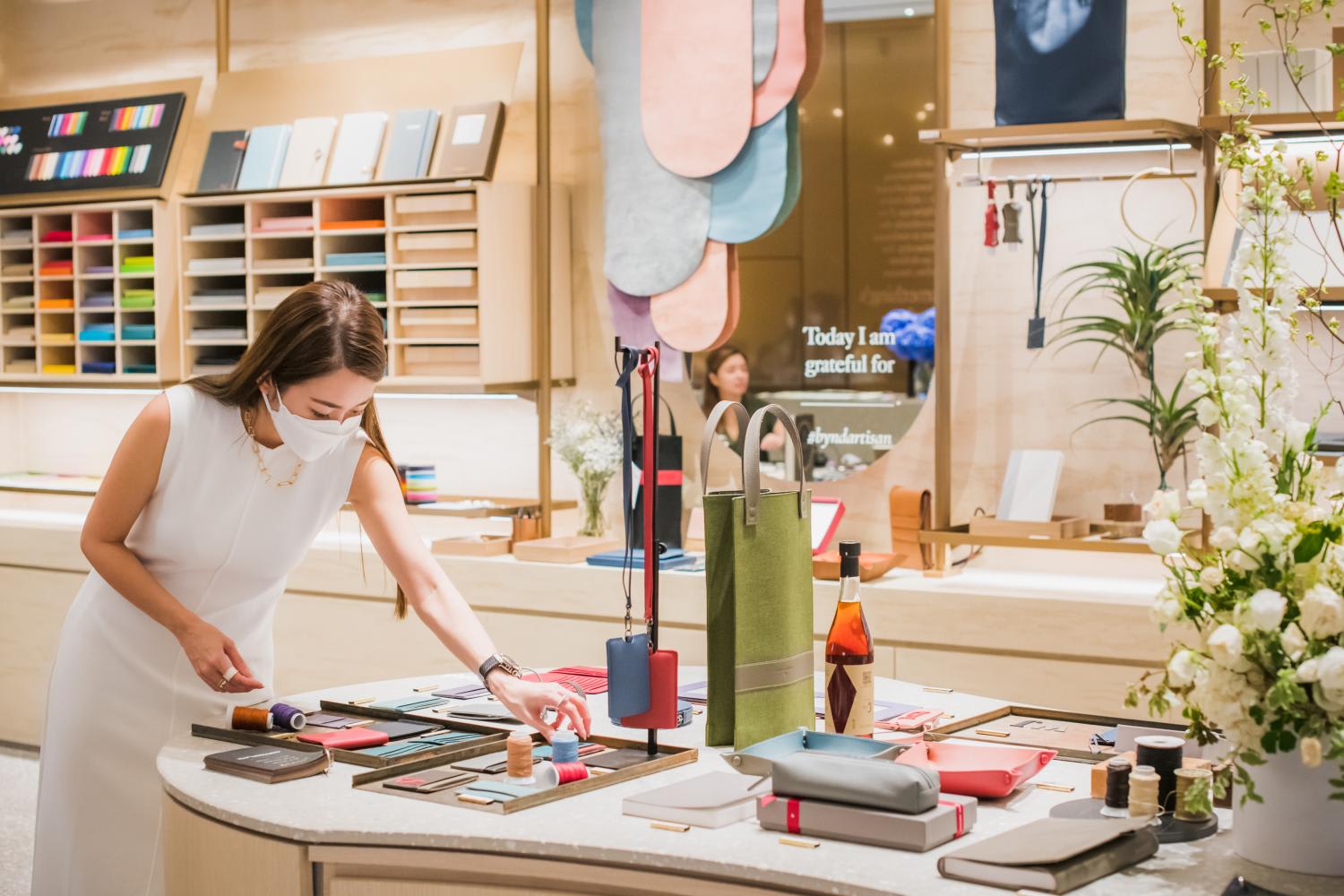 At Bynd Artisans, which offers personalised and customised leather and paper gifts, it is all about storytelling — including the reasons behind the creation of certain products, said founder and chief executive officer Winnie Chan.
And this brings extra meaning to the product, said the 50-year-old.
"In this era, there's a lot of mass production, and we're all fighting for the customers' dollars. So what makes us different?" she said. 
"If I tell you a story, you may find it resonates with you, or it is a story you want to share with the person you are buying a gift for. Storytelling is a form of differentiation (for us)."
Like Ginlee Studio, Bynd Artisan also runs a variety of workshops that include coptic bookbinding, basic fine script calligraphy, and an assortment of lessons related to using leather as a material.
A benefit of running workshops, said both Ms Chan and Ms Lee, is that they help introduce the brands to people who may otherwise not have heard of them.
While Ms Gibson the interior designer did not end up becoming a regular customer of Ginlee's — she chalked it up to personal taste — her friend who attended the bag-making workshop with her did, after falling in love with the label's designs.
So how have these experiential strategies worked out for these businesses?
While Living Shrimply's Mr Ng was unable to provide figures, he said sales have "definitely increased" compared to when the store was just operating online.
Zall's Ms Yan similarly did not provide any figures, though she said that the bookstore has been getting repeat customers, including students whose initial plans were to use the space for studying.
Meanwhile, Ms Lee said that her store has seen its overall revenue increased by around 20 per cent since the label launched its workshop in 2020.
As for Ms Chan, she observed that Bynd Artisan's retail stores "have a better customer retention rate" of about 50 per cent due to her staff's efforts in building brand loyalty, compared with their online store.
HOW HAVE EXPERIENTIAL RETAIL MALLS FARED?
While the individual efforts of the four retailers interviewed by TODAY have led to positive business outcomes for them, can the same be said for shopping malls touting experiential concepts?
In Singapore, two malls are known for this — Jewel Changi Airport, which draws in crowds with its iconic architecture and lush indoor gardens, and Funan, which shed its identity as an IT haven and took on a new persona after a S$560 million revamp in 2019.
A 2019 press release from Funan's landlord, CapitaLand, described the mall as a place for "experiential and activity-based retail" that includes an indoor rock-climbing wall and an indoor cycling path.
CapitaLand also jointly manages Jewel with Changi Airport Group.
Between Funan and Jewel, the experts interviewed had little doubt that it is the latter which is a runaway success and a better example of experiential shopping done right. 
Nevertheless, NUS' Prof Loh noted the fact that Jewel has the advantage of being located right next to Changi Airport's Terminal 1.
"I've told people before, when you arrive in Singapore through Terminal 1, you don't arrive into a country, you arrive into a shopping mall," said Prof Loh, adding that this gives Jewel a constant stream of fresh visitors in the form of tourists. 
"Whereas for Funan, after a while, you have to cater to repeat visitors. So now when you go to Funan, the novelty factor from 2019 has worn off."
At least one business at Funan said there have been months when its revenue is in the red, while TODAY spotted other stores that have already shuttered.
About half a year after Funan reopened, to much fanfare, Singapore confirmed its first case of COVID-19 in January 2020, and the virus soon spread rapidly, eventually causing more than two years of mayhem for businesses islandwide.
Mr Gary Lin, the deputy director of Temasek Polytechnic's (TP) School of Business, said the jury is still out on whether Funan will be successful.
"Its (experiential offerings) likely help but whether it justifies the investment is to be determined," said Mr Lin. "Jewel is likely to be more successful than Funan because of higher concentration of tourists, attractive environment, and the range of food and beverage and wider appeal."
Retailers at Funan spoke of their contrasting experiences with the mall's uneven flow of foot traffic.
Mr Halim Wahab, the chief operation officer of home goods store Chokmah, said that about 30 to 40 per cent of his customers come from those walking around the mall, while the rest are online.
However, the same could not be said for an urban gardening enterprise located on the fourth floor.
Mr Ricky Lim, founder of The Green Capsule, said his business has been mostly relying on customers who learn about his terrarium-making workshops online. Only a few are customers who visit the shop. 
"These days, after 7pm, it is really, really very quiet," said the 39-year-old. "But if you go to the ground floor and the basement, it is too crowded. No one is exploring beyond the second floor."
Most of the mall's eateries are located within the basement, along with the entrance to Climb Central's rock wall, while the second floor features popular brands such as the Love, Bonito fashion label, the ABC Cooking Studio, and the Best Denki electronics store.
At least three shoppers told TODAY that they were not enticed to explore the mall.
Mr Manesh Rangarajan, 33, said he typically just has a meal after his weekly rock climbing session, and rarely walks around the mall afterwards, unless there is something urgent which he needs to buy.
In Ms Erina Yeo's case, her visits to Funan are mostly incidental since she works nearby and occasionally has her meals there.
Otherwise, the 43-year-old civil servant said there is no reason for her to make a trip to the mall since she can get what she needs at shops closer to home, or online.
As for one 21-year-old, who wanted to be known only as Chloe, it is the mall's spacious public areas that attract her to it at least once a month — though this is purely for studying.
The student said she would prefer to get her retail products online if she can find a cheaper alternative.
Mr James Ng, the managing director of T K Foto Technic — a camera and audio equipment store on Funan's third floor — acknowledged that CapitaLand has been trying to attract patrons through events and loyalty reward programmes.
However, he added that ultimately, it is up to each retailer to "put in their own effort" to find an experiential concept that works for them.
In response to TODAY's queries, Mr Steve Ng, CapitaLand's general manager for Funan, Raffles City Singapore and CQ @ Clarke Quay said experiential retail is key to the company's plans to attract and engage shoppers across its malls.
"Since the relaxation of Singapore's pandemic measures, we have been actively positioning our downtown properties to welcome the return of more shoppers and tourists with experiential lifestyle concepts and vibrant community events," he said.
EXPERIENTIAL RETAIL NOT THE PANACEA
While the experiential concept has been touted as the future of retail, it is not necessarily the best way forward for all brick-and-mortar stores, said the experts interviewed.
Suburban malls, for instance, are unlikely to need it as they serve a "utilitarian function", said Prof Loh.
"Visitors to these malls often want to just buy something fast, head back to where they are staying. Too much of this experiential thing can be pretty annoying," he said.
However, if the customers are going out of their way to visit a shop, they need to be given a very good reason to do so, said Living Shrimply's Mr Chean.
For instance, consumer Daniel Tan, 47, said that he would venture from his home in Woodlands and head to town only if a retail outlet offers him something that he is unable to get from the mall closest to his home, Causeway Point.
And whether the experiential concept works or not for a business is also tied to a practical question, said TP's Mr Lin.
"It is about whether it is worth investing in. Can retailers afford to do it once, and then to continually innovate and transform?" he said. 
For one multi-label fashion boutique owner at Wheelock Place, the answer is no.
Madam Irene Lee, the owner of Lafont, said that it is not only a challenge for her to digitalise her operations, but she also lacks the expertise to pivot her business model.
The 53-year-old, who runs the shop with one other employee, said: "For retailers like us, we hardly have the time also. When you're in the mall, you start work at 11am and close at 9pm. Then there is the issue of manpower. All these are costs."
But given how quiet her side of the mall is, Mdm Lee said there have been months where she has not been able to cover her monthly overheads, which can amount to more than S$10,000.
Still she enjoys the patronage of a regular pool of customers, who have become friends over the years.
"Sometimes they'll drop by for coffee, and maybe I have something new to offer which they buy. Other times I just offer to alter their clothes, which is an extra service," said Mdm Lee. 
And it would seem that Mdm Lee is offering a form of experiential shopping —  without even realising it.
Providing customers with a memorable experience does not always have to be grandiose. Sometimes, it is just about providing a personal touch. 
"Your experiential event could be something as small as inviting your known clients for a glass of wine after shopping hours and then putting it on Instagram," said du Boulay Contracts' Ms Talathi-Lamb. 
"It is still a positive experience, and it shows that you've treated the people who shop with you and buy from you in a special way and that goes a long way."
She added: "So, it doesn't have to be a big event, it can be something small but engaging and that can make a big difference to how your customers and clients perceive you."
This story was originally published in TODAY.