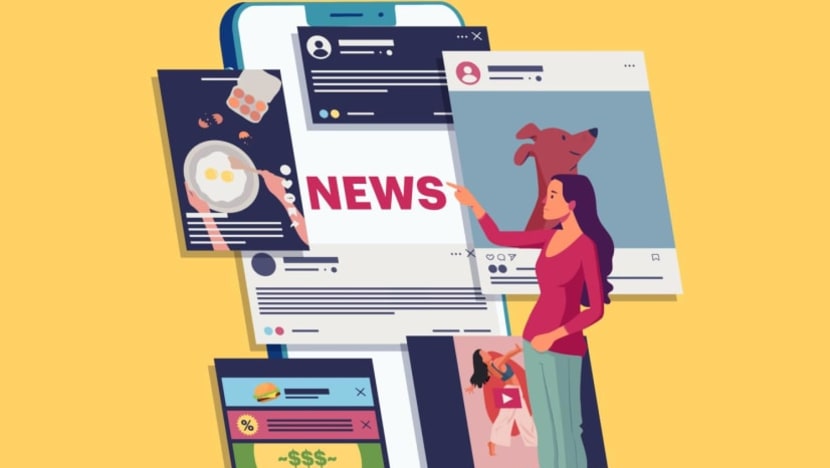 Over the years, major social media platforms Facebook, Instagram, Twitter and YouTube have made changes to their algorithms to stay competitive and relevant 
The biggest change is set to come, with platforms hoping to mimic the success of TikTok
In what has been dubbed as the "TikTokification" of social media, platforms are for example deprioritising news and more serious content on users' feeds 
This will have ramifications for not only the news industry but the proper functioning of society, say observers and experts 
They added that news organisations have to respond, in order to prevent society from becoming less informed - meaningful participation in political and social life can't be based on consumption of just entertainment-related news, as one expert put it
SINGAPORE: For the past decade, Ms Diana Lou has been relying on Facebook for her daily dose of news. 
But since the end of last year, the 58-year-old part-time early childhood educator has increasingly found herself having to go directly to the home page of the media outlets that she follows in order to stay abreast of what is happening around the world, instead of simply scrolling through her news feed. 
This is because her feed has become increasingly populated by advertisements.
"The (Facebook) news feed is sickening. Now there are more and more advertisements. So I make it such that I purposefully go into the page that I've followed (to read the news)," said Ms Lou. 
Another user, 32-year-old Joanne Loh, has also noticed the change in her Facebook feed.
While the civil servant said that Facebook continues to be her main source of news, she is nevertheless "mildly frustrated" that the news content that appears on her feed is no longer in chronological order.
"It means that sometimes I'm reading news that's three days old, and I'm thinking 'oh, I missed this'," said Ms Loh, adding that she has observed this occurring more frequently in the last two years or so. 
Their experiences reflect the evolving changes that the social media giant has been making to its algorithm, which determines what - and in which order - users see their posts.
Since Mr Mark Zuckerberg and his then dormitory roommates created Facebook in 2004 as a way to connect students at Harvard University, it has greatly disrupted the way news is disseminated and consumed on the world wide web. 
A report by the Reuters Institute for the Study of Journalism in 2016 - more than a decade after Facebook was created - found that more than half of Internet users turned to social media news each week, with Facebook being the top social media news source among those surveyed.
However, over the years, Facebook has tweaked its algorithm from one which prioritises content - including news - based on chronology to one which pushes more targeted ads to users on their feeds, or posts with higher engagement.
Other social media platforms such as Instagram, YouTube and Twitter, have similarly made changes to how their algorithms work, consequently shaping what and how newsrooms produce their news.
But the biggest change is set to come as the newest kid on the block, TikTok, turns the industry on its head with features that have propelled the short-video platform into superstardom, especially among the young. 
The meteoric rise of TikTok, which was launched only six years ago, has been well-documented. 
Unlike Facebook and other social media apps before it, TikTok, developed by Chinese tech company ByteDance, recommends content based on users' interests, rather than which accounts they follow.
This has left Facebook scrambling to catch up, with the latest tweaks to its algorithm, announced in July, mimicking that of TikTok's. In what has been dubbed as the "TikTokification" of social media, other platforms such as Instagram and YouTube have also tweaked their offerings to try and beat TikTok at its own game. 
Industry observers have said that the move to de-emphasise content based on posts from people within users' social circles - and instead letting algorithms dictate which postings should appear on users' feeds based on the machine's "reading" of their preferences - heralds the end of social media as the world knows it. 
"Social media was initially a place where you went to see what was going on with people you knew - friends and family, and later on, people you were interested in following, " said Mr Alan Soon, the co-founder and chief executive officer of Splice Media, which helps to build media start-ups in Asia.
"The assumption was always that you'd be interested in those closest to you, and the algorithms were optimised to deliver that to you."
But TikTok has "shaken up" that assumption.
"TikTok's algorithm has shown that people can and will engage with content that's unrelated to them - but yet buzzy enough," said Mr Soon, who was also a journalist for 20 years. 
These changes have also led to the rise of social media users "who don't seek out the news" and consume whatever the algorithm delivers to them in a social media feed, he added. 
One such user is Ms Qistina Farisha Safrani Mohamed Faizal, a third-year student from Singapore Polytechnic, who does not keep up with the news every day.
The 19-year-old, who rarely uses Facebook and does not get much news on her TikTok or Instagram accounts, said that she does not feel the need to keep up with the news daily even though she believes in the importance of keeping abreast of important developments.
"As long as you log in to your news app, or know what is happening at least once a week, then I think it is fine because probably people will tell you about stuff (news) and you will check it out," she said.
Even as they make the latest changes to their algorithms, social media platforms have also signalled that news will become even less of a priority for them.
In Singapore, Facebook officials have recently told newsrooms that it is refocusing its algorithm to distribute content related to entertainment, lifestyle, sports and viral stories - over news and political stories - to users' feeds.
Given these changes, several media-watchers interviewed by TODAY expressed concern over the possibility of echo chambers being reinforced online, even as newsrooms try to fit "bells and whistles" to their news content to capture the attention of users, or reduce their reliance on social media to disseminate news.
And with end-users no longer seeking out the news on their own accord, a less-informed citizenry will emerge in the future - much to the detriment of the proper functioning of society, as one of them put it.
From Friendster to Facebook to TikTok: Social media's evolution
The concept of social media - where people connect with others by "adding" them as a friend - arguably dates back to the era of Friendster and MySpace, both precursors of Facebook.
Friendster, which allowed users to build a profile and connect with friends, amassed 3 million users within a few months of its debut in 2002.  
A year later came MySpace, which allowed users to customise their publicly visible profile pages. By 2005, it had 25 million users and was sold to Rupert Murdoch's media company News Corp.
However, both MySpace and Friendster were bogged down by technical difficulties and an inability to keep up with user preferences. 
While Friendster was eventually shut down in 2015, MySpace has rebranded itself as a social networking site for users to discover and share music. It is now jointly owned by American media companies TI Gotham and Time.
In 2004, second-year Harvard University student Mark Zuckerberg was developing a site called "FaceMash", which was designed to rate the attractiveness of women on campus.
But the "prank website", as described by Mr Zuckerberg during a hearing by the United States Congress in 2018, quickly gave way to "The Facebook".
The platform allowed Harvard students, and later anyone with a verified email address, to build up their personal profiles, update their relationship status and "add" each other as friends.
Within four years, it had become the go-to site for "social interaction" in cyberspace - amassing 100 million users, and then expanded to 1 billion in the next four.  
Currently, Facebook, as it is now known, has close to 3 billion active users every month.
Apart from remaking the way people communicate and connect, Facebook has also changed the way news is produced, disseminated and consumed.  
"Facebook's role has evolved from a network for friends to share personal information to a way for people to share, recommend and link together all kinds of information, including news," said the authors of a 2011 report by the Washington DC-based Pew Research Centre on the importance of Facebook.  
"If searching for news was the most important development of the last decade, sharing news may be among the most important of the next," they added.
Since then, other social media platforms have served as outlets for news as well, including YouTube, Instagram (which has been acquired by Facebook's parent company Meta) and Twitter.
All the major platforms have tweaked their algorithms and functions over the years, driving media companies to change their products to bring more traffic to their own media sites. 
In the case of Facebook, one of its earliest changes was in 2009, when it stopped showing users posts in chronological order to bump up posts with more likes and comments.
The move drove users, including publishers and media companies, to design "clickbait" posts with catchy headlines to boost interaction.
Around 2015, Facebook made videos a priority in its algorithm to encourage people to spend more time on its platform. That year, Facebook overtook Google as the top driver of traffic to news sites. 
But the platform became a hotbed of misinformation in the heat of the 2016 United States' presidential election campaign between Mr Donald Trump and Mrs Hillary Clinton.
The situation worsened after another tweak to its algorithm in 2018, which showed users more posts from friends and families over those from big publishers; inevitably sending divisive posts on the bitter contest to the top of people's feeds.
Since then, Facebook has been de-emphasising news content on its feed. 
In late July this year, Facebook tweaked its algorithm so that people scrolling through its home page can discover content that is "uniquely personalised to them" instead of emphasising content from friends and family, said Meta, its parent company, in a blog post. 
Similar changes have also been made to Instagram.
Facebook has indicated that hard news will continue to be less of a priority on its feed, with its algorithm refocused to distribute entertainment, lifestyle and sports content, as well as viral stories. It will stop feeding news and political stories to users' feeds. Neither will it boost videos that are produced on its rival TikTok's platform.
Meanwhile, TikTok, which is rapidly gaining dominance in the social media scene, has signalled that news content will not be a priority on its platform.
Known for short-form videos, TikTok has billed itself as a platform to "inspire creativity and bring joy". 
It has also imposed strict guidelines for news content, such as including trigger warnings for "sensitive content" and requiring newsrooms to condemn illegal behaviour in posts depicting criminal activity in a bid to keep viewers safe from risky content.
HOW SOCIAL MEDIA HAS UPENDED THE NEWS INDUSTRY
Despite multiple changes to their algorithms, social media platforms, ultimately, are geared towards "having as many users as possible, having users spend as long as an amount of time as possible, and having users engage with the platform in as many ways as possible", said Professor Lim Sun Sun of the Singapore University of Technology and Design (SUTD).
To this end, Prof Lim, whose research interest includes technology and society, said that social media platforms curate news based on their user demographic. 
For instance, older platforms that are trying to make themselves more competitive and relevant are proactively pushing content which includes videos and infographics as preferred by younger users, rather than simply hyperlinks to news reports as preferred by older users.
This creates a "virtuous circle" where newsrooms respond accordingly to the type of content favoured by social media platforms, which is also driven by the type of content preferred by consumers, said Prof Lim, who is also the Head of Humanities, Arts and Social Sciences at SUTD.
Veteran journalist and media trainer Bertha Henson said that it has become "even harder and harder" for the mainstream media to get the attention of people due to the proliferation of social media platforms and news mediums. 
As a result, the news media needs to add "bells and whistles", such as videos and interactive graphics, to capture readers' attention with their news, although this is usually at the expense of the quality of the content itself, she added.
Likewise, Mr Soon of Splice Media said that people generally "stumble on the news", which is delivered by algorithms that determine their usefulness based on engagement.
As a result, social media platforms are "juiced to show you what outrages people, what excites people, what gets them worked up". This is often at odds with journalism, which favours fairness and objectivity, said Mr Soon.
"The platforms have taught publishers and influencers that the best way to get engagement is through outrage," he said.
While this is sometimes helpful, such as getting people interested in issues such as the Black Lives Matter movement in the United States or the Russia-Ukraine war, it often saps the energy of consumers who are in a stage of constant outrage.
This could lead users to have mental health issues related to higher anxiety, or the fear of missing out. They could also outrightly reject news as something that drives pessimism and helplessness, said Mr Soon.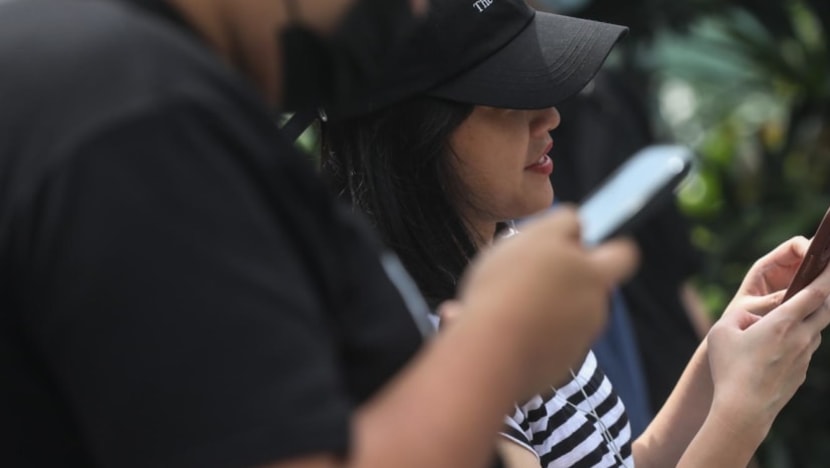 Dr Wu Shangyuan, a lecturer and media researcher from the Department of Communications and New Media at the National University of Singapore (NUS), also warned of the creation of "filter bubbles", where users become exposed to a much narrower range of topics and perspectives.
This is because algorithms will feed content to users based on those that people in their networks share - and these may not necessarily be their friends - or that the algorithms have deduced people are interested in.
"Essentially, users will tend to be fed with news that interests their social networks or aligns with their existing interests and preferences," said Dr Wu.
Dr Carol Soon, a senior research fellow at the Institute of Policy Studies (IPS), said that although the dangers of echo chambers and hijacking by disinformation producers are "very real", research that she had conducted showed that people here have a higher trust in traditional media, even though social media is a popular source of news.
For example, her study released in 2020 found that among the various media outlets, the most trusted sources of news were television, print newspaper, radio and websites of mass media outlets. 
BAD NEWS FOR NEWSROOMS - BUT IS THERE A SILVER LINING?
With the move to further reduce the priority of news content in social media, there are longer-term ramifications for both the news industry and consumers, said those interviewed.
Some of them warned that the changes to the social media landscape could herald a poorer quality of news.
Ms Henson noted that social media users are not ready to read beyond the news headlines and want to be informed immediately about what is happening.
As such, newsrooms are focused on catching consumers' attention, at the expense of doing their basic job of journalism which is to get, attribute and verify information before it is published or broadcast.
"Whenever (news organisations) say things like we must digitalise, or learn to engage readers, it seems like our focus is on trying to get the eyeballs, rather than give the eyeballs something to read," said Ms Henson.
However, she said that one possible silver lining to social media algorithms reducing their emphasis on news is that newsrooms could be spurred to find ways to draw audiences to their websites directly by offering better quality content, rather than rely on social media platforms for referral traffic. 
In the case of news consumers, the observers highlighted the risk of society becoming less informed if they continue to rely on social media for their news.
Dr Wu of NUS said that if algorithm changes reducing the emphasis on news are not communicated properly to audiences, there is the risk of them just relying on social media for their daily news intake, under the mistaken belief that it is comprehensive.
"This will create citizens who are poorly informed about important issues of the day and be detrimental to the proper functioning of society in the long run," she said. 
"Meaningful participation in political and social life cannot be based on the consumption of just entertainment-related news." 
On the other hand, if consumers are aware that social media platforms are downplaying news over other types of content, this could encourage audiences to turn to established and verified news sources to obtain their information, Dr Wu added. This would be a positive development as it contributes to a more informed citizenry and lessens the spread of disinformation.
News outlets may also see increased traffic on their websites or apps as people realise that it is the only and best way for them to access the news from established sources. 
Consequently, having more audiences would mean more advertising revenue and more resources for news organisations to produce good quality news content, over "click-worthy and potentially viral" stories, said Dr Wu.
Ms Henson said that she hoped news consumers will eventually get tired of "all the fluff" coming out of social media over the years, and they will hanker for news that is objective and moderate.
She noted how there were probably more people reading the news during the COVID-19 pandemic when they realised the relevance of news to their lives. 
"There could be a time where people get so fed up with frivolity (on social media) that they do want to read something deeper, longer and better," she said. 
WHAT SOME SOCIAL MEDIA PLATFORMS SAY
In response to TODAY's queries, Facebook's parent company Meta said that news discovery is a "small part" of the Facebook experience for the majority of its users. 
"In fact, news article links only make up about 4 per cent of what people see in Feed and people tell us they don't want political content to take over their experience," said a Meta spokesperson.
The spokesperson added that Facebook renamed its "News Feed" to "Feed" in February to "better reflect the diverse types of content people see and engage with" on the feed.

"We have learned from the data that news and links to news content are not the reason the vast majority of people come to Facebook, and as a business we can't over-invest in areas that don't align most with user preferences," said the spokesperson.
YouTube referred TODAY to its blog by Mr Cristos Goodrow, its vice-president of engineering, which outlines how the platform approaches recommended videos.
Mr Goodrow said that the platform's recommendation system does not connect viewers to content through their social network, but instead predicts the videos that a user wants to watch.
He noted that over the years, a growing number of viewers have turned to YouTube for news and information. While some viewers have indicated that they are very satisfied with videos perpetuating disinformation - such as those claiming that the Earth is flat - this does not mean that YouTube wants to recommend low-quality content.
As such, YouTube connects viewers to "high-quality information and minimise the chances they'll see problematic content", he said.
In doing so, YouTube determines the authoritativeness of a video based on several factors including its topic, the reputation of the speaker in the video, and the content.
"The higher the score, the more the video is promoted when it comes to news and information content," said Mr Goodrow on the blog.
While TikTok did not respond to TODAY's queries, its community guidelines specify that its mission is to "inspire creativity and bring joy".
Among the content banned by TikTok are those that are sexually explicit or depict weapons and drugs, as well as violent or graphic deaths and accidents.
It may reduce the discoverability of some content, or make videos ineligible for recommendation on its "For You" feed, to "maintain the trust and safety of its viewers".
However, TikTok's guidelines note that some content that would otherwise be removed under its guidelines may be in the public interest. For such content, exceptions may be allowed, such as if the video is educational, artistic or enables individual expression on a topic of social importance. 
In its content guidelines circulated to publishers, TikTok specifies that news organisations should include elements such as their logo and banners in their videos, so as to identify the content as news.
TikTok also requires violent or graphic content, such as road accidents or physical violence, to be blurred out. In content depicting criminal activity or firearms, newsrooms, where applicable, have to also convey that such incidents are illegal and should be condemned.
WHAT'S THE WAY FORWARD FOR NEWSROOMS? 
With platforms using algorithms to curate the selection of users' content, how can traditional newsrooms find their footing in this new-look social mediasphere? 
The industry experts interviewed offered several suggestions, such as having news organisations tailor their approaches to different platforms, setting up their own social media platforms, and finding new ways to draw consumers directly to their content. 
Prof Lim from SUTD noted that younger consumers are curating for themselves a whole suite of news sources and use social media platforms as a gateway to these.
"So they may not read one publication from end to end, but they will get whatever is trending, or the top story, from different news outlets. And the visual links and the images from Instagram or TikTok videos that lead them there are really a conduit," she said. 
To ride on the trend, media outlets would do well to adapt to consumer behaviour and establish a presence on the social media platforms, she added. 
However, amid the moves by social media platforms to downplay news on users' feeds, Ms Lau Joon-Nie, a vice-president at media industry networking organisation Singapore Press Club, stressed that social media platforms were not created to distribute news and their algorithms "do not exist to serve newsrooms".
Instead, their primary aim is to attract audiences, drive engagement and attract advertising.
To this end, one way forward for news organisations is to diversify their channels of news distribution. For example, they could turn to distributing online newsletters or set up their own equivalent of Facebook to reduce their dependence on existing social media platforms.
She cited the example of "Neighbourly", a social media network in New Zealand that connects people within neighbourhoods. The platform, which is owned by New Zealand news conglomerate Stuff, also disseminates news from all its local community papers. It is the country's second-largest social media network after Facebook.
Ms Henson reiterated that newsrooms should be less reliant on social media platforms' algorithms to disseminate the news. Instead, organisations should find ways to draw their readers back to them every day, and offer them an incentive to do so such as by offering prizes or with the promise of better content.
This would help consumers develop a habit of following the news regularly, and not just in times of crisis. The incentive to draw readers in regularly should also be left to the marketing team so that journalists can focus on their jobs instead of finding ways to "draw eyeballs", said Ms Henson. 
Dr Soon of IPS said that research has shown that social media users, especially those in the younger age group, are unlikely to consume any news at all if they do not see it on social media.
END OF SOCIAL NETWORKING AS WE KNOW IT
Apart from the ramifications on the news industry and the proper functioning of society, the changes that social media platforms are embarking on will also fundamentally alter the way users interact. 
While Facebook attempts to reinvent itself to keep up with newer platforms, there is no denying that many of its erstwhile users are no longer using it for the very purpose that it was originally created for - connecting people.  
Ms Nabillah Jalal, a 30-year-old piano teacher, no longer opens her Facebook as often as before. She currently uses it to keep in touch with people who are 50 and above, and to remind her of friends' birthdays.
Like other younger users, Ms Nabillah spends more time on Instagram which she described as more "visually aesthetic".
It is also the platform she uses to connect with friends around her age group as well as her teenage students.
Some observers believe that social networking online, which serves as most users' main experience on the Internet, is coming to an end, with news website Axios' technology reporter Scott Rosenberg describing Facebook as "a legacy operation".
While previously, users' social media experience was centred around keeping up with their friends' posts, it will now move towards "a kind of digital mass media, in which the reactions of hordes of anonymous users … drive the selection of (a user's) content", he said.
However, Prof Lim believes that the social aspect of social media platforms will never go away, even if keeping up with the posts of friends stops being the key driver of algorithms in future.
"They (social media platforms) will want to be the dominant water cooler (conversation) that people converge around so they must push out stuff that everyone is keen on. They will track the virality of stories through a variety of assets, like hashtags or the nature of audience engagement," said Prof Lim.
Neither can social media platforms completely remove news from their platforms, she said. 
Referring to TikTok's content guidelines and its desire to "bring joy", Prof Lim said that it is normal for social media platforms to have guidelines to prevent objectional or unauthorised content from being uploaded. But it is not realistic for social media platforms to completely remove adverse content, including news, as they will have to reflect social realities to some extent, she reiterated. 
This story was originally published in TODAY.