It's the little things: Supporting small businesses through big changes
To help local enterprises adapt to a new digital world, StarHub is sharing the call to eat, shop and support small in Singapore.
Whether it's a favourite hawker stall, friendly neighbourhood barber or an old-school tailor, small businesses are deeply woven into the fabric of our lives in Singapore. Throughout the years, these mom-and-pop proprietors have been faithfully providing for our daily needs through their services and offerings.
The arrival of COVID-19 last year, however, had a searing impact on the livelihoods of these local enterprises. "These past two years have been exceedingly tough for the food and beverage (F&B) sector. With everyone staying home and the multiple rounds of dine-in restrictions, business has been sluggish," said Mr Charles Oh, co-owner of Bugis Street Chuen Chuen Chicken Rice, which has been serving up its namesake dish for 42 years and counting. "These days, having a strong online presence is key, but with so many F&B places on food delivery platforms, the online space has become extremely saturated and competitive." 
AN INTERGRAL PART OF THE COMMUNITY
Small businesses occupy a special place in the hearts of many Singaporeans. A survey conducted in 2020 found that one in two consumers here preferred to shop at local businesses in order to help them recover from COVID-19's financial impact. It's clear that during one of the most difficult times in retail history, Singaporeans recognise that every bit counts and are putting their weight behind these community stalwarts. 
This comes as no surprise since small businesses – especially those run by sole proprietors and families – have always been ready to offer customers recommendations and friendly advice on top of their products. By going the extra mile, these neighbourhood mainstays form precious connections with customers and preserve traditions that would otherwise be lost. Singapore would not be the same without them. 
To support these small businesses – classed as having fewer than 20 employees – StarHub has designated Aug 10 as Small Business Day. It has also produced three short films highlighting the struggles, hopes and dreams of three beloved local businesses: Lucky Star Hair Dressing Salon, Bugis Street Chuen Chuen Chicken Rice, and Lian Hin Tailor. 
For Mr Palani Tamilselvam, the owner of Lucky Star Hair Dressing Salon, making his customers look good is only one aspect of his work: "I don't just cut hair. I talk to my customers, I crack jokes, ask about their families, and their well-being. It's like a close relationship – we build it up generation after generation. It's beyond service."
Similarly, Mdm Yong Fong of Bugis Street Chuen Chuen Chicken Rice – who is Mr Oh's mother – highlights the fact that some of its customers have been dining at the stall for over four decades. "From the time they were dating! Now they bring their grandchildren to eat here too," she declared. " Perhaps it's because our chicken rice tastes like home." 
Mr Cha Ah Kau, the 82-year-old veteran behind Lian Hin Tailor, echoed similar sentiments: "Many of my customers have been with us since they were young. As a tailor, the most important thing is to be accommodating. You have to have a good attitude and good service, and to always ensure the customers are satisfied. When you work, you have to pour your heart into every part of the process – that's my secret." 
THE SMALL BUSINESSES CHAMPION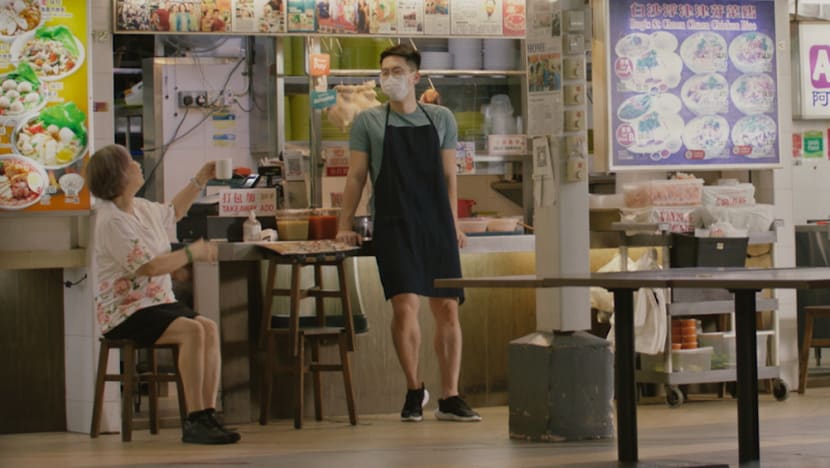 While local outlets have seen many changes in their years of existence, the pandemic's arrival has accelerated the rate of transformation, including the need for digitalisation in order to scale up and reach out to a wider audience. 
Digitalisation plays a key role in marketing. Modern businesses work to stay competitive by establishing an online presence through engaging with customers on social media and rolling out their offerings on e-commerce platforms. While the Government has pledged to support small businesses in their digitalisation journey, the outfits themselves face an uphill task due to challenges such as insufficient capacity or skills. There's also the matter of fierce competition from more technologically-proficient competitors. Many small businesses are run by families or sole proprietors who may lack the know-how or means to access digital marketing tools.
As part of the inaugural Small Business Day celebration, StarHub has announced that it has set aside over S$6 million worth of marketing support to boost participating small businesses across its social, television and digital channels, and offer these businesses an exclusive suite of discounted StarHub mobile service subscriptions and more. StarHub aims to support 10 to 20 small local businesses a month with this initiative, giving them the opportunity to scale alongside newer, younger competitors.
The telco is also encouraging people to eat, shop and support small businesses, which – despite their size – form a vital part of Singapore's economy in addition to providing essential goods and services throughout the island.
As Singapore makes the transition from a pandemic situation to treating COVID-19 as endemic, the future holds hope for micro-enterprises. Ultimately, however, it's up to Singapore's residents to keep them going into the future. 
Mr Johan Buse, chief of StarHub's consumer business group, urged: "Visit your friendly neighbourhood hawker stall for takeaway food; get fresh bakes for breakfast from the bakery downstairs; head over to the nearby barber shop or salon for a haircut. Support from the public is paramount; cheer them on as they weather these unprecedented times." 
Register your interest in having your small business supported, or simply find out more about Singapore's small businesses at StarHub's Small Business Day page.