Navigating the next frontier in e-commerce with Lazada
Key consumer trends in Southeast Asia were unveiled and top brands recognised at the second edition of the LazMall Brands Future Forum.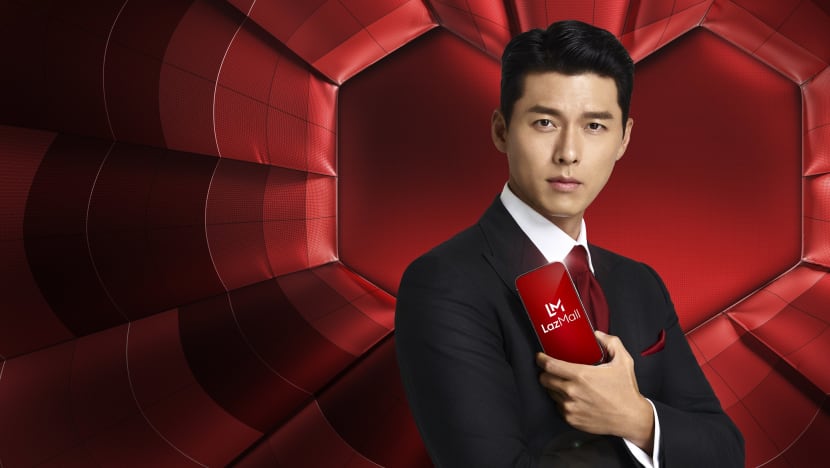 In the midst of the COVID-19 pandemic, the online appetite of consumers has increased keenly. According to Mr Chun Li, chief executive officer of Lazada Group, new buyers on online marketplace LazMall have doubled in number year-on-year and they display twice the spending power of the average buyer on the platform. 
Mr Li shared these observations at the LazMall Brands Future Forum (BFF) held on Sep 1. The event was attended by guests in Singapore at Marina Bay Sands Expo & Convention Centre as well as a virtual regional audience of over 3,400.
LazMall now has over 32,000 local and international brands.
Introducing this year's theme, Rising to the Future: Southeast Asia's Digital Commerce, Mr Li remarked in his welcome speech how the event coincided with LazMall's third anniversary, and reflected on the immense growth the platform has experienced in the region.
He highlighted that Southeast Asia has seen 40 million new Internet users in 2020 alone, with 70 per cent of the region's population now plugged into the Internet. "At Lazada, our annual active consumers are more than 110 million," Mr Li shared. "Traffic has consistently increased, with over 150 million monthly average users. Our online transactions have grown nearly 100 per cent year-on-year." 
Lazada now sees over 32,000 local and international LazMall brands on the platform, including partners such as Marks & Spencer in Singapore and Siam Centre in Thailand. 
Earlier in August, LazMall unveiled its first regional brand ambassador Hallyu superstar Hyun Bin.  
EVOLVING TO REFLECT NEW NEEDS 
According to Mr Li, benchmarking surveys revealed that LazMall customers spent more on Lazada as compared to other platforms. He attributed this to winning mechanisms like free shipping, longer return times, a promise of authenticity from Lazada, a large logistics network of over 400 facilities and stellar customer service, which have resulted in greater efficiency and high levels of trust from consumers.
This, in turn, benefits the sellers. The newly launched Digital Confidence Index by Lazada – a first-ever study of brand and seller business sentiment – found that 70 per cent of Southeast Asian online sellers have confidence in their business prospects and growth over the next three months. 
Lazada's developed tech infrastructure, innovative ecosystem and solid track record have contributed to its strong showing. The launch of LazMall Prestige now brings to consumers premium offerings from brands such as Bacha Coffee, Bang and Olufsen, Coach, La Mer and Salvatore Ferragamo.
"LazMall Prestige will focus beyond discounts or deal-based mechanisms," said Mr James Chang, head of strategic accounts and retail at Lazada Group. "Instead, it is about communicating the stories of brands and their ability to better showcase new and seasonal items through interesting content." 
Based on a survey conducted in Singapore, Lazada found that more than 40 per cent of its customers buy prestige items above S$3,000, and 41 per cent of them are amenable to making luxury purchases online – again spurred by the platform's authenticity policy. But Mr Chang also highlighted that the process "is a much more complex purchase journey for the buyer".
"Often, it is not utility-driven and it also does not always happen impulsively," he shared. Communicating the brand story is crucial for luxury brands online to ensure that "the bond between the brand and the consumer can be made". 
Mr Chang added that Lazada is currently applying customised and targeted strategies, such as moving beyond deal-based mechanics, telling better brand stories and tailoring channels to optimise traffic and establishing strong online-offline linkage. Existing brand partners with these mechanics in place include Aesop, BMW and Shanghai Tang.
A ROBUST E-COMMERCE ENGINE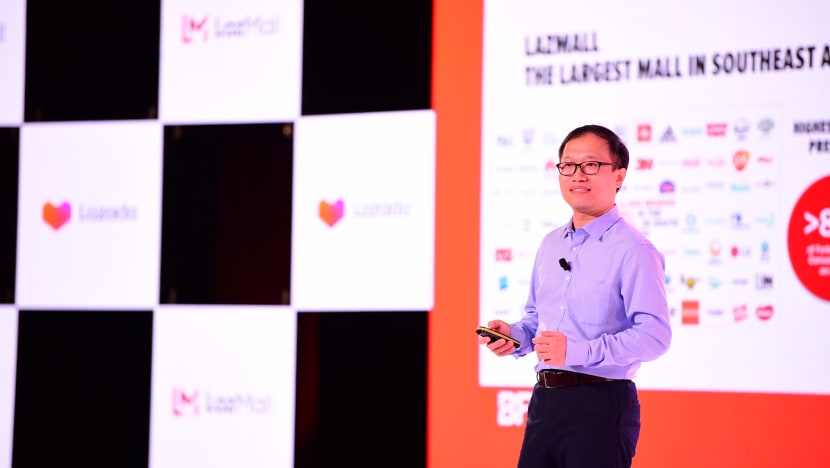 Having to cater to more than 110 million active consumers annually means there's no one definite approach to online success. Brands often have to deal with fragmented channels, Mr Chang said, and Lazada's extensive ecosphere of solutions aims to offer a unified yet customised avenue. "Lazada's philosophy is to create one holistic, synchronised experience for customers across the go-to-market channels of the brand through enriched data and technology," he explained.
Helming this proprietary technology infrastructure is Mr Raymond Yang, chief product officer and head of platform operations at Lazada Group. Lazada provides sellers with tech-backed tools to achieve sales through customised strategies, he said. Some of these include premium decoration tools, user segmentation aids and promotional and marketing solutions. 
Additionally, he unveiled the AIPL (awareness, interest, purchase and loyalty) solution of its Business Advisor Enterprise, explaining that the product aims to arm brands with strategic insights from the four major steps of the customer buying journey. Additionally, live metrics will reveal key insights into customer touchpoints and demographics. From there, brands can tap into its many features, including trending services like LazLive to design engagement and acquisition.
"Brands can also closely engage with customers via search, Super Series, livestream and a brand membership programme," he shared. "We want to support brands through an e-commerce ecosystem with more and better APIs, including online-to-offline solutions."
A SPOTLIGHT ON BRANDS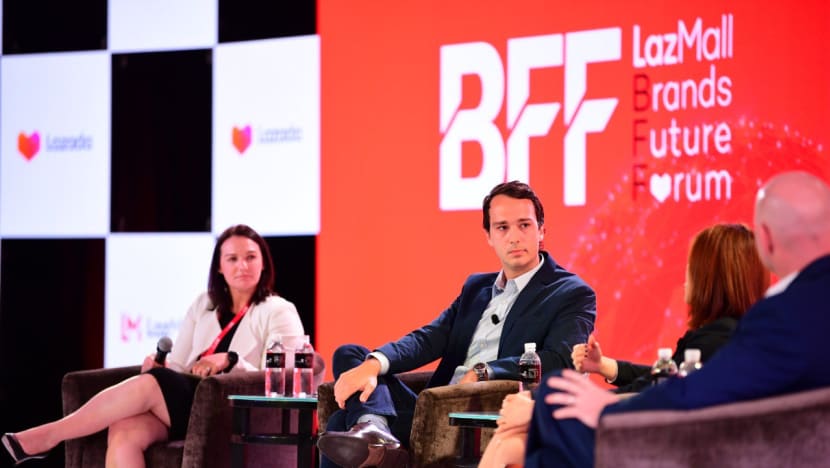 Nine brands were recognised by Lazada for their achievements at the BFF Awards 2021. The awards are an indication of the top-performing and most innovative global and Southeast Asian brands on the LazMall channel, with The Estée Lauder Companies taking home the coveted LazMall Brand of the Year award, and Samsung winning the Best Brand Partnership award. The other winners are Nike, Coach, Lancôme for Lancôme Advanced Génifique Youth Activating Concentrate, Shiseido Group, Starbucks, Synagie and L'Oreal Consumer Products Division.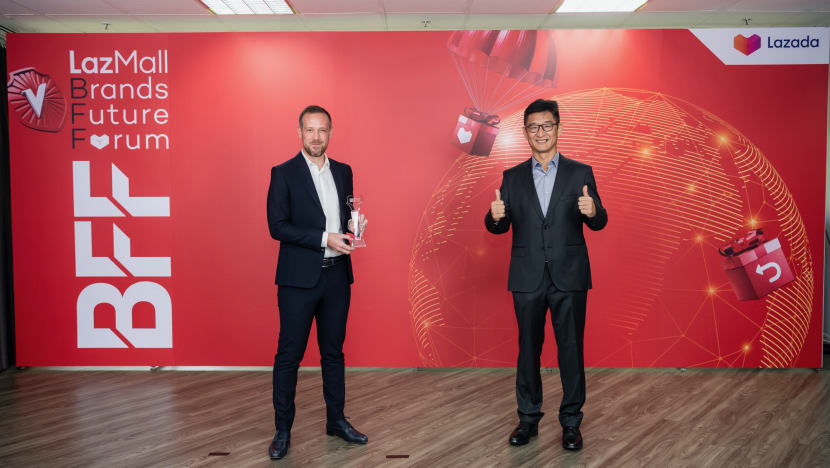 In a panel titled Looking Forward: What's Next for Southeast Asian Digital Commerce, host Emma Paterson, regional head of strategic brand solutions at LazMall, Lazada Group, gathered ground sentiment from partners Google, Shiseido and 3M.
Mr Jerome Hamlin, head of industry for e-Commerce at Google, revealed key trends from its latest e-Conomy Southeast Asia report, confirming the rapid growth of e-commerce in the region, while highlighting increasingly sophisticated relationship-building between brands and consumers. He also noted the significant consumption of video content, and encouraged brands to consider this when designing engagement and ad avenues.
Coming from a beauty brand's perspective – one that has doubled in its market penetration between 2019 and 2020 – Ms Juliana Chu, vice president of digital and e-commerce, Asia Pacific, at Shiseido, shared that LazMall's solutions have helped the Japanese brand achieve acquisition and customer "stickiness" through the use of fun elements, including gamification and virtual try-on of make-up products.
3M's huge inventory had its own set of challenges. How was one to present the entire portfolio to the site visitor, and move the brand known for its Post-its and N95 masks? Mr Kevin McGuigan, vice president and managing director, Southeast Asia region, and country leader for Singapore, approached this through driving education on its site by setting clear differentiators in its copy and even leveraging unexpected market behaviour like "reverse consumer education", where customers shared alternative uses of 3M's products. 
What was clear from all three panellists was that Lazada —with its extensive suite of technology solutions and massive team developing relevant products — is blazing new trails in the competitive e-commerce landscape and helping businesses enter e-commerce seamlessly as the region embraces the digital buying norm.
Come on board LazMall and be part of the powerful digital revolution.