Setting a new bar in reusable, stylish and effective face masks
ActiveCool's breathable masks provide durable protection while being environmentally friendly.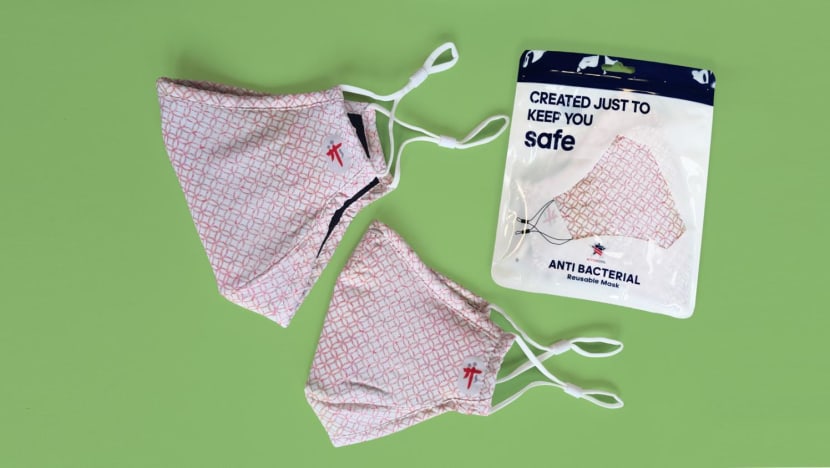 What makes an ideal face mask? That was the question local fashion brand ActiveCool sought to answer.
With its roots in corporate apparel customisation, the small-to-medium enterprise (SME) saw an opportunity emerge following changes to the way we work, live and play after the onset of COVID-19. 
There was a dire lack of reusable, fashion-forward face masks that could meet the filtration standards of single-use, medical-grade masks. Consumers often had to sift among a few variables such as safety, comfort, fashion and sustainable practices when deciding on their go-to mask type.
"Everyone should have access to good, reusable masks to keep the wearer and people around safe, while reducing the spread of COVID-19," said Mr Steven Tan, director and head of research and development (R&D) at ActiveCool.
Despite the brand's unassuming size, ActiveCool consistently strives to innovate and improve upon iterations of its fabric technology in order to produce reusable masks that meet health and safety guidelines.
Unlike standard cloth masks, which do not have filters and tend to offer low protection against the tiny molecules of the novel coronavirus, ActiveCool's lab-certified reusable masks maintain a bacterial filtration efficiency (BFE) of more than or equal to 95 per cent, with 94 per cent bacteria-reducing action. 
With ease of use and sustainability being top of mind, ActiveCool's product removes the need for filter replacements, so one can keep using their favourite masks time and again.
User comfort is a top priority for ActiveCool; each mask uses soft, water-repellent, quick-dry fabric, designed to be highly breathable while eliminating odour. True to its fashion roots, the company also ensures that the masks look great – with safe ink customisation options that don't irritate the skin.
RIGOROUS STANDARDS FOR PROLONGED EFFICACY
A comprehensive two-stage R&D process was implemented in the production of ActiveCool's fabric masks. 
In the first stage, the brand studied mask variations and sieved out the best samples based on form, ear loops, fabric and filtration capability. By doing so, ActiveCool was able to design a product with an ergonomic shape, nose wire and adjustable ear loop that fits snugly across the face, with good coverage to prevent the leakage of exhaled droplets.
The second stage focused on examining fabric specifications and providing quality assurance. Through rigorous testing by labs recognised by the International Laboratory Accreditation Cooperation, ActiveCool ensured that its masks maintain a BFE of more than or equal to 95 per cent and water repellency even after 30 washes. Additionally, the masks retain an antibacterial quality rate of 94 per cent after 50 washes.
Each ActiveCool mask exhibits a differential pressure below 4 H2Omm/cm2 while surgical mask requirements call for a differential pressure of 5 H2O mm/cm2. This makes ActiveCool masks more breathable than standard surgical masks. Differential pressure refers to the difference in pressure between two given points. In the case of masks, it indicates the resistance to air flowing through – the higher the value, the higher the resistance level.
These factors combined have cemented ActiveCool's standing as one of the few suppliers that have both the technology and know-how to produce high-quality reusable face masks at scale. 
A TRUSTED BRAND 
On how ActiveCool is doing its part for Mother Nature, Mr Tan shared: "We have always recommended environmentally friendly fabrics such as grown fibre and recycled materials to our customers. In a similar vein, creating an excellent reusable mask helps to reduce the plastic pollution from disposable masks."
ActiveCool's masks have been well received by government bodies, corporations and Singaporeans alike. Over 500,000 ActiveCool masks have been sold to date, with the brand's clientele ranging from healthcare institutions such as Tan Tock Seng Hospital to government agencies including MINDEF, GovTech and IMDA. 
Each mask is testament to the dedication of an SME that sought not only to provide the best solution possible to serve the needs of the community, but continues to evolve and innovate in response to the changing environment.
ActiveCool welcomes both bulk and small orders. Contact ActiveCool at sales [at] activecoolfashion.com.sg for enquiries.