Chinese police deputy dismissed amid investigations into 'slow and improper' handling of assault on female diners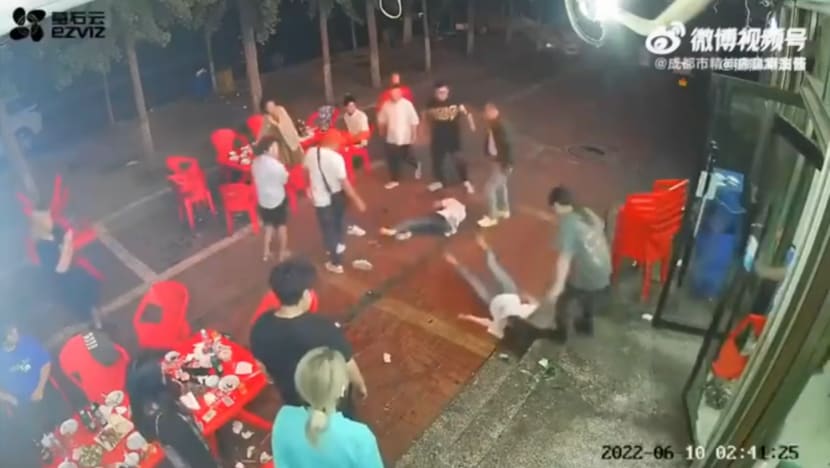 BEIJING: The deputy police chief of Lubei district in northern China's Tangshan city where a group of female diners were assaulted has been dismissed.
This comes as public outrage over the case continues, more than a week after it took place in the early hours of Jun 10.
The incident was caught on security camera footage that later went viral. In it, a man is seen walking into a barbecue restaurant before approaching a female diner and touching her back.
She pushes back at him, and the man reacts by beginning to hit her. 
The woman is then dragged outside the restaurant by the man's male companions, where she continues to be beaten and kicked while on the floor. Her friends who try to help are also attacked by the group.
Netizens have since accused the police of responding slowly, questioning if they only acted after the video went viral.
A statement by the Hebei province public security department on Tuesday (Jun 21) said police officers involved have been investigated for their "slow and improper" handling of the case.
Police had arrived at the scene at 3.09am - 28 minutes after receiving a call about the incident at 2.41am.
The group had fled the scene at 2.47am.
Local authorities said the four women suffered "minor" or "slight" injuries, even as two remain in hospital, adding that their conditions were improving.
The official response came amid calls by netizens for an update on the women's well-being as rumours of their condition spread. Some also expressed scepticism, fearing that their injuries may be more serious than reported.
Nine suspects – seven men and two women – were arrested.
Authorities revealed that some of them had been involved in illegal activities, including provoking trouble and operating a gambling house.
THE GENDER DEBATE
The graphic video of the attack has also sparked debate on gender-based violence in China.
Tangshan native Wang Luoqing, 57, told CNA she was at home when she saw the clip.
"After watching the video, I was so angry that I didn't sleep all night," said the retired policewoman who lives in Beijing.
"I was shaking. I just couldn't believe it."
Mdm Wang, who has a 32-year-old daughter, said she was also angered by some of the comments that followed.
"What times and society are we living in now? Why can't girls go out at night to have supper and only men can?" said Mdm Wang.
She pointed to how there's still a difference in how society views men and women – referencing how former Chinese leader Mao Zedong famously said women are responsible for holding up "half the sky".
"Women hold up half the sky when they work, but when they go out to play or do other things, there is a prejudice," Mdm Wang said.
The Beijing Youth Daily received backlash when it described the man, in a post which has since been taken down, as trying to "strike up a conversation" with the woman.
A China Daily editorial added that the case should "never be interpreted as any form of sexual antagonism".
Headlines of authorities' efforts are focused on reining in gang activity.
Authorities said that investigations into whether the suspects were involved in organised crime is ongoing.
But this isn't the first time that gender-based violence has been at the forefront of discussion in China.
Founder of Beijing-based women's rights advocacy group Equality, Feng Yuan, told CNA that while more people are conscious of gender issues – the heated debate proves there are still polarised views.
"The biggest factor is simply that the principle of equality between men and women advocated by our country, the degree of protection advocated, and the principle of rights and interests have not been made concrete by including it in our education - from school education, family education to social education, including mainstream media education," said Ms Feng.
She added that these issues are present in other countries as well. 
SPEAKING OUT
Many women took to social media to share their own experiences, calling for more to be done about women's safety, even as Chinese officials and state media seem keen to steer the narrative away from discussions about gender.
More than 900 Weibo accounts were suspended for various violations, including stirring "gender confrontation".
"I think there is absolutely no need to suppress these discussions," said Ms Feng.
"These discussions are consistent with the constitution of our country and the basic political ideas and ideology of (the Communist Party) … even if there are different opinions on some issues, it is actually very normal in a pluralistic society."
CNA approached several women who had posted on social media about the incident, but requests for an interview were turned down.
Some said they hoped to get the authorities' attention through their posts, but the issue was too sensitive to speak to the media about.
In recent years, authorities have clamped down on women's rights activists.
"The government is only comfortable of pushing the issue forward in its own way, without any involvement of civil society, without any involvement from independent women's rights activists," said Yaqiu Wang, senior China researcher with Human Rights Watch.
She pointed out that while China has laws and regulations to address domestic violence, gender discrimination at the workplace and sexual harassment, it is still not good enough.
"The laws are not perfect and they need to be improved, but they are still laws and the government needs to enforce them," said Ms Wang.
She added that the rhetoric from the Chinese government and state media as the country encourages more women to have children to address its ageing population is not helping, as it inadvertently perpetuates traditional gender roles.