commentary Asia
Commentary: Trump to Asia – still America's Pacific century?
Many in Asia will expect US President Donald Trump to articulate a clear US strategy for engaging the Asia Pacific during his visit to Asia, says Yale-NUS College's Chin Hao Huang.
SINGAPORE: Almost a year into his presidency, Donald Trump is about to embark on his first official state visit to five countries in Asia: Japan, South Korea, China, Vietnam and the Philippines.
This trip to the Pacific marks a defining moment in his Administration's foreign policy goals.
At the heart of the visit is an opportunity to demonstrate global leadership and resolve, and for Washington to articulate its vision and mission - or grand strategy in statecraft - in light of rapidly shifting regional power dynamics.
There will be expectations for further clarity on the future direction of the US's role in this part of the world and what it intends to do to contribute to regional peace and stability.
Setting a clear US grand strategy is arguably the fundamental marker for a successful visit.
The US has long been the preeminent power in the Pacific, and it is hard to imagine that it would let a perceived decline, competition for influence or challenges to regional order that may arise go unanswered.
Former US presidents like Bill Clinton rejected calls in the mid-1990s that the US should pull back from the Pacific and instead articulated continued US commitment to a forward military deployment of 100,000 troops in Northeast Asia.
George W Bush noted in a speech at the National University of Singapore in 2006 that America must reject "old temptations of isolationism and protectionism ... we must maintain our presence in the Pacific … and we must help our partners build more hopeful societies throughout this vital part of the world".
These words are consistent with Barack Obama's message during his last trip to Asia as US President in 2016 that the "United States is here to stay (in the Pacific)," as it has "enduring interests in the region" that demand an "enduring presence in the region."
ALL EYES ON TRUMP
All eyes will be on Trump for a coherent message in his Administration's Pacific strategy.
Does Washington intend to maintain this cornerstone in US grand strategy, or is it advocating a different approach: Retrenchment of US presence and further consolidation of costly, overstretched commitments abroad to incentivise allies like South Korea and Japan to shoulder greater responsibility?
Until this fundamental question is settled, threats and security challenges like those emanating from North Korea's missile tests and nuclear weapons programme will be difficult to mitigate.
No tweet can replace an ironclad signal from the US president to double down and reassure allies of the US's security commitments in Northeast Asia.
If Trump's message falls short of a coherent security strategy, the region will be quick to take steps to enhance its own security, including a more urgent pursuit of arms procurement and even possibly developing its own nuclear deterrent. The ripple effect could trigger an arms race, if there are doubts over the reliability of the US security umbrella for continued peace and stability in the region.
The need for a coherent US security strategy will therefore be at the forefront of Trump's visit to China.
It is only a matter of time before the US is replaced as the world's largest economy.
A materially stronger China - in economic and military terms - could be in a position to constrain and limit the US's role in the region. But, this will only happen if there is perceived weakness in US capabilities and resolve.
A grand strategy that reflects a confident and secure US power - one that seeks to deepen its Pacific engagement across the economic, security, diplomatic, and cultural domains - would actually welcome a strong and prosperous China and challenge Beijing to aspire toward becoming a responsible stakeholder in the community of states.
On the other hand, a declining and distracted US power may find its position eroded over time only to respond too late to retain its primacy.
This has important implications for a region that has long sought stable US-China relations. US retrenchment from regional affairs would produce a leadership vacuum that forces the region to recalibrate its foreign policy alignment vis-à-vis China, whereas continued US engagement would provide a stabilising force for the region.
The US's presence in Asia allows small states in the region to maintain a healthy balance of pragmatic diplomatic and economic ties with China, all the while retaining close security and strategic partnerships with the US.
A GRAND STRATEGY?
At the end of the day, the hallmark of a successful visit requires the articulation of a strategy.
That two key cabinet members, Secretary of State Rex Tillerson and Secretary of Defense James Mattis, are criss-crossing the region for a listening tour of regional priorities and preferences will help prepare the president's visit and agenda.
Countries in the region, for instance, will be looking for sustained US support for regional security and economic institutions like ASEAN and APEC, as well as its leadership in other multilateral initiatives where key partners can assume greater involvement.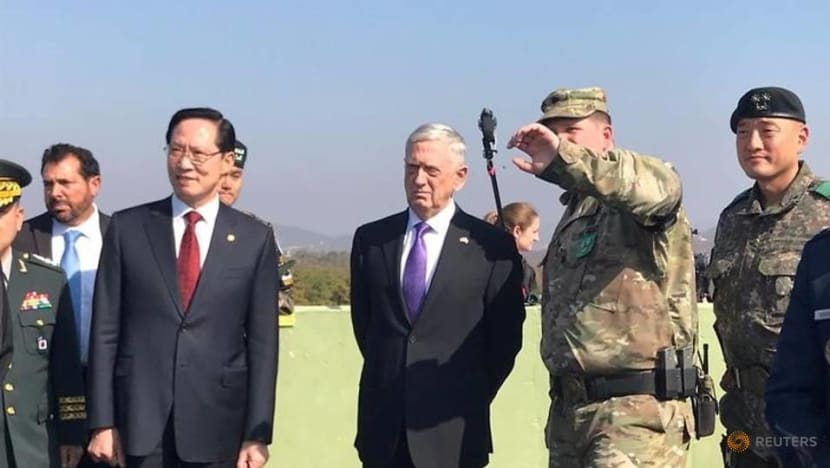 Only with more attentive knowledge of the perceptions and intentions of countries in the region can Washington pursue strategies that further US interests, stabilise the region, and sustain the peace and prosperity that has characterised the Pacific for decades.
The details on tactical manoeuvres of US military and naval assets in the region or policy announcements surrounding new trade initiatives will be important during the visit, but making sense of how, where, and why they fit into its larger, overarching grand strategy will be of paramount importance in allaying regional concerns about the future direction of US leadership and foreign policy orientation.
Policy pronouncements that are divorced from a broader vision of how this Administration intends to engage and work with Asia will lack coherence and credence.
As such, a clear signal of sustained US strategic commitment - or not - will define this upcoming visit, and the imperative of clarifying US foreign policy goals in this part of the world will only grow as the region develops in strategic importance in the years ahead.
The choice is up to the president to articulate whether this will still be America's Pacific century.
Chin Hao Huang is assistant professor of political science and head of studies for Global Affairs at Yale-NUS.
Read also: A commentary on the expectations China and the US have for Trump's visit to China.