Malaysia to develop flood disaster risk assessment based on climate change forecasts: Environment minister
KUALA LUMPUR: Malaysia is currently implementing a flood disaster risk assessment based on climate change forecasts, which is expected to be ready by 2024, said Environment and Water Minister Tuan Ibrahim Tuan Man in parliament on Thursday (Mar 10).
The risk assessment will be carried out through flood hazard and flood risks maps under the Department of Irrigation and Drainage (DID), covering 36 major river basins, which are ready to be developed, he said.
For the Klang Valley area, flood hazard maps for six river basins are also ready for development, along with the flood risk map for the Bernam River basin.
"The development for these hazard and risk maps are expected to be ready in 2024, and updated continuously," said Mr Tuan Ibrahim during question time in the Lower House.
He was responding to a question on the ministry's efforts to study the possibility of drastic climate change and more frequent natural disasters.
On  the country's disaster early warning system, Mr Tuan Ibrahim said that both the DID and Malaysian Meteorological Department were always maintaining and improving the system's level of alertness.  
Under the country's five-year 11th and 12th Malaysia Plans, the meteorological department was installing eight new radar stations in Perak, Kelantan, Terengganu, Pahang, Sabah and Sarawak.
"They are an addition to the current 11 radar stations and are expected to be ready by 2022," the minister explained.
In addition, the DID was also implementing a Flood Warning and Prediction Programme aimed at delivering early warnings to agencies related to disaster management and the public, Mr Tuan Ibrahim said.
Besides siren warning when water levels hit a certain threshold, the alert system would also include flood predictions seven days ahead and issue warnings two days ahead for locations forecasted to be hit by floods.
"As of now, this system is already operating in the Pahang, Kelantan and Terengganu river basins with 65 per cent accuracy," Mr Tuan Ibrahim said.
DID, through the PublicInfoBanjir website, was also constantly monitoring rain and water level conditions throughout the country, and when rain or water levels hit certain thresholds, warnings would be issued on the website for public reference. 
Several parts of Malaysia were badly hit by floods this week, with warnings of heavy rains and fresh floods have been issued for many states in the Peninsular Malaysia, as well as Klang Valley.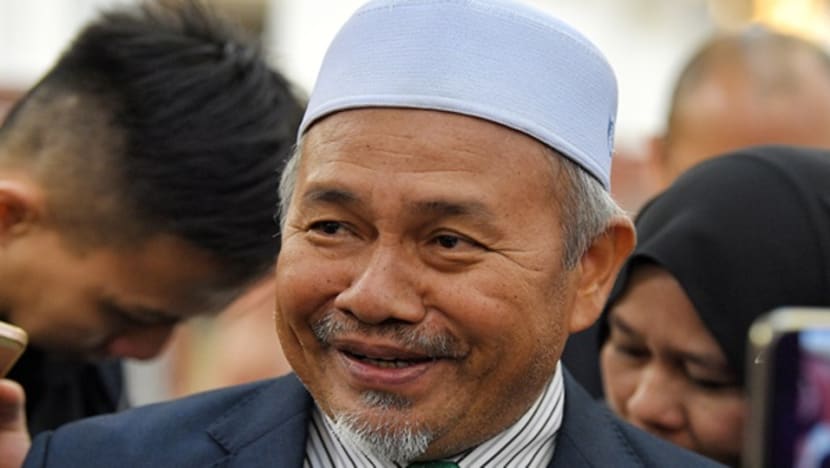 DEBATE ON KL'S MONDAY FLOODS 
During a parliamentary sitting on Wednesday, members passed a motion by Bukit Bintang MP Fong Kui Lun for a debate on the floods which had hit the Klang Valley on Monday.
The floods badly hit several parts of Kuala Lumpur, including the city centre and business districts, as well as major residential areas and traffic arteries.
Mr Fong said although he understood the government had implemented flood mitigation projects, and spent millions of ringgit to improve the irrigation system, this was still insufficient when heavy rains turned into floods for a developed city such as Kuala Lumpur.
"It is as if the government and Kuala Lumpur CIty Hall have no clear plan and action to make Kuala Lumpur City free from the threat of floods and flash floods," Mr Fong said. 
Lembah Pantai MP Fahmi Fadzil said residents in his constituency wanted to know what flood mitigation improvements had been carried out since the floods late last year.
Mr Fahmi remarked that Kuala Lumpur was a "bandar raya" (major city) and not a "banjir raya" (major flood area).
Subang MP Wong Chen said he wished to know whether there was any post-mortem engineering report on the recent flash floods.
"That's the most important thing, if we don't know how the floods are happening this quickly, what is the problem? I want to ask the federal government to send an engineer, do the report correctly, then we can talk about mitigation," he noted.
Federal Territories Minister Dr Shahidan Kassim told parliament on Wednesday that rainfall on Monday had exceeded 100mm per hour, causing flood incidents in 29 areas.
However, flash floods in 25 areas had receded within 30 to 45 minutes.
Dr Shahidan said that the floods were not due to the failure of the six flood retention ponds around the affected areas.
"In fact, those ponds had functioned at a sufficient capacity to hold the rainfall capacity, and function according to the set standard operating procedures," he added.