For a sense of just how passionate the next generation is about making a difference in sustainability and the environment, look no further than Ms Rica Teo. The 22-year-old undergraduate from the National University of Singapore is penning a 10,000-word thesis to propose ways of legislating net zero carbon action by developers. It's a Herculean task but one that Ms Teo is committed to completing for her final-year project. "It's funny, I didn't care much about sustainability before I entered university. But since I've learnt about net zero and the impact that today's actions can have on tomorrow, I'm fired up and ready to go."
That passion to be a changemaker is not unique to Ms Teo. We met her at the second National Youth Dialogue session on 21 September 2022, co-organised by the National Youth Council (NYC) and the Global Shapers Community (Singapore Hub). Set against the backdrop of a panel discussion on transitioning towards a net zero future, the dialogue was a show of youthful energy and action. "I work in a carbon capture company," said one participant, introducing himself to a fellow youth who had started a non-profit to tackle plastic waste in our oceans.
For these youths, apathy and inaction are clearly not options. Instead, they are determined to drive conversations about how we can build a greener future. Around the world, youths are naturally concerned about the state of the planet; after all, they will be the most affected by a future marred by unmitigated climate change. But they aren't prepared to give up the idea that the future doesn't have to be this way and are doing whatever they can to champion that cause.
THE ROAD TO ZERO
Singapore's net zero future is driven by an ambition to achieve net zero emissions by or around 2050. But is that too far away? How can youths accelerate the process? These were some questions discussed and debated at the second National Youth Dialogue, which focused on the move to a net zero future.
(from left to right)
Host: Mr Tan Kuan Hian – Youth leader, Global Shapers Community
Moderator: Ms Farah Sanwari – Co-founder, FiTree, a non-profit environmental volunteering group for Singapore Muslim youths
PANELLISTS:
Ms Melissa Low – NYC Council Member and Research Fellow, NUS Centre for Nature-based Climate Solutions
Ms Grace Fu – Minister for Sustainability and the Environment (MSE)
Mr Helge Muenkel – Chief Sustainability Officer, DBS
Ms Woo Qiyun – Sustainability Consultant at Unravel Carbon and creator of Instagram account, "The Weird and Wild"
Ms Farah Sanwari (moderator) – Co-founder, FiTree, a non-profit environmental volunteering group for Singapore Muslim youths
1. Join the conversation: Ms Low said that Singapore faced an uphill battle in reaching its climate targets. The transition is currently characterised by flexibility and pragmatic ideas, reflecting Singapore's views on business opportunities and growth. She added that if Singaporeans wanted to accelerate the transition, they should participate in public consultations on Singapore's climate ambitions and share their views.
2. Acknowledge progress: Mr Muenkel said that while concerns regarding climate change and net zero efforts were valid, it was important to acknowledge that net zero efforts had accelerated as the Government, private and financial sectors were increasingly moving towards decarbonisation.
3. The way forward: Minister Fu encouraged participants to influence their social circles to exercise awareness in their spending and consider the environmental costs of products. This would signal to companies that they need to be more environmentally conscious to win over consumers.
4. Make your dollar count: Ms Woo added that as companies follow consumer trends very closely, consumers can write to companies to pressure them into working with regulators to create alternative low-carbon goods and services.
PIECES OF A PUZZLE
As Ms Yien Li Yap puts it, there's no need to wait for tomorrow to start making that difference. "There's a lot of talk about how youth will be future leaders, but they don't need to wait to make changes in their communities wherever they are right now," says the 35-year-old, who works as a country lead at OLIO, an app that champions the circular economy.
"THERE'S A LOT OF TALK ABOUT HOW YOUTH WILL BE FUTURE LEADERS, BUT THEY DON'T NEED TO WAIT TO MAKE CHANGES IN THEIR COMMUNITIES WHEREVER THEY ARE RIGHT NOW."
To some, it might be difficult to draw a direct link between Ms Yap's passion, the circular economy, with Ms Teo's, a net zero future. After all, one deals with zero waste while the other champions decarbonisation. And that observation is rooted in some truth: the term "sustainability" does neatly sum up disparate causes like waste, carbon and even pollution. But at its core, its proponents are concerned about one thing: the impact they make on the world around them. That impact deals with everything from the trash that ends up in the ocean to the levels of water in that same ocean and even the marine life that lives within it.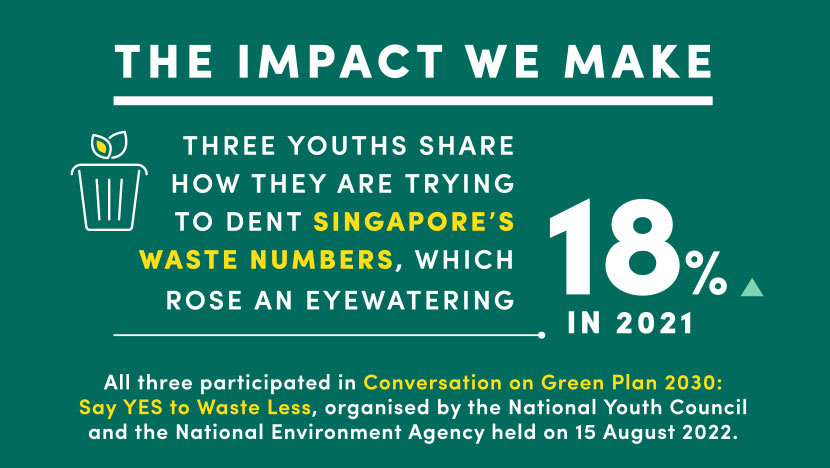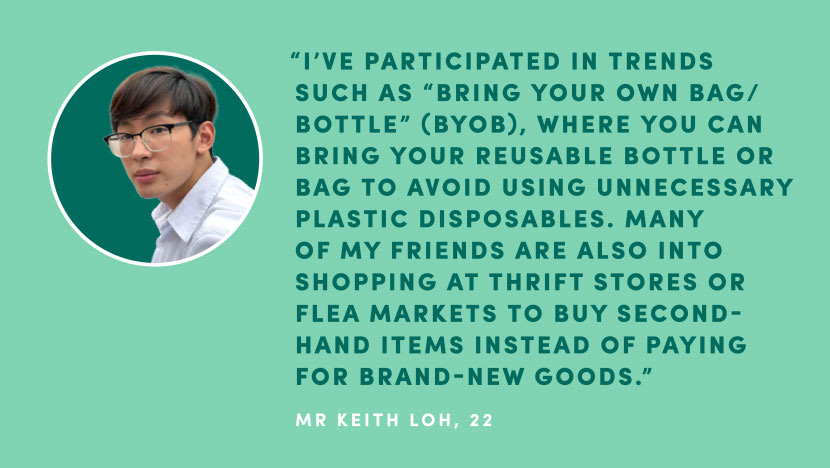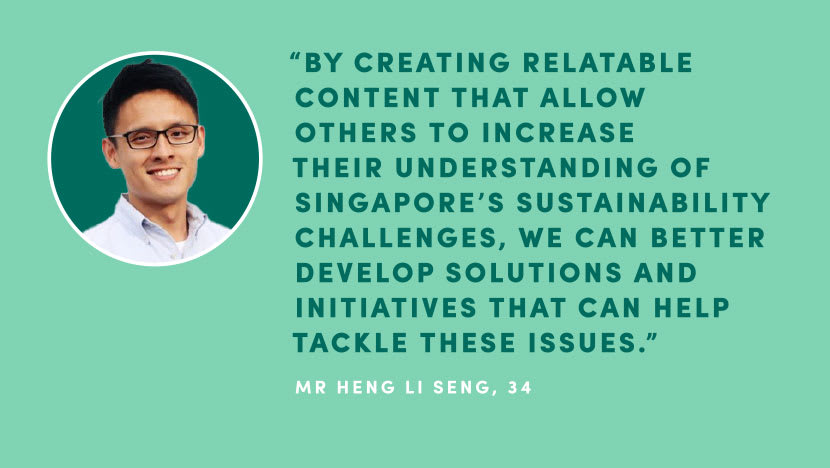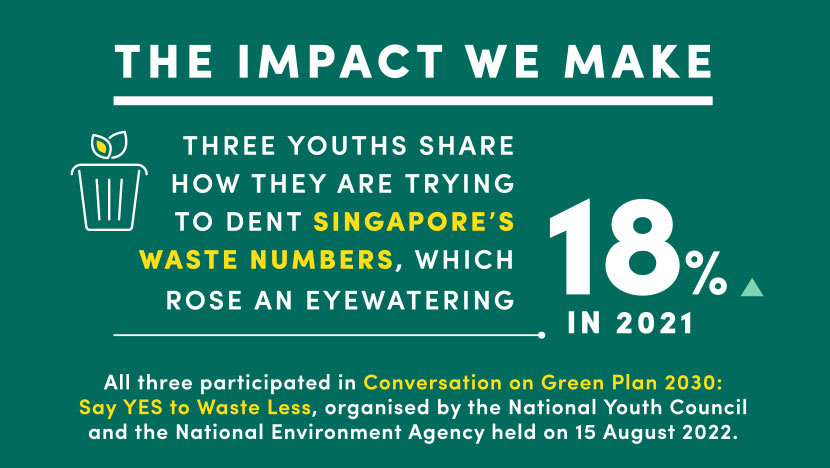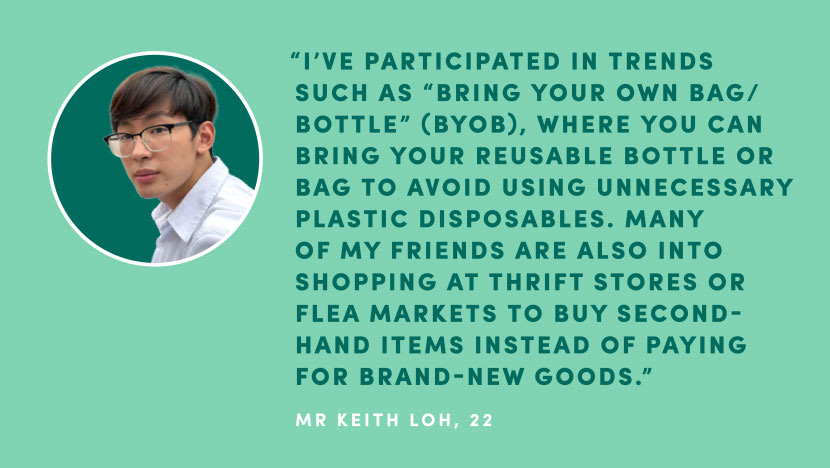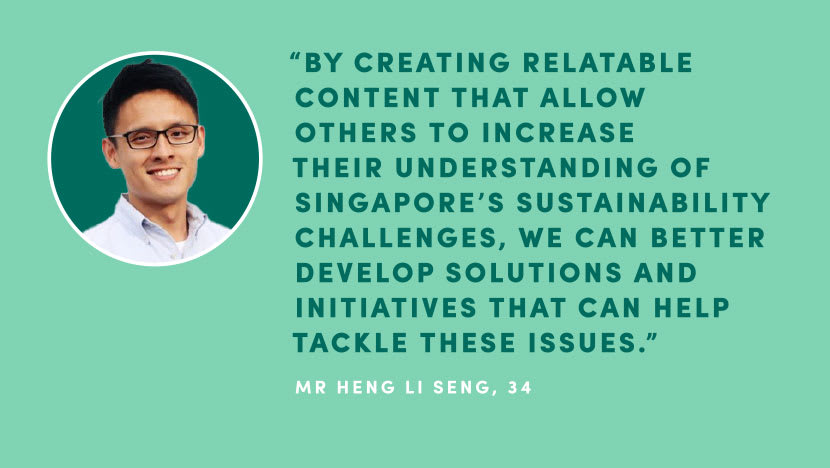 A BRIGHTER FUTURE
Our youths' passion for the environment doesn't just bode well for the planet; it's also a positive sign for the economy. Singapore, and the region at large, is poised for a green jobs boom, driven by initiatives like the SG Green Plan and other ambitious sustainability targets set by policymakers. A study by Accenture estimated that nearly 33 million new green jobs will be created by 2030 in major economies like Australia, China, India, Indonesia and Japan. These jobs will count on more than just passion though: for youths to succeed in them, they will also need to adapt their existing skills and knowledge and apply them through a sustainability lens.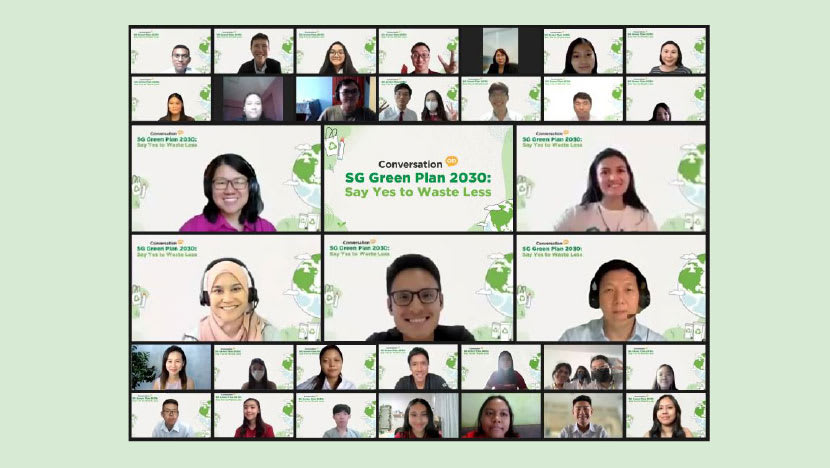 These green jobs and skills make up the green economy, which took centrestage at the fifth Conversation on Green Plan 2030, themed "Towards A Sustainable Future". Panellists included Ms Gan Siow Huang, Minister of State (MOS), Ministry of Education and Manpower and Ms Leow Lay May, Director, Energy Division, Ministry of Trade and Industry (MTI); Ms Cassandra Yip, President of Student Energy, National University of Singapore (NUS) and People's Association Youth Movement Council Member; and Ms Ondrea Wong, Deputy Chairman of Project Committee, Student Council, Institute of Technological Education (ITE) College Central.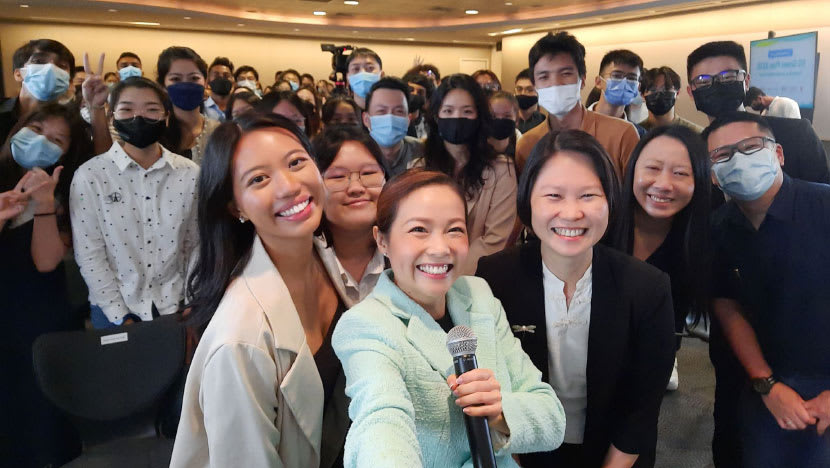 Together, they summed up the importance of preparing for the green market. MOS Gan, for example, pointed out that to address the demand for green skills, Institutes of Higher Learning have introduced new courses and programmes in sustainability-related fields. Ms Leow added that the green economy is developing quickly, and what youths learn in school will have to be supplemented with on-the-job training. She encouraged youths who were already working to explore courses that provided on-the-job training to develop relevant skills in climate finance via the Singapore Green Finance Centre.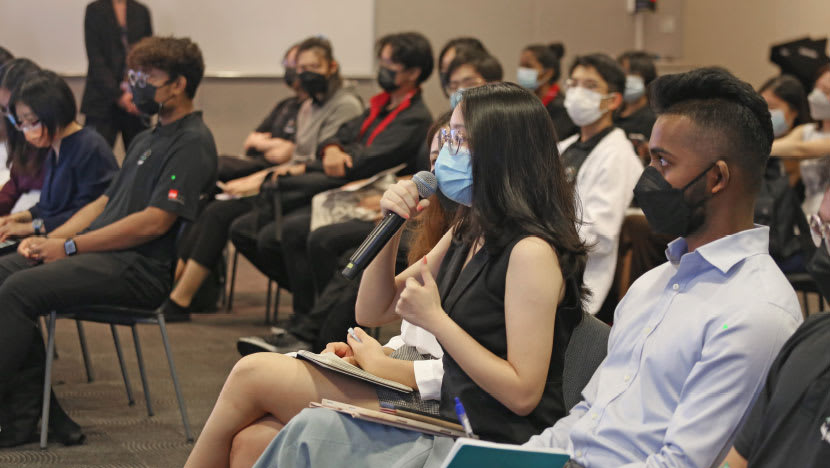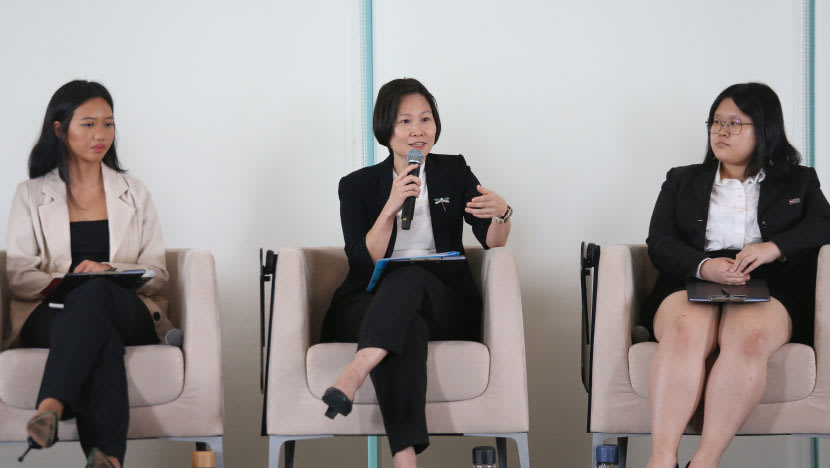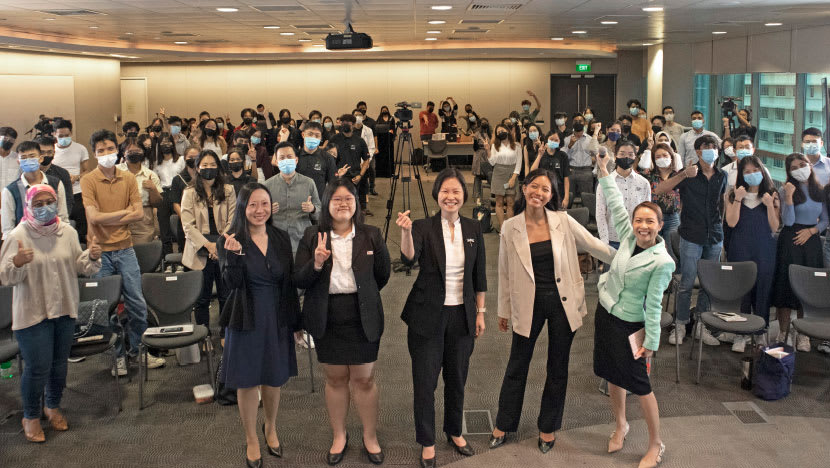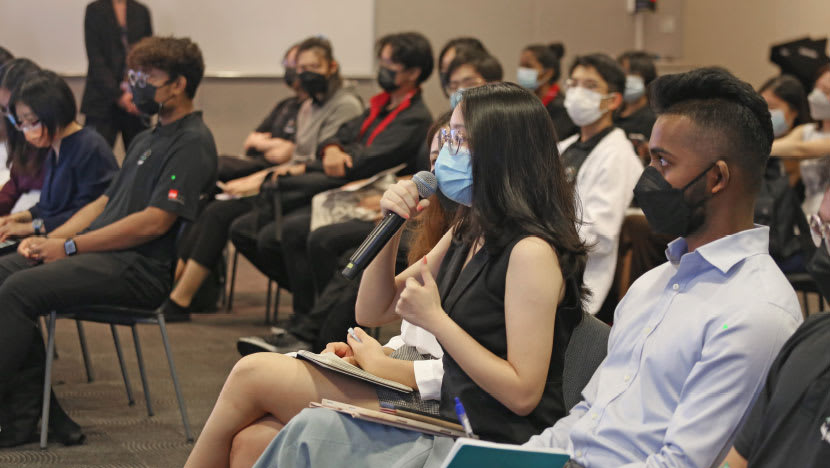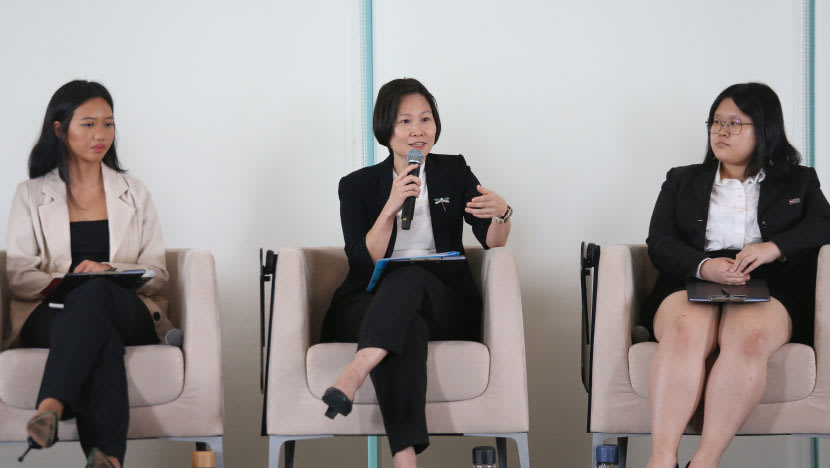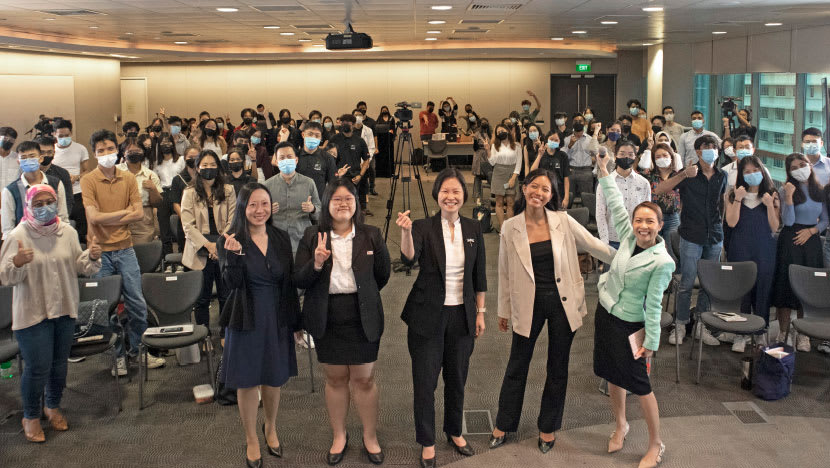 It's a sentiment echoed by Ms Yip, who is currently interning in a sustainability role. "I would strongly encourage working/volunteering for a sustainability start-up that champions a cause that you are interested in," she explained. "The start-up environment allows you to learn a lot, especially about the challenges that hinder sustainable development. It is also a good way to get plugged into the environmental community where you can be introduced to more opportunities in the space."
GETTING A SOLID FOUNDATION
Ms Cassandra Yip is a project intern with the Singapore Market team at Temasek, supporting their sustainability portfolio operations. She tells us about her role here:
What are some of your roles and responsibilities?
I am involved in supporting research efforts and providing assessments on strategic and policy issues relating to energy, climate change and sustainability, and agri-food, among others. I believe my educational background (in environmental studies) and prior experiences running an environmental group have provided me with the necessary knowledge and skill sets to analyse information and provide necessary insights into these specific areas.
What are some lessons you've taken away from the experience so far?
Attention to detail is important, so is presentation, messaging and delivery. I have learned to communicate more clearly and concisely; which are key skills needed especially for the communication of scientific information on climate change.
What advice would you have for others looking to land and excel in such roles?
You don't need to have an education specifically in sustainability in order to land a green role. It is about applying a basic sustainability layer on top of your existing foundational knowledge and skill sets.
GREEN NATION PLEDGE
Take action to make Singapore a green, liveable and climate-resilient home.
PLEDGE NOW