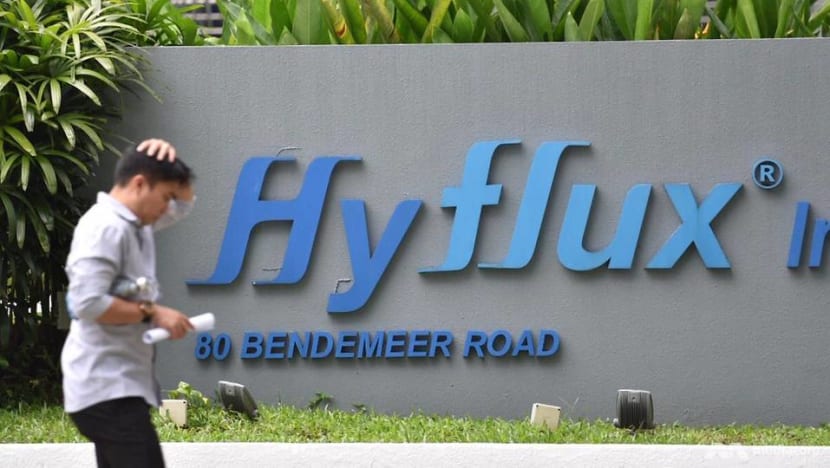 SINGAPORE: Troubled water treatment firm Hyflux has signed non-disclosure agreements with 22 potential rescue financiers, who have until Friday (Aug 3) to submit their expressions of interests. 
This is according to an affidavit filed to the High Court on Jul 31, which also revealed that Hyflux and its subsidiaries are projected to be cash flow negative at least for the next six months.
Seen as one of Singapore's most successful business stories, Hyflux made the unexpected move on May 22 to apply for a court-supervised process to reorganise its business and liabilities, citing "prolonged weakness" in the local power market for its cash woes. 
It was granted a six-month moratorium by the High Court on Jun 19 and as part of that, it has to submit certain information relating to its financial affairs within six weeks. 
In the Jul 31 affidavit by chief financial officer Lim Suat Wah, information memorandums comprising a general overview of the company's situation, financial information and potential funding needs have been issued to the 22 potential rescue financiers that Hyflux has signed non-disclosure agreements with.
The company and its advisors have held preliminary discussions with 15 of these potential rescue financiers, and intends to do the same with the remaining seven. 
The 22 potential rescue financiers have until Aug 3 to submit expressions of interest, which Hyflux and its advisors will review so as to shortlist suitable candidates to continue negotiations with. 
Hyflux had previously said that it is seeking about S$200 million in rescue financing. 
EXPECTING NEGATIVE CASH FLOW
Over the next 13 weeks starting from Jul 30, Hyflux and four of its subsidiaries are expected to see negative cash flow of S$22.3 million, according to projections included in the affidavit. 
A medium-term forecast for the next six months till December showed the negative cash flow to be S$43.2 million. 
Among the subsidiaries, Hydrochem, the company's engineering, procurement and construction arm, is expected to chalk up the biggest net cash outflow over both periods. 
In terms of profitability, forecasts for the upcoming six months showed an after-tax profit of S$6.2 million for Hyflux Ltd. 
With the exception of Hyflux Engineering, Hydrochem, Hyflux Membrane Manufacturing and Hyflux Innovation Centre are expected to lose S$39.1 million, S$13.3 million and S$248,000, respectively. Hyflux Engineering's profit over the next six months is projected at S$5.4 million.
The affidavit also said that there has been "no acquisition or disposal of property or assets, including equity interests in subsidiaries", since the moratorium was granted. 
Hyflux has been in search of a buyer for its loss-making Tuaspring Integrated Water and Power Plant – the single largest asset on its balance sheet that analysts described as a "noose" around the company's neck.
Last month, the company said it is in touch with eight bidders but it has not received any "real firm offer".
A Bloomberg report on Thursday said Sembcorp Industries, Keppel Corp and Malaysian generator YTL Power International Bhd could be among those interested in acquiring the integrated plant valued at S$1.3 billion.