Growing up in costumes, getting married in the same way — this is life as a mascot maker
Sanee Neo and his sister used to seek out hiding places in their mum and uncle's costume shop. They are now taking the business beyond Singapore — and recently organised an epic costume wedding.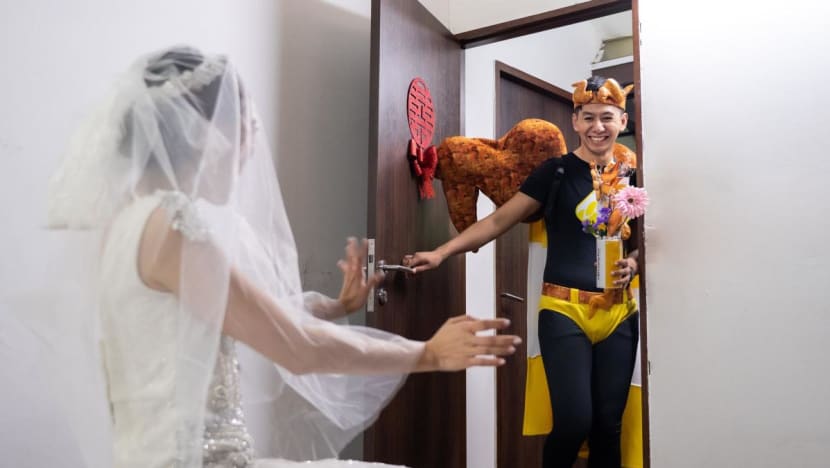 SINGAPORE: It was a wedding where the guests were dressed in their wildest imaginations.
The groom's 75-year-old grandmother was at the Chinese banquet lunch as the Evil Queen in Snow White. His mother, 57, came as Cinderella's fairy godmother. And his three-year-old nephew was the world's strongest kid, Bamm-Bamm Rubble in The Flintstones.
In the lead-up to Sanee Neo and Kathy Tam's wedding last Saturday, the couple's family and friends were offered a catalogue of 50,000 outfits to choose from, courtesy of Sanee's family business, Customade Costume and Merchandise.
So among the 280 guests at Parkroyal on Beach Road were several Empress Dowagers, astronauts and a Shaolin football team (Sanee's actual team-mates).
There was also a Na'vi from the film Avatar, though his only gripe was that he was not wearing blue face paint.
"What we wanted was for everyone to get away from their crazy days at work and then, for that special weekend, to have fun with costumes," said second-generation business owner Sanee. "This was the only way we'd hold our wedding."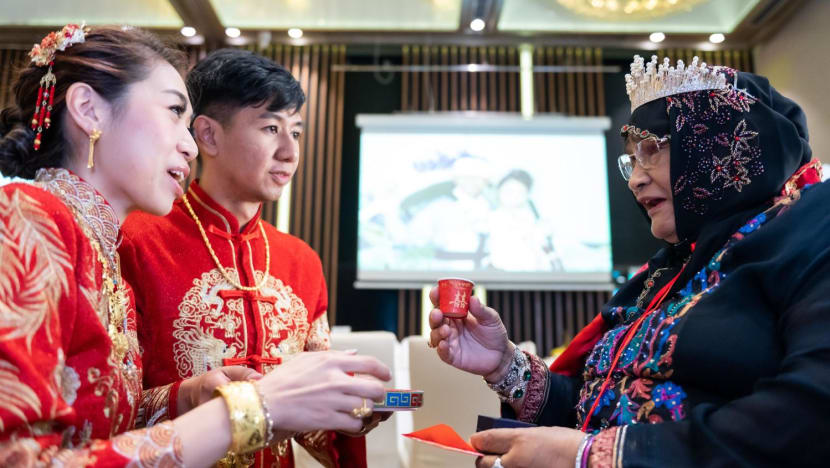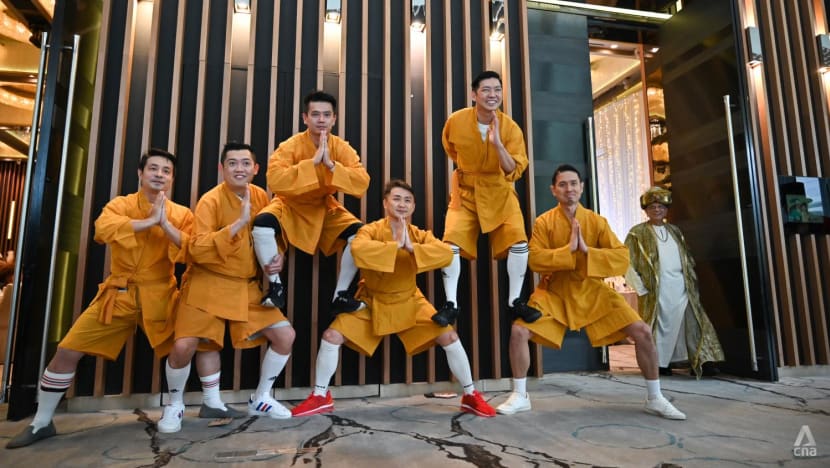 The couple themselves spared no effort in dressing up, making their entrance as Cinderella and Prince Charming, marked by the theme song from Avengers: Endgame, and once more in a gown and suit, in a nod to their multi-ethnic heritage.
Kathy, who is Chinese, wore a dress with mahjong prints, while Sanee — whose mother is of Indian and Malay descent, while his father is Chinese — wore a sherwani, or long coat, and carried a suitcase à la God of Gamblers.
They came close, however, to walking down the aisle as DC Comics characters Harley Quinn and The Joker. But it would have been "too much", said Kathy.
"What if the make-up failed on the day? Then we'd have looked horrendous — so we thought, let's tone down a little."
They settled on the Suicide Squad looks for the pre-wedding photo shoot instead, and the pictures were displayed at their reception like film posters.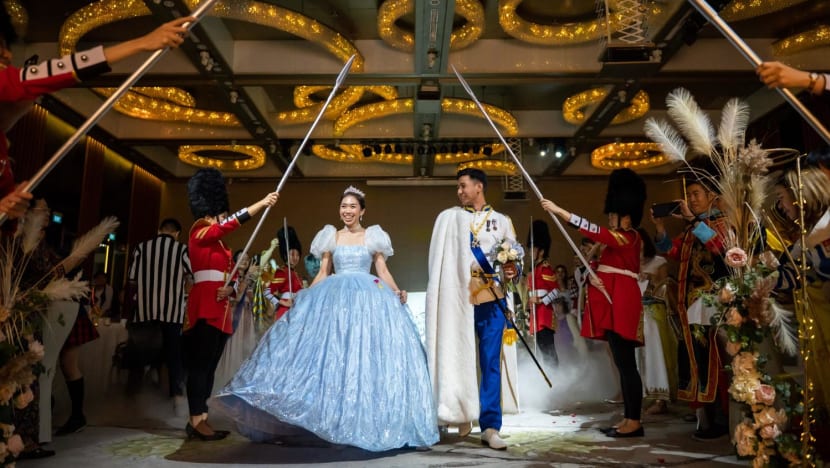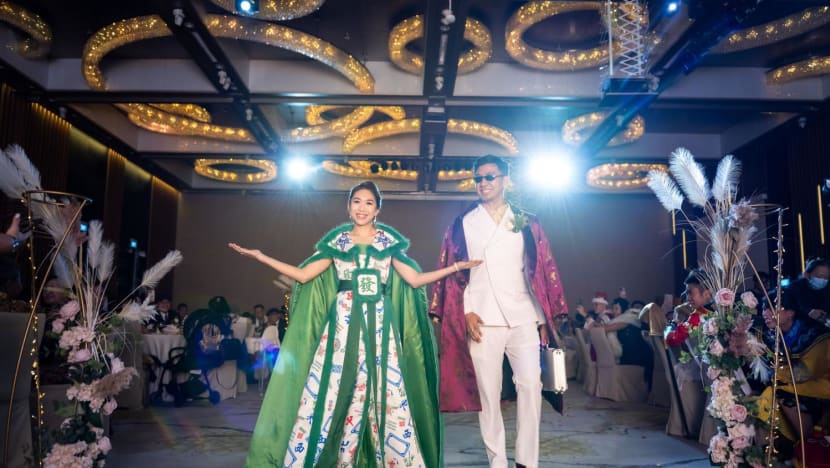 Presenting a visual spectacle is what Sanee's family business is all about, and his wedding was a microcosm of it.
A 24-YEAR-OLD BUSINESS
The outfits that the newlyweds and their guests wore were all made at the costume house started in 1998 by Sanee's uncle, Alikhan Surattee. He was a stage manager for live performances in shopping centres and theme parks.
With many costumes on hand, he decided to rent a shop in Bras Basah Complex to house the collection and rent out pieces.
His sister Noorjahan Katu, Sanee's mother, helped by making costumes and running shows. She was a policewoman who eventually traded her badge for the sewing machine.
"From there, we had no day and no night," she said. "We could make a mascot within three days … sister and brother stitching (and) moulding."
The business started a year after the Asian financial crisis, and people around them were sceptical as to who would need costumes, she recalled. But the siblings were unfazed.
"We believed in the business and that you need to have some fun. There's a lot of happiness in making costumes," said Noorjahan, whose husband, Neo Ah Hock — affectionately known as Captain Neo to the family — was an aircraft technician.
Their daughter, Hasyna Neo, recalled combing wigs and seeking out hiding places in the shop as a child. She and Sanee also helped out by showing customers around. Her mother and uncle hardly turned down a request, she said.
"If a customer walked in and asked for an octopus costume, they'd say, 'Oh, the mascot's rented out', and then the moment (the person left), my uncle and mum would start making an octopus mascot," said Hasyna, 31.
"Everyone knew us. If you wanted costumes to rent, just come to us. We included alterations (and) accessories like wigs, glasses and shoes … Competitors weren't something we were concerned about."
Costume rentals took a hit around 2011 to 2012, however, when e-commerce platforms started to gain traction and people could buy anything from Super Mario outfits to Disney princess gowns for cheap.
That was when Alikhan and Noorjahan asked Sanee to join them. But he was fresh out of National Service and dabbling in financial planning. Also, what he had studied at polytechnic — chemical engineering — had "no relevance to the costume shop".
"I was in a constant dilemma. Because before you jump into something, you need to know (whether) it's something viable. Was it something I could do — revamp the whole business? Could I make it successful?" said Sanee, 33.
"I caved (in). I realised I had to do it."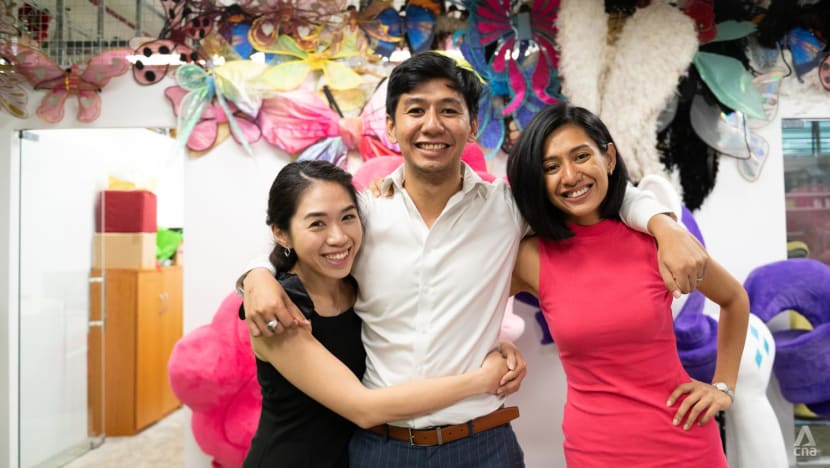 BRINGING CHANGE
When "kor kor" stepped in, Hasyna said, he realised their mother had not increased prices for 10 years, even as rent and the levy on employing their seamstresses from China and Indonesia were soaring.
Their mother was also selling props and decorations on consignment to supermarkets. But places like Daiso, which was known for selling items at S$2 at the time, were undercutting her.
"I cut it out completely. It was very painful for her," said Sanee, who saw that their expertise lay in mascot-making, where they could raise prices to match their value.
"He said, 'Who's going to protect us if we don't increase our prices?'" recounted Hasyna. "​He went out there, (made out a) case (for) higher prices, and then my mum was shocked — so there's the brother I look up to."
WATCH: Inside our family's mascot and costume-making business (9:25)
When he joined in 2012, the costume production had just moved to a factory in Batam to defray costs, a decision taken by his mother, who went on to oversee its operations.
Sanee then pursued big brands in the fast-moving consumer goods sector and sold them the idea of "breathing life" into the symbols that represented them.
He set up Mascot Enterprise as a separate business entity on top of costume rentals, and the company has since made more than 70 mascots for Pringles, for example, for its various marketing campaigns.
When Noorjahan asked her daughter to also join them, Hasyna declined "outright" but eventually got on board in 2018 after seeing Sanee's hard work and the growth he had brought.
Hasyna was previously working in human resources in the financial services industry. Today, she heads the costume rental department and is in charge of branding.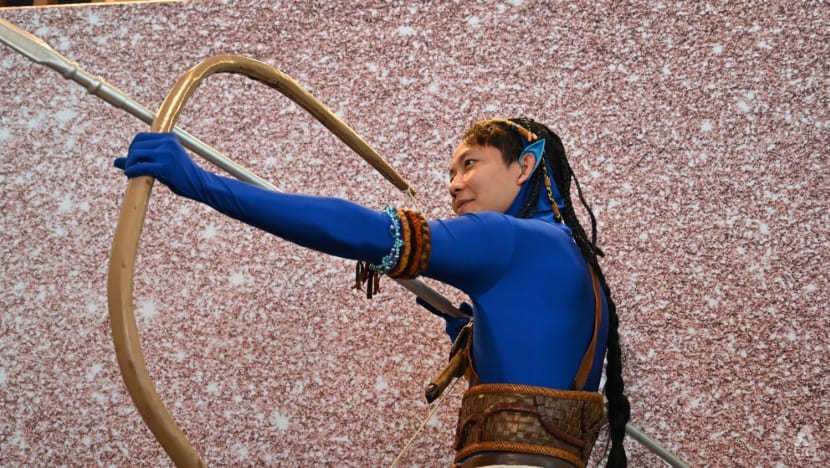 THE MASCOT-MAKING PROCESS
CNA Insider visited the two-storey Batam factory, which has about 70 staff, and found mascot-making to be an intricate process entailing many stages of production.
There were designers drafting sketches, sculptors making the mould for the mascots, a materials and procurement team sorting out fabrics and colours, seamstresses lining and stitching the fabrics, electricians handling any fans or LED lights needed in some mascots and, finally, a quality control team.
As Sanee learnt, any little thing can make or break a mascot, like whether its hand has the right amount of plumpness to look cute and huggable, down to the type of glue used to put the sculpture together.
"Usually when I work with theme parks, those very experienced (costume directors) ask straight away: What glue do you use?" he said.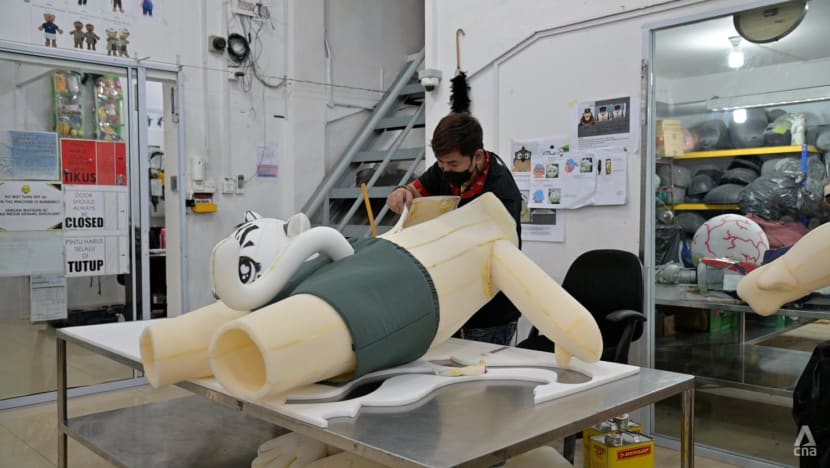 He has attended global conventions, such as those organised in Orlando or Shanghai by the International Association of Amusement Parks and Attractions, where the company has exhibited its products and learnt more about new materials or techniques for making mascots.
"If we want to be a champion in mascots, we have to know how to make all the different types of mascots," he said. "Sometimes we do self-research — just go (on) YouTube (and) learn."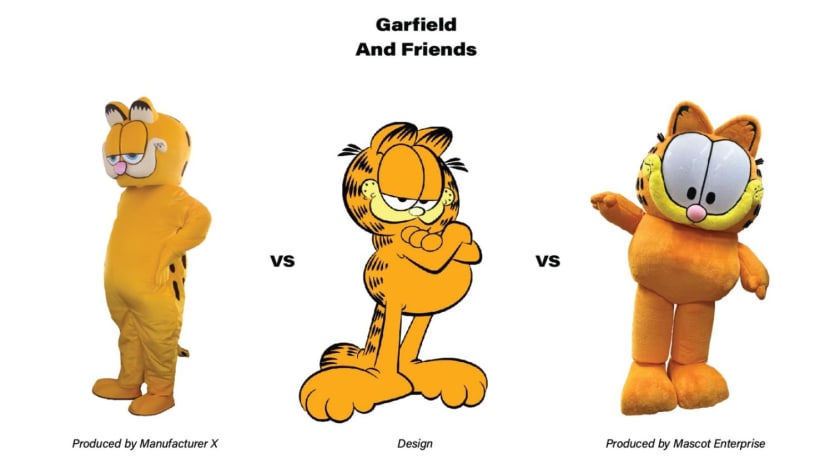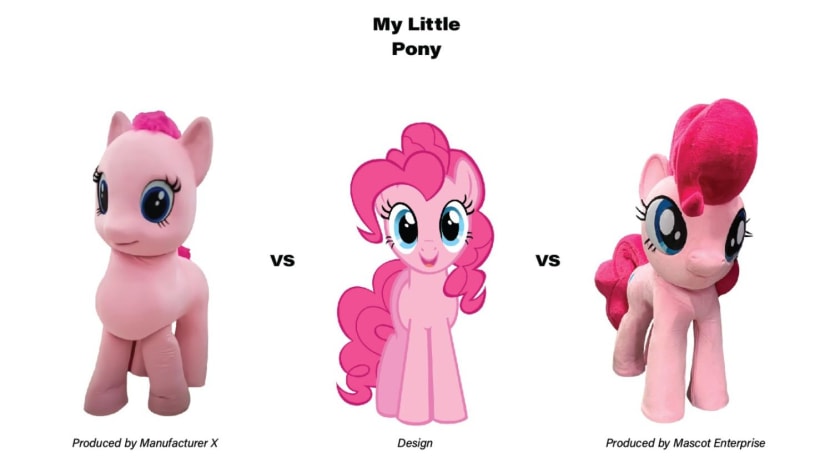 He has brought in 3-D printers, which when used with open-source software Cura, can make more accurate moulds compared to putting pieces of compressed foam together, he said.
His company also uses a vacuum-forming machine and a type of thermoplastic to make higher-quality parts, like the eyes of Pinkie Pie from My Little Pony or Mr Pringles' moustache.
When he chanced upon inflatable mascots, he thought, "that's the future", as they would solve long-standing problems with traditional mascots, such as poor ventilation and cumbersome storage.
"I saw all the ingredients (needed) … to make (one), and we tried," he said.
His inflatable-mascot clients now include Mr Coconut. Overall, the company works with more than 100 clients, including Warner Bros, 20th Century Studios and Nickelodeon, and even helps brands such as cosmetic giant Estee Lauder to conceive of and build mascots.
In a year, the business can produce about 400 mascots and 10,000 costumes, he said.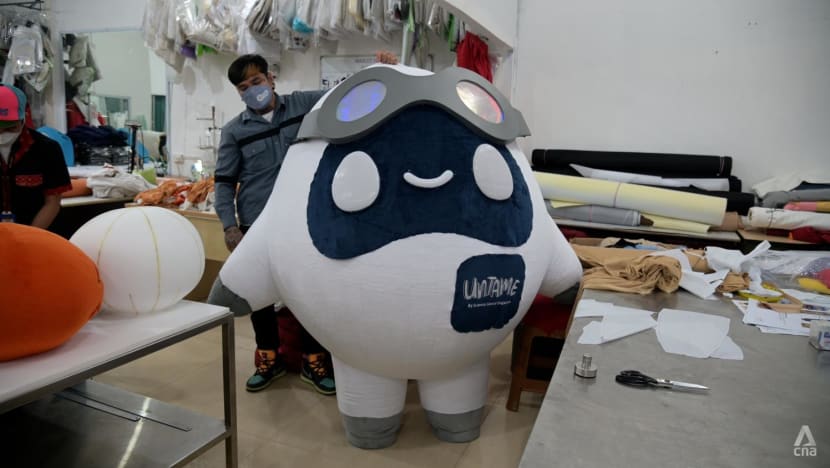 'THE MOST EPIC' COSTUME WEDDING
Kathy also works in the family business. She and Hasyna — who helped to co-ordinate her wedding — were room-mates at university. And after they graduated, Hasyna asked her to help out in the shop during Halloween season.
It was "intense and crazy", and Kathy was hooked. "I fell in love with the job," said the 31-year-old. "I enjoyed being in costumes, having fun with customers, and I wanted to bring this joy to everyone else."
She joined the company officially in 2015, and the Neo siblings say her fabric expertise is the closest to their mother's.
Although at first she was "quite scared" of Sanee, who always seemed busy, they grew closer as they clinched deals for the company together.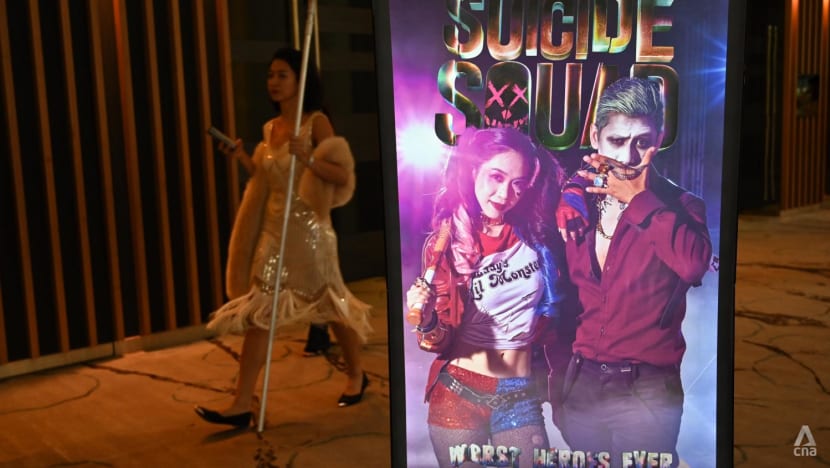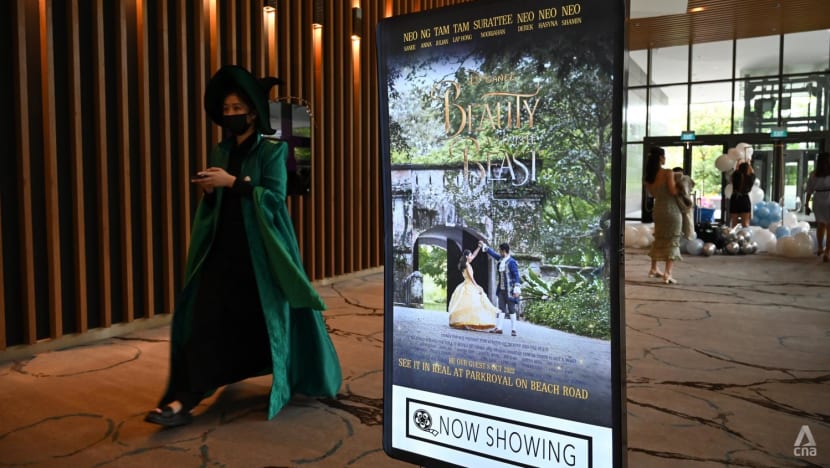 "I found out more about his personality, how he interacted with his mum (in the) business, how he interacted with clients and different employees," she said. "(I found him) quite inspiring."
Outside work, she saw he was filial as well as brotherly towards Hasyna and younger brother Shamin, 24.
For their big day, the "happiest part" was seeing their guests enjoying dressing up, she said.
The couple wanted to have "the most epic" costume wedding, declared Sanee. "I wouldn't want it to be any other way because I grew up in costumes."
Some guests were sceptical. For example, Sanee's friend Azri Ramli did not want to be the only one dressed for the occasion — as Super Mario — so he felt "happy and good" to see everyone else in costume too.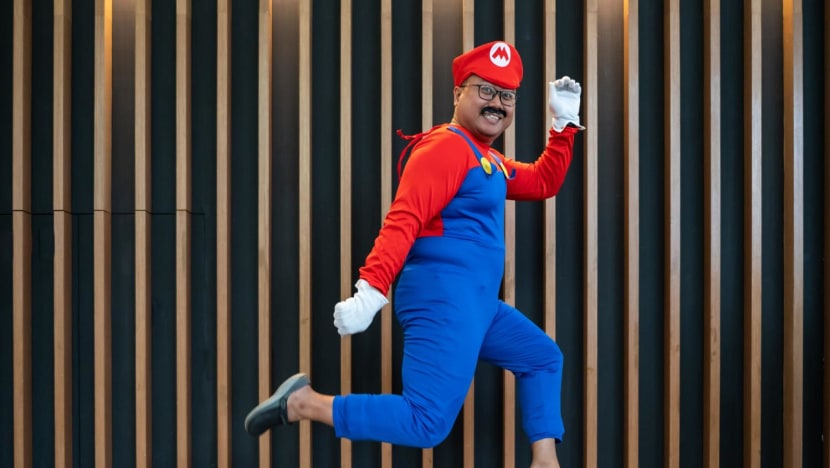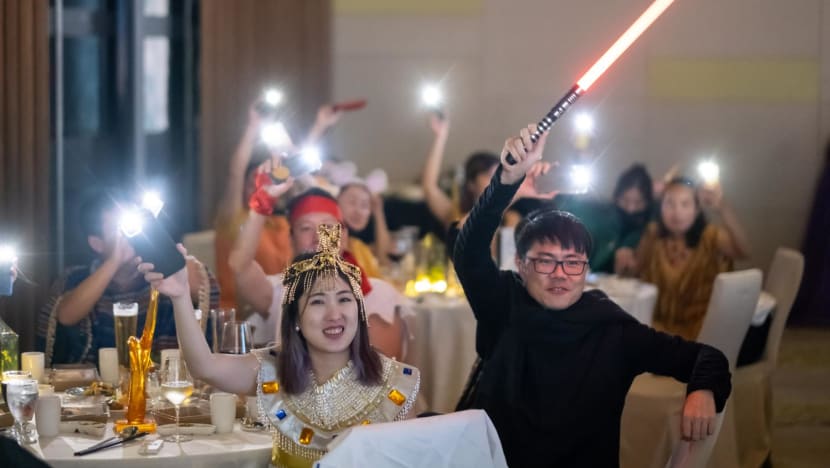 Among those who bagged awards for best dressed were a Star Wars stormtrooper wearing a court jester's suit, a fairy, a Sailor Moon, a Santa Claus and an Egyptian royal couple.
The emcee, meanwhile, was first dressed up as Belle from Beauty and The Beast, then the Queen of Hearts from Alice in Wonderland.
"It's an incredible sight because it's not easy to come in costume. Seeing everyone put in the effort … was such an amazing moment," said Sanee.
"To the layperson, costumes would just be for a party or something. But costumes for us go a lot deeper. (They're) a memory (and) a feeling."