Seen the Netflix hit 'Old Enough!' from Japan? The Singapore version created a buzz too
The adaptation for the programme On The Red Dot featured 20 pre-schoolers who ran all sorts of errands alone for the first time, and sparked a debate among local viewers. There is more to come.
SINGAPORE: Now that it is on Netflix, the Japanese television show Old Enough! is taking the streaming world by storm, with a lot of buzz about it in the West.
But did you know there is a Singaporean version of this prime-time hit in Japan, where the series has run for over 30 years? The first season here was broadcast in early 2019 and the second in August that year.
They featured 20 pre-schoolers, aged two to five, who did all sorts of things on their own for the first time, from crossing traffic junctions to doing farm chores to buying groceries in the supermarket and the wet market too.
This adaptation for the programme On The Red Dot was the result of a deal Mediacorp did with Nippon Television Network Corporation, and remains available only to viewers in Singapore.
WATCH: On The Red Dot 2019/2020 | Old Enough! — Celebrity Special (47:40)
On The Red Dot 2019/2020 - Old Enough! 2 (Special) - 60 mins_2019_0_13_Episode 13 - Celebrity Special
SEASON 1
The very first episode introduced audiences to Ninja, who was all of 35 months old. His mother, a second-generation owner of Singapore's only frog farm, thought it was not too early for him to start helping out with simple things.
So she asked him to scrub a frog pen and feed the fish in two ponds while navigating around the one-hectare Jurong Frog Farm without his parents, as well as deliver frog meat to a neighbouring farm.
And he did all that, even singing to himself while feeding the fish.
WATCH: 3-year-old does farmwork for first time on his own (4:31)
What got viewers buzzing with comments online, however, was the task given to Nathanael, aged five years and one month. His mother sent him from their home in Simei to his father's office in Marina One by himself.
The only child was told his father had left his laptop behind and needed it urgently, but Mum could not leave home because someone was repairing the television.
So the boy rode the bus and train to the financial district — two bus stops and 17 MRT stations away — to run the errand.
He alighted at the right station by listening out for the train announcements and then got to the right office building, where he asked the concierge to call his father. While this impressed his mother, some viewers were concerned.
In one of the most-liked comments on Facebook, user Geraldine Tan-Wee wrote: "It's not that we don't trust our kids. We don't trust the people we don't know.
"If it were this safe, schools won't need IDs to pick kids up or to enter the school."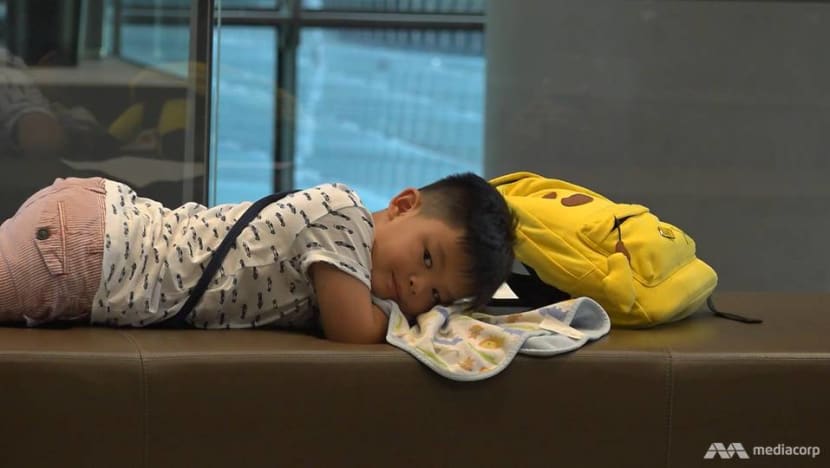 Noting that there was a production crew following the boy — disguised as passers-by to secretly monitor the children's every move and ensure their safety — she questioned: "If he's travelling solo, who'll watch out for him?"
Facebook user Joseph Yap, meanwhile, said that apart from letting a five-year-old make a "regular adult's commute", there are other opportunities for children to "learn about the world and understand themselves within a realistic boundary", such as by crossing the road on their own.
"Both parents and children have to learn to manage risk. Such practices further encourage a community where children are safely watched (over) by the public," he wrote.
"There's merit in placing trust in your children and in society. It's definitely doable if your child is prepped with adequate knowledge about road safety, stranger danger, thought processes in emergencies and the importance of being alert."
WATCH: 5-year-old kid takes the MRT alone (5:35)
SEASON 2
The short CNA Insider video of Nathanael attracted over 2.7 million views on YouTube and nearly 2,900 comments. The video of Om Jay from the second season, however, went on to notch more than five million views (and 5,300 comments).
The three-year-old was tasked to cross busy roads to buy breakfast — chicken wings and two plain pratas — and get groceries, namely five tomatoes, at the wet market.
The parents of these pre-schoolers got to review the footage of their children in action, and Om's father, Vasantham actor Jay Nesh Isuran, observed: "We always believed that he's too young, can't do this, can't do that.
"(But) we just have to encourage him and get him in the right direction."
WATCH: 3-year-old goes wet market shopping on his own (5:37)
The season's second episode featured another 35-month-old, Laylana, who was told Grandma was stuck at a coffee shop nearly a kilometre away after her personal mobility scooter would not start, as the battery was flat.
Laylana was tasked with picking up the charger from her grandmother's flat, which was one block away, and buying two doughnuts from the neighbourhood bakery (one was for herself) before going to Grandma's rescue.
For single mum Lisa, her daughter's completion of the task provided personal validation.
"Usually, I feel like I'm not doing a good job as a mum. But to see that she can do that is telling me that something (I'm doing) is right," she said tearfully.
WATCH: On The Red Dot | Old Enough! — These kids cross the road alone for the first time (23:04)
In the third episode, Mikkeller, aged four years and 11 months, ran an errand to the post office: He had to collect a parcel on his own and buy stamps.
Also featured were siblings Natalie and Evie, the third generation of their family on Singapore's only goat farm, Hay Dairies.
Aged five years and four months and 35 months respectively, they had to carry a bucket of milk down two slopes from the main office to the kid pen, prepare a milk bottle and feed three of the baby animals.
Viewer Anna Xu's comment on YouTube typified some of the responses the series has elicited. "Is it only me or are there others (who) feel so proud of all the (children)?" she wrote.
WATCH: On The Red Dot | Old Enough! — Can this 5-year-old collect a parcel on his own? (23:35)
In the final episode, Sharvesh, aged five years and three months, had to ride the bus alone to deliver lunch to his aunt.
The other child, Riley, aged three years and four months, was heading for a minimart 1.1 km from his apartment block. But he got lost on his way there and back.
In both instances, after he started crying, a production crew member asked him where he was going and offered to show the way.
WATCH: On The Red Dot | Old Enough! — Can this 5-year-old ride the bus alone? (23:22)
MEMORABLE EXPERIENCE, SAYS A PARENT
These decisions on whether to intervene by assisting a lost or crying child were challenging ones to make, according to Mak C K, the series producer of the first season.
"If the child wasn't in any form of physical danger, we kept a close watch and tried to give him/her the opportunity to overcome any setbacks by himself/herself," he said.
In doing so, the children are given the opportunity to gain confidence … and feel proud of themselves for helping out their parents successfully."
Riley was not the only one who got lost on his errand.
Dani was three years and 11 months old when he was asked to pass his father's mobile phone to him in their new flat almost 1 km away from their then home in Tampines — and buy lunch along the way.
That second errand presented a complication to Dani's journey, and his mother, Atiqah Halim, wondered whether he should have been given his task after it was all over.
But after the experience, she noticed Dani becoming more confident about things like making purchases in the shops on his own.
In the past couple of years, he has even become "braver than his brother", who is two years older. Before the show, Dani always wanted to do the same thing his brother did, Atiqah noted. But things have changed.
"If I need to get some things from across the road, his brother usually doesn't want to go and do it, but Dani is game to do these things," she told CNA Insider.
Although his recollection of his Old Enough! errand is pretty much only that he "walked around a bit", he came to remember routes better after that, she added.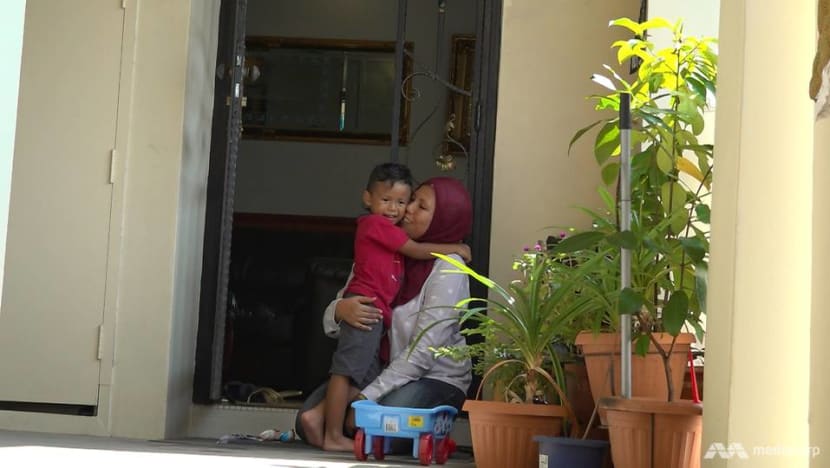 "For example, since Primary One, he's been walking to my mum's house on days I'm in the office. It's about a 10-minute walk," Atiqah cited.
And now in Primary Two, he is showing himself to be surer of what he wants, sometimes to his mother's surprise, like when he resolved to make dance his co-curricular activity, inspired by the YouTube videos he enjoys watching.
"He told his teacher he wanted to join and just gave me the form," she recounted. "Yesterday (April 19) was his first day."
Looking back on the show they had joined, she called it a "once-in-a-lifetime experience" and a "good memory to have".
That opportunity is coming round again for others, as Mediacorp is planning a new instalment of Old Enough! early next year — so more parents can find out for themselves whether their pre-schoolers are more independent than they think.
Parents can email OnTheRedDot [at] mediacorp.com.sg if they are interested in signing their children up for Old Enough!