At age 12, he's studying for two degrees. Meet him and other teen wonders
One has a mark on her neck from playing the violin. Another is pursuing two degrees at age 12 — but wants to improve his social skills. These teens tell On The Red Dot their dreams and how they'll get there.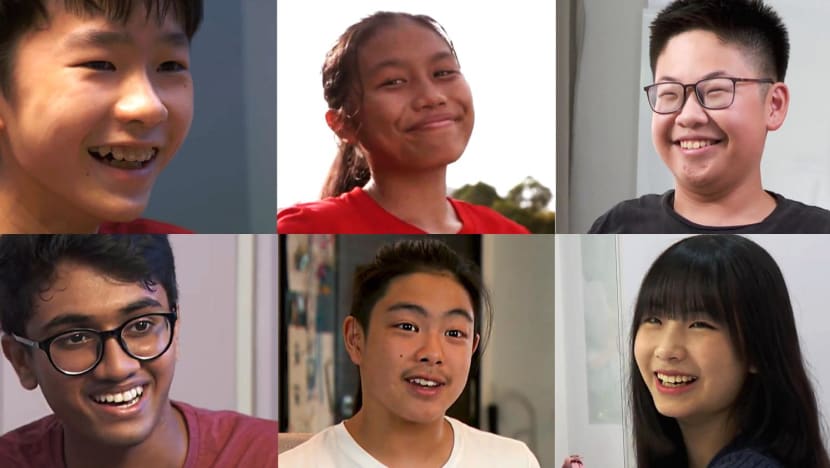 SINGAPORE: He was diagnosed with global developmental delay at the age of one but is today a bubbly 12-year-old pursuing mathematics and music degrees.
Nathanael Koh is also a YouTuber — sharing mathematical concepts, fully worked solutions and his musical compositions on his channel — and a composer-in-residence in the Kids' Philharmonic@sg Orchestra.
His role in the orchestra "simply means that when they ask me for works, I'll compose for them", Nathanael told the programme On The Red Dot, which recently featured six Singapore "super-teens" excelling in areas such as sport and music.
It was not only his mathematical and musical wizardry that struck a chord with viewers, but also his candour.
"Sometimes my academic ability makes me feel out of place," he said. "I don't have enough opportunities to be in a social setting, and so if anybody wants to help me improve my social skills, I'd gladly accept that."
WATCH: At 12, he's taking two university degrees (22:40)
The home-schooler's self-professed lack of social skills was not apparent on the programme, however.
Before the results of his Further Mathematics A level examination — which he took as a private candidate — were released, he declared chirpily: "I studied really hard for this exam, (and) I hope to get at least a B."
When he learnt he had got an A and was one mark from an A*, he whooped, then remarked that he could have got a higher mark. Nonetheless, he was "really happy" and gushed: "Thank you, Dad!"
Viewers of CNA Insider's YouTube channel have offered tips and words of encouragement. Some of them commented that he appeared "very sociable" and expressed their confidence that he would make friends and meaningful connections with others in future.
CNA Insider caught up with him after the series aired and found out more about his views on friendship and his reactions to the comments.
He agreed, for example, with Laura Lim Wee Heang, who wrote, "What's important isn't quantity but quality of friends."
Nathanael likened friendship to the Riemann hypothesis, which has been called one of the greatest unsolved problems in pure maths.
"As of now, it's a very difficult problem to solve. Once you have the right tools, which might be (within) the next few decades or so, it could be solved — it could be proved or disproved," he said.
"It's just like friendships because you invest time in friends, then you'll get to understand people better."
WATCH: 12-year-old university student reacts to viewers' comments (7:43)
His friends are from "all walks of life". A good friend in New Zealand is 96 years old and a retired piano teacher, he said. Another friend in British Columbia, Canada, is taking the same music degree as he is.
His family lived in New Zealand from 2015 to 2020, moving there when he was about five years old as his father, Chris Koh, had read research findings that a cool, temperate climate would be better for his development.
The following year, Koh noticed that his son's global developmental delay seemed to be improving, and Nathanael was also "way more advanced than his peers" academically.
"I used to make friends in St John Youth … in New Zealand, and I now go to Mensa Junior (Singapore), where I meet a lot of interesting people," Nathanael said.
My definition of a friend is somebody who can relate to your deepest fears and darkest secrets and who you can joke and have fun with, as well as share at least two interests with."
Here is what the other super-teens, and the people around them, had to say about friends, fun, sacrifice and dreams.
FRIENDS AND THE COMMUNITY MATTER
One of them is Goh Zi Han, 13, Singapore's top chess player at his age and an International Chess Federation (FIDE) candidate master, which is a chess ranking below master, international master and grandmaster.
"I want to keep on getting better at chess," he declared. "But … it's also very important for me to bond with my friends and to also give back to the community through chess."
When he recently had to decide between two chess tournaments taking place at the same time — an inter-school chess competition in Singapore and a FIDE-rated one in Malaysia — he opted for the inter-school competition.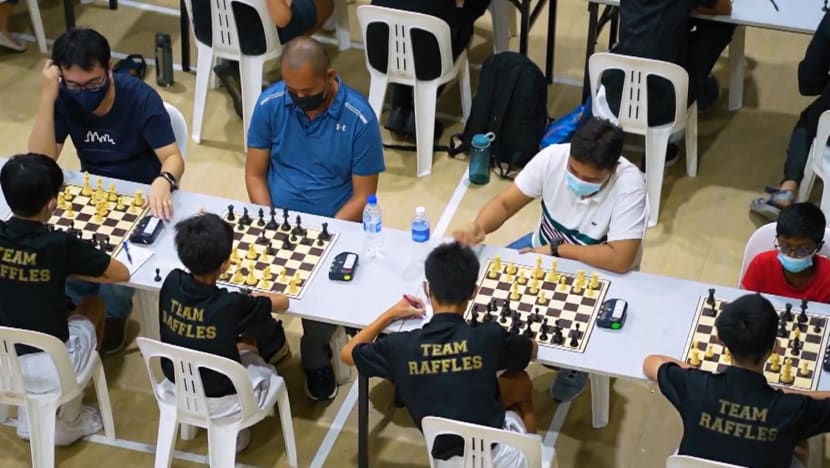 "I don't want to miss this opportunity to … play as a team with my fellow teammates in Raffles (Institution)," said Zi Han, a first-year at the school.
His father, Goh Wee Lip, felt it was a "good decision" and said: "This is a great opportunity for him to play well with his friends and really be a teenager and have fun. It's important."
Zi Han has also learnt that chess is "not just about winning and improving (his) rating". To raise money for Ukrainian refugees affected by Russia's invasion, he and his mother launched an online campaign for people to donate in return for chess lessons.
"A lot of people signed up, and they came to my home … for me to teach them chess," said Zi Han, who raised more than S$13,000 for his cause.
WATCH: A 15-year-old violin virtuoso + A 13-year-old chess prodigy (22:56)
In a similar vein, memory athlete Dhruv Manoj found joy in working with his friends to teach memory techniques to lower-primary pupils at a student care centre.
Dhruv, 16, set a children's world record when he was 11 by memorising 96 names and faces in 15 minutes. He has represented Singapore and clinched golds in the World Memory Championships.
During a team discussion before the session with the young pupils, he remarked: "Our biggest concern is … engagement, because the topic we're introducing is very new."
In the end, the session was "fun", he said. "I think (the children) enjoyed the activity as well. They grasped the ideas very quickly."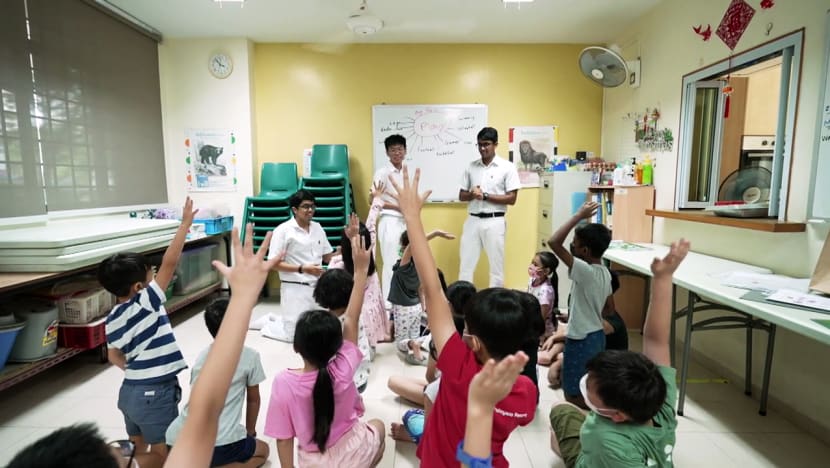 MARKS OF SACRIFICE
The teens also know about hard work. Take, for example, Irsalina Irwan, 15, the youngest member of Singapore's women's national football team, who faces a daily struggle to balance school and her chosen sport.
She starts the day at 5am and trains five times a week, thrice with the national team and twice with her club, usually between 7pm and 9pm.
"There are days when I have lots and lots of homework and training, (and) I feel really overwhelmed," she said.
Besides wanting to do well in her N-Levels, she also had to worry about an injury four months after joining the national team, and she had to undergo rehabilitation.
"In the worst-case scenario, players who don't recover in time from their injuries won't make the cut for any competition, so that's devastating news," said Ratna Suffian, assistant coach of the women's national team.
Irsalina is not the only one who bears the marks of sacrifice. Violinist Chloe Chua — at 15, the youngest artist-in-residence of the Singapore Symphony Orchestra — has a friction mark on her neck from "practising for so long".
Her life changed after she won in the junior division of the 2018 Yehudi Menuhin international competition for young violinists, which is regarded as the world's leading competition for violinists under the age of 22.
She practises five to six hours daily, and her teacher, Yin Ke, of the Nanyang Academy of Fine Arts' School of Young Talents, said: "Chloe has a gift (for) music. But the hard work … she puts in (is) more important."
On her friction mark, Chloe said it was "a bit painful" but shrugged it off. "It's a reminder that I have to practise," she said with a smile. "If you don't practise, the bruise will go away."
Zi Han has the same attitude towards chess.
"In any game, if you want to get good at it, talent is definitely not the only thing you need. You also need to have put in a lot of time (and) hard work," he said.
He dreams of becoming a grandmaster but must juggle school, his co-curricular activities (debate and chess), weekly coaching sessions with grandmaster Andrey Kvon, and tournaments, some of which are overseas.
"I think it's common (among) Singaporeans to have a lot of work at school," said Kvon.
It's hard to find enough time to study chess. You can work five hours a day, but there'll be some kid somewhere else in the world who'll work 10 hours … If you want to be the best, you have to sacrifice."
FINDING INSPIRATION
For Kai Minejima-Lee, 13, the dream started when he was three or four years old. His father was invited to indoor skydiving venue iFly Singapore's anniversary party. Kai tagged along and wanted to try "flying", but the minimum age was seven.
So he "waited many years", and his parents surprised him with an indoor skydiving excursion when he was old enough. "Ever since then, I loved it so much I didn't want to stop," he said.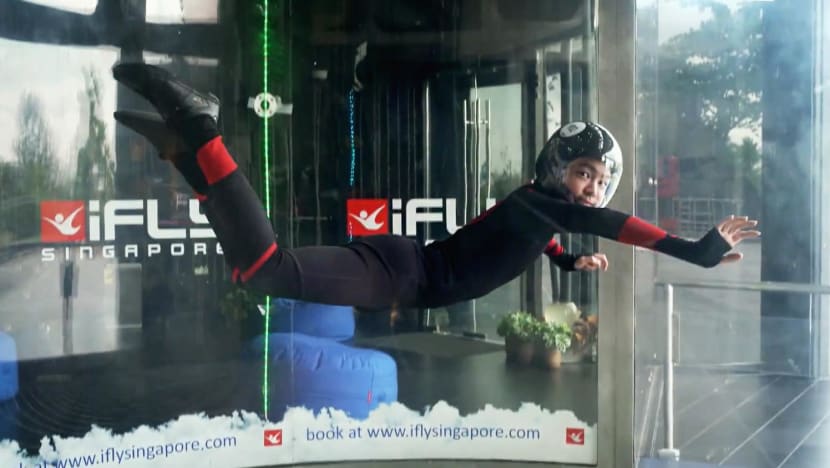 He won three gold medals at this year's FAI World Cup of Indoor Skydiving, claiming titles in the freestyle junior, two-way dynamic junior (speed and free) and four-way dynamic junior (speed) categories.
At the Australian Open Indoor Skydiving Championships in September, he won a gold and three silvers.
"I'm grateful for all the opportunities that I've had, being able to go to all the competitions across the world," said Kai, who called indoor skydiving "one of the most freeing experiences in the world".
"Honestly, I don't see an end to it. I want to do this as long as I can."
What drives Irsalina, meanwhile, is the dream of securing a scholarship and making a career in football. "Some might say that football isn't a good career choice, but I disagree," she said. She has seen teammates achieving such goals, and that inspires her.
WATCH: Meet the 15-year-old national footballer (23:08)
These teenage years are fulfilling but also "flying (by) very fast", according to Chloe. In future, "things would definitely change for me as a violinist because the standards will be much higher than now", she said.
People would view her as an adult violinist in the classical world, but she said: "It doesn't really scare me. This is a form of … encouragement and motivation to achieve my goal."
And that goal is to follow in the footsteps of her "idol", American violinist Hilary Hahn, and be a winner of the Gramophone Classical Music Awards. "I want to take it as a challenge," Chloe said.
Watch Chloe and Zi Han's On The Red Dot episode here, Dhruv and Nathanael's episode here, and Kai and Irsalina's episode here. The programme airs on Mediacorp Channel 5 on Fridays at 9.30pm.