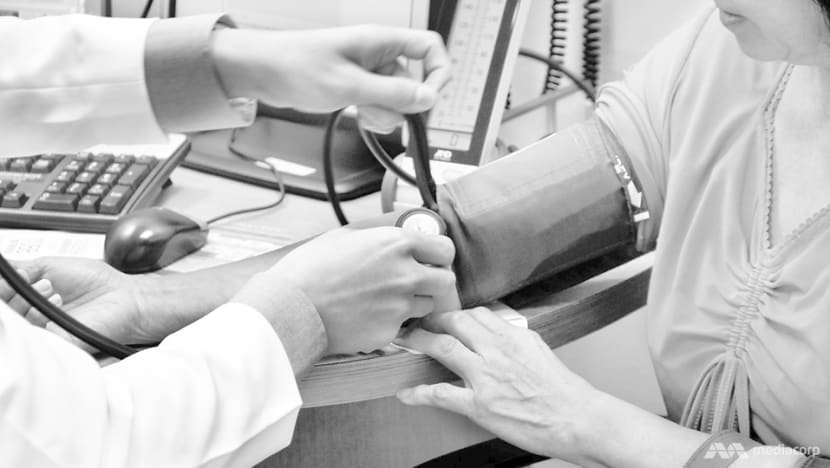 SINGAPORE: Patients who see a regular general practitioner (GP) are likely to receive more attentive medical care that can be beneficial to their health in the long-term.
This is especially so for elderly patients and those with chronic conditions that require long-term follow-up, said medical practitioners in Singapore.
"The main advantage is the continuity of care," said Dr Derek Li, a senior family physician at Raffles Medical. "Your regular GP is familiar with your past medical history, and usually, also the medical history of your immediate family and your social situation. This makes it easier to help you as a patient in a holistic manner than treating a specific ailment," he said.
For example, a doctor may be more inclined to suspect that a person is suffering from early depression based on a presentation of tiredness if he knows that the person is experiencing a stressful situation at home, said Dr Winston Ho, a medical director at Parkway Shenton.
PATIENT RECORDS
Patients who switch clinics frequently may also have medical records that are not properly or fully archived.
The National Electronic Health Record (NEHR) was set up in 2011 to collect patient health records from all healthcare institutions in Singapore in a centralised system.
However, "it is unlikely that we will get full integration of medical records for a long time to come", said Dr Li.
Dr Wong added that the NEHR allows for selected information from restructured hospitals to be made available to doctors who enroll into the scheme. However, it does not apply to the information flow between primary care clinics in the private sector.
In addition, doctors have to be conscious not to breach medical confidentiality. "The Personal Data Protection Act implies that patients have to consent to the release and use of the medical information," said Dr Wong.
Trust is another aspect patients can benefit from a regular GP. "We know that mental and emotional issues are hard to verbalise, especially in our society. With a doctor who has been looking after you for a period of time, it may be easier for you to bring up these issues for discussion," said Dr Ho.
With Singapore's greying population, chronic health issues such as diabetes, heart disease and dementia are also brought to the fore, noted Dr Wong Wei Mon, a family physician with Raffles Medical. A diabetic patient, for instance, could develop eye disease, coronary artery disease, chronic kidney disease or a stroke.
"Such a patient is likely to be taking multiple medications and has the potential for adverse drug interactions," said Dr Wong. Seeing different specialists for different conditions also means that the medical care the patient receives is likely to be fragmented, he added.
QUALITIES OF A GOOD GP
Family physicians such as Dr Li feel that there are no hard and fast rules when it comes to choosing the right GP, as long as there is "good rapport" and a "high degree of trust between the patient and GP".
"If, for whatever reason, the patient does not feel comfortable with the GP, whether it is personality clashes or otherwise, it may be time to move on," he said.
For some rough guidelines, Dr Ho suggests the following:
This is the most important trait a good GP must have. In addition, he must also be able to put the patient at ease via a reassuring approach and good communication skills (for example, eye contact, voice tone, and good command of the patient's language or dialect).
Possess a wide breadth of knowledge
This refers to knowledge across the various medical/surgical disciplines as well as being constantly up-to-date on the information.
Familiarity with Singapore's health policies
Most patients have only a vague working knowledge of the many health policies in effect, so this is where the GP can advise his patients.
This includes involving the patient in the decision-making process and protecting the patient's privacy at all times.